The tile choice for your fireplace can really make a room stand out More often than not, fireplaces are the focal point of a room so you want to depict that in the tiling and styling. Another important note is that most tiles are easy to maintain and built to last which is definitely what you want in a fireplace! From renovating a traditional fireplace to build ing a new modern one – here are my favourite fireplace tile ideas that will inspire you.
Herringbone
Installing your tiles in a herringbone pattern is so chic and timeless. Plus they really make a statement! Due to the zig-zag pattern of herringbone, it really can work with so many different styles.
Intricate designs
Intricate designs work well in fireplace styling as they are a great addition to be able to add some pattern and character to a space.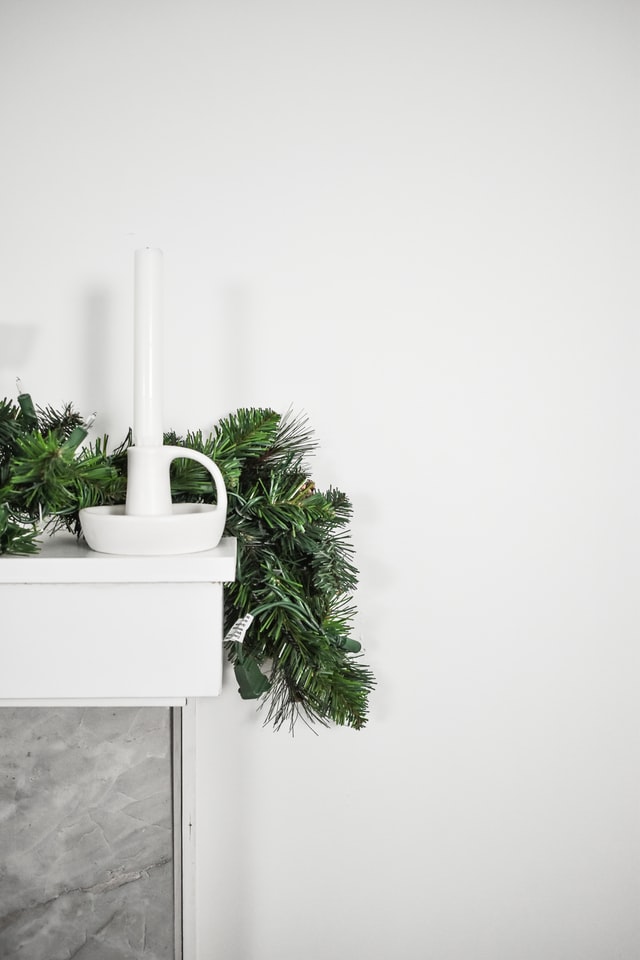 Stone and marble
Due to the natural finish of stone and marble, tiling done in this way will look so sleek with all the natural textures and veining coming through the unique patterns of the tile.
Now without further ado, check out these #+ fireplace tile ideas!
1. Modern grey
Using grey in your home can really lift your space and make it look ultra-modern and classy. I love this modern grey fireplace instalment with sandy brick facing tiling. I can just imagine how awesome this modern living room would look styled with furnishings and decor to match the modern look!
2. Bohemian fireplace tile ideas
I absolutely love Bohemian living room styling. It is so laid back and always looks like a very calming place to hang out in. I love the Aztec style blue and white fireplace tiling which adds intricacy and delight to this room. I would love to lie back and lounge on the chair with a good book.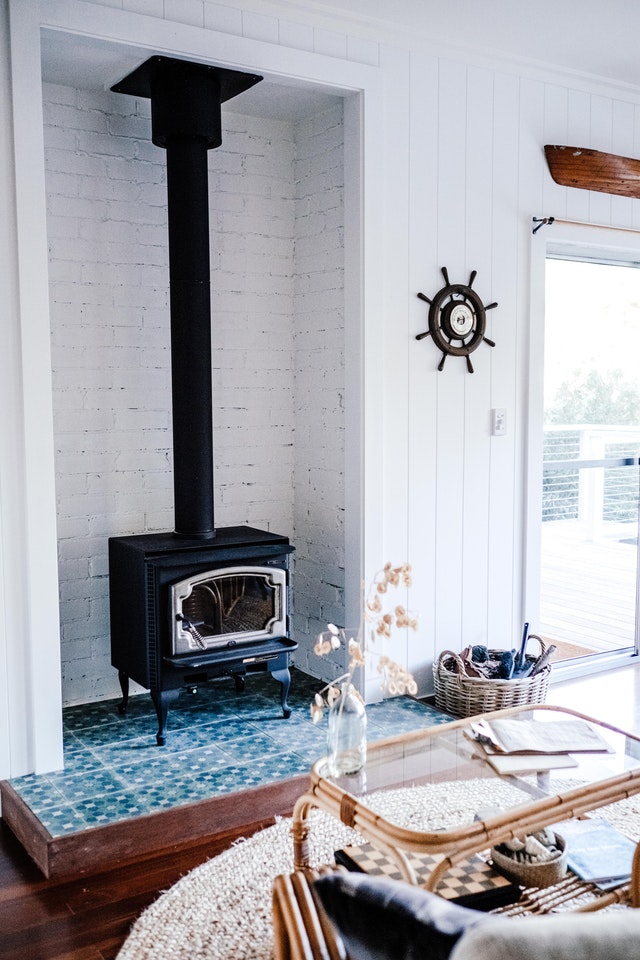 3. Simple, small and square
If you prefer something a little more classic and simple, then basic white tiling might be for you. For a contemporary look, choose small, square white tiles. Sometimes, less really is more.
4. Floor to ceiling marble
When in doubt, floor to ceiling marble is always a good idea. I love how subtle marble can be depending on what type of slab you select. And I love the marble that has been chosen for this room. Not too much, but just enough. The grey tones in the marble perfectly match the accents in the room and the white matches everything else!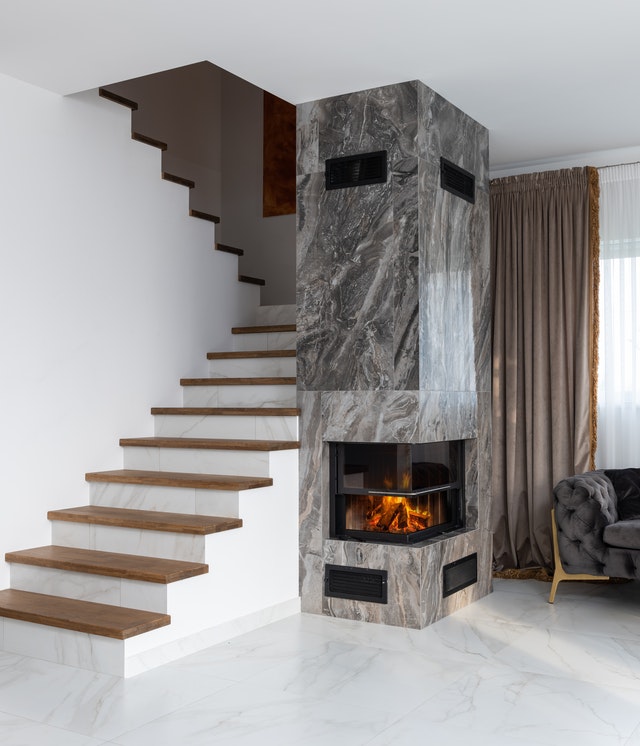 5. Iridescent and matte
For truly awesome tiling, consider a design that pairs iridescent tiles with matte ones. Iridescent tiles have an oil slick effect which creates a lot of tonal variation. And then matte tiles work to offset the drama of the iridescent tiling.
6. Faux timber
For a unique look, how about this unusual fireplace clad in faux timber facings? The timber look adds so much cosiness and warmth to the space. I love the addition of the artwork to break up the expanse of brown.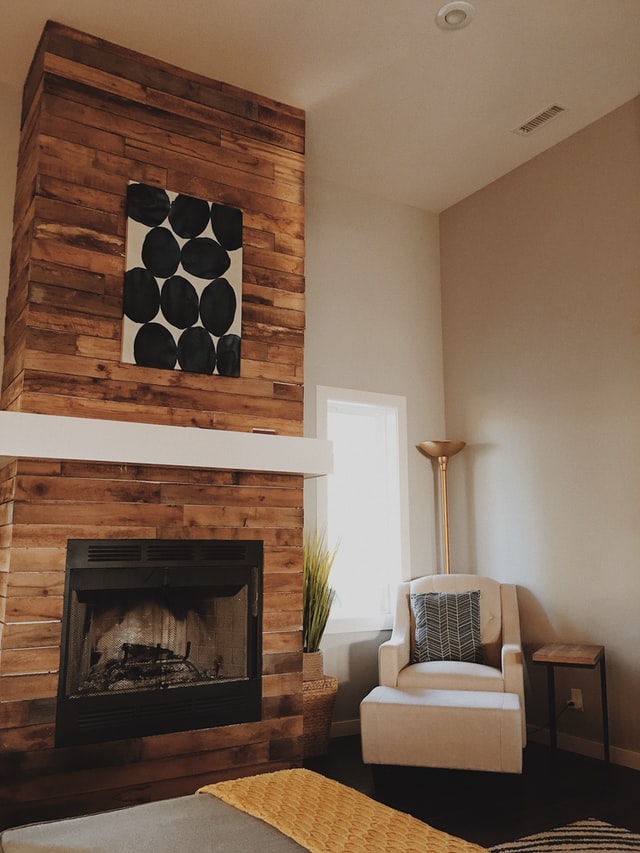 7. Brick-like black
These tiles are in a rectangular shape which emulates bricks. What a great idea to pay homage to a traditional brick fire, but with a modern twist! I love the choice of black for the tiles. It works so well with a black cast iron finish fireplace, as well as the black screen of the tv. How very cohesive!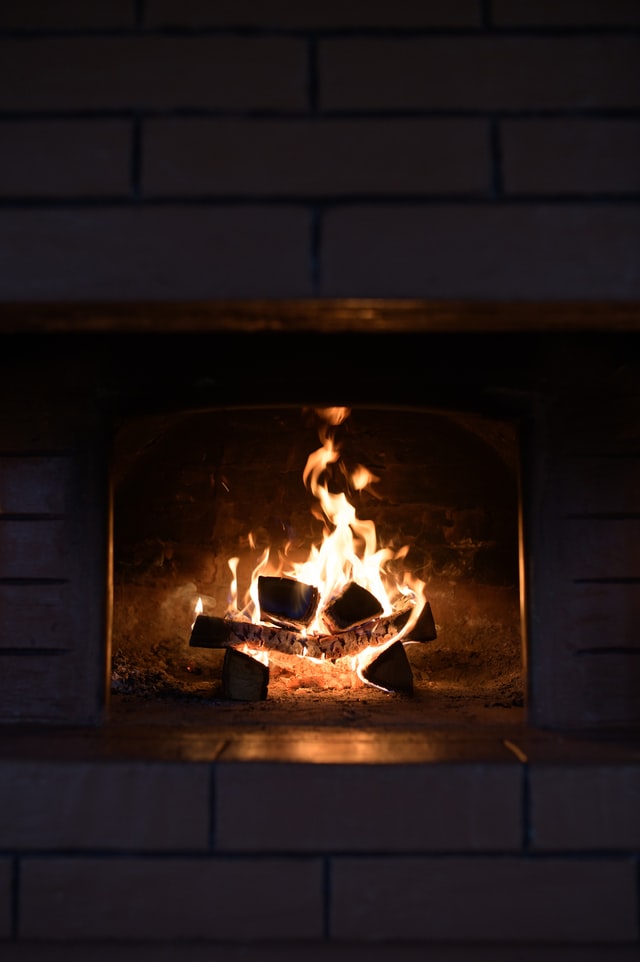 8. Brick, white and wood
Here's another lovely fireplace with marled brick tiling which adds a gorgeous pattern to the rustic living room! Without the patterned tiling, this space would be a bit bland and a little less interesting. I also love the wooden mantelpiece which really makes the whole instalment stand out beautifully.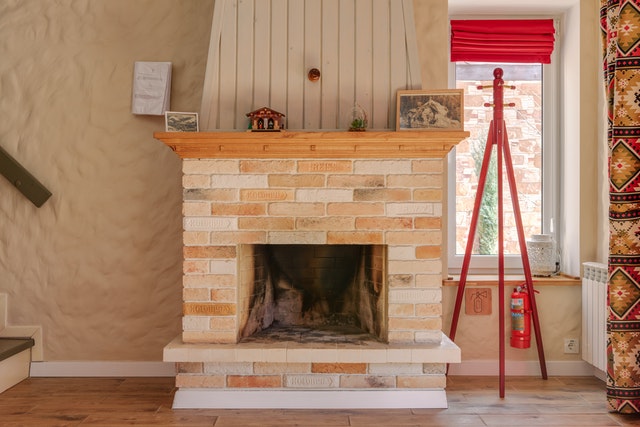 9. Moroccan style
The interior (and exterior) design world is crazy over Moroccan style finishes. There's just something about the angular shapes and patterns that really work. Just add some frames and decor around the fireplace for added pizzazz. Perhaps it would even suit your Moroccan bedroom style!
10. Stacks of stone
Another great way of tiling your fireplace is with stone. This fireplace gives the look of lots of different stones stacked on top of each other. Using a natural texture like stone gives so much character to space due to the varying patterns and colours that naturally occur.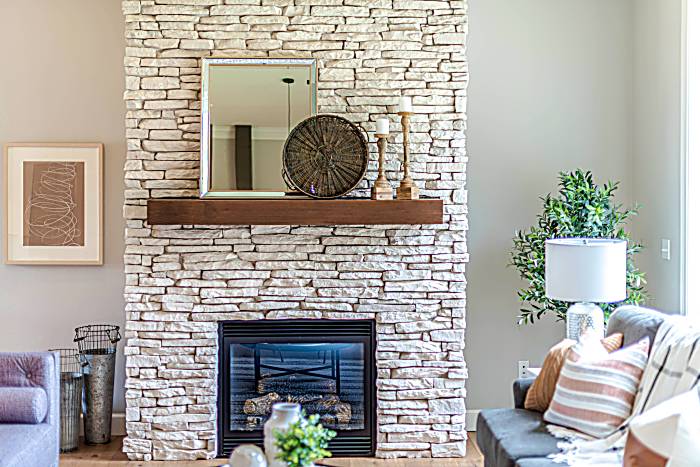 11. Textured mosaic
Textured mosaic style tiles look stunning used for the wall of a fireplace and tv area. You'll have a variety of different tones and yet it will still look uniform. A mosaic tiled finish really provides great texture to a space.
12. Dimensional fireplace tile
The 3D effect of dimensional tiling is the perfect way to add some texture and interest to your fireplace. It will create the perfect feature wall.
13. Wall tiling around fireplace
If you're wanting to cover your whole wall in tiles, then this one's for you! Not only is this an awesome way to tile your fireplace, but it has also created a great feature wall for the room!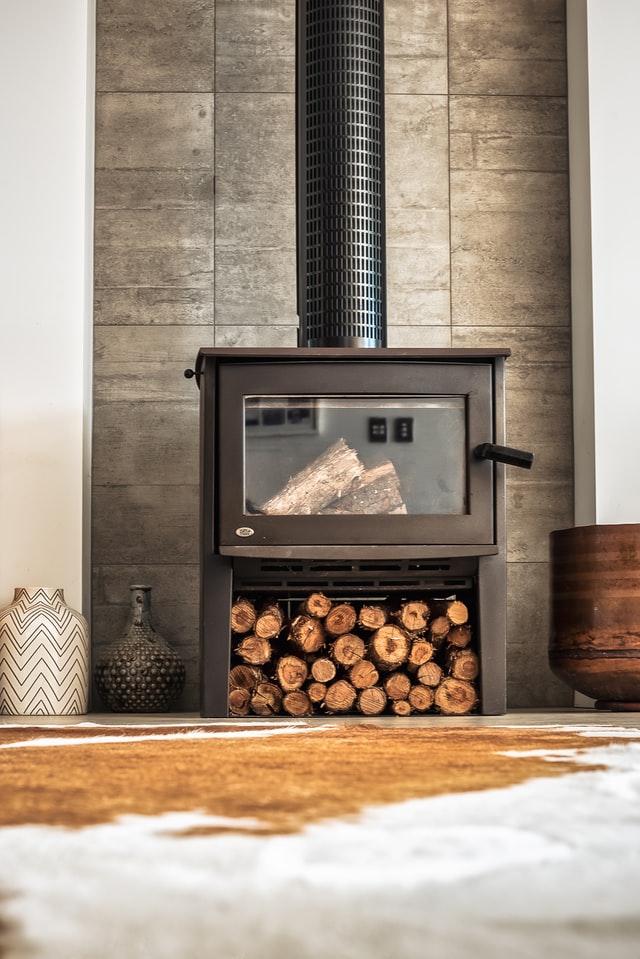 14. Scalloped mermaid tail vibes
Whenever I see scalloped finishes, I always think of mermaid tails! They just give off such a cool scale-like look. Even if your space isn't the most coastal styled home, neutral toned scalloped tiles work so well to bring in an awesome pattern and focal point to your living room.
15. Black herringbone
Ah, I just love herringbone tile ideas. There's just something about the zig-zag style of the tile design that gives such a beautiful effect. And I especially love black herringbone tiles with white grout in between – it's such a striking look.
16. Bright colours
How cool is this fireplace tiling?! The bright colours and groovy pattern remind me of something taken straight from the 1960s – groovy, baby!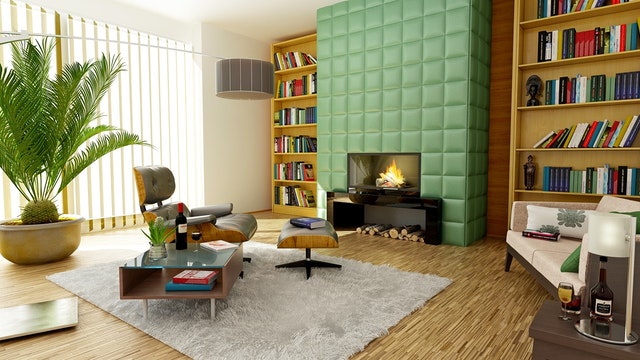 If retro is your jam – check out these retro kitchen ideas as well.
17. Sleek navy
Tiles with a 'wet look' to them means that when there are lights on or windows open, the light will beautifully reflect off the tiles. This can even slightly change the colour of them for the time being. For something different, how about opting for a gorgeous sleek navy?
18. Intricate designs
If you have a simple space to work with that's quite minimalist, don't be afraid to go a little out of your comfort zone and add some pattern. The intricate design in the tiles used in this living room is the perfect example. Using muted colours like beige and white also means that the pattern comes off a little more subtle rather than using bold colour and having the fireplace stand out. I absolutely love this room!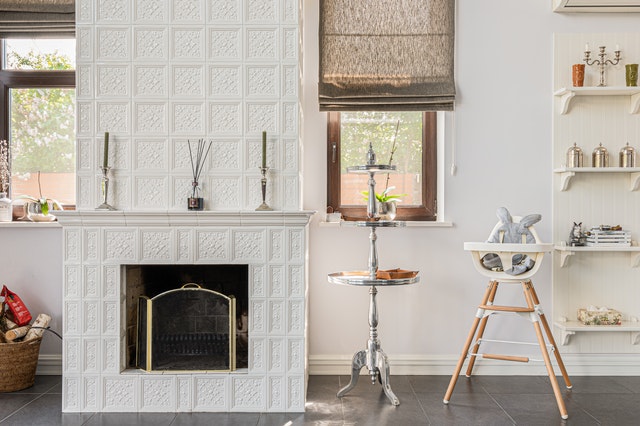 19. Lime green
OK, so this fireplace tile idea is definitely for those of you who love colour and something a little more quirky in your home. Although it's not a colour you might normally think of, lime green tiling around the fireplace can look so sweet and adding a white mantle around it helps to soften everything. Plus you could add awesome lime green floor tiling to match.
20. Chic and fabulous florals
For something chic and fabulous, consider floral tiling of the wall around your fireplace. Florals usually give quite a feminine look, but a neutral colour scheme and a subtle floral design keeps things simple and could work in most homes. The perfect accompaniment? A gold-framed mirror above the fireplace.
21. Grey stone
Look at how awesome the grey stone tiling looks in this space. There's so much texture and so many differences in the individual stone tiles which really create such a beautiful look. This space could definitely use some greenery and decor though!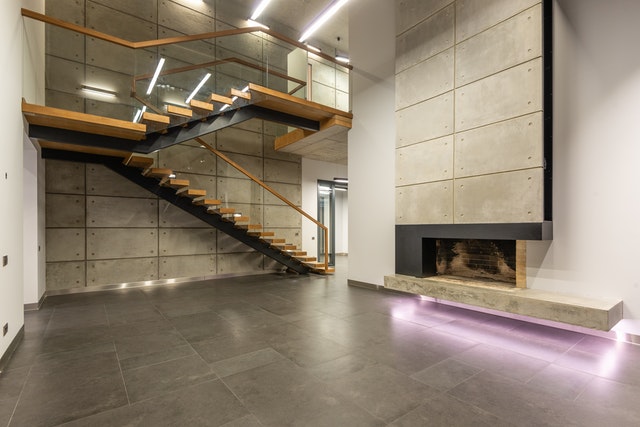 22. Organic designs
Installing your fireplace tile in a very random and irregular way makes the whole instalment look more organic. It's very much an on-trend look at the moment, too.
23. Magnificent marble
How magnificent is this marble! I love how the marble tiling is arched around the fireplace area, with a lovely timber surround. I also love how the tile continues along the hearth in front. This creates a wonderful spot to add decor.
24. Coastal vibes
Ah, I absolutely love the coastal vibes of this room. The fireplace tiling is a subtle white pattern which adds enough texture and character to this area without it being too over the top. Just add some foraged dried bunny tails in a vase!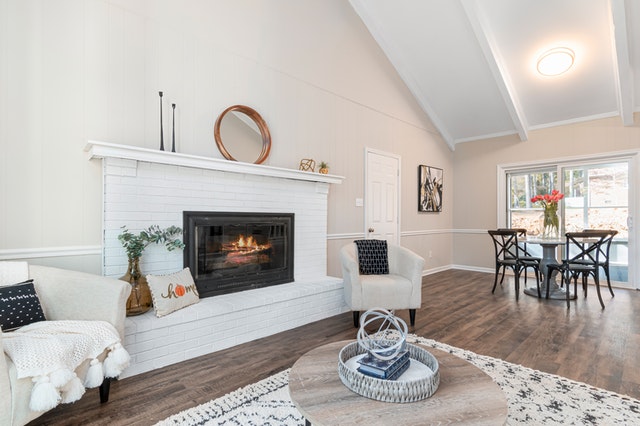 25. Blue and white
Speaking of coastal vibes, another beautiful fireplace tiling idea is a mix of blue and white tiling around the fireplace. This looks stunning paired with decor like blown glass or patterned vases.
26. Textured stone
How stunning is this textured stone! I love how the tiles are quite large which gives such a bold look. Plus the natural textures through the stone look gorgeous and have so much character! I also love the cute little seats next to the fireplace. Perfect to sit on and toast marshmallows with your favourite person.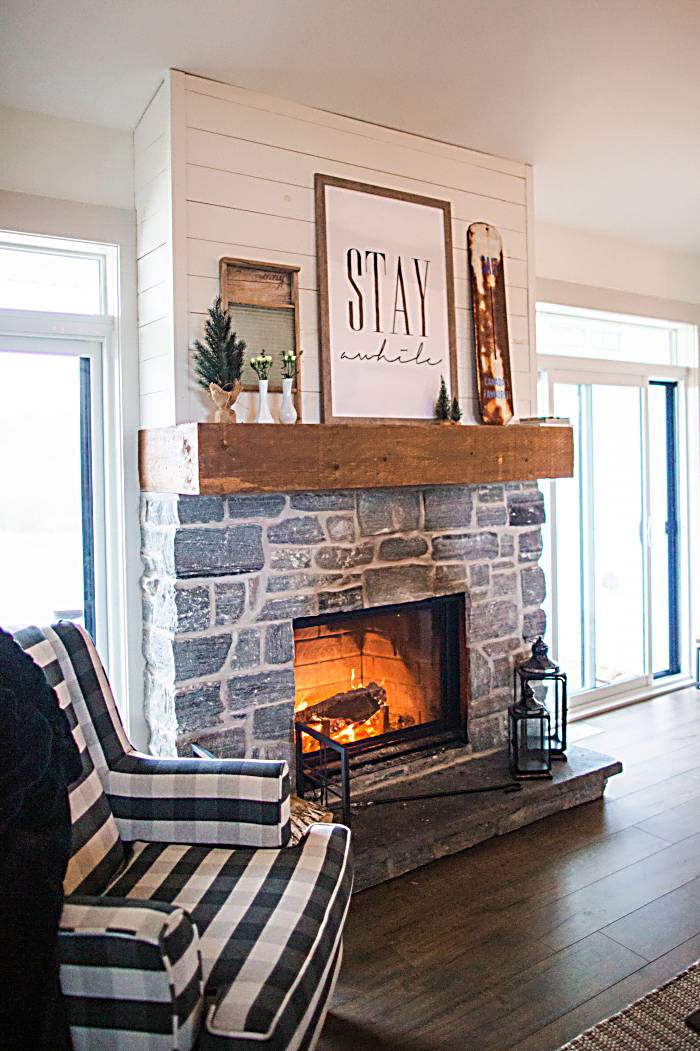 And there we have 25+ fireplace tile ideas for you to spruce up the look of your fireplace! I absolutely love the fireplace tiling that has intricate patterns which really adds so much interest to a simple space.
When installing a fireplace there are important things you need to make sure you have in place. These include installing a fire alarm, and also you should know how to clean your fireplace so that you keep it in top-notch condition. Remember to find a professional to take care of the TV wall mounting as well.
So which of the fireplace tile ideas above are you raring to try? I'd love to know in the comments below!