There's nothing quite like a bay window in a home. They are so magical and elegant. The general shape of bay windows are pretty distinctive and predictable but there are endless options for bay window ideas when it comes to how you decorate them.
Depending on where your bay windows are in your home, you may use the area next to them for a living area, dining room or even an extra little nook to relax next to your bed. Another benefit of bay windows is that they bring in so much natural light into a room which also works so well when you have indoor plants or are needing some extra light in your home.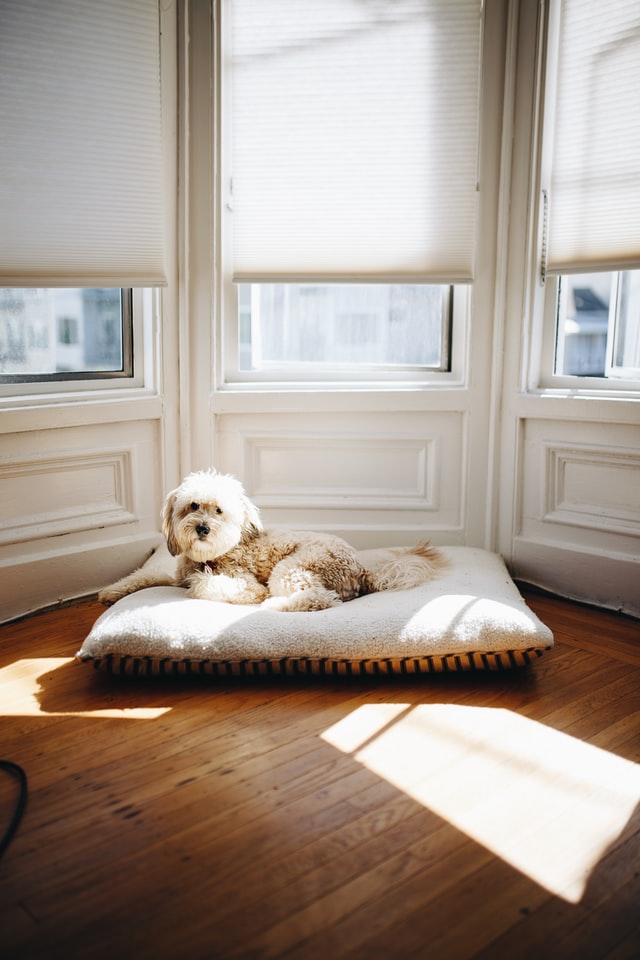 Whether you're wanting to add a beautiful bay window to your new home or renovation, or whether you're wanting to better decorate your existing bay window there are so many different things you can do. Check out these bay window ideas for inspiration!
1. Dining with a view
If you have a large bay window that needs some styling, then making your bay window area a dining room is a great idea. A beautiful bay window nook is the perfect place to enjoy a meal with family and friends.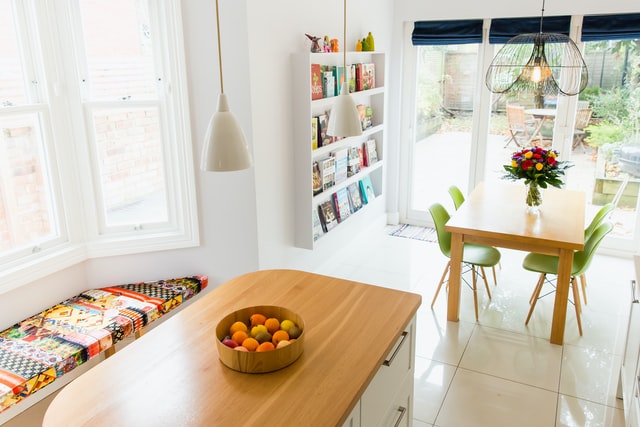 2. Natural finishes
This one's for you if you want your bay windows to look a little more rustic and natural. Add curtains to soften the look of the windows whilst plants and wooden stools will give the area around the bay window a very natural and laid back feel with all the natural finishes.
3. Cosy bay window ideas
For the most comfortable and cosy living room look, place a couch by your bay window with an assortment of cushions across it. These will add to the comfort of the room, as will other soft furnishings like an upholstered ottoman and beautifully patterned rug.
4. Off-white living room
If you love the look of white but want your home to look a little bit warmer, then a warm off-white is a great choice. I love how the couches and ottoman are a lovely complementary colour. Gorgeous styling for a gorgeous room by the bay window.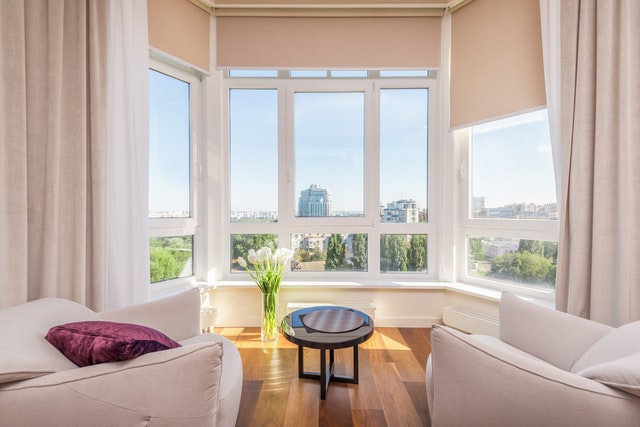 5. Window seat
How wondeful is a window seat by a bay window? This would also be a great spot to sit while the kids are playing outside and you can keep an eye on them. Here, a modernised take on a traditional bay window with straight lines and a rectangular shape.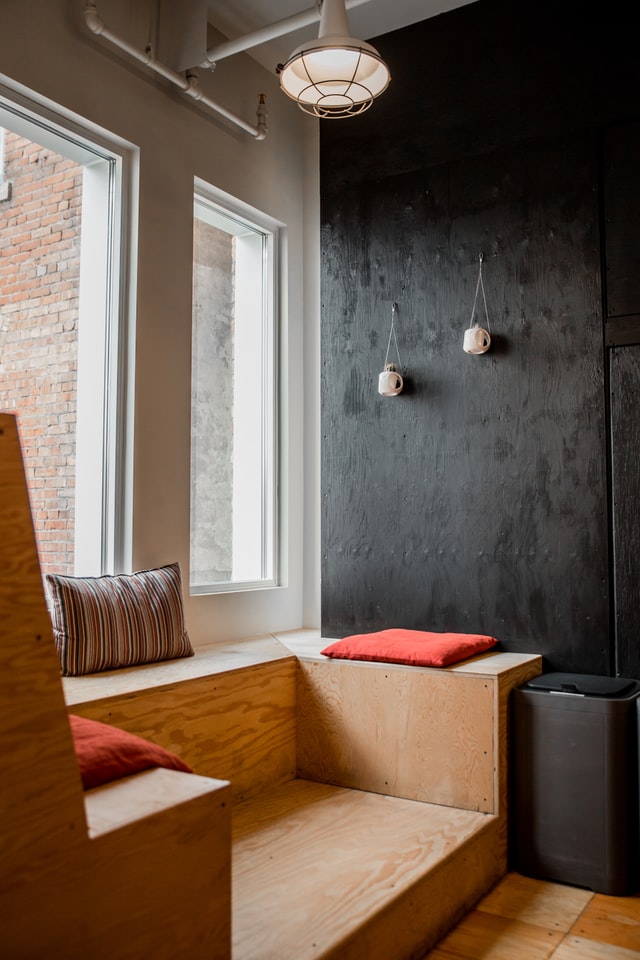 6. Family space
No matter where your bay window is in your home, you can always make it a family space with some personalisation. Favoured family photos sitting on the window sill really help to make a house feel more like home.
7. Love seat
Here's a gorgeous love seat by a bay window. The colourful seat looks oh-so-inviting by the window. Just add a chandelier and a table lamp for some added comfort and character.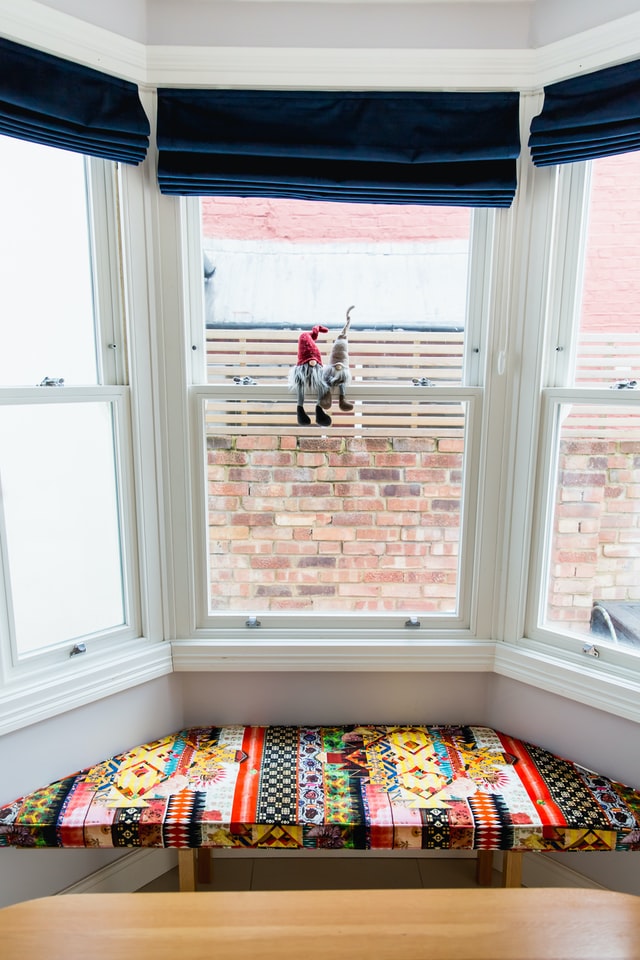 8. Room divider
If you want to create more private space by your bay window, then why not add a room divider to the space? I love the idea of a room divider that slides across to separate a reading area by the window and a lounge room space. The kids could be running amok in the living room but you could still be calmly sipping your cuppa (or vino) by the window.
9. Country cottage
Bay windows add so much charm to a country cottage style home. If you lov a romantic, classic look then add floral or lace curtains and vintage bone china plates to adorn the windows. Now just invite your friends over for high tea!
10. Indoor plants
There's nothing quite like indoor plants in a home. They bring so much colour, life and freshness to any space. And a bay window is the perfect spot to give your plants the sunlight they deserve and love. This could be your special indoor plant spot where your plants go when they're needing a little extra sun!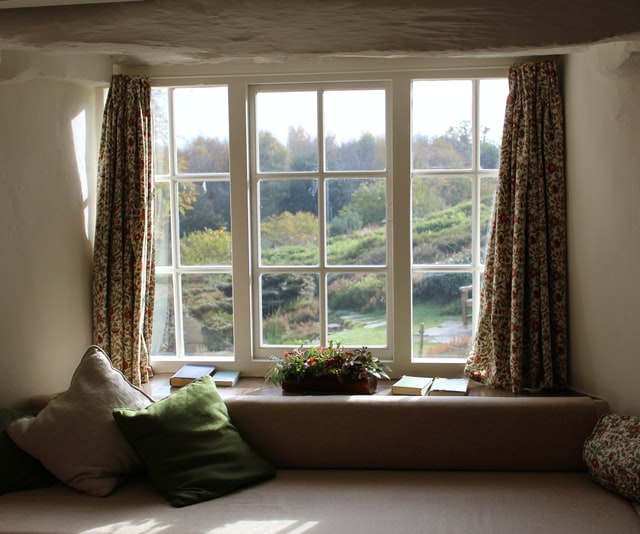 11. Additional seating
Need some additional seating next to your dining table? Then why not incorporate it into your bay window area?!  You can push a dining table up near the window and place convenient high-backed chairs as well as bench seating for breakfast, lunch or dinner.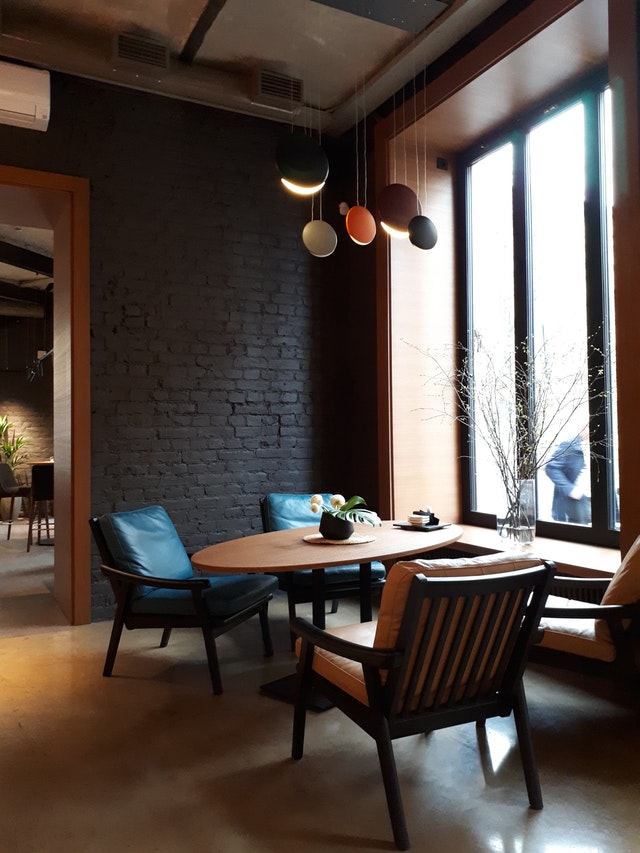 12. Feature lounge
Not into neutral coloured lounges? Why not go for something a little more bright? Perhaps something that could be a feature of your room rather than just another piece of furniture. Choosing a stunning bold lounge will be an absolute showcase piece that enhances every other element of the room including the bay windows.
13. Catching rays
A bay window is the perfect place to catch some rays and warmth when you place a lovely couch next to it. And the same goes for a large statement plant! It wll lap up the sun and thrive in this kind of space! Just add some blinds or curtains to your bay windows so that you can control the sunlight when things get a little too bright.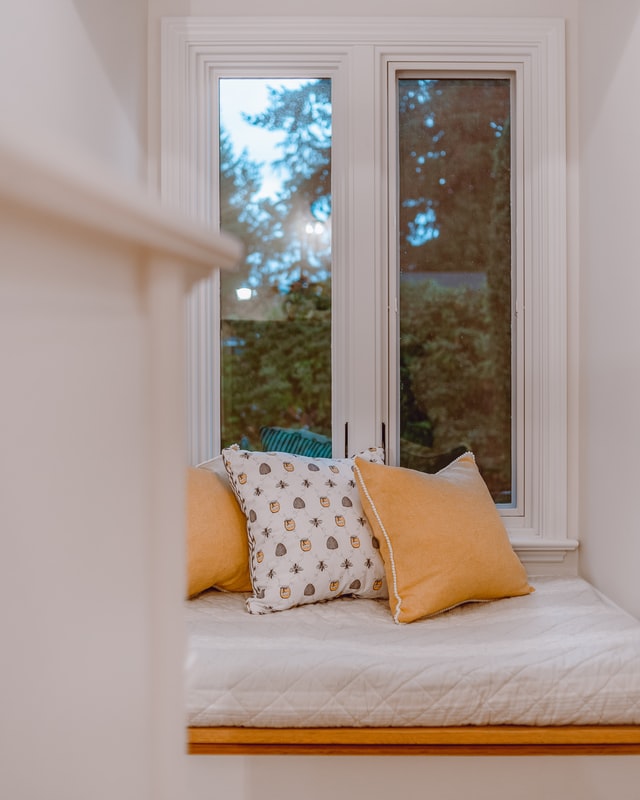 14. Light and airy
There's nothing more that I love in a home than a light and airy space. And a spacious spot by a bay window is no exception! For fresh modern look, opt for white on white windows enhanced with silver décor pieces.
15. Bright bedroom
If you have a bay window in your bedroom it is perfect for allowing the sun to beam in. Don't forget to add a lovely hanging plant so that the plant can also benefit from the beautiful sunlight.
16. On the window sill
If you have smaller bay windows that are complete with a window sill, you need to round up all your decor items and choose some pretty things to decorate the area, like candles and bunches of fresh blooms.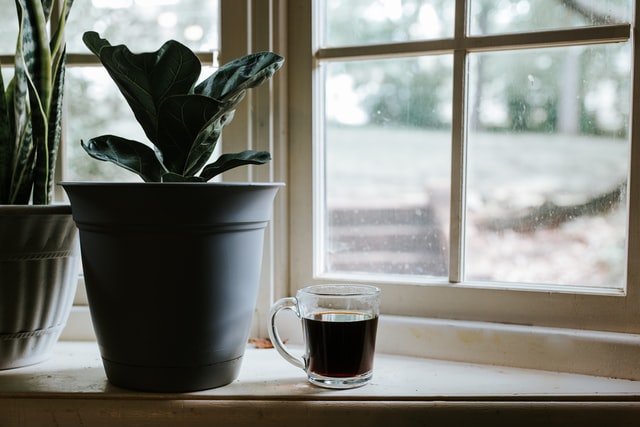 17. Happy hour spot
Why not create a little happy hour spot in your bay window, with a selection of liqueurs on a serving tray ready to mix? Santé!
18. Working from home
Working from home? then you'll know how important it is to set up a cosy spot where you can be both comfortable and one that will make you feel productive. A bay window makes the perfect little spot to work as you get a beautiful view of the trees and neighbourhood through your beautifully clean bay window.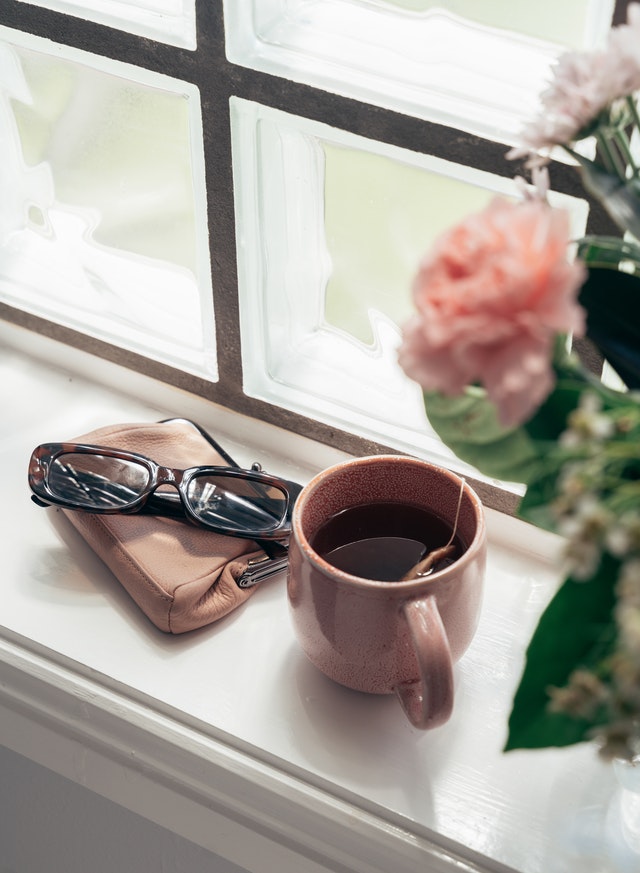 19. By the fire
Have a lovely cosy living room complete with the charm of a bay window? And what's something that's equally as charming as a bay window? Well, a log fire is, of course! A stunning cast iron fireplace in your living room can really adds to the cosiness of the space.
20. Narrow room
A narrow living room with the bay window at the end works so well as a great space for a family to hang out. Because of the narrow shape, your eyes are really drawn to the beautiful bay windows at the end, especially if they are framed well by the gorgeous curtains.
If you're thinking about adding curtains to your bay window, here's how to measure curtains for your windows.
21. Mustard and white
How stunning is this colour combo? I absolutely love the combination of white with mustard. When it comes to bay window ideas, if you're not sure what to put near your bay window, converting the sill to a bench seat is always a good idea and will not only look great but will be so convenient!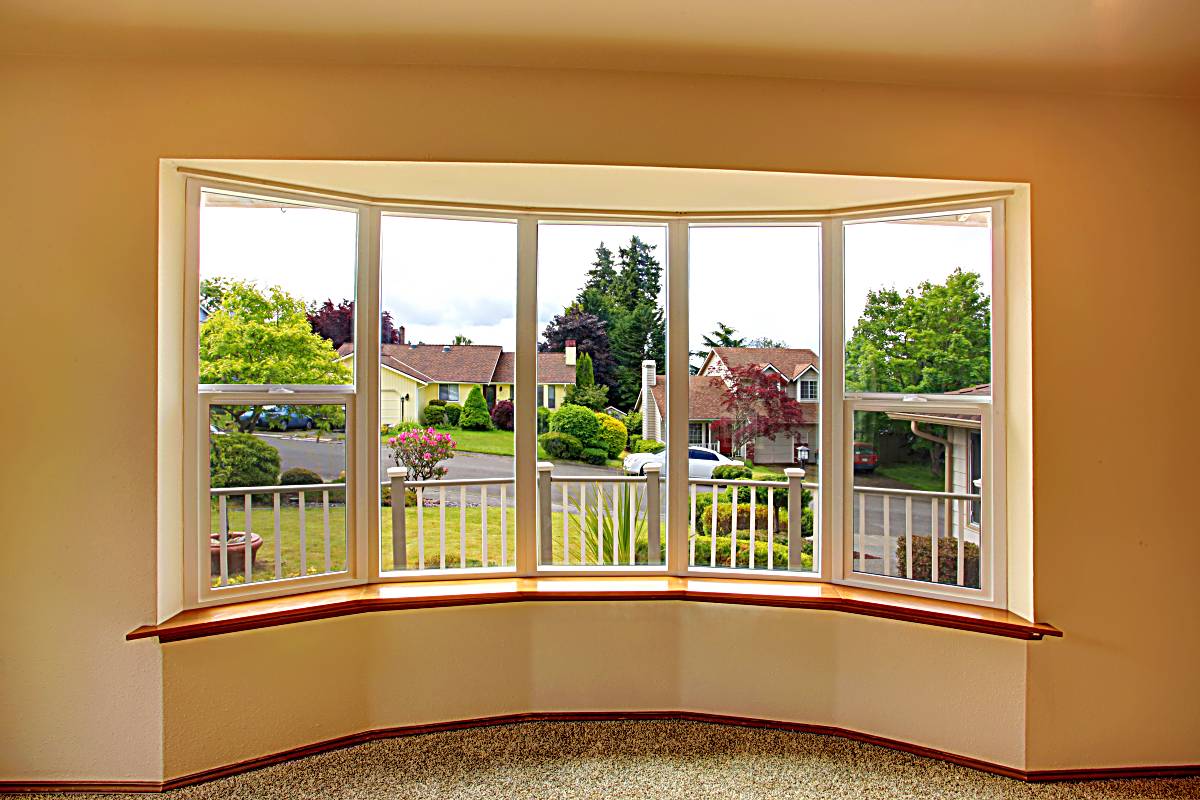 22. Stained glass
If you're after bay window ideas that are a little quirkier with a nod to retro, then consider stained glass windows. Choosing a neutral colour scheme will really help to make the colours in the stained glass pop!
23. From the outside
We've seen quite a few bay window ideas from the inside so far, but what about taking a look from the outside?! As you can see, a home with a bay window has a serious amount of character.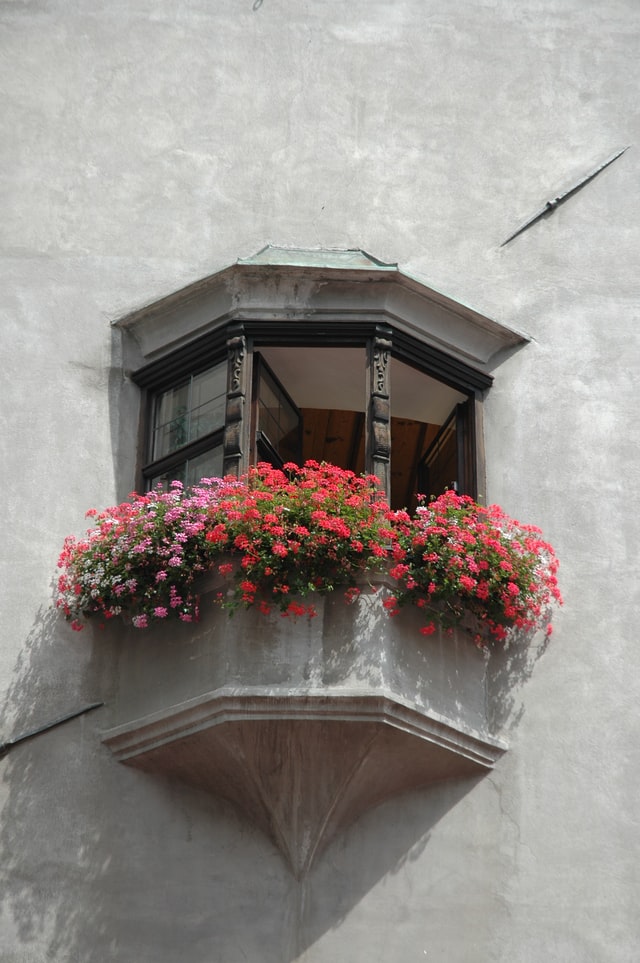 So there we have 20+ bay window ideas to inspire you in your next home renovation or in enhancing your existing bay windows. I love the bay window areas with the indoor plants which really thrive from the sunlight coming from all different directions. What were your favourite bay windows? Let me know in the comments below!