Update 16/11/2017: Airtasker Cards are currently unavailable in stores, check back to soon for updates on availability.
We're happy to announce that you can now give the gift of time with an Airtasker Card.  You can now buy your family and friends the perfect gift.
Airtasker Cards will allow you to purchase gift credit for almost any task that you need to be done. From everyday chores like cleaning and handyman work to quirky tasks such as needing DIY gifts made and fancy dress costumes made.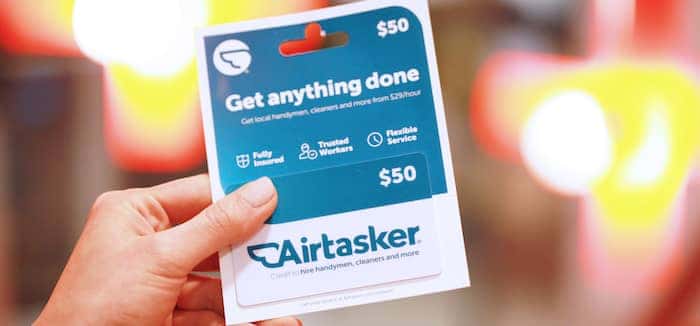 Airtasker CEO, Tim Fung said "The launch of Airtasker Cards is a huge step forward for us, as we've now made the platform more accessible to consumers than ever before.
"We've made significant headway in the past year, with Australian consumers realising they can get more done by working with people in their local neighbourhood. We believe that Airtasker Cards will push this sharing economy trend to the next level."
"We've also seen a huge demand for a product that can allow people to give the gift of free time or an extra weekend to their friends and family – and Airtasker Cards is the answer."
So what could you get done if you receive an Airtasker Card? Here are some ideas for every budget:
Under $50
– Mow my Lawn
– Clean my 1 bedroom apartment
– Hang paintings in my house
– Do the weekly ironing
– Pick up a fridge and deliver
Under $100
– Clean my 2 bedroom apartment
– Assemble a trampoline/furniture item
– Mount my TV to the wall
– Reorganise the Garage
– Do my gardening and hedging
Under $150
– Clean my 3 bedroom house
– Man and Van to help me move
– Assemble 3 large items of IKEA furniture
To redeem your Airtasker Card, go to our Airtasker Help Centre.