Ghosts, goblins, pumpkins, and apples… it's that time of the year again. Truly, fall is in full swing! While the past two years look a little different than the years past, it doesn't mean you can't go all out on the decorating and step up your outdoor fall decor game this year.
To get us inspired, we looked around Northern Texas for some of the best-decorated homes!
Ready to see fall in action?
Here are some of them, plus a few more inspiring outdoor fall decor ideas.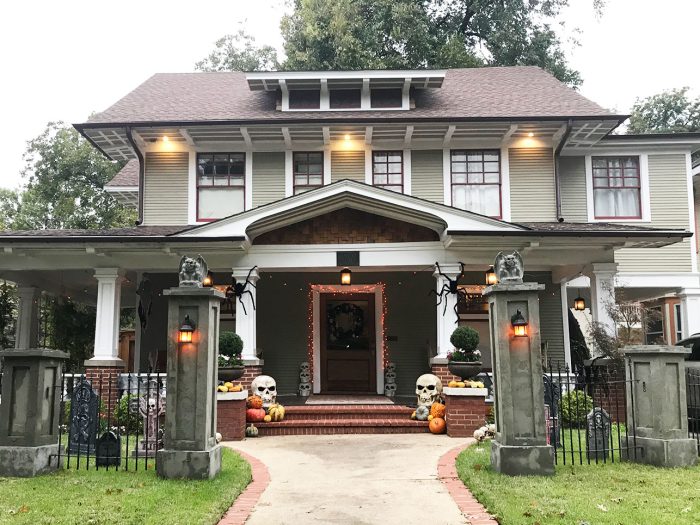 When decorating for fall, it makes sense to think of both Halloween and Thanksgiving at the same time.
Bring out the pumpkins
Pumpkins are not just great for eating and drinking (PSL, anyone?), they're also a staple fall decor in American homes.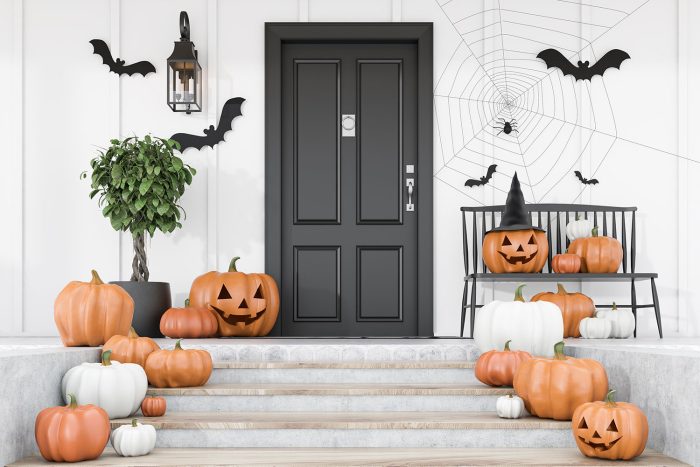 Whether you're carving out pumpkins for Halloween or livening up your porch with beautiful fall shades, you can never go wrong with an array of pumpkins on your steps.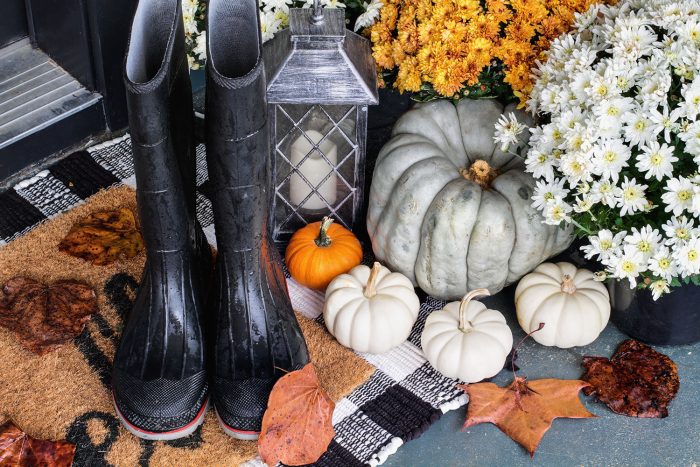 Go for white pumpkins if you're after a minimalist and elegant look.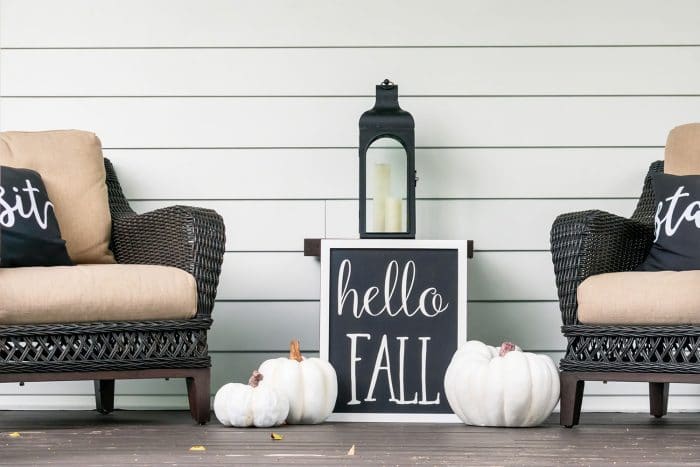 Or go crazy with color! Do you know that pumpkins can be white, orange, yellow, red, green, and even blue?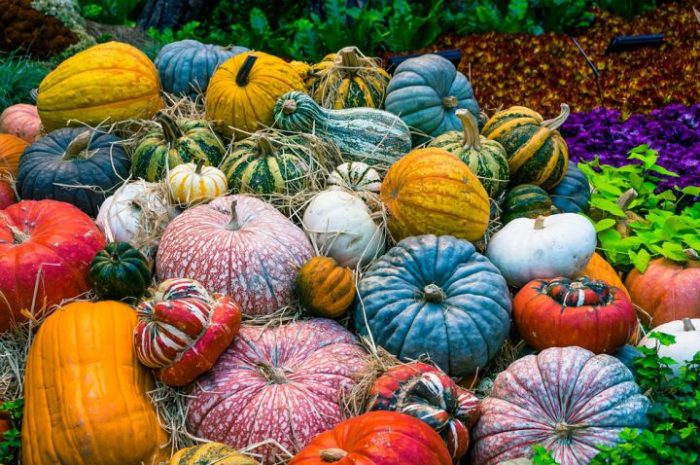 For a more color-coordinated approach, no one's stopping you from painting your pumpkins with an unusual palette like, yes, shades of pink!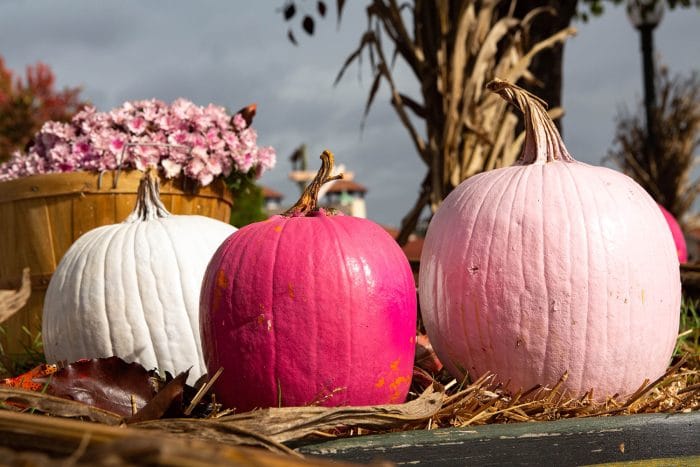 Spruce up with some mums
The Teacher Diva in Dallas has decorated with elegance for autumn. Located in East Dallas, this home takes spooky and sophisticated to a new level.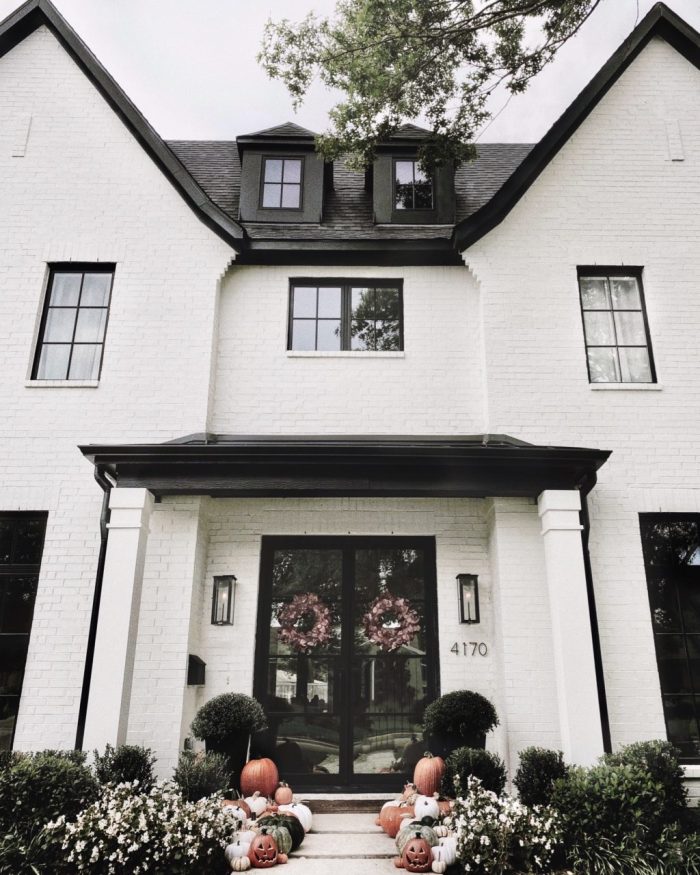 Mums can spruce up any front porch, all year round. Layer them up with pumpkins and you have a beautiful porch ready for fall.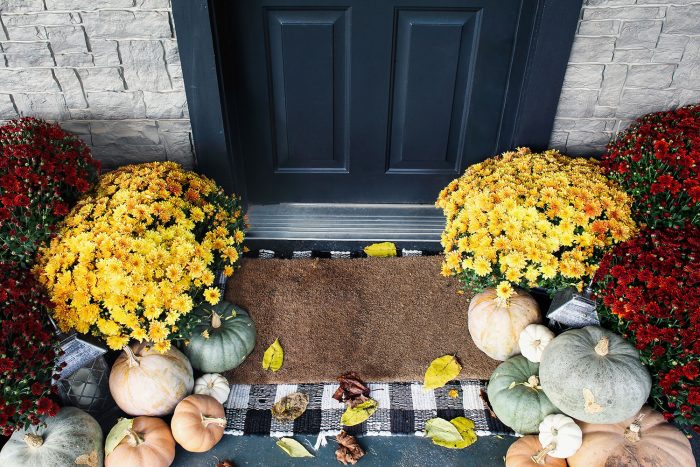 Pairing mums and pumpkins together is always a good idea!
Mums are easy to maintain with a few steps to follow.
If you are planting mums, give them space. Set them about 18 inches apart from other plants.
Water your mums, but don't over-water them.
Remove any wilted blooms and dead stems regularly.
Sometimes it gets frosty in Northern Texas! If frost gets to your mums, don't worry. Just prune the mums back to where there is only an inch of stem above ground. Then, leave the mulch remaining around the plant. It won't look as pretty; however, by Spring, those mums should be back in full bloom!
Put up some fall wreaths and garlands
Wreaths are affordable and easy to make. Some dried leaves, foliage, and some recycled craft materials are all you need!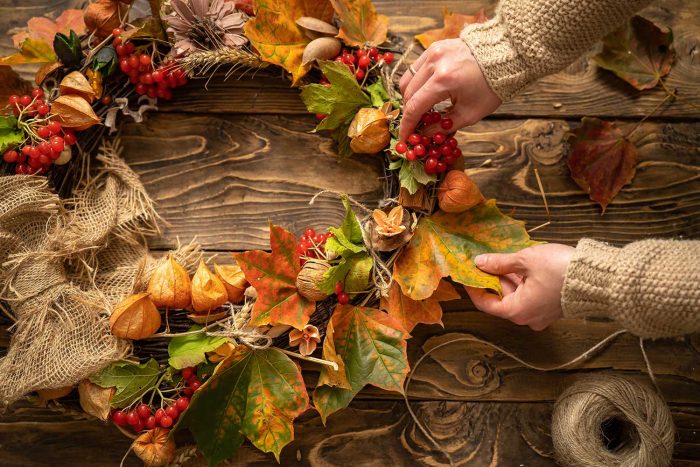 For your front door wreath, you can opt for a minimalist approach..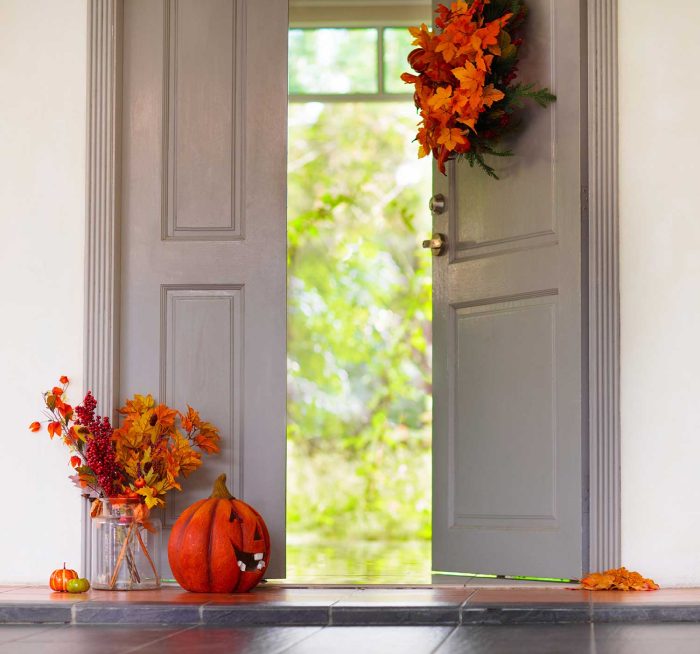 ..or go for matching wreaths and garlands, depending on available time and resources.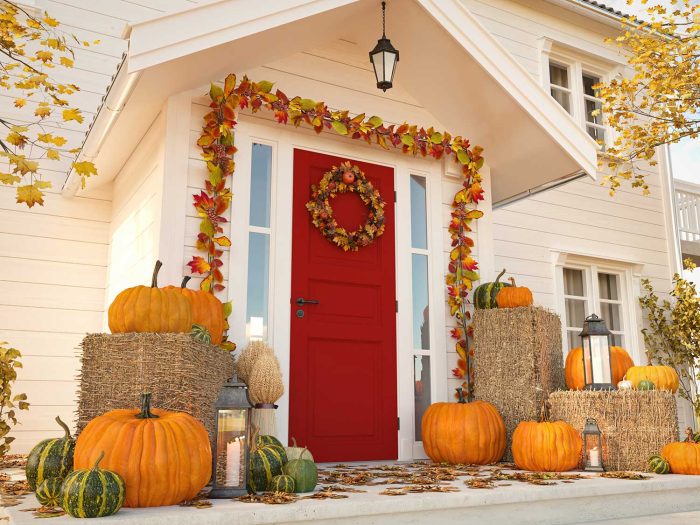 Brighten up your front door
Now, if you really want to go all out with your fall decorating, consider painting your door just like this house we found in Fort Worth!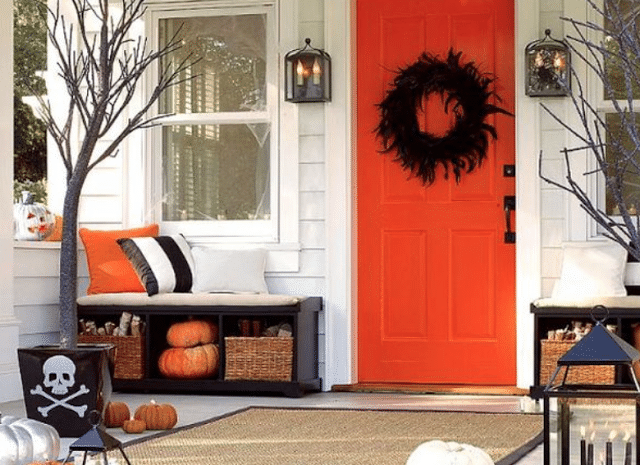 This Fort Worth homeowner went all out and painted their front door bright orange because why not! Painting your front door is an easy day project. (Be sure to check with your HOA first.)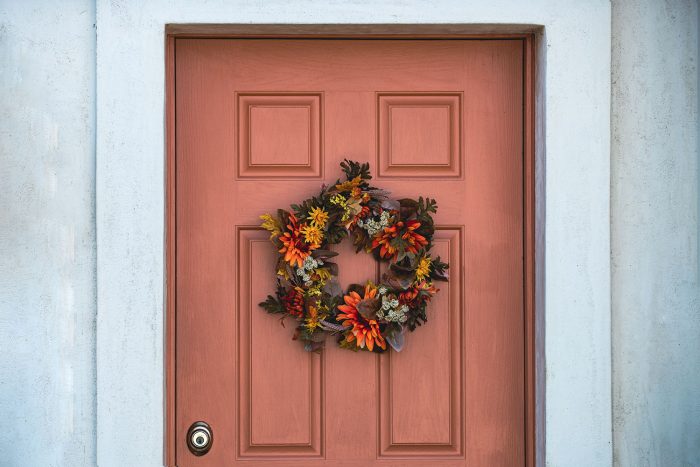 You can choose a fall color for good measure or a shade that you really like to keep the whole year.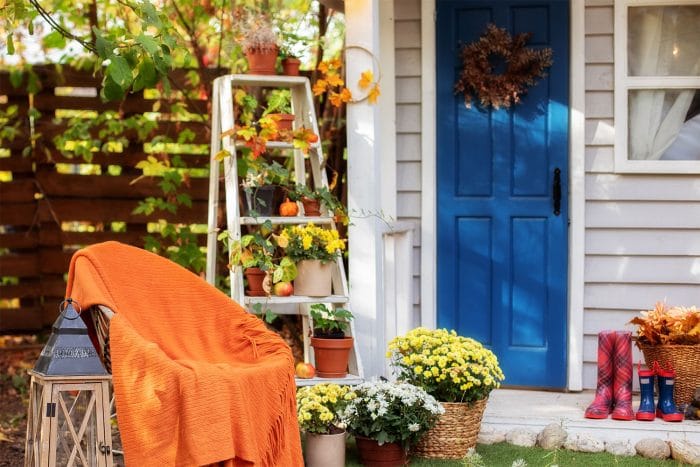 Like this bright blue door that gives off a lovely contrast to this fall wreath!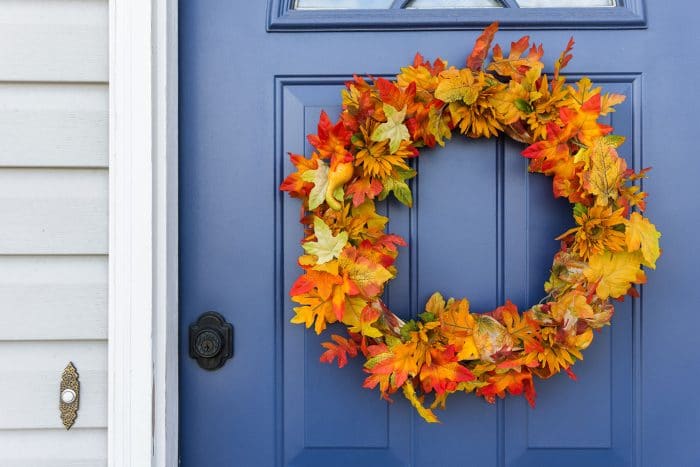 Bonus: How to paint your front door
Usually, we'd suggest hiring a pro for this; however, we think you can tackle it! Painting your front door is like putting a smile on your home, and what better time to do just that?
Things you will need
Cloths
Masking or painter's tape
Stirring sticks
Interior or exterior primer
Fine sandpaper
High-quality paint brushes
Paint
Steps
Wipe the door with a damp cloth and allow it to dry. Mask off any hardware or around the door edges to prevent paint transfer.
Mix primer with a stirring stick. Dip the paintbrush into the primer to coat it and tap the brush on the can to remove any excess (you can also place a few sturdy rubber bands over the top of the paint can and remove the excess paint that way). Paint the primer onto the outside and inside edges of the door.
Next, paint the recessed parts of the door and panels with primer and fill in the centers of the door panels. Pass over the painted areas with the brush to prevent any brush strokes. Be sure to keep the brush wet the entire time you are painting the door.
Paint (with primer) the vertical section between the panels beginning at the top and working your way down. Blend your brush strokes horizontally across the bottom and top rails. Paint the top, bottom, and middle rails next. Paint the end stiles from top to bottom to complete the primer application. Allow the door to dry according to the primer manufacturer's instructions.
Next, sand the door lightly and evenly with fine sandpaper to smooth out any imperfections – go slowly if this part makes you nervous. Wipe the door with a damp cloth – make sure the door is completely dry before continuing.
Mix the paint with a stirring stick. Apply the paint to the door with a paintbrush following the same method you used for the primer. Allow the paint to completely dry and then apply a second coat. Allow to dry – do not use the door before it's done drying!
Need a hand with your outdoor fall decor? Tap a local Tasker to help with your outdoor project.Join Airtasker today!