For an ideal home theater, you want a space that is at least 20 feet long by 13 feet in width. If it's possible, you'll want to have your theater room in an area of the house that is isolated.
Options include
Having an addition built off of the family room
Use a spare bedroom
Finish your basement into a theater room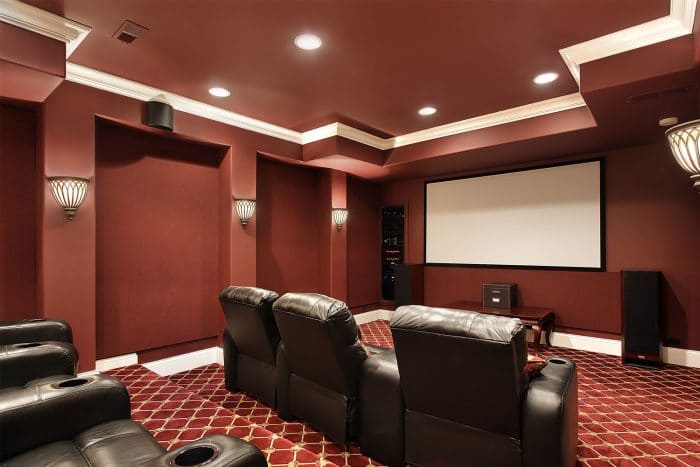 Insulation
A theater room needs to be properly insulated so that walls don't shake with every explosion in Mission Impossible. If you are framing and insulating, it's best to insulate the floor, ceiling and interior walls.
Sound
It's always best to work with a service provider that installs and sets up sound systems. Pre-wiring your home theater is an essential step, but not one that most people can sleuth on their own. A typical home theater uses a 7.1 surround system. You'll also want a subwoofer and seven-channel speakers (left, right, center, two surround sound, and two rear speakers).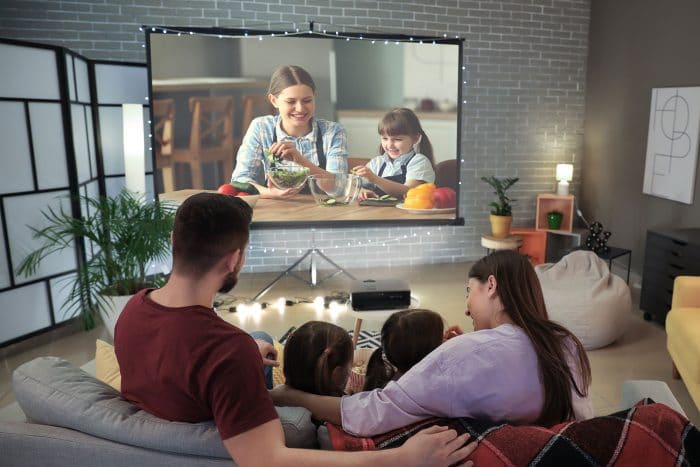 Video Projector
If you want a true movie-theater experience, the best way to go is a projector. Be sure that you talk to an audio-visual service provider about pre-wiring, which needs to be completed before you start on the rest of the room.
Lighting
Movie theater lighting usually will have recessed lighting in the ceiling and then scones along the two side walls. Extra touch — lighting strips on the floor to help guide people in and out of the room during a movie.
Discuss lighting options with an electrician
Paint
In most of your home, it's recommended to stick with white ceilings — this is not the case for media/theater rooms. Pick a dark neutral color that matches the paint color that you pick for the rest of the room. We recommend choosing a dark natural shade. Using a dark paint color on the ceiling will help maintain accurate colors on your screen and prevent light from bouncing off the walls onto your screen.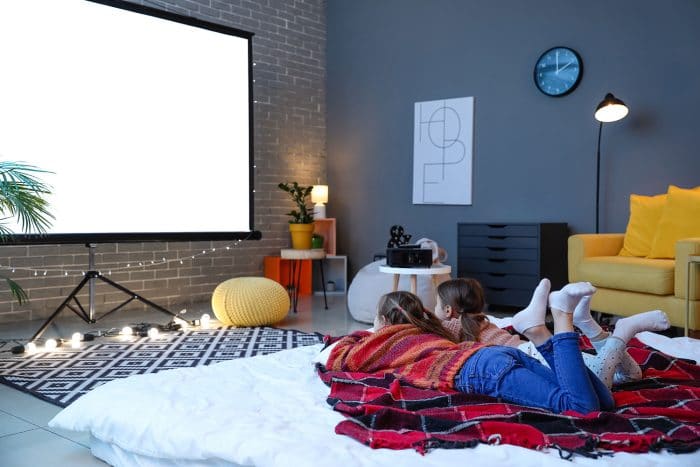 Seating
You can't have a theater room without having great seating. When making plans for the room, make sure platforms are built out for stadium seating. When choosing seating the go-to choice for most homeowners is comfy, large recliners with cup holders. Ideally, two rows of four seats will fit comfortably in a 20 by 13 theater.
Just for Fun
There are lots of extras you can add to a theater room!
Popcorn machine
Big movie posters of favorite movies
Vintage movie posters
Concession signs
A thick deep red curtain to pull back on the sides of your screen
How would you gift a theater room to someone in your home (or your entire family?
A popcorn bucket with all of their favorite theater snacks with a note about plans for a home theater in 2020
Vintage movie poster or poster of a favorite movie
Print out fake movie tickets with admission to a brand new theater room!