The school holidays are here again, and you're running out of ideas to keep the kiddos preoccupied.
Don't fret! Whether you're looking for something they can enjoy doing indoors or outdoors, we've got you covered!
Check out our list of fun and educational activities the kids can do by themselves, with their siblings, friends, and even the entire family!
1. Read a book as a family
Enter the magical worlds of Harry Potter, Willy Wonka, and Aslan! Now that they're on break, they have all the time in the world to read their favourite adventure books or fantasy novels.
Make it a family affair for the younger ones and set aside storytime sessions to tickle their imaginations.
2. Play pretend and dress up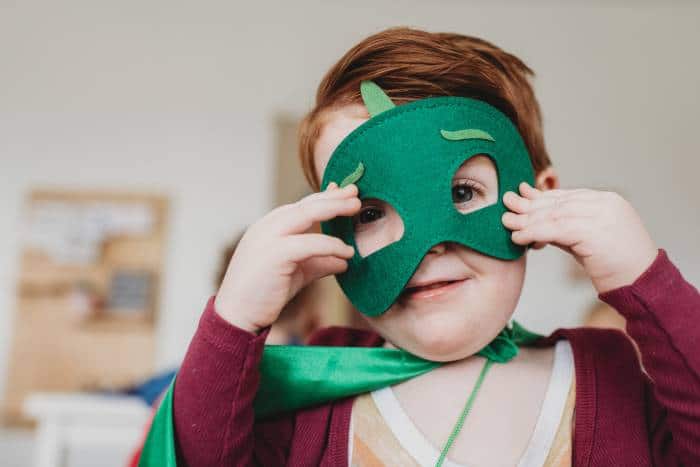 There's nothing like a free school holiday activity to keep everyone entertained, and this one involves dressing up! Who says you have to wait for Halloween?
Let your kids channel their favourite movie actors or cartoon characters and turn it into an amusing game of guess who!
Bust out a couple of old costumes or formal wear, or even some of your own clothes and accessories they can mix and match. Have them choose and watch them transform before your very eyes!
3. Brush up on school lessons
Now that school has taken a break, your kids can also use the extra time to brush up on subjects they struggle with.
You can make your own worksheets for them to work on or hire an online tutor who can help with various lessons so they'll be ready once classes resume.
Check out these Listings:
4. Take up dance lessons
Has your child ever expressed interest in ballet? Or maybe they love doing dance challenges on TikTok? Whatever the case may be, why not take their talent to the next level and sign them up for dance lessons?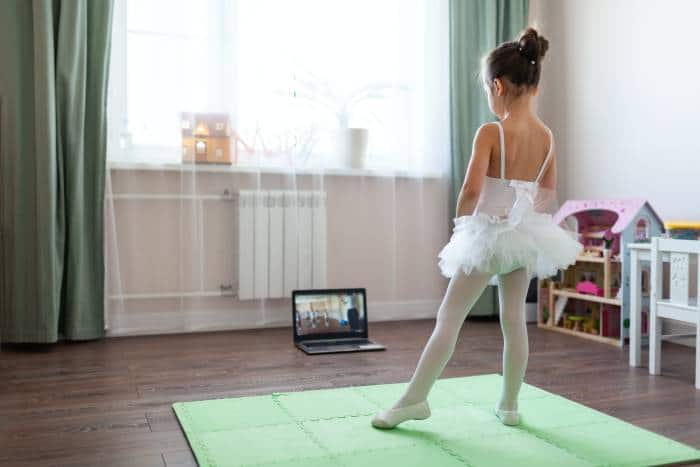 Not only do they get to express themselves through their favourite steps or routines, but they also get to stay active. If you're looking for something remote, you can find dance instructors who can take the sessions online.
5. Schedule an online party with friends
If your kids are looking for fun interaction with their friends during the school holidays, why not set up an online party? It's quick and easy, and you have plenty of options as well.
You can organise a virtual movie marathon and have them watch the latest Disney films or maybe even arrange a few online games like charades, Pictionary, or Heads Up!
6. Start a diary
Settling into a routine is important even during school holidays. Set a time every day for your kids to write down all the things they did during the day and what they think was most memorable for them.
They can also start a bullet journal to jot down their thoughts, favourites, goals, or whatever they feel like writing. Doing this can help improve their language skills, and they can even have something to read back on when they're all grown up!
7. Go on an indoor scavenger hunt
Who doesn't love a good scavenger hunt? Leave a trail of clues or riddles all over the house and have everyone hunt for hidden treasure, which could be anything, really!
A mini treasure chest filled with your kids' favourite treats, the newest video game for the whole family to enjoy – it's all up to you!
8. Make your own in-house gym
Roll out the yoga mats and bring out the jump ropes! Regular exercise can do wonders for our immune system, so get everyone involved in fun fitness activities.
If you're not sure where to start, you can get a professional fitness trainer to develop indoor-friendly fitness routines that require little to no equipment. For extra safety, ask if they can offer their sessions online so you won't have to worry about going out.
9. Get creative with art lessons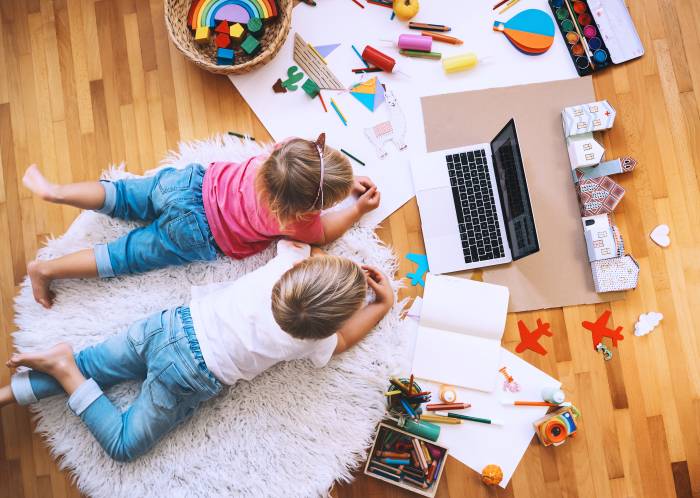 Transform your kids' play areas into their own art studios this school holiday! Art tutors can hold virtual painting or drawing lessons that can be perfect for beginners or budding artists.
You can also have your kids join online art classes with Bondi Paint Club or participate in Art Est's School Holiday Online Program.
10. Connect through video games
School holidays can mean more time for your kids to indulge in their favourite video games! Give them a specific time during the day to play fun games like The Legend of Zelda, Super Mario Odyssey, or Animal Crossing.
Keen to join in on the fun? You can opt for multiplayer games like Overcooked! 2 or Mario Kart and make it family game night!
11. Go cycling together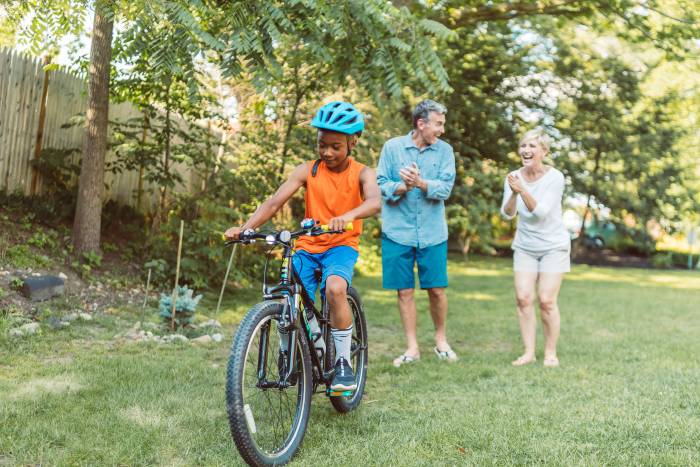 Another way to keep active is to cycle through parks and bike trails in your city! If you're on the lookout for Queensland and Western Australia biking spots, you can easily go around Jim Soorley Bikeway or Burns Beach for a scenic ride.
Make sure to have all your bikes assembled and safety gear ready to go before anything else.
12. Spark creativity with writing prompts
There's no better time to let their imagination run free than during the school holidays. If your kids have always been the writing type, you can prepare writing prompts and activity books to encourage writing as a talent!
13. Start a scrapbook
Get the washi tapes, coloured markers, and glitters out for this one. Scrapbooking is another fun way to bring out their creative side! Show them a few decorating tips and tricks to preserve their favourite memories with friends and families in an artistic way.
14. Conduct science experiments at home
Doing science experiments can be a unique learning school holiday activity as well. Museums Victoria created an entire playlist of crafts and activities based on different scientific concepts if you're looking for ideas. These experiments are great for both kids and grown-ups, which can make for great bonding experiences!
15. Get crafty with DIY
Aside from science experiments, you can also have the entire family try their hand with DIY crafts. ClassBento offers various virtual classes for all ages, and they even deliver craft kits that have everything you need for your project straight to your home!
The possibilities are endless, from watercolour painting for beginners and crafting polymer clay earrings to making a DIY Turkish mosaic lamp!
16. Set play dates
We bet your kids would want nothing more but to run around parks and fields with their friends. If you live around Brisbane, you can take your kids to South Bank to explore their many play and water park areas.
If you'd rather stay indoors, a virtual meet-up is always a good idea. Hire a child entertainer to do a few magic tricks or a puppet show for a fun twist!
Check out these Listings:
17. Beat boredom with board games
Put aside all your devices and play some good old-fashioned board games with the entire family. There are tons of games to choose from!
Lead an ancient civilisation in 7 Wonders, acquire the most money in Monopoly, or win an exciting match of Hedbanz against mum and dad.
18. Keep busy with activity and sticker books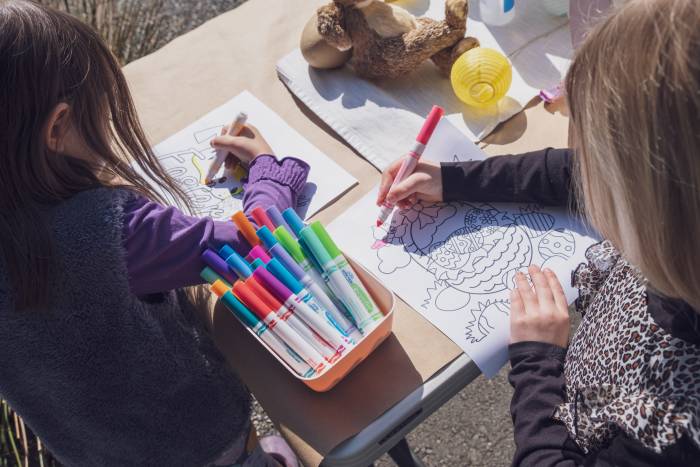 You can never go wrong with activity books to keep the little ones preoccupied. Get them a colour-by-numbers book and watch them use every crayon in the box!
Animal sticker books are also a great option as your kids can delight in learning fun facts while meeting each cute, cuddly, or strong creature in their natural habitat.
19. Learn a new language
Younger kids are at the perfect learning age to develop fluency in various languages. Aside from improving their cognitive skills, learning a new language can also make them feel more connected with different cultures.
If they're up to trying something totally new, why not encourage them to sign up for language lessons? They can take their pick, whether it's French, Spanish, or Korean!
Check out these Listings:
20. Have a movie marathon
Nothing says school holiday like a good, old-fashioned movie marathon! Set up your home theatre, bring out the popcorn, and cuddle up in blankets for this one. You can even come up with a theme (superhero movie night, perhaps?) or let the kids call the shots!
21. Immerse in performance arts
This year, Parramatta's Riverside Theatres has prepared an exciting school holiday lineup. Go on a little field trip with the whole family and introduce the kids to the wonders of interactive shows and performance arts!
22. Learn how to play an instrument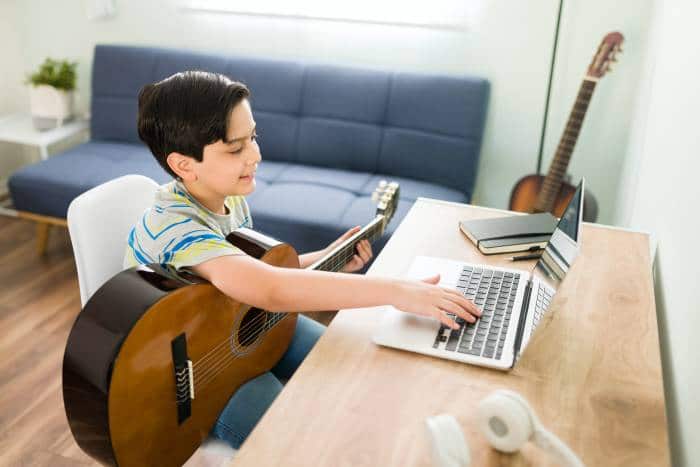 Whether it be piano, guitar, or violin, learning a new instrument is a classic holiday activity that can carry over to the next school year. Enrolling them in music lessons doesn't just keep them busy, but it also hones your child's fine motor skills and work habits.
Check out these Listings:
23. Power through power walks
Going on a power walk around the neighbourhood can also be a great way to stay fit and active during the school holiday. While it can be tempting to just lay on the couch all day, nothing beats stepping outside and getting some fresh air. Go ahead and let the kids tag along, too!
24. Host theme nights at home
Give your family something to look forward to by coming up with theme nights at home! Prepare a full Mexican spread for Taco Tuesdays, or get everyone to dress up and recreate silly family photos from 10 years ago for Flashback Fridays.
You can also surprise the kids with a "Yes Day" where you just say yes to whatever they ask for. Sugary cereal for breakfast? Sure! Maccas for dinner? Say no more!
25. Join a baking or cooking class
If your kids love helping around the kitchen, why not consider booking an online cooking class? Guide them as they learn the basics, discover new recipes, and even meet new friends virtually. Soon enough, you'll have your very own little sous chefs cooking dinner alongside you!
26. Explore the wonders of marine life
SEA LIFE Melbourne offers a plethora of activities for kids who have a profound fascination with marine life.
They can choose to explore any of the 12 interactive zones, which include a Penguin Playground where they can meet King and Gentoo penguins.
They might also enjoy SEA LIFE Melbourne's Interactive Wonder Wall exhibit where they can draw and colour their own jellyfish and watch it float on the interactive screen!
27. Stay cool by the pool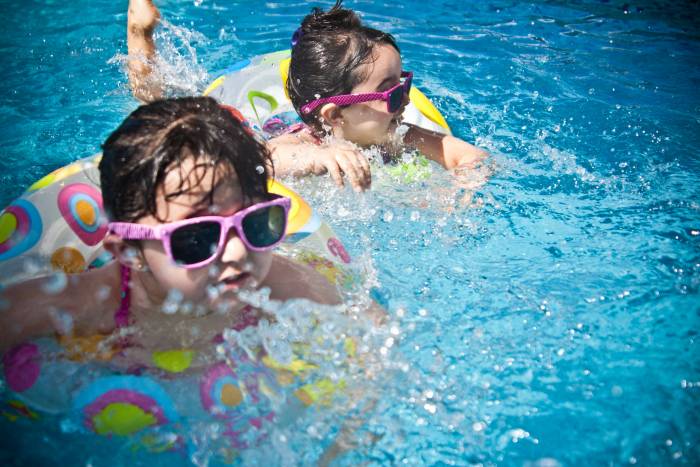 If you have a swimming pool at home, take advantage of sunny days during the school holiday and go for a swim! The kids will surely love playing around with water guns and inflatables while making a splash.
Just make sure that your pool is in tip-top shape before the kids go in. Oh, and don't forget the sunscreen!
28. Master the art of macramé
If knitting and crocheting are too difficult for your kid's little hands, you can introduce them to macramé! It's basically tying knots and forming patterns out of them, making it an easy crafts project for children.
ClassBento has plenty of online macrame workshops perfect for kids and beginners – start with something simple like a keyring, then maybe they can try their hand at wall hanging pieces.
29. Nurture little green thumbs
Adding garden chores to your kid's daily routine can be beneficial to their overall well-being. Not only does gardening increase their physical activity, but it also exposes them to nature and the joys of growing plants and fresh food.
You can have them water the plants, pick out flowers, or even take out the weeds. If there's ample space, you can even give them their own gardening area where they can plant their own seeds.
30. Bring out the bling
Crafting jewellery also be a fun and productive school holiday activity, so take out the bead kits for your little divas at home!
Help them experiment with different styles, colours, and patterns for all sorts of accessories.
They can make friendship bracelets for their BFFs, handmade earrings for themselves, or even dainty necklaces that can make for lovely gifts.
31. Playtime in the playground
If you live near your local playground, you can bring the kids over for some fun afternoon playtime. Being cooped up indoors for days can take a toll on anyone, so it's always good to have some time outdoors to break the monotony brought by the lockdown.
Just make sure to wear a mask, sanitise, and follow your LGA's safety guidelines when going out.
32. Organise a themed photoshoot
Your kids will definitely go crazy over this one! Set up a makeshift photo studio at home and transform them into models for the day. You can also hire photographers if you don't have the equipment at home.
Get inspiration from their favourite Marvel characters, or you can also dress them up for a Spring-themed photoshoot!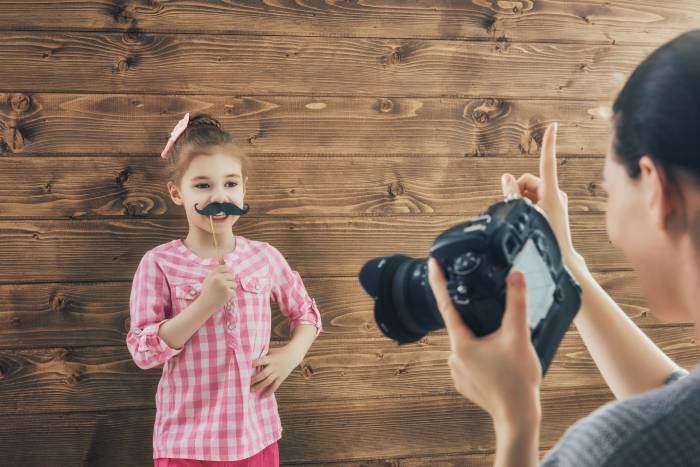 Want to take things up a notch? Take a cue from actual shoots and do craft services! Get their favourite desserts delivered for snacks in case they need a break from posing for the camera.
Check out these Listings:
33. Get them into theatre
Keen to introduce your kids to theatre and musicals during the school holiday? Disney+ lets you watch the remarkable story of Alexander Hamilton, while Threshold offers an audio-led experience that allows you to bring the theatre to your living room.
34. Take a trip to the museum
Depending on where you are in Australia, visiting museums can be done either virtually or in person. The Art Gallery of NSW's Together in Art features artist-led projects where kids can submit artworks based on a particular theme.
They even have art-making videos and free downloadable activities on their website so your child can keep the creative juices flowing.
Meanwhile, if you're within Queensland, take the trip to Queensland Museum's SparkLab where your kids can geek out on live science experiments and out-of-this-world exhibitions.
35. Go camping
Camping with the whole family will surely make this school holiday a memorable one. Pitch a tent in your backyard, roast some s'mores, and just enjoy each other's company.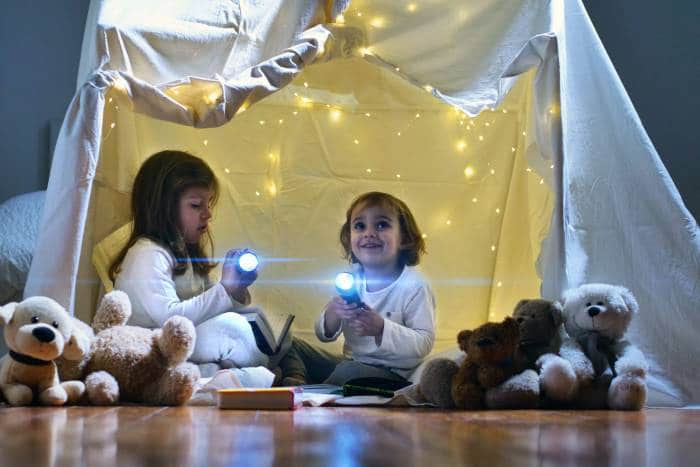 If you don't have the space, set it up in your living room! You can even use twinkly LED lights to give the illusion of stars once you turn off the lights.
36. Book a pottery-making class
Local studios like Clay Sydney offer classes and courses who want to try their hand at pottery! They also have a "Clay at Home" option where they deliver pottery kits to your doorstep, so you won't have to worry about gathering materials.
You can also book an instructor that specialises in decorating so your kids can bring their marvellous pottery creations to life!
37. "Visit" the zoo
Even zoos have found a way for kids to see their favourite animals from home! Taronga Zoo launched a live stream platform so that your kids can see what the kangaroos, koalas, and meerkats are up to!
38. Train like Karate Kid
Introduce your kids to martial arts so they can channel their inner Karate Kid while on holiday. Find a martial arts class online where they can learn the fundamentals. This school holiday activity can even become part of their routine once school is back in session.
Check out this Listing:
39. Stroll through majestic gardens
Take time to smell the roses during the school holiday! It can get incredibly dull to be around the same four walls of your home, and your kids might be feeling it, too.
Drop by the Royal Botanic Garden Sydney for stunning views of the Sydney Opera House or glimpse wildflowers at Kings Park Perth.
40. Go on a lovely picnic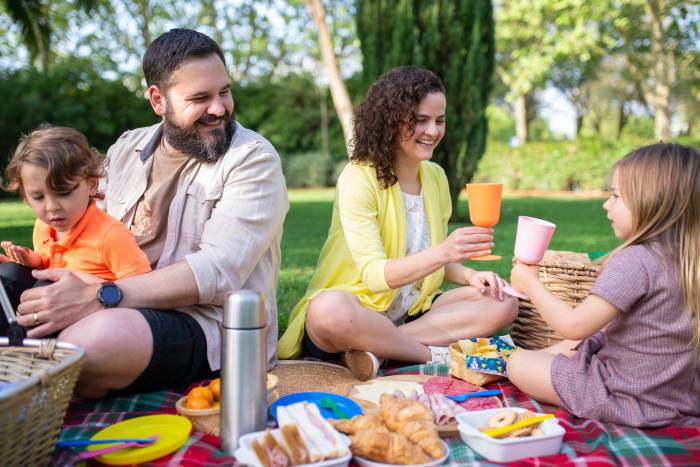 Whether you're laying out your picnic blankets in a nearby park or just in your backyard, you're sure to have a wonderful time! You can even pack up a picnic basket with your kids' favourite snacks and juice boxes as you enjoy a laidback afternoon with the family.
These are just some of the many fun school holiday activities that kids (and kids at heart!) can enjoy without having to go far.
With a bit of inspiration and creativity, you can keep the whole family entertained and make quality time more meaningful than ever. Have fun!