Every trend always comes back in style and retro kitchen design is no exception. Taking its cues from the 60s, 70s and the decades of yesteryear, retro kitchens combine a mix of styles, objects and materials that are sure to infuse colour and life into a space. But when it comes to designing a modern retro kitchen, you're going to want to choose wisely to create a space that both fits into the rest of your home and also stands out on its own.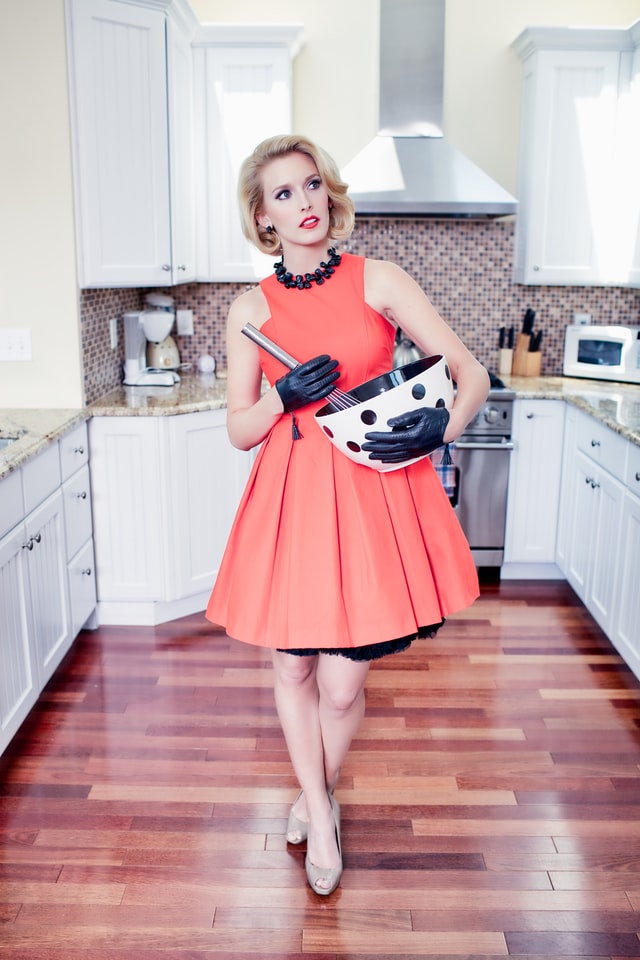 So, what are some hallmarks of retro design? Think cool, mint-blue cabinets, pops of pink, touches of timber, and fabulous floral wallpaper. While there are some elements that are distinctly retro, there really are no limits. You can go completely old school or you can add a vintage touch to your modern white kitchen. The choice is yours!
To help you get started, I've put together 25+ retro kitchen ideas, including tables, chairs and fun retro decor.
1. Blue with pops of colour
This is a fun little kitchen to start with. It's ever so slightly modern, yet it combines a whole lot of retro elements for a fabulous look. There's the lovely blue cabinetry, which is cool and clean. But the real hero of this kitchen is the fun printed wallpaper splashback, which makes this space pop!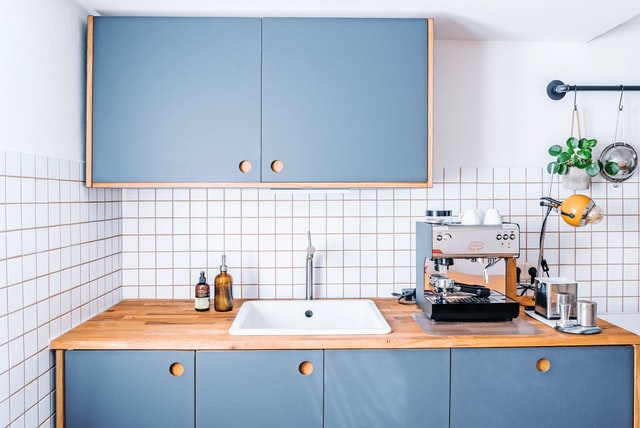 2. Old school splashback
I think it's amazing how a kitchen splashback can really transform a space. Without these specific tiles, this kitchen would have had a totally different style. It also means that if you fancy a change up, you can always simply get a tiler to change the splashback tiling to refresh your home.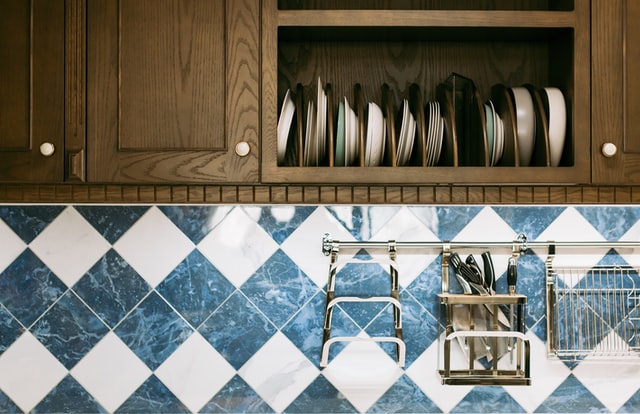 3. Mint green
If you're looking for something a little bit out of the box, then you can't go past mint green. This colour has shot to popularity over the last few years, and it's no surprise why. It's an easy shade to pair with. Take this kitchen, for example. It includes natural timber floorboards, a timber countertop and plenty of modern stainless steel. Yet that mint is 100% retro!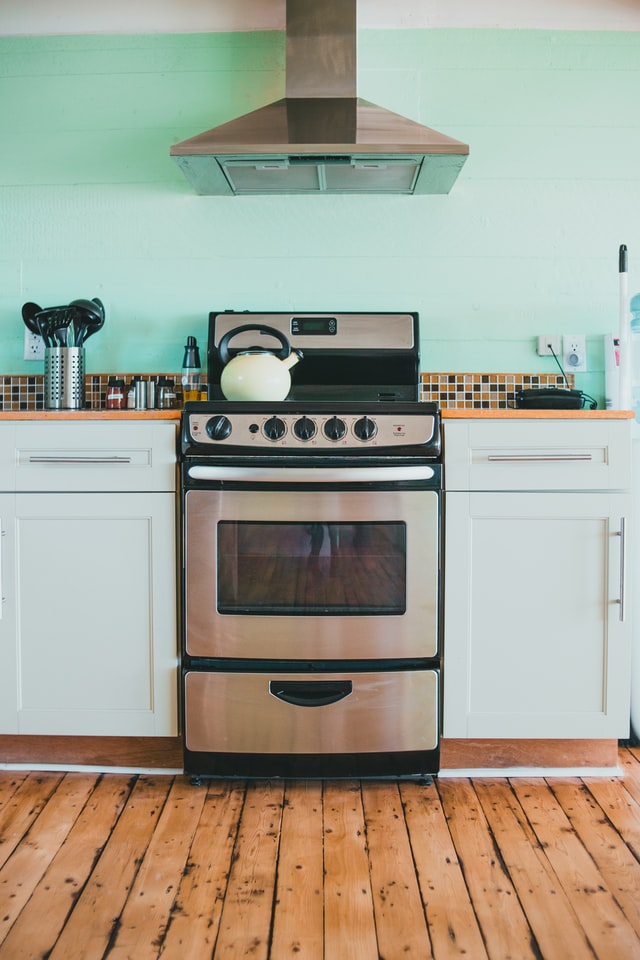 4. Peach feature wall
If mint really isn't your style but you love pastels, then you may prefer a peach-coloured kitchen. Peach is a colour that doesn't overwhelm, especially if it's done right. And the addition of peach as a back feature wall is perfect in a small kitchen. It elevates the overall look and feel of the space, adding warmth and life.
5. Black and white
In this kitchen design, we have more of those classic Victorian chequerboard black-and-white vinyl tiles, which first originated in Europe in the 15th century. Since then, they've been a staple in many kitchens, and always add a retro flair to a space. Plus, this glossy black cabinets look incredible in this mostly white kitchen. They provides the perfect contrast against the surrounding white cabinets and clean white walls.
To find out more about different vinyl tiles and other options, check out my article on kitchen flooring ideas.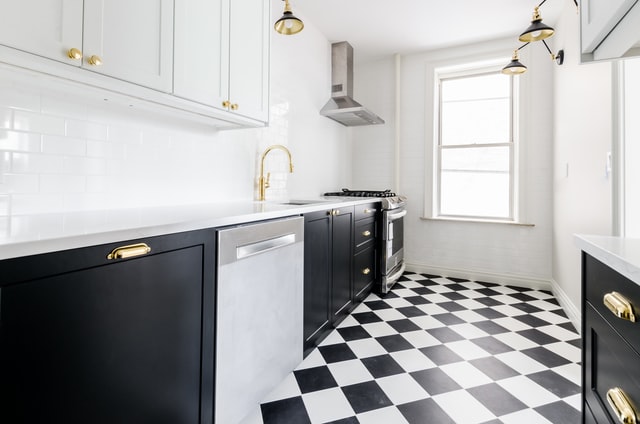 6. Country style
Retro doesn't have to stand on its own. It can be combined with other styles, like country kitchen design. Think timber cabinetry, pastel decor and well-worn furniture.
7. Pops of colour
Like I've said before, if you're not one to do a total makeover of your kitchen, then you can always make it feel retro by adding some simple pieces of décor, like this bold red oven. It's these small additions that can make a huge difference to your overall design!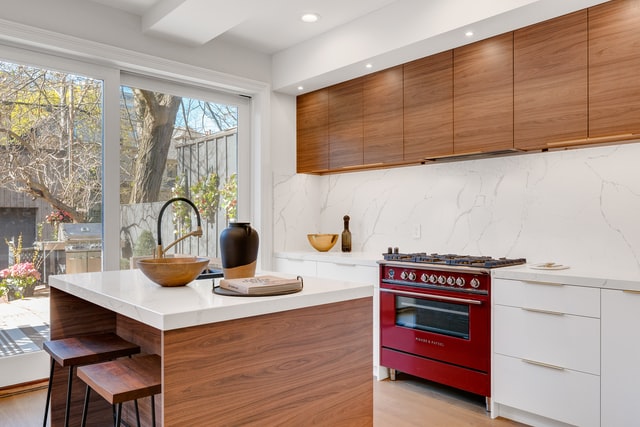 8. Colourful glasses
Create a retro feature area in your cabinet with colourful glassware, candles and mugs. Aim for warm yellows, pinks, reds and orange pieces in this glass shelving. And think about a small space in your kitchen where you can infuse colourful pieces.
9. Matching pink appliances
Matching retro-style appliances can completely transform the look and feel of your kitchen without needing to undergo a huge kitchen renovation. Using the same style and colour appliances is one simple way to lift your kitchen design game.
10. Bright blue cabinets
So, we've covered off on baby blue and mint green, but we haven't touched on bright blue… until now. While this may not be everyone's cup of tea, there's no doubt it adds life and vibrancy to this small kitchen. The black and white mosaic style tiles create the perfect foundation for this retro kitchen. And I love the quirky botanical wallpaper on the left side – it's super fun!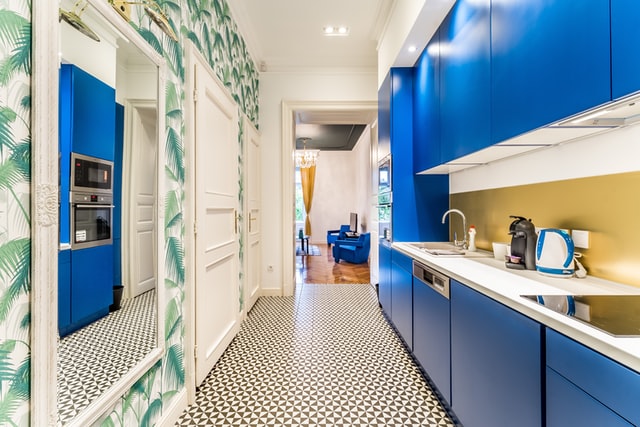 11. Pop of orange
Oh, orange, gorgeous orange! It's one of those very classic retro colours. The downside to using orange is that it can be a very overwhelming colour if it's the main shade used throughout a kitchen. But, if orange is carefully placed, it can take any space from mediocre to fabulous and oh-so-retro in an instant.
12. Use your shelving space
Do you have open shelves? If you do, then this is the perfect space for displaying all of your retro pieces from books to vintage tea sets and so much more.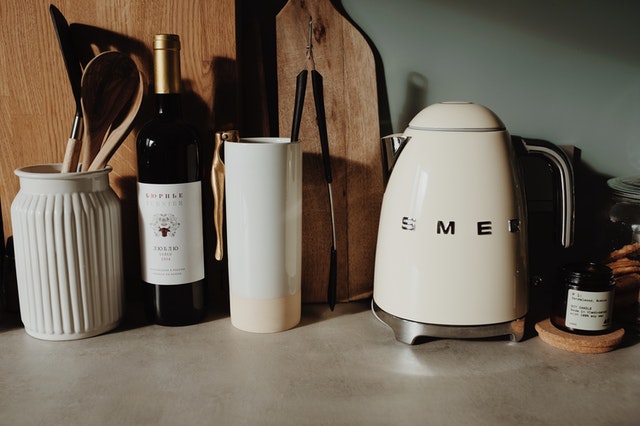 13. Retro light
Dress your kitchen up with a fancy retro light fixture like this one. This multi-bulb brass piece adds so much character to this kitchen. And it ties in nicely with the other lighting elements (the central ceiling light pendant and two matching wall sconces).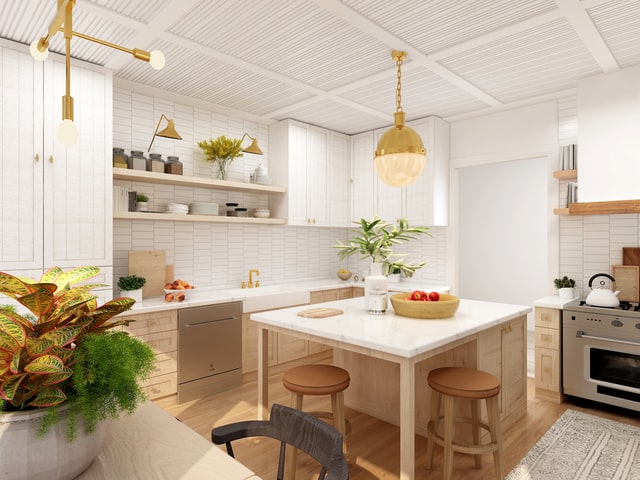 14. Retro fridge
One really simple way to add instant retro flavour to your modern kitchen is to swap out your boring old stainless steel fridge for a fun white Smeg alternative. This high-end fridge will give your kitchen all the life it needs, while still keeping it modern and fresh with its simple white design.
15. Modern with retro touches
Here's another example of how you don't need to go all out on retro design to make your kitchen retro. Fill your floating shelves with colourful glassware, bowls, mugs and vases. If you don't have any of these pretty items lying around, head to your local second-hand store. You're bound to find plenty of fun pieces that you can purchase for a steal!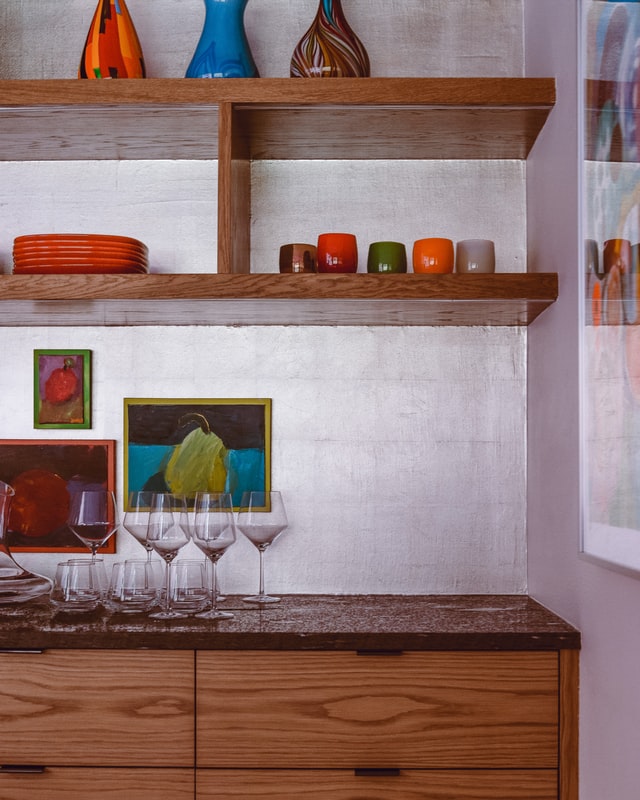 16. Teal green
Teal green is a barely-there, soothing colour choice for the person who wants to go a little bit retro but also wants to keep it subtle. And this is a very modern twist on the retro kitchen. This kitchen features stunning white wall tile and simple furniture, with that pop of teal in the retro style light pendant.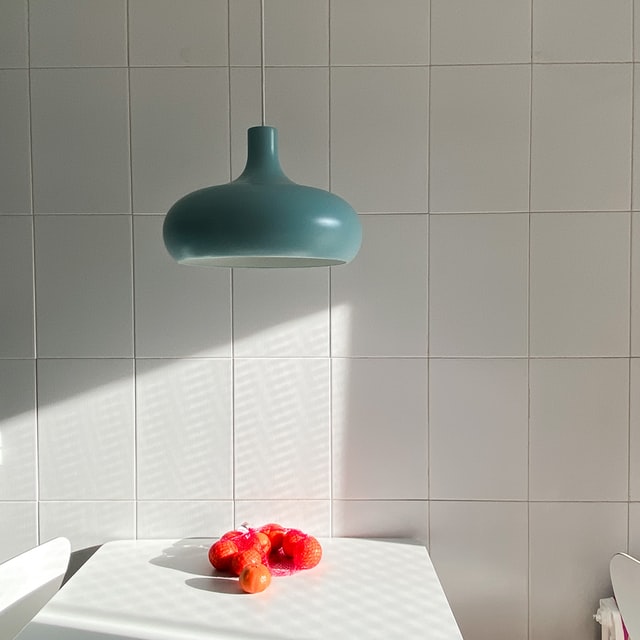 17. Eclectic mix
Instead of keeping things streamlined by choosing one colour, why not incorporate a mix of colours, textures and prints? It might be two different kinds of wall tile in a perfect pastel, married with warm timber cabinets with a lovely wood grain. Then you can add in whatever mix of retro style décor that you like, to enhance the overall vintage flavour.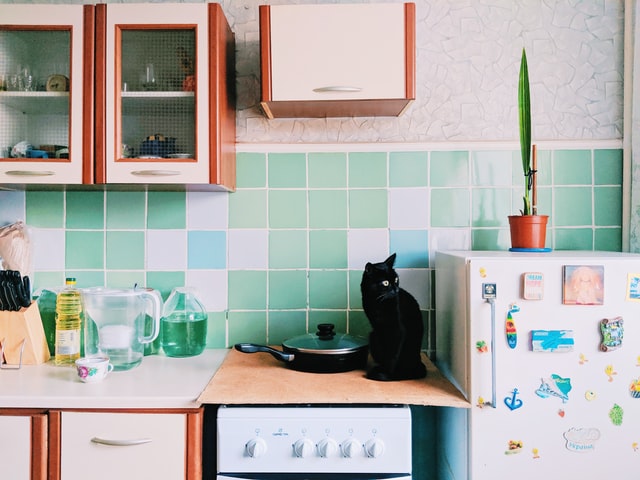 18. Pink chairs with gold
Want to make a statement? Pink velvet chairs or stools pack a punch, and they're all you need to make your modern kitchen feel instantly retro. They look especially fabulous with gold frames!
19. Fabulous wallpaper
If you want to make a statement in your retro kitchen, add an all-encompassing graphic wallpaper like this one. This newsprint wallpaper is a bold choice but it's so much fun. Plus, if you're brave enough, you could opt for vivid yellow coloured cabinets and shelving. Sometimes more IS more!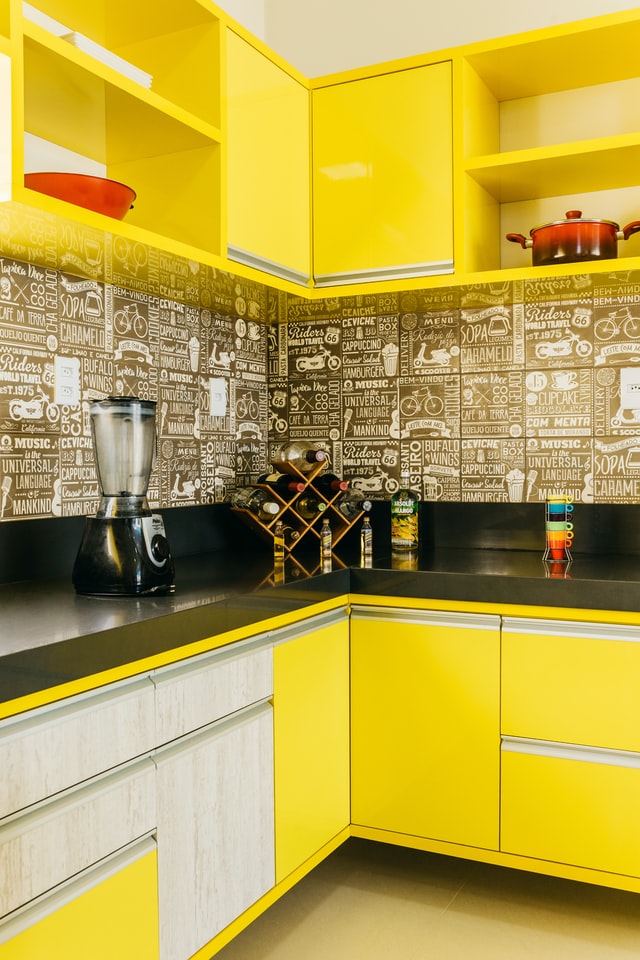 20. Hang your plates
If you have cute, floral-patterned china plates, why not hang them on your wall for all to see? Gorgeous plates really add a lot of character to a retro kitchen.
21. Retro farmhouse kitchen
If you have a farmhouse-style home, there's good news for you! You can implement a retro-style too. How? By adding quirky pieces from yesteryear. This could be memorabilia from your family tree, or it could simply be something you've picked up from the op shop. Play around with different colours and textures.
22. Retro kitchenware
While your kitchen design can be entirely retro, you could also incorporate it more subtly by choosing retro-style jugs, mugs and pots and pans; even vtinage-styled clocks and aprons!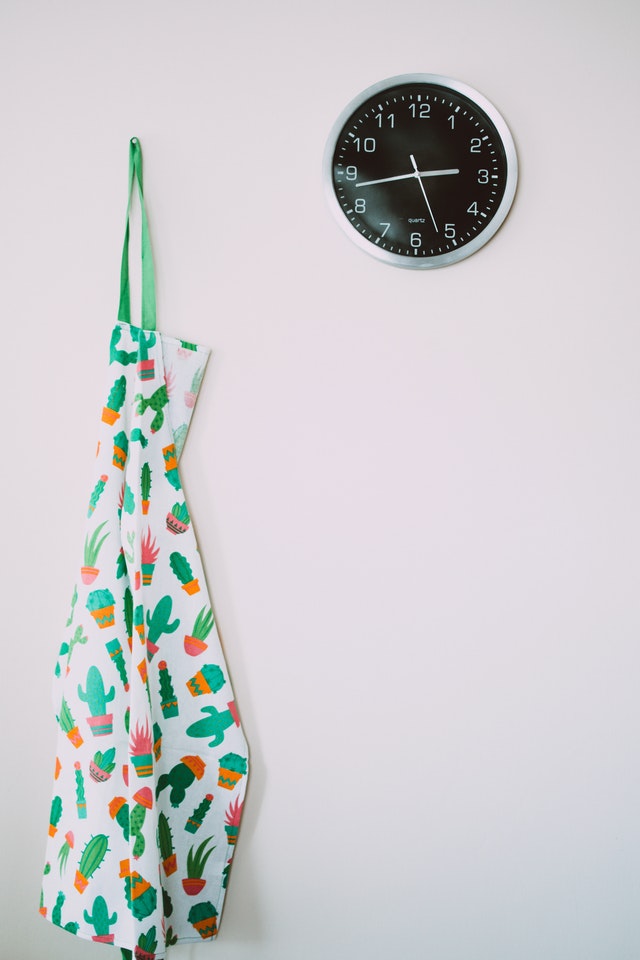 23. Muted tones
If you're more of a minimalist, the good news is that you can still embrace retro style – just choose more muted colours. The key here is to embrace timber and combine it with warm, golden shades. Don't forget to add those retro velvet stools!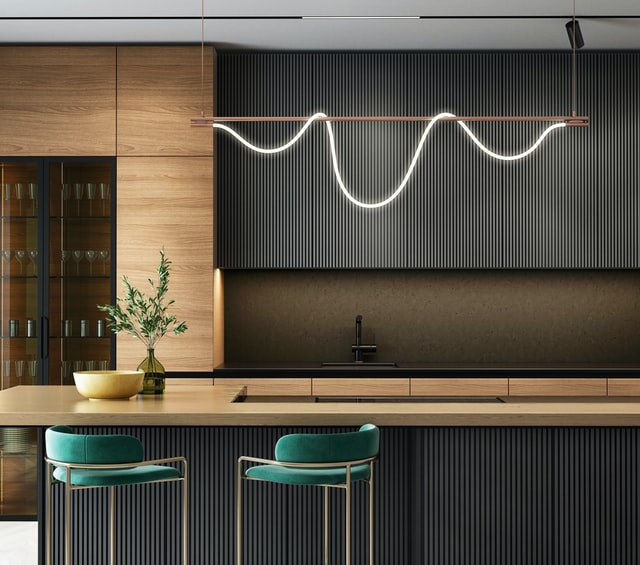 24. Pretty in pink
There's no doubt pink is a very feminine choice, but it can be incorporated in such a way that the whole family will love it. It might be that you add small pops of pink to a white and wood style kitchen. It might be a retro pink appliance or some quirky pink décor. It might even just be the teatowels! The good thing about these additions is that they are interchangeable. So, if you're feeling like pink you can incorporate it for a while. And, when you want a change you can switch it out and recreate your style!
25. Hang a print
Have fun with a bold print from the 60s, 70s or 80s. Personally, I love something that's Andy Warhol inspired. Integrate your own pop art with bright, colourful paintings and prints of celebrities, advertisements and everyday products. Choose a print that means something special to you, or simply select one that adds colour and vibrancy to your space.
26. Wild pattern clashes
Finally, how's this for fun? This retro design mixes so many patterns and the result is a really unique space. And those bulbous pendant lights are awesome!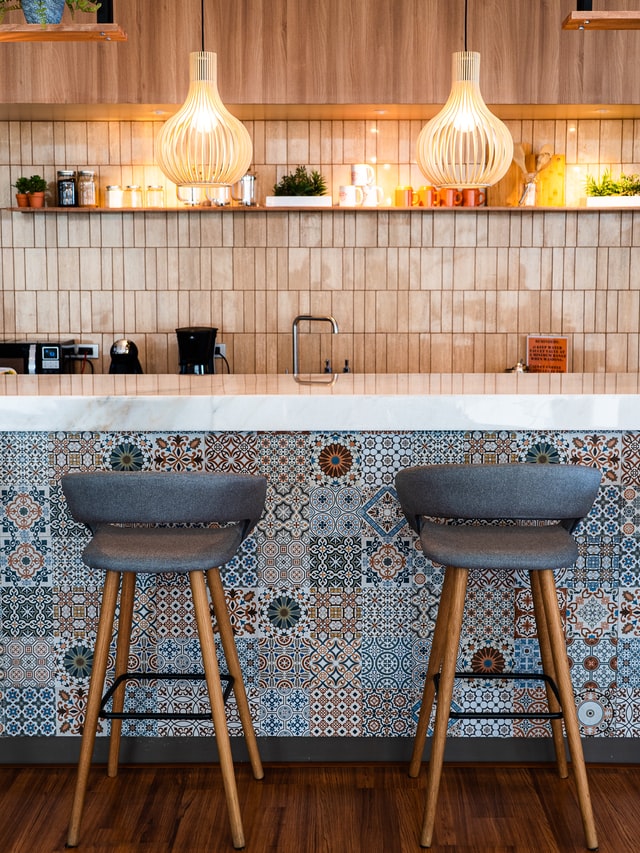 There you have it, 25+ retro kitchen ideas – from tables to chairs to retro kitchen decor, and everything in between. That was a whole lot of fun, wasn't it?
I hope this post has proven to you that there are so many ways that you can style a retro kitchen. Retro doesn't just have to be pastel pink, green or blue (although these colours are wonderful), but it can incorporate timber, bold prints, fancy wallpapers, dark kitchens, or simply just little pops of colour here and there.
Now, it's time to hand the reins over to you, so you can get started on transforming your kitchen into a retro culinary haven. But before you go, I'd love to hear from you. Which retro kitchen design did you like the best? One of the pastel kitchens? Comment and tell me which one was your favourite. And, while you're at it – do you have any more suggestions for retro kitchen style?