Purple is a colour of decadence and luxuriousness that oozes class and sophistication. If purple is your favourite colour, then you should totally consider adding it into your space. Whether you're wanting to completely transform your room with renovations or if you just want to add a subtle pop of purple to your existing space and colour scheme, the good news is that you can incorporate purple in many different ways.
Walls. If you're wanting to add some purple to your walls, then you can totally paint a feature wall, or add some wallpaper or even add some wall decals to your walls. You could even adorn your walls with prints or artwork that have purple in them!
Furnishings. You could totally invest in a colourful bed or even add a purple accent chair or ottoman to your space!
Decor. Adding purple decor into your space like a vase, feature cushions or a throw blanket is such a quick and easy way to add that pop of colour.
Here are 35+ purple bedroom ideas to inspire your endeavours in creating a perfect purple place!
1. Bright and bold
How bright and bold is this awesome purple and pink neon bedroom! I love the bright neon purple painted wall which goes perfect with the doona colour as well as the colours in the frames.
Plus, how gorgeous is the pink bed head, throw blanket, table lamps and curtain that go so well with the purple. It makes for a perfect teenage girls bedroom.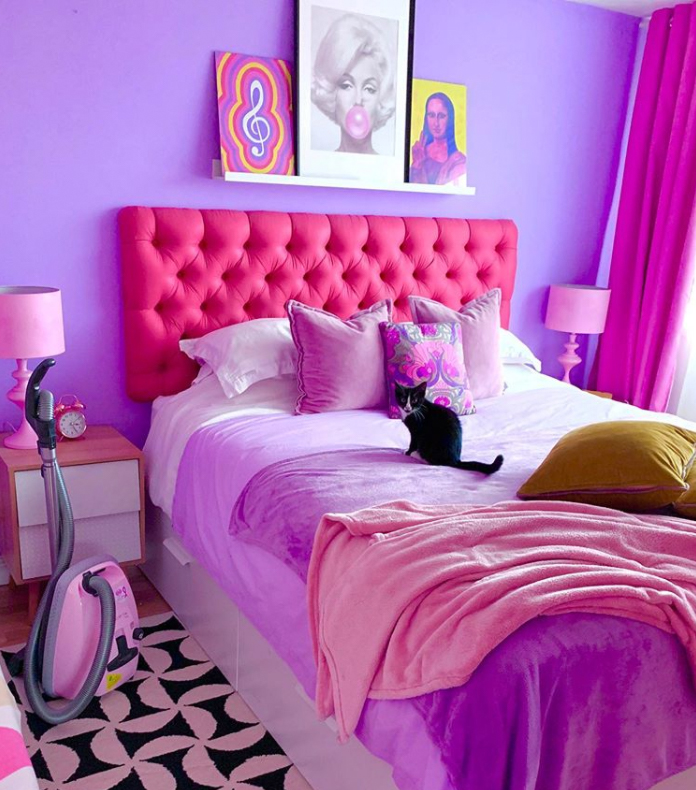 2. A pop of pastel purple
If you love a bedroom with a soft look but still want to incorporate colour, then this one's for you. I love the pop of pastel purple in this bedroom that has been incorporated through the bed head, throw blanket and feature pillow. Plus you can never go wrong with the addition of white furnishings as they bring in so much lightness and brightness.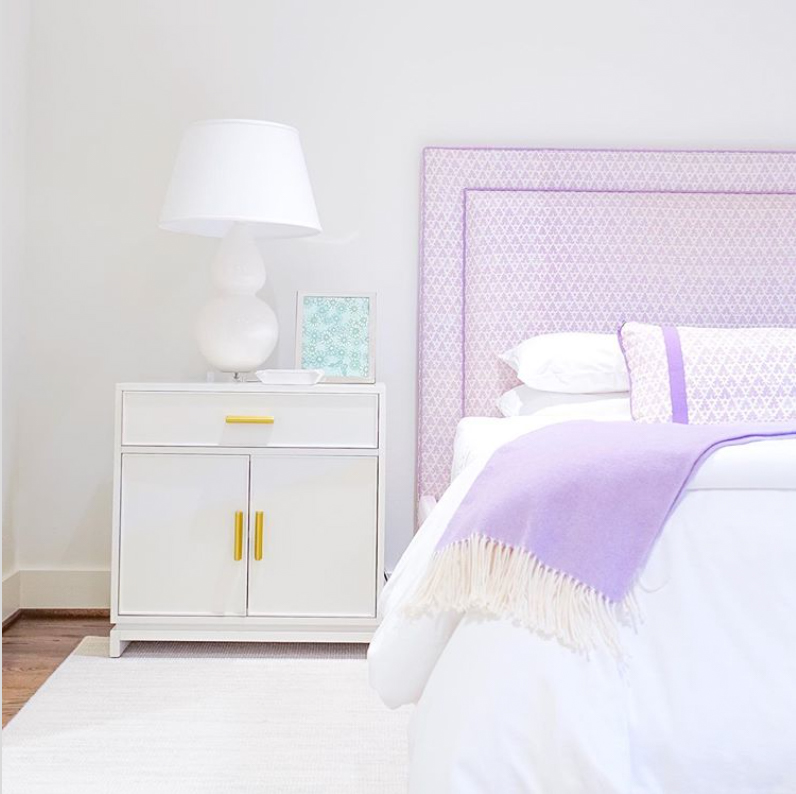 3. Baroque wall panelling
This elegant bedroom is quite gothic but in an elegant style. The mid-tone purple colour is classy and looks very regal. And the baroque wall panelling helps to tie in the vintage feel. I also love the addition of the wooden drawer which helps to soften the dark tones. And if these deeper colours are eye-catching to you, see these black bedroom ideas.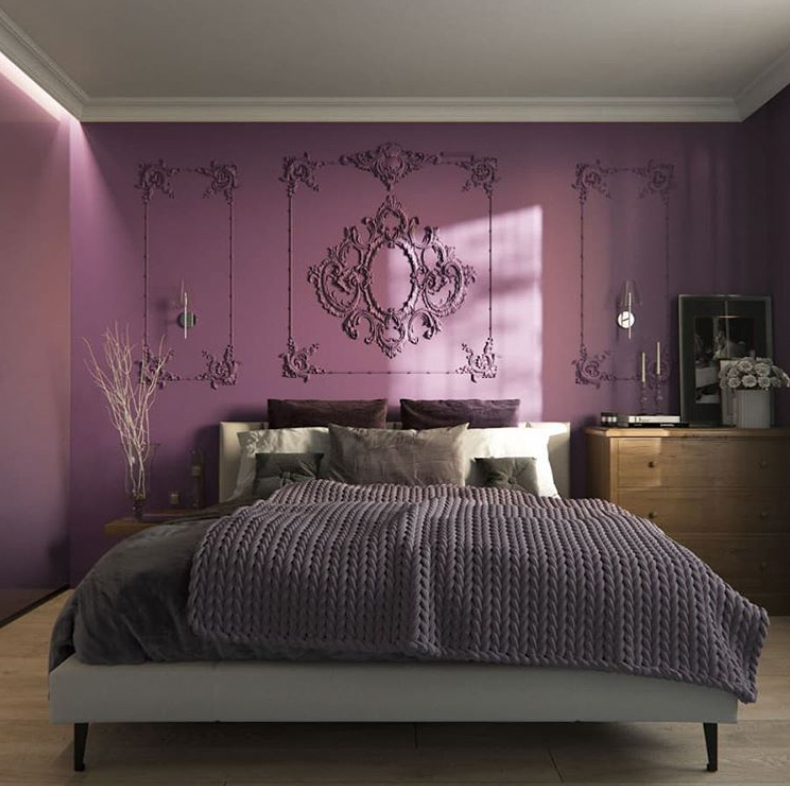 4. Colour blocking
What a stunning, yet simple bedroom! This bedroom goes to show that even if you prefer a minimalist space, colour can still be incorporated. The colour blocking panels of the bed head is so beautiful and really make a statement. And I love the simplicity of the white bedding as well as the simple stool with the bedroom plant on top of it.
Keep your bedhead always looking like new with help with upholstery repair and upholstery cleaning.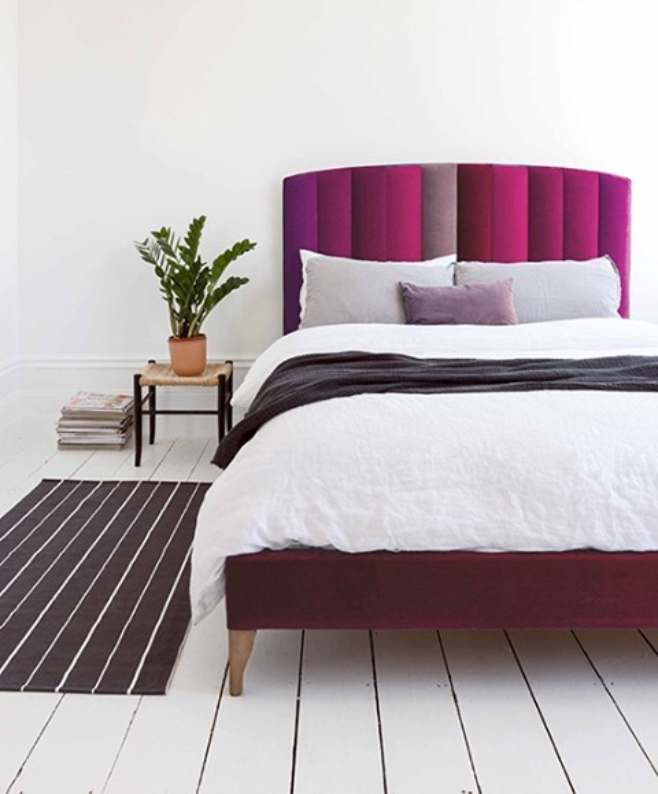 5. Neon sign
This is for all my quirky, creative people! The mix of patterns in this bedroom is definitely not for the faint-hearted. If you want to make a statement, then mixing bold patterns is a great way to go. Plus how cool is that purple neon sign that brings a modern touch into the space?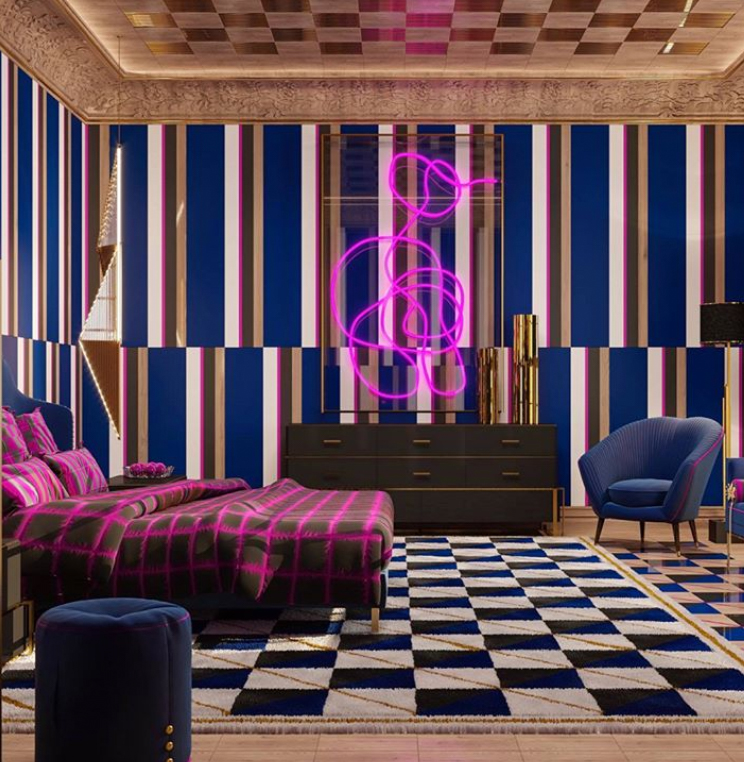 6. Purple bedroom wall decals
How sweet is this toddler bedroom? If you have a baby that is at the stage of transitioning from a cot to a toddler bed, then something like this would be perfect. Also, bonus points if your toddler loves purple. I love the flower wall decals that are subtle but still create a pretty pattern on the wall.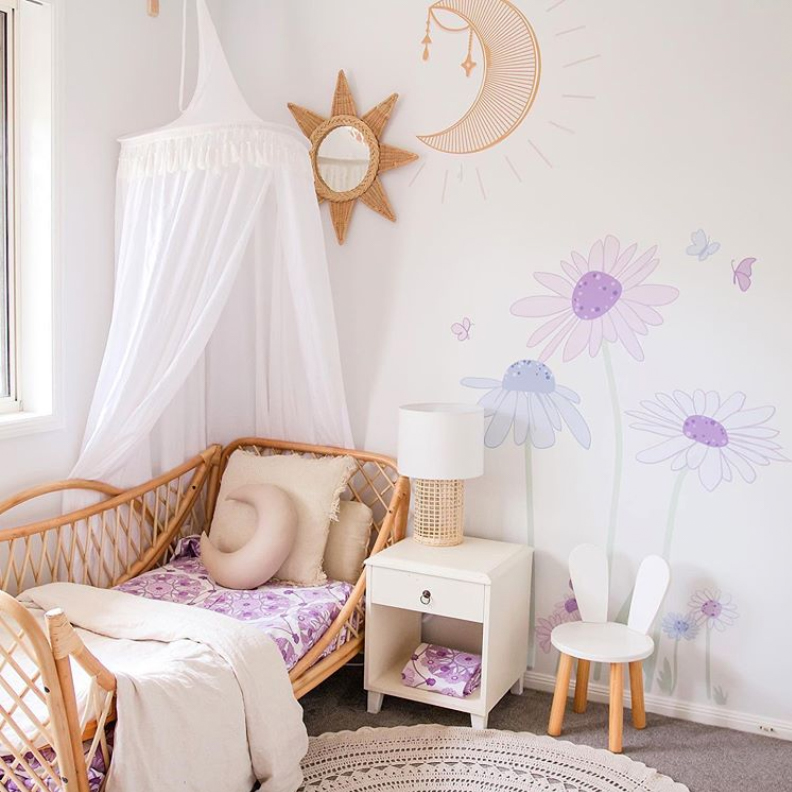 7. Boho vibes
Are you a hippy at heart? Well, why not depict that in your bedding. Using a patterned doona as the base, match your sheets to colours in the doona cover and then add some feature cushions.
If you love the bohemian style, but want something a little more modern… Well, then these boho bedrooms are for you.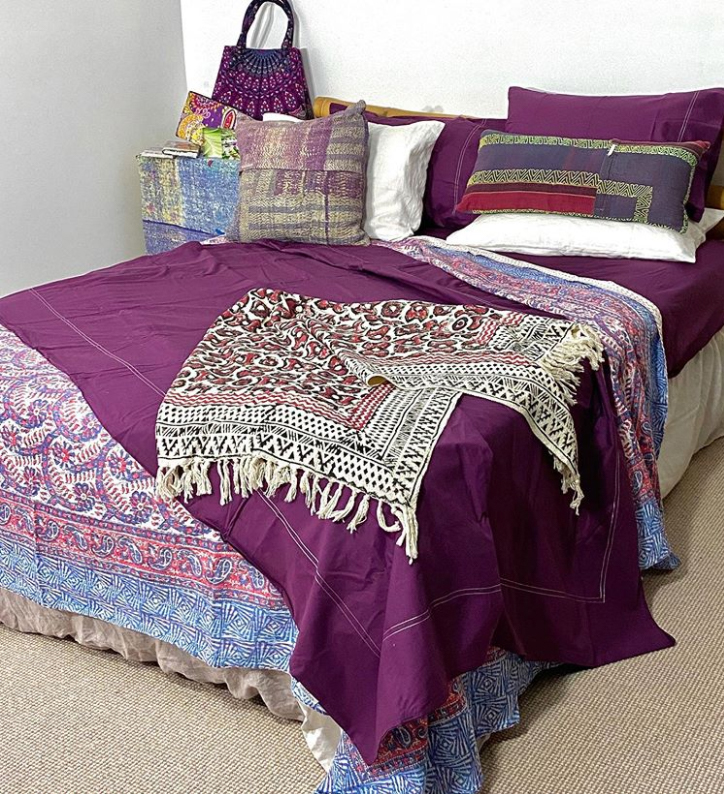 8. Futuristic architecture
Wow, I would totally feel like I am in a spaceship or a futuristic scene every time I enter this bedroom! The architecture in this room is very clever with the wrap-around bed frame that also acts as a headboard and ceiling with LED strip lights. Plus the pastel purple sheets, curtains and wall prints go well with the glow of neon lights coming out from behind the structure.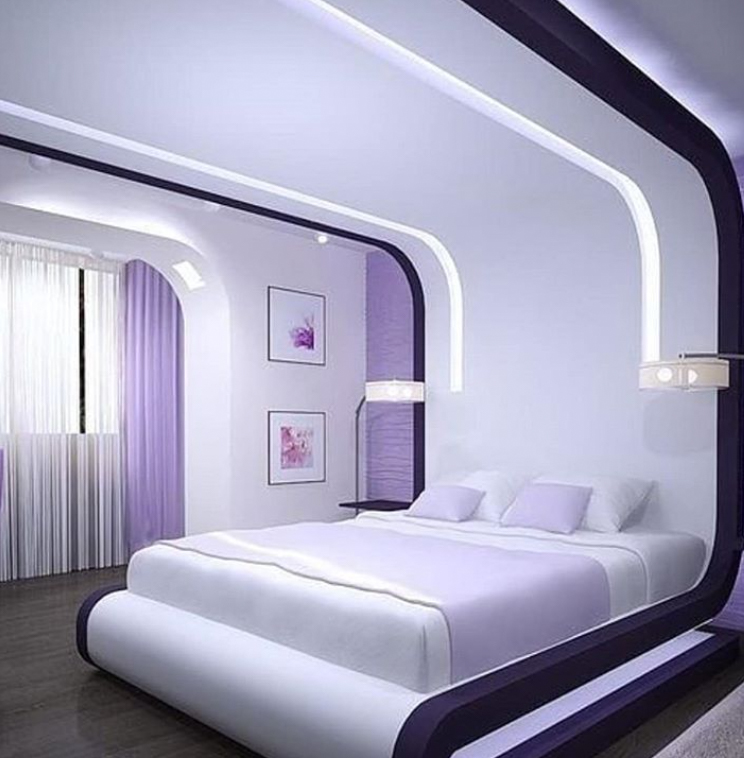 9. Feature wall
Feature walls are a great way to incorporate colour without having to commit to too much. I love the softness of this pastel purple that works so well with the slightly pinky-purple feature cushions and purple patterned doona. And I love the addition of the grey bed frame and curtains that ooze class and sophistication.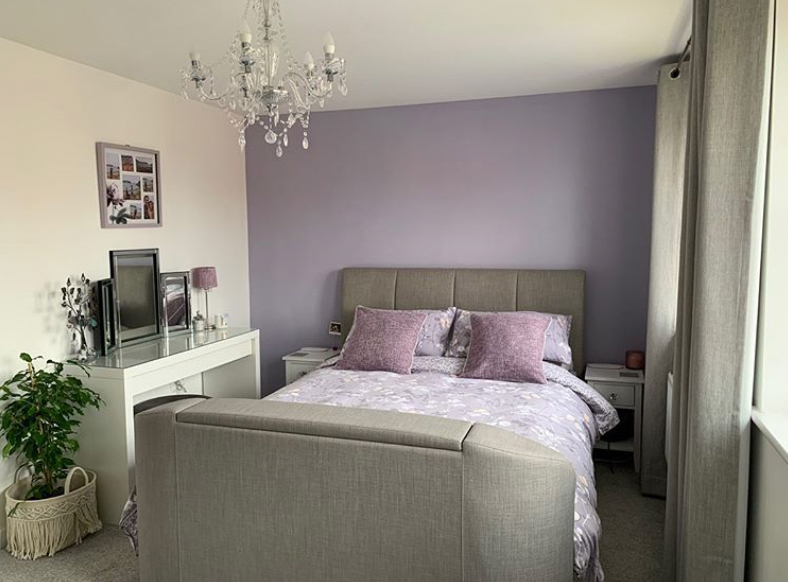 10. Subtle purple
I absolutely love the subtle addition of purple in the corner of this bedroom. There are so many different prints around that you could add to your wall, or if you are an avid DIYer then grab a canvas from your local art store and get creative with some paint. Then simply find a local handyman to take care of the picture hanging and you'll love relaxing and looking at your masterpiece.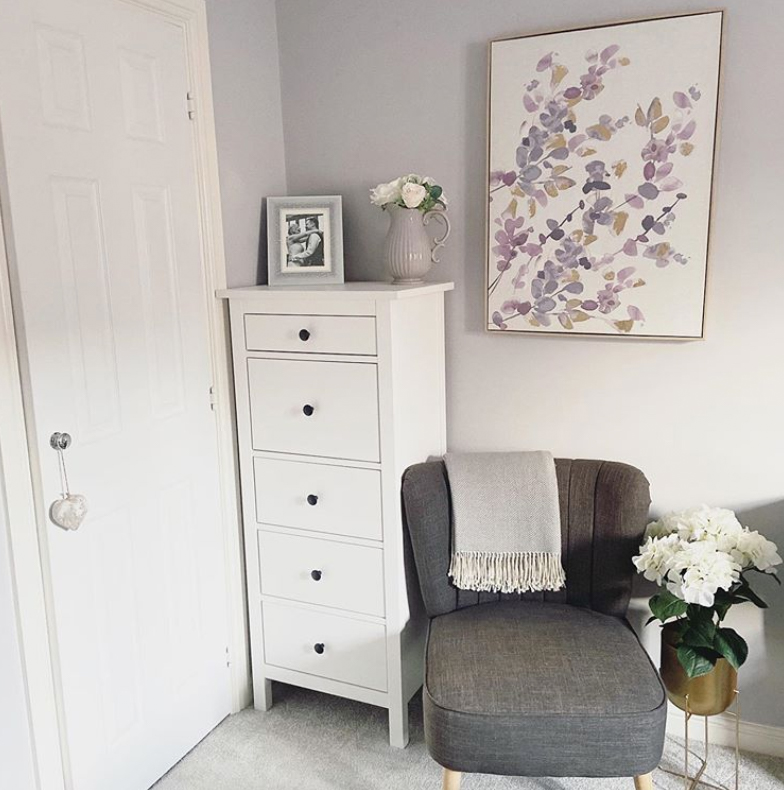 11. Purple lovers
I love that the glow from the lights really changes the whole mood and atmosphere of the room. Plus if you want to really help make the colours in the lights pop, paint your walls purple and add some purple bedding!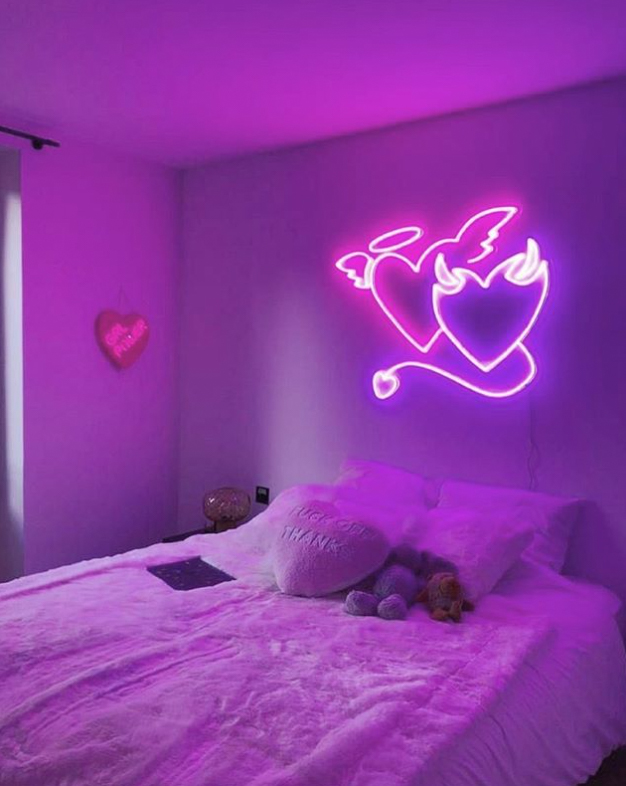 12. Purple and green
As purple and green are on the opposite sides of the colour wheel, they are certainly a match made in heaven! The contrast between purple and green is oh so beautiful. I love the bedroom wallpaper which features large flowers that work so well with the colour palette. And the green bedhead and end of bed ottoman look great paired with the purple throw blanket.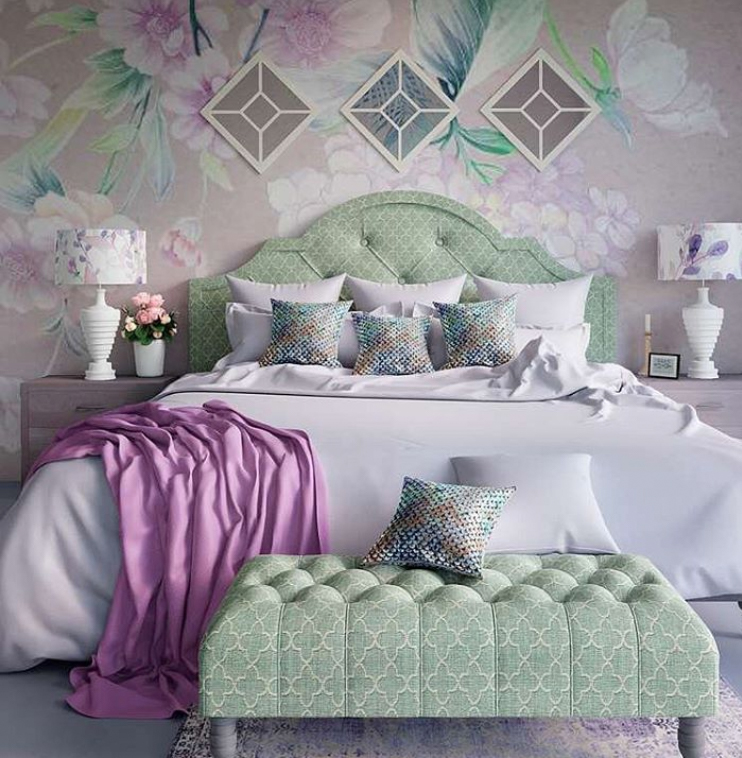 13. Whimsical wallpaper
Here are another fun and quirky purple bedroom. Check out that awesome wallpaper that is extremely intricate full of colour. And I love that the colours of the wallpaper have been incorporated into the bedding, which gives a stunning look. This whimsical wonderland really looks like something out of a fairytale book.
Get a hand with wallpaper removal and wallpaper installation.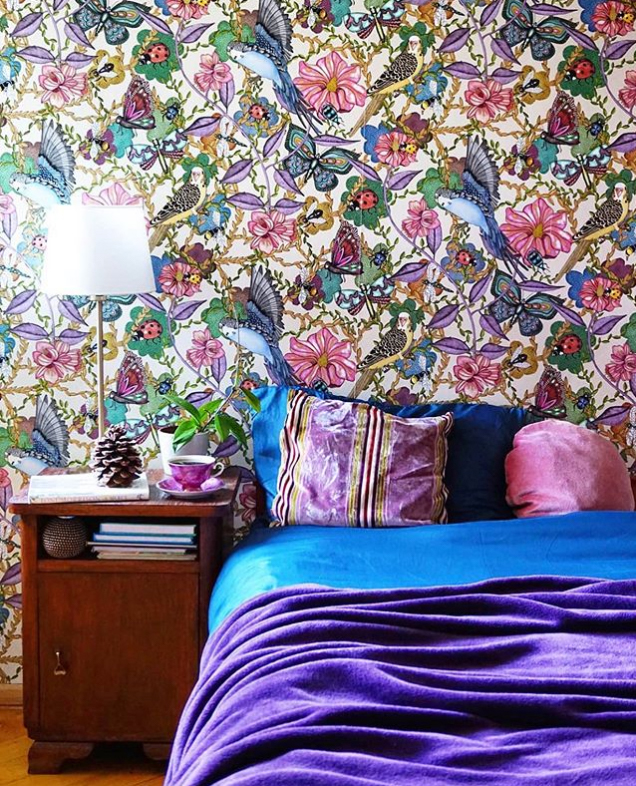 14. Yellow, teal and purple
How cool is this colour combination! Yellow, teal and purple… who would've thought?! The purple bed head and ottoman look awesome against the teal wall and bedding, plus the addition of the yellow is the perfect choice to brighten up and bring some happiness into the room.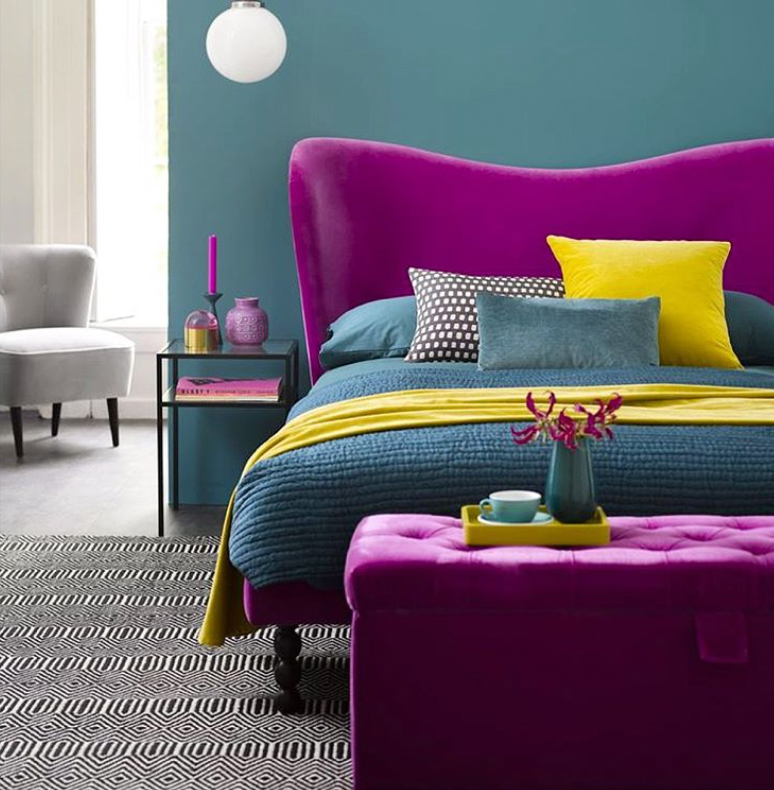 15. In the forest
I would totally feel like I was stepping into a fairytale every time I entered this bedroom.  The greyscale forest wallpaper really opens up the space and makes it feel vast. It almost looks like you could take a stroll right through the wall.
The purple ceiling and curtains have been perfectly matched with the purple bedding and the addition of the orange sheets and feature cushions works so well with the golden touches in the ceiling and the bedside table.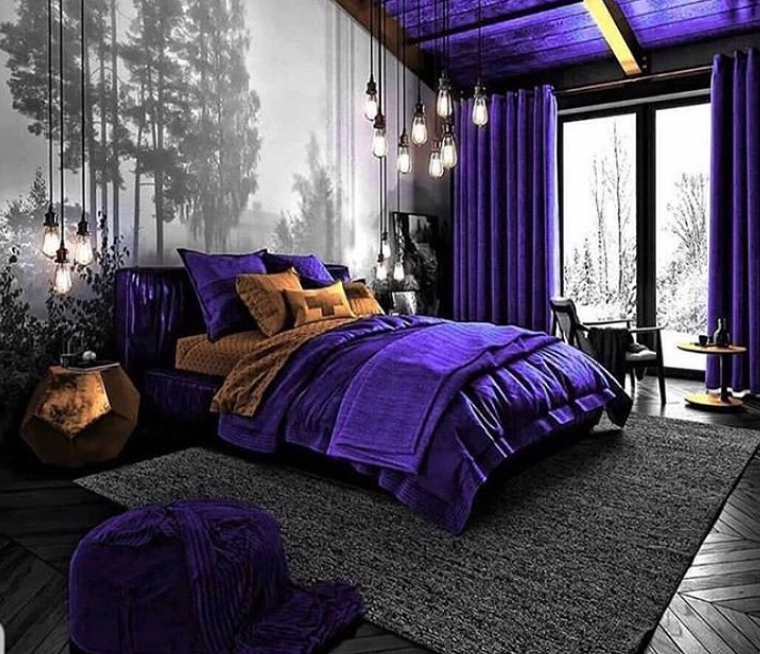 16. Four poster bed
Ah, a four-poster bed really is the epitome of bedroom comfort. Plus how interesting is the inner teal colour in the roof section of the structure which matches so well with the purple painted walls? There are so many unique design choices made in this room, however, everything just seems to work together so well.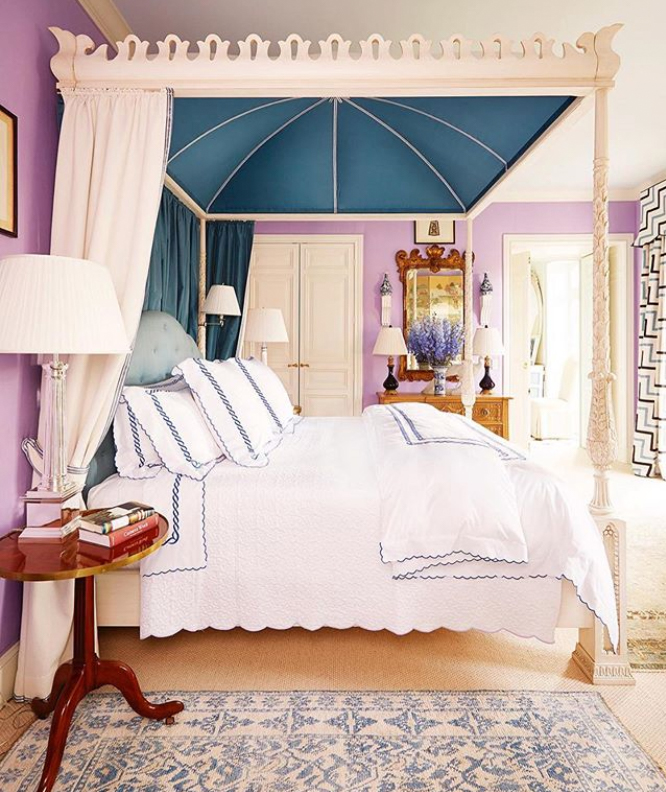 17. Starry starry night
A starry, starry night. How sweet is the bedding in this space. I love that the doona cover is reversible so you can have purple with gold stars and moons or even white bedding with purple stars and moons. And what a superb view to wake up to every morning. The purple colours in the sky really work with the purple tones in the bedding.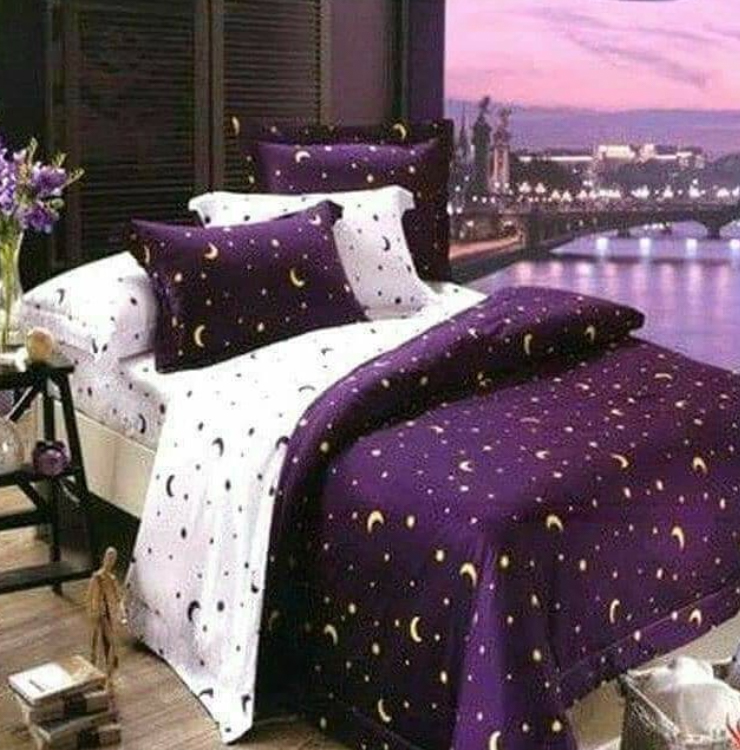 18. Meditative space
Ah, breathe in, breath out. How zen-like and meditative does this space look! I love the curved ceilings and walls that make you feel like you are in a cave or a 'zen den'. Putting your bed lower to the ground will give a very laid back look. And I love the incorporation of the light purple rug and feature cushion that are just the right amount of colour for this relaxing space.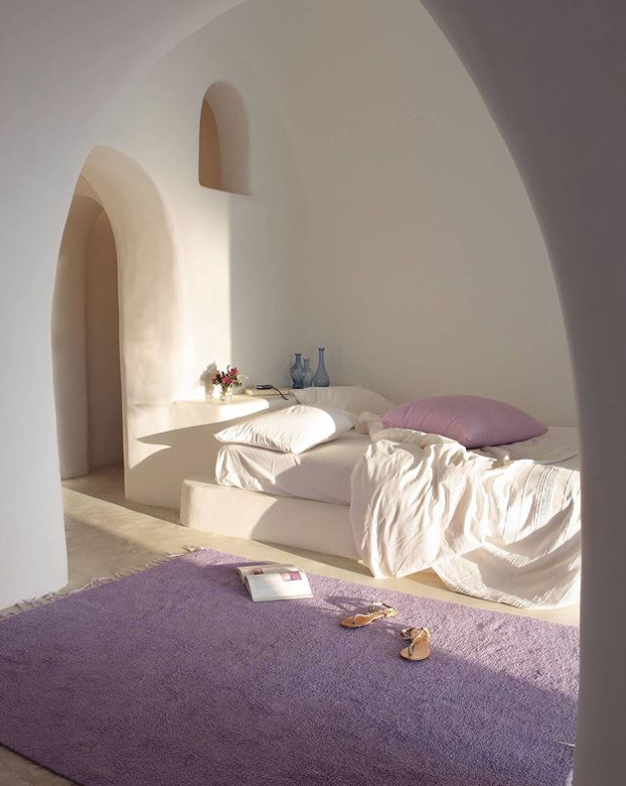 19. Dark purple tones
The purple tones in this bedroom are so dark they almost look black. I love the tone of the dark purple used that matches so well with the grey curtain and dark wall panelling. To brighten up a space with dark walls, it's always a great idea to add sophisticated lighting and white bedding. Simply stunning!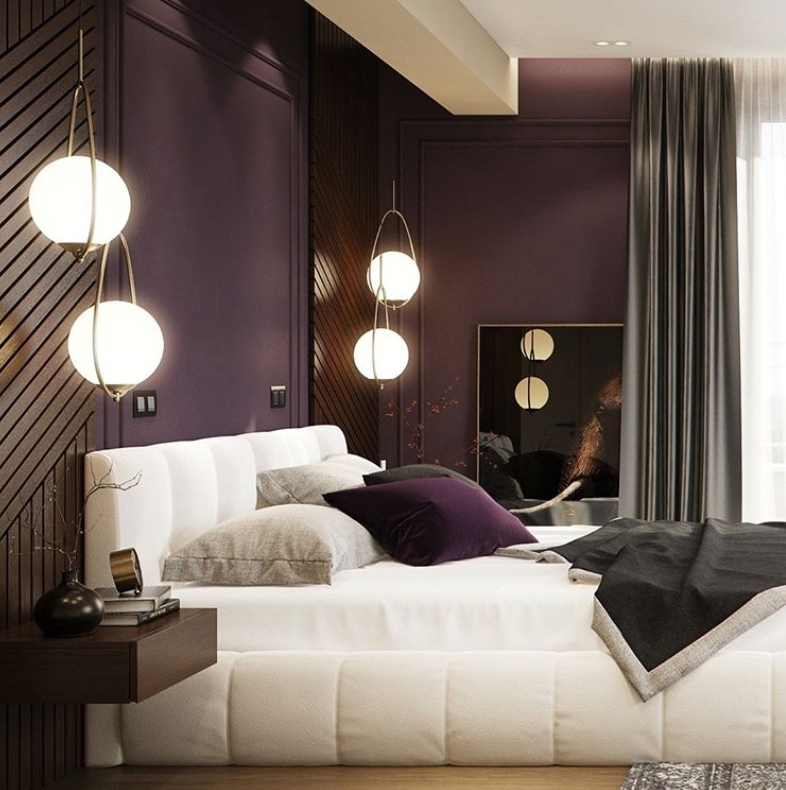 20. Purple and white
Here's another beautiful colour combination with purple – purple and white. Purple has been incorporated in through the elegant curtains and feature pillows on the bed. And I love the subtle patterned white wallpaper that is a great backdrop for the white bedding and furnishings.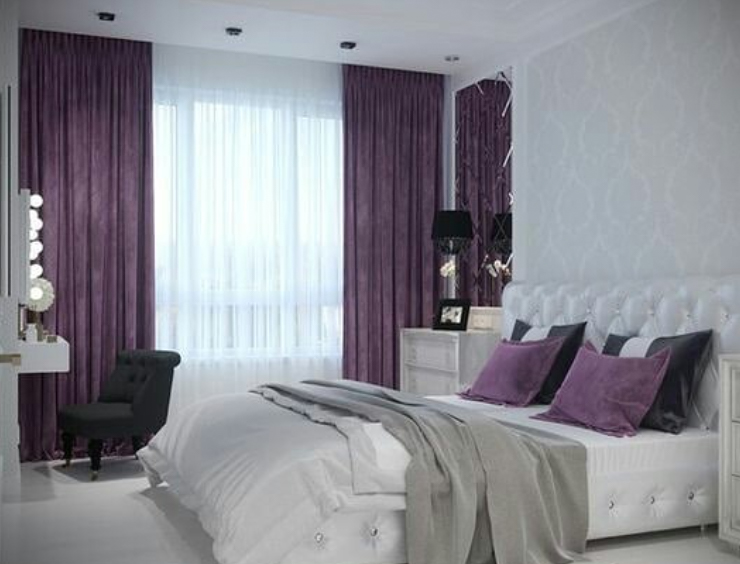 21. Triptych canvas art
If you are looking for art ideas for a larger wall space (particularly above a bed), then a triptych will work. Triptych is basically a work of art divided into three sections. Get your paints out or hop online and support a local artist – it's really up to you!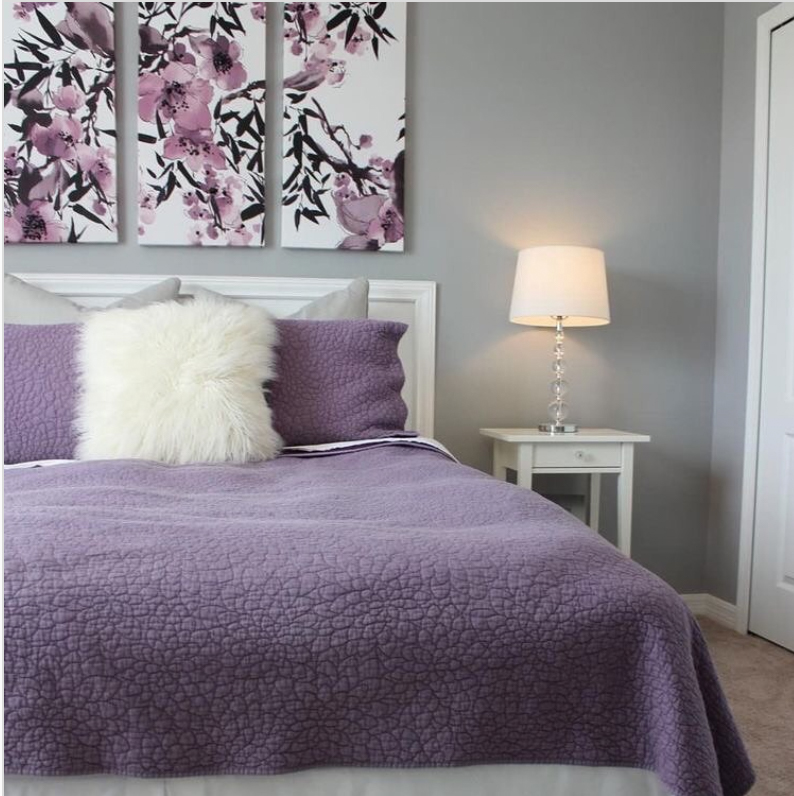 22. Grey and purple
What a stunning combination. This one's for you if you have a neutral bedroom but are wanting to incorporate some colour. I love the idea of having a grey and white bedroom, but changing up the colour palette of your space just by simply changing up the throw blanket. The addition of the purple throw has certainly brought a great pop of colour into this space.
23. Wall mural
Creative people, this one is for you! If you're a loud and outgoing person, then you should totally reflect that in your bedroom. This wall mural could be a great DIY project for your next free Saturday. Create some stencils and make sure to map out the plan of your design first.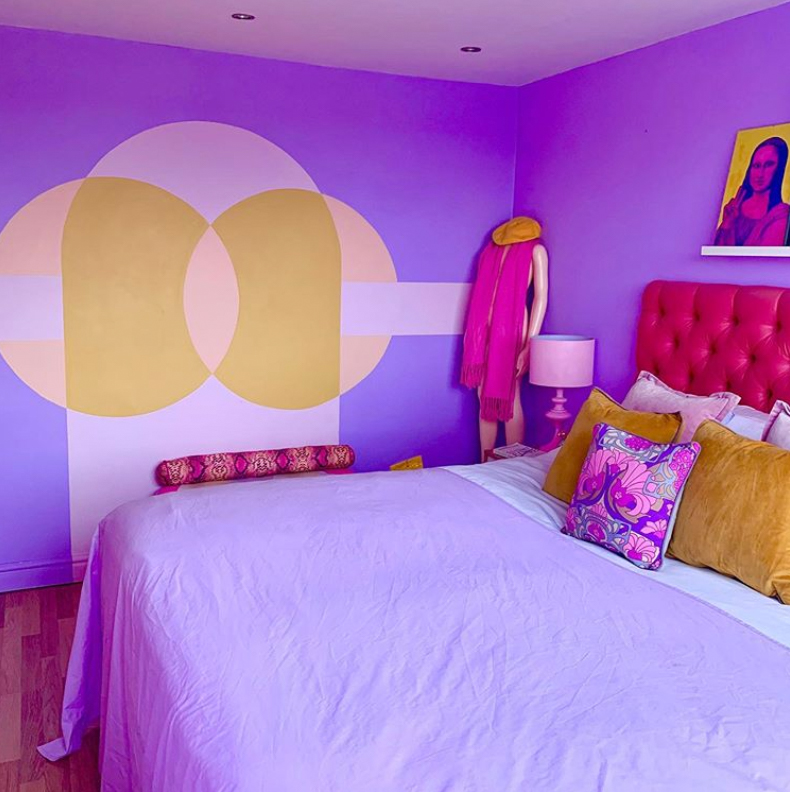 24. Home sweet home
Ah, home sweet home. My favourite place to be. This homely bedroom is all things comfortable and calm. I love the purple feature wall that matches perfectly with the purple striped doona cover. And how beautiful to see the reflection of the purple wall in the ornate mirror. Just add a secondary colour like subtle blue in the bedding to soften the look.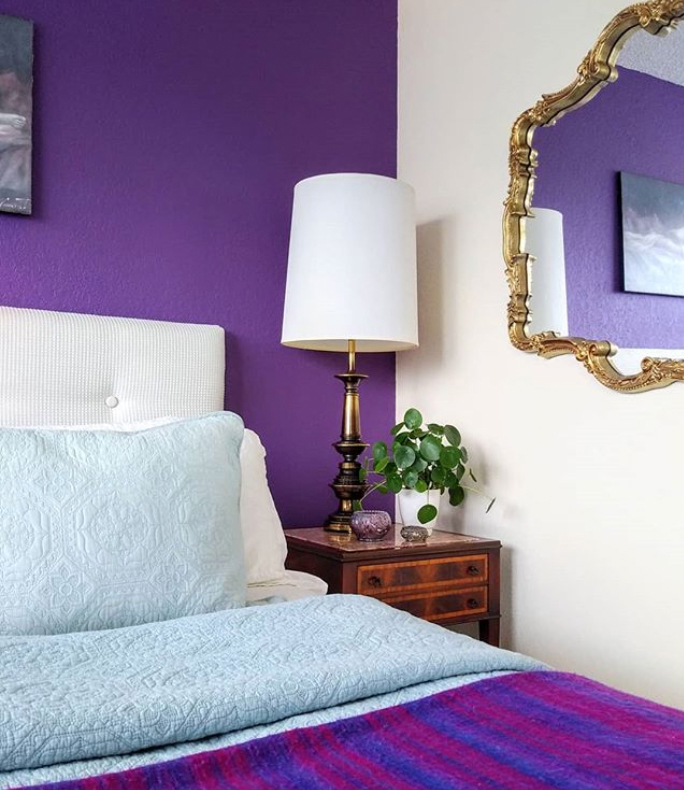 25. Dreamy purple
Take me away to dreamland! This bedroom just looks oh so dreamy and serene. The subtle wallpaper is such a stunning pink colour that works so well with the peach tones in the curtain and the deep purple bedding.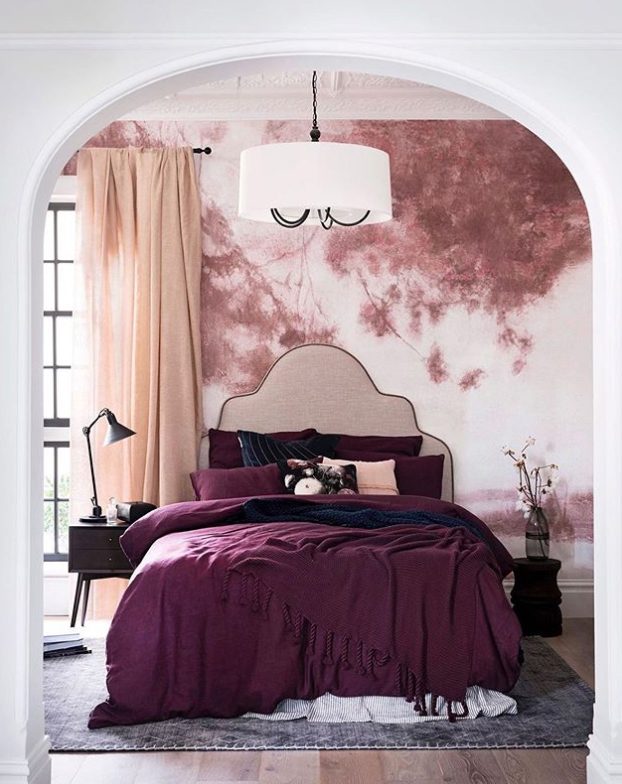 26. Shades of purple
There are so many different shades of purple in this beautiful bedroom that work so well together. I love the bright purple rug that is the perfect soft landing for when you're getting in and out of bed. And the dark purple painted feature wall works beautifully as a backdrop for the abstract art print and the white bedding.
Just make sure the rug doesn't get too dusty with regular rug cleaning help.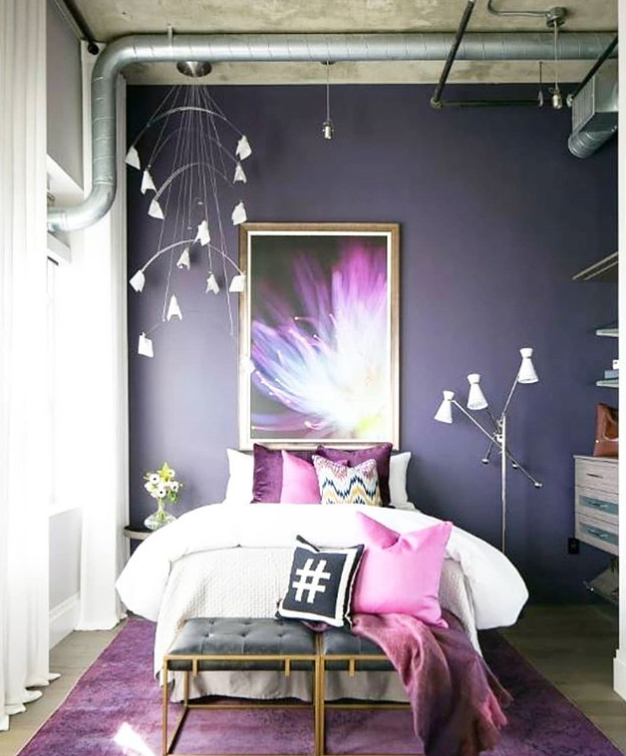 27. Purple and black
Purple and black is such an elegant and regal combination. I love how the bedding in this room is very bohemian yet all the other features are vintage inspired from the decor pieces and lighting fixtures as well as the wall panelling and upholstered leather bed head.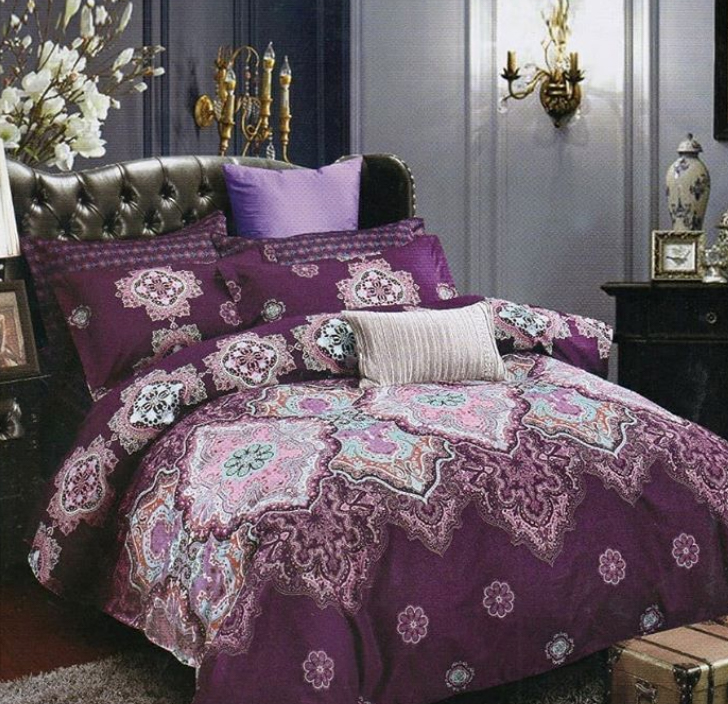 28. Fairy light fort
This would work so well if you have a four-poster bed or you could even get creative with a temporary solution by attaching tulle and sheer curtains to the ceiling of your room. Then add your purple fairy lights and you have yourself your very own fairy light fort. How cool!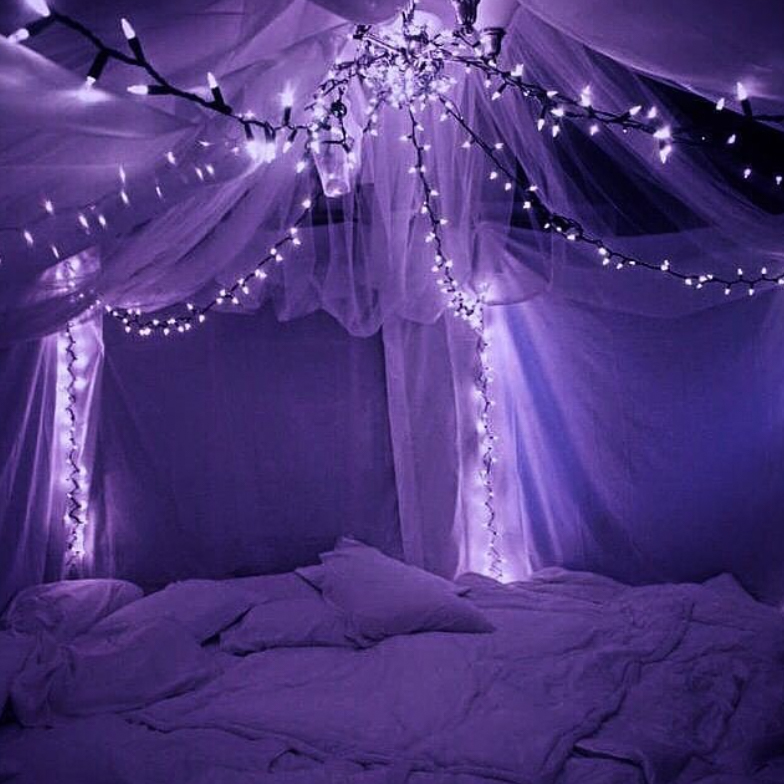 29. Checkered print
If you've gotten this far and are itching to get purple into your bedroom as soon as possible, then sourcing a purple doona cover will certainly be a great idea. And how gorgeous is the addition of the black and white checkered print which works so beautifully against the purple!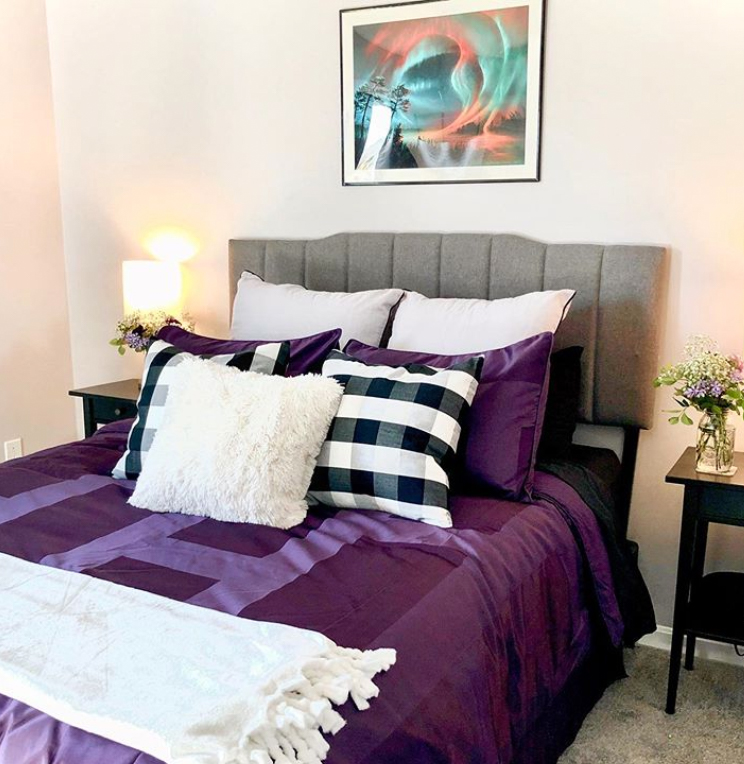 30. Elegant chandeliers
Chandeliers will always give a very elegant look in any space. And how beautiful are these ones?! I love that there is a larger chandelier in the middle of the room as the focal point, then there are smaller chandeliers on either side of the bed to create a subtle glow at night. His and hers chandeliers – what a great idea! Plus the purple and grey colour palette is oh so stunning and exudes elegance as well.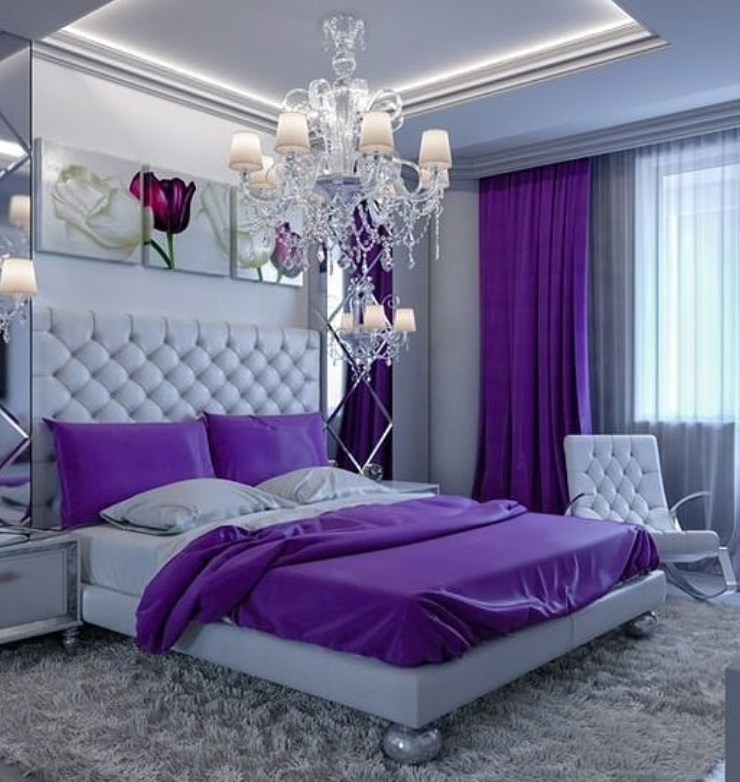 31. Soft purples
Soft, pastel colours really are so calming and this bedroom is the perfect example of that. I love the cream bed head and furnishings that go so well with the soft pastel purple bedding, feature cushions, painted wall, table lamp and curtains. What a beautiful little girls bedroom that will certainly grow with your little darling as she gets older.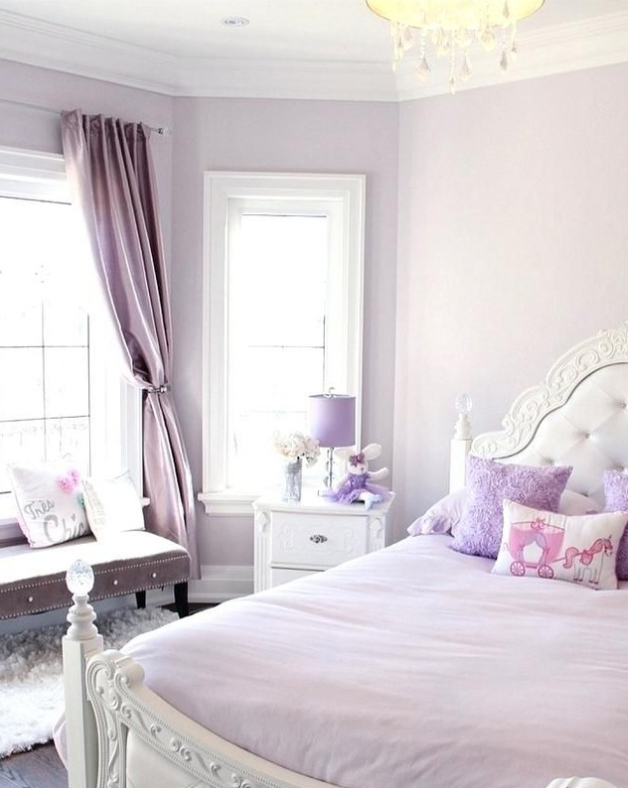 32. Purple sunset
Another great way of incorporating purple into your space quickly and effectively is through wall art. I love this purple sunset scene that looks like it is somewhere in LA or on a tropical island. You could even use your own holiday snap, enhance the colours that you want to stand out and have it blown up onto a canvas.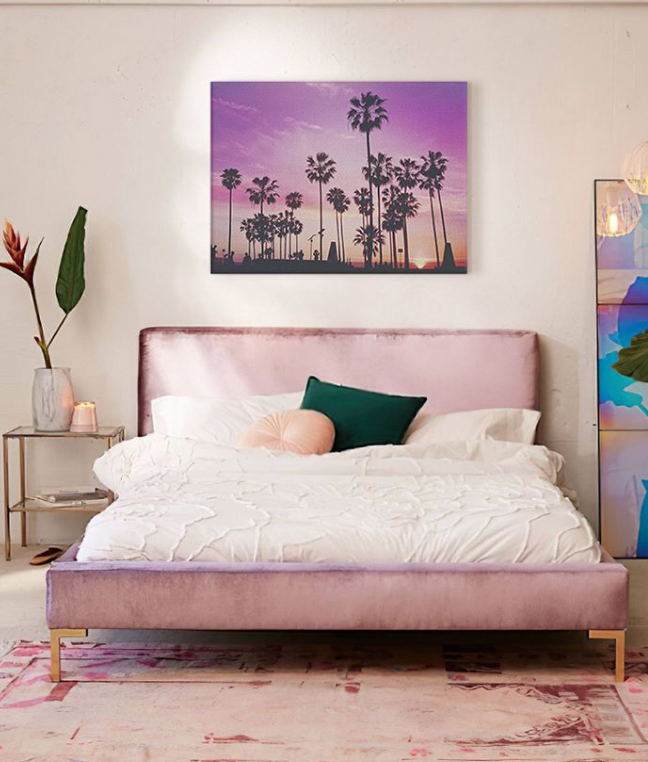 33. Metallic finishes
How unique is this space? The bed looks like it is made out of aluminium or could be popped like a balloon – what a cool illusion. I love the addition of the purple and pink neon lights which really give this space a futuristic appeal. I would feel like such a rockstar if I had this bedroom.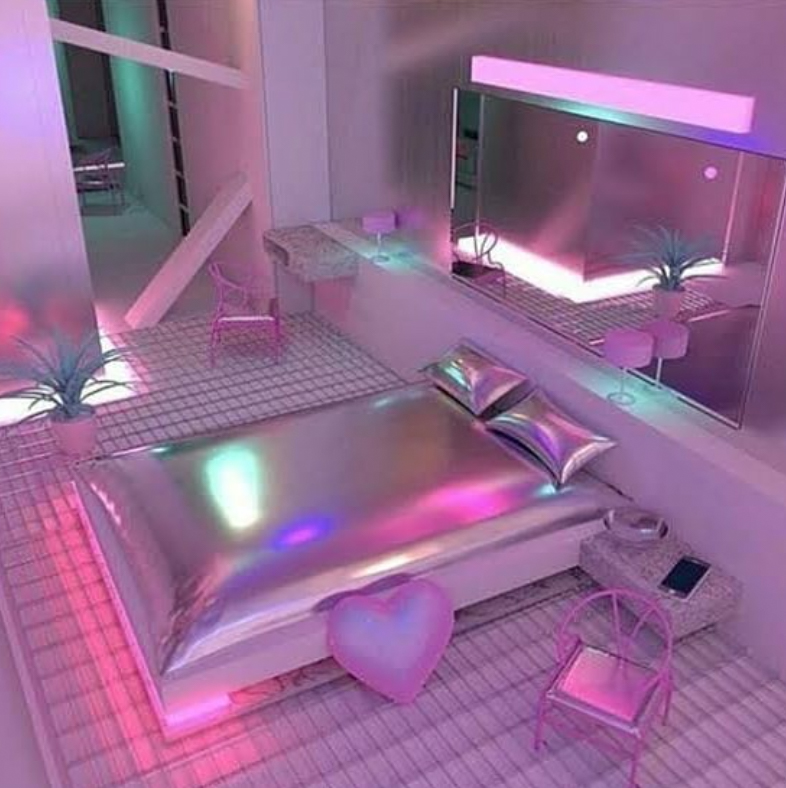 34. Furry throw
This bedroom has so many different additions of purple that just work so well! The soft pastel purple painted wall is the perfect backdrop to match with the patterned flower bedding and bouquet decor. Plus how cool is that furry throw that looks almost like it could be the fur of a character from Sesame Street! I just want to pat it!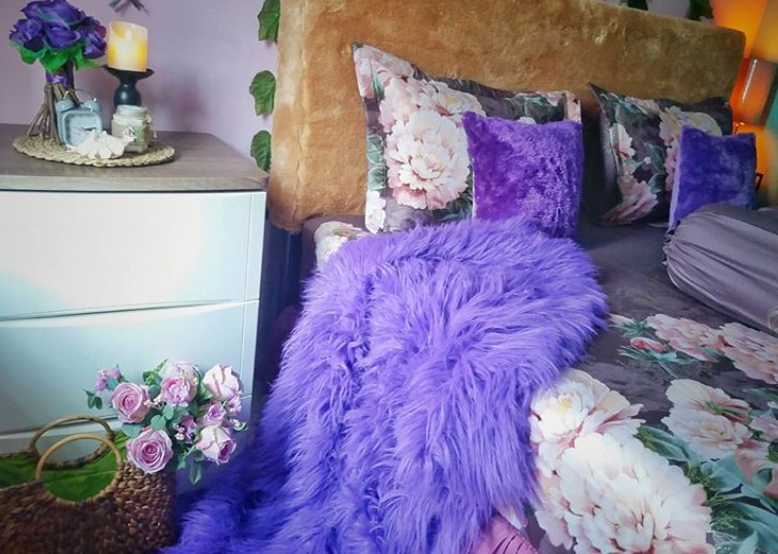 35. Just right
And last but not least is this beautiful soft bedroom that has everything just right. I love the cream coloured walls as well as the addition of the chandelier and four-poster bed. The purple bedding and rug prove to be the perfect pop of colour for this relaxing space.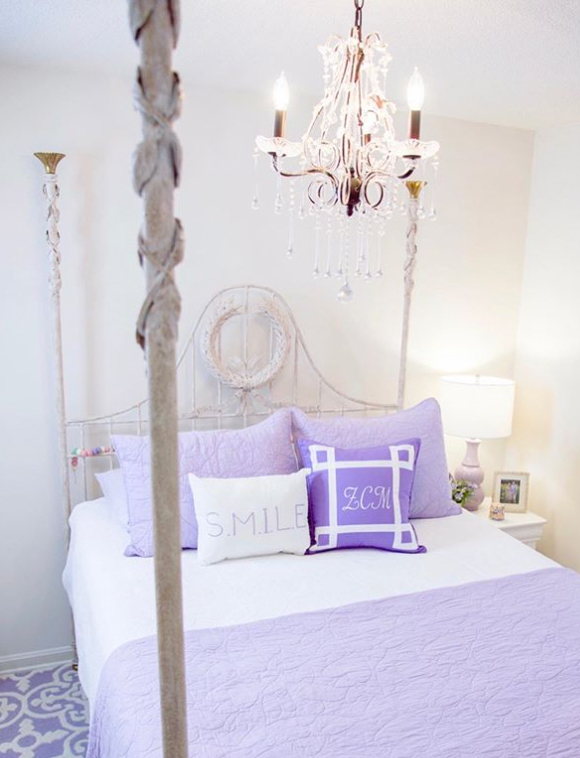 So there you have it! 35+ purple bedroom ideas for all of you who absolutely love purple and want to incorporate it into your space more. I absolutely love the subtle pops of purple through pastel shades and the spaces that incorporate colour very cleverly by just adding a throw blanket, doona cover or painting. How will you be adding purple to your bedroom? Let me know below!