Whether you are setting up a home office, an actual professional office, or just want to be more organised around the home, knowing how to create your own DIY whiteboard means you can have them literally, everywhere. Never miss an idea again!
A DIY whiteboard is great for work, household and personal organisation. Some things they can be used for include:
Planning world domination
Writing really long maths equations if you are a genius janitor
Punishing children by making them write one statement many times
Going temporarily crazy and being able to clean your incoherent scribbles afterwards with ease
Team meetings
So, read on to learn how to make your very own budget-friendly whiteboard!
How to make your own DIY whiteboard
Let's get the obvious question out of the way first, why not just buy a whiteboard?. Well, whiteboards can be very expensive! We never think about it because they always seem to just be there, right? Well, someone bought it and put it there, and it wasn't cheap. Not you; however, you're going to make one.
There are a few different options available when it comes to making your own DIY whiteboard planner:
Option #1: White panel board with clear coat (cheapest option)
Purchase a white panel board from your local hardware store in whatever size you like. If you are building a DIY whiteboard room divider, make it big; go small if you are hanging it in the kitchen (a DIY mini whiteboard). White panel boards are cheap, but they are not technically whiteboards (yet).
Buy some clear dry erase paint to cover your white panel board with, and BOOM, a cheap DIY whiteboard is ready in two easy steps.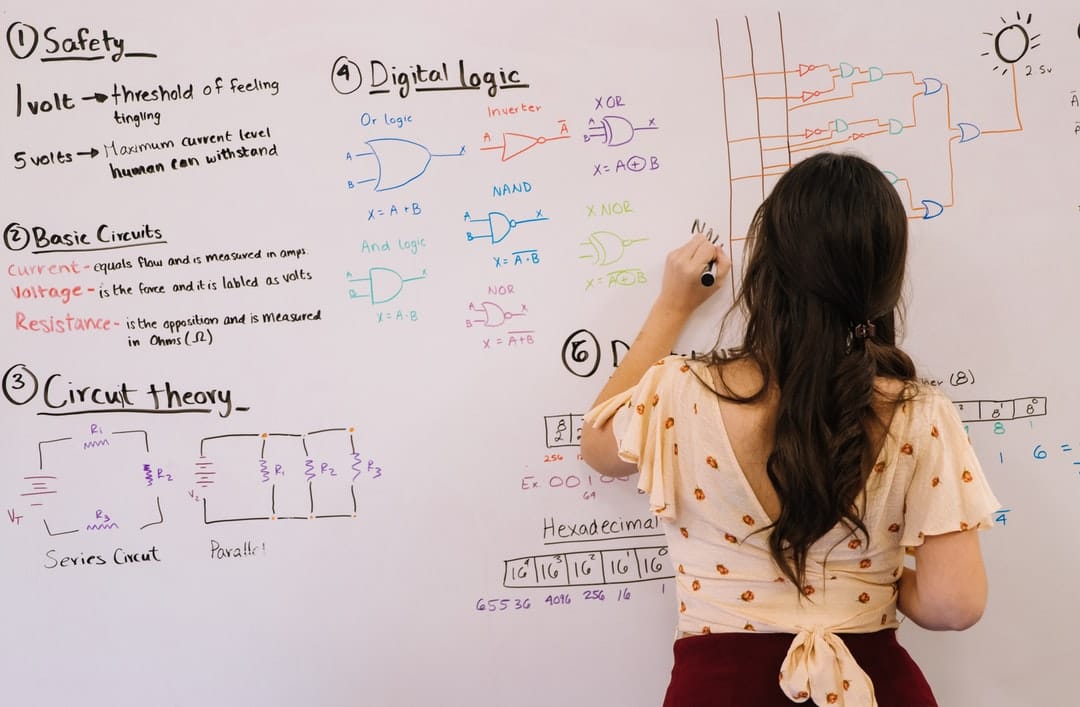 Option #2: Peel & Stick 
Slightly more expensive but also longer-lasting, buy some Peel & Stick Dry Erase Contact Paper.
Choose a smooth, clean, dry surface, then simply peel the paper, and stick it to your surface, avoiding bubbles and wrinkles.
Cut this paper into whatever shape you like!
Option #3: Idea paint
We're getting a little more expensive now, but you can have a lot of fun with this option. An important note before we get into the steps, however, this paint only works on non-textured walls.
Choose a VERY smooth surface.
Apply the paint like any other kind of paint (lay some drop sheets).
Allow the paint to dry, and you've just created a DIY whiteboard, simple!
How to make a DIY whiteboard frame
We're about to blow your mind with a very easy way to create a fourth whiteboard option, but with a frame for good looks. This is especially helpful if you want a DIY whiteboard for your home while avoiding the place looking like a classroom.
So here it is, our mind-bending five-minute DIY whiteboard frame solution that you can match to your decor perfectly:
Supplies needed:
8″x10″ picture frame (or any picture frame, really)
Scrapbook paper
Pencil
Scissors
Dry erase markers
Instructions:
Remove the back of your chosen picture frame
Use it to trace the same shape on the scrapbook paper
Cut out your new shape with scissors
Place the scrapbook paper into the frame
Replace the back of the frame
Flip over and use dry erase markers to write on the glass
Simple right? There you have a DIY whiteboard with a frame that will look very nice hanging anywhere in your home while also providing a space for those of us who are list-obsessed.
How to get annoying permanent marker off a whiteboard
Let's be honest; this is going to happen eventually. The biggest mistake someone can make in the world of whiteboards is tattooing the grocery list on them for good. This is why we've included a section on how to get permanent markers off a whiteboard, so you are not continually building new DIY whiteboards because you've stained the old ones.
Permanent markers look annoyingly similar to dry wipe pens. It's actually almost a cruel trick. If you can't wipe away the marks you've just made, we've got you covered:
Dos and don'ts when cleaning a whiteboard
If you HAVE used the right marker but just want to ensure a great clean for your whiteboard, follow these tips and tricks:
Use baby oil. It doesn't just give us super smooth skin; it can also get rid of stubborn marks on a whiteboard if you rub it on with a cloth.
Avoid abrasive cleaners as these can damage your board's finish, making future staining a lot easier.
Use a magic eraser or nail polish remover to get rid of stubborn ink.
Always wipe your DIY whiteboard down after use with good quality all-purpose cleaner to avoid built-up staining.
Keep all of your cleaning products out of reach of children, especially if the DIY whiteboard is in a children's playroom.
Cleaning a whiteboard with dry erasers
Sometimes you have to fight a marker with a marker:
Draw over the permanent marks you've made with a dry erase marker.
Colour a solid block that completely covers all of the permanent marks.
Use a whiteboard eraser to give the board a good wipe while the ink is still damp.
Repeat steps 2-3 until the permanent marks are no more!
Cleaning a whiteboard with rubbing alcohol
Both rubbing alcohol and hand sanitiser have the same effect on permanent marks. You'll also need two soft, clean cloths as well.
Choose your weapon, rubbing alcohol or hand sanitiser, and put it on a clean, soft cloth damp.
Gently rub away the permanent marker stain with the damp cloth.
Use your second clean, dry soft cloth to dry the area completely.
Repeat steps 1-3 until the stain is completely removed.
Frequently asked questions
What's the easiest way to learn how to make a whiteboard DIY?
When it comes to how to make a DIY whiteboard at home, simply purchase a white panel board (which you can find at your local hardware store) and apply clear dry erase paint. This will create a simple DIY whiteboard, and you can customise it to whichever size you like.
What's the easiest way to learn how to clean a whiteboard DIY?
A great way to keep your whiteboard clean is with baby oil. Always avoid abrasive cleaners, and be sure to wipe your whiteboard down after every use. Also effective? A good quality all-purpose cleaner.
What can I use if I don't have a whiteboard?
If you need a quick whiteboard-like solution, you can craft small paper boards. Simply get some plastic covers or wraps and cover a white piece of paper. This is a sustainable way to write on one thing over and over again!
What material can be used as a whiteboard?
The three most common materials for a whiteboard are melamine, porcelain, and glass. However, we can now also purchase a product called Idea paint, which will turn any smooth surface into a whiteboard!
Get creative so you can get creative
The small DIY task of building your own whiteboard means you can then use it to plan even bigger DIY tasks! As you can see, DIY whiteboards are pretty easy to create, and we've given you a number of options. If you have little kids, turning nearly every wall in your home into something that can be drawn on will likely save you a lot of cleaning and repainting; food for thought.
If you plan to go nuts with the DIY whiteboards, we recommend engaging some Taskers who are absolute experts at wall hanging and mounting. They can also be helpful for hanging art and other pictures. Ensure your hanging is secure and never worry about a surprise unpleasant crashing sound again.
If your DIY whiteboard is part of an office overhaul, you may like to do some further reading to find some inspiration to improve other areas of your office. You'll love our 10 DIY office hacks article, and you can find a range of other helpful office ideas. Making the spot where you work every day look its best can ensure your workday is a little bit more enjoyable!
Get creative, harness the power of DIY, and make some cost-efficient improvements to your home and office today!