Let's be honest; we throw out way too much stuff. We're not here to inform you about the scary state of our landfill limits, but we can all agree, things could probably last longer than they do. This is where learning how to perform your own DIY sofa reupholstering can help!
Sofas are big. We know this. So any chance we get to avoid having one go in the trash is a good thing! Plus, there are other benefits to a DIY sofa rescue, such as cost savings and the chance to create a very original piece to add to your home aesthetic.
Found a vintage sofa that needs a makeover? Want a cost-effective way to update your old sofa that's become threadbare? Learning to perform a DIY sofa reupholster is a fun and challenging way to achieve a new look. Read on to learn how to add "do-it-yourself upholsterer" to your list of skills.
The materials you'll need to reupholster
Reupholstery is essentially the process of removing the old fabric and replacing it with something new. There are some essential tools and materials you'll need to complete this project, and they include:
Staple remover

Staple gun and staples

Pliers

Strong scissors

New fabric

Flathead screwdriver

Notebook and pen

Sewing machine (optional)

Trim or cord (optional)
How to perform a DIY sofa reupholster: Step-by-step
Reupholstering a sofa isn't the easiest DIY project you can do. It takes time, patience and requires a bit of note-taking. Our step-by-step guide breaks everything you need to do down:
Step #1: Study your sofa
Before you begin any reupholstery project, you need to truly understand the piece of furniture you are working with. The goal is to able to easily reconstruct it once you have pulled it apart. The time you spend planning will make things much simpler later on.
Some things you should be looking out for include:
Where are the staples? 

Is there a slipcover? 

Are the buttons tufted? 

Is there visible cording?

Is there any damage under the fabric?
Take whatever notes and photos are needed for future reference and save a significant amount of time later on.
Step #2: Remove the bottom cover
It is pretty standard for your sofa to feature a lightweight layer of fabric on the underside known as the dust cover. This is the last piece of fabric placed on the sofa so for us reupholsterers, it's the first to come off. Use a staple remover or needle-nose pliers to pull out all of the staples holding this cover on and place it to one side.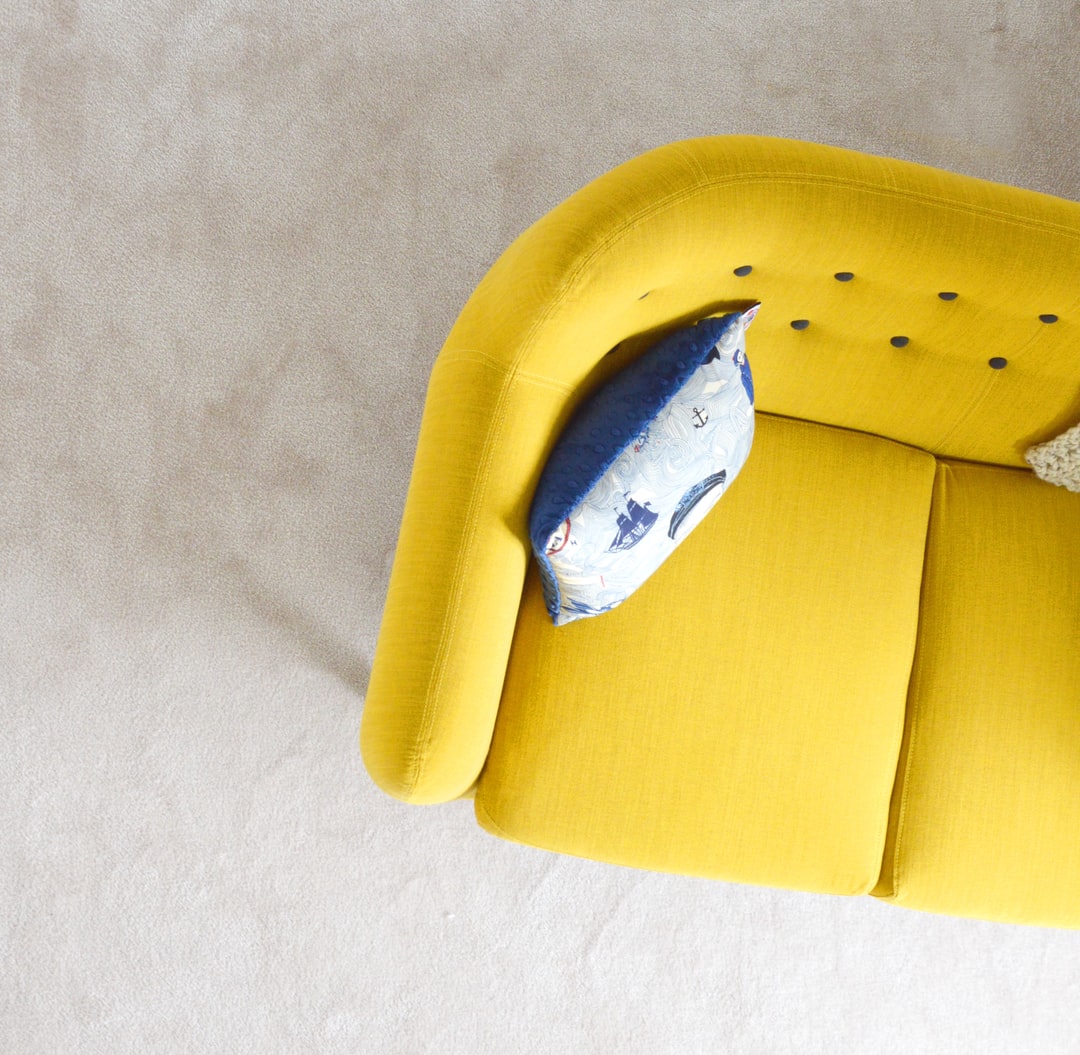 Step #3: Remove the upholstery fabric
Once the dust cover is out of the way, you should be able to see the other upholstery pieces. Now it's time for a little deconstructed sofa DIY work. Make a note of the layering, remove the top layer of upholstery fabric and use your staple remover to get rid of any remaining staples. Take notes and photos with every piece of upholstery that is removed so you can put it all back together.
It is important to know the order in which you removed each piece, where they fit, and how they were oriented. Make notes of how and where the fabric was attached and any special considerations like cardboard pieces or tack strips. The idea is to be able to replicate these details when you put the new fabric on.
Step #4: Cut the new fabric
The good news is, you have all of the measurements you need from the couch's old fabric. Use these to the exact shape and size out of whichever new fabric you have chosen to give your sofa its new look. 
You pretty much have complete freedom when it comes to choosing your new upholstery fabric, but it is important to note that thinner fabric will show signs of wear quicker than something more robust. On the other hand, it will be a much harder task to staple heavy-duty fabric to the sofa when it comes time to do so.
Step #5: Attach your new fabric
This is where your notes will come in very handy as a guide. Once all of your pieces are cut to the correct size, attach your new upholstery fabric to your sofa. Work in the reverse order to the removal of the old fabric, with the last piece removed being the first that you attach, and so on. 
Use a staple gun to attach the fabric to the frame, and always refer to your notes and photos if you run into a spot that doesn't look quite right. It is also very important to pull the fabric taut when you attach it to avoid any weird looking drape or wrinkle due to loose fabric.
Step #6: Reattach the dust cover
You are now back where you started! Finish off by restapling the dust cover on the bottom of the couch. This will cover all of the staple work, creating a tidy look for your new sofa.
Optional steps for those with more DIY energy
There are two more things you can do to give your new sofa a great look if you are still hungry for more DIY work:
Add trim if you want to cover up staples, and add another classic sofa look to your new piece. Buy some matching cord and use fabric glue to attach it for a more finished look.

Sew some matching pillow covers if your couch has back or seat cushions. You can follow the same steps that you performed when deconstructing the upholstery, using the old covers as a pattern to cut the new fabric. Alternatively, you can go off-script and create some matching pillows from scratch to add some comfort and a unique look to your new sofa.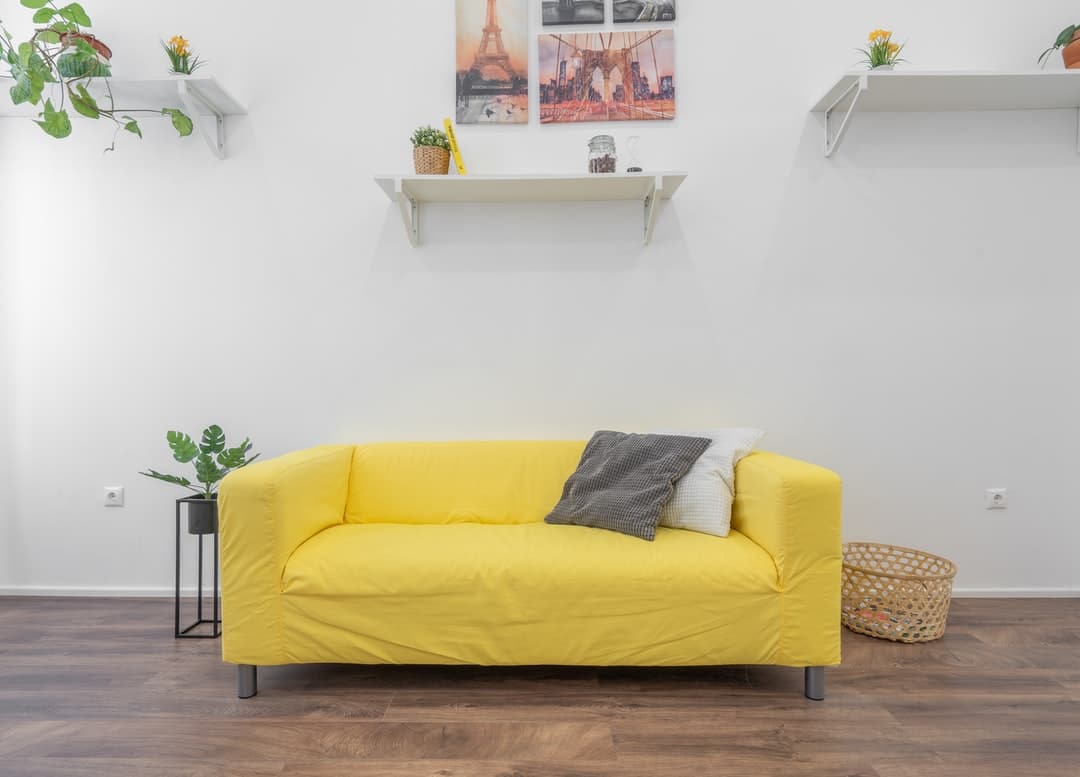 Frequently asked questions
How can I reupholster my couch myself?
It is possible to make reupholstering your sofa a DIY activity; simply follow these steps:
Study your couch

Remove the bottom cover

Remove the old upholstery fabric

Buy and cut the new fabric

Attach the new fabric

Reattach the dust cover

Add trim (optional)

Sew pillow covers (optional)
How much does it cost to get a sofa reupholstered?
Professional sofas reupholstering can cost anywhere between $1,000 to $2,500. Check out our highly detailed sofa reupholstering price guide for the differences in price given your chosen fabric, size, and sofa state. Performing the task yourself can be significantly cheaper as you only need to pay for the new fabric!
How easy is it to reupholster a sofa?
Reupholstering a sofa is not the easiest DIY project you can do. You need to account for removing the old upholstery, cutting and adding the new upholstery, and sewing some cushions (if you want). This can take a bit of time, especially for those who are less handy with fabric work. Still, it is a fun task and quite rewarding when looking at a new sofa you created!
Can you reupholster a couch without removing old fabric?
If you want to save time, you can reupholster an old sofa without removing the old fabric. Instead, tuck your new fabric over the top of the old one and staple it with your staple gun. This will, however, require heavy-duty staples. Most people remove the old fabric first as it may smell or create a different look when pulling the new material over the top.
Take on the challenge and reupholster your old sofa!
It may seem a little tricky, but with some careful planning, you should be able to give that old sofa a fresh new look. Once you learn this skill, you'll never have to shell out for a brand new sofa again!
If you love the idea of a reupholstered sofa, but the requirements are a little out of your skill (or time) range, there are plenty of professional Taskers offering upholstery and repair that you can contact. With so many options to recycle, throwing that old sofa away should be the last consideration on your list!
To learn more about the cost of upholstery  cleaning or sofa repair, check out our handy price guide and cleaning cost guide. This will be very helpful for those who are tossing up between attempting a DIY task, looking for a professional to save their beloved sofa, or buying something brand new.