Why so much cactus love? It's said that cacti particularly suit millennials due to the minimal effort involved in their care because millennials are regarded as wanting to "do less but get more".  Cacti have evolved to become extremely drought-tolerant and virtually indestructible. This has also increased their popularity with people who are conscious of reducing their water usage. From the somewhat cliched two-armed Saguaro cacti that appear to stand guard, to towering Torch cacti and Golden Barrel or even Hybrid Golden Rat Tail, there's something to suit everyone with these 35 cactus garden ideas.
Another reason behind their popularity is the trend towards adding living plants throughout the home as well as in the garden. "Bringing the outside in" helps with air purification as well as establishing a connection with nature – and cacti make fantastic indoor plants as they are so hard to kill, only requiring decent light and rare watering.
So are you ready to rock the desert interiors and exteriors trend? Then let's take a look at 35 examples of gorgeous cactus gardens that feature this starkly romantic if hostile-looking, plant.
1. Vivid colours
The cactus is such a strong sculptural plant that it works especially well when contrasted with vivid, bold hues and that's why you'll often see homes featuring cacti set amongst really strong colours—whether a full coloured wall or simply a whitewashed wall with a brightly painted door. Below, this saturated violet cactus garden looks absolutely stunning against the green cacti and succulent planting at the front door.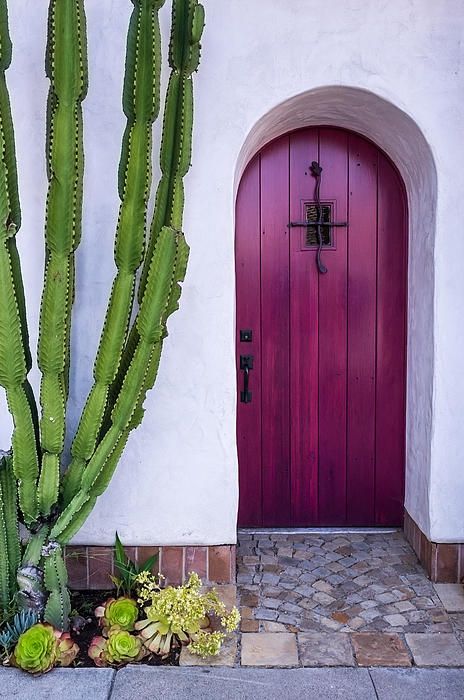 2. Soft desert colours
Aside from rich, bold brights, another strong aesthetic that's ideal for a cactus garden is to channel the sandy desert landscape with a muted, soft palette of soothing, natural colours. Think calming greys, dusty neutrals, warm terracotta hues and pops of blush, and contrasted with cooler, contemporary tones in blues and greens.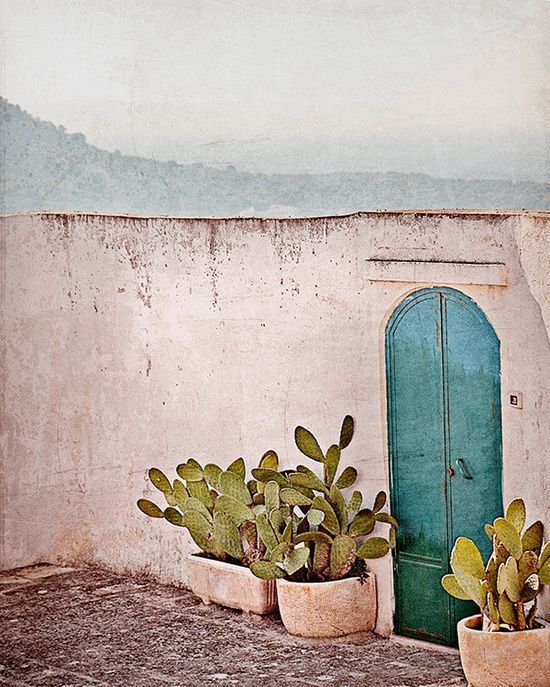 3. Blue décor and cacti
This classic Arizona home again showcases just how amazing saturated brights look against a massive, statement cacti. I love these pretty blue and mint green tones. This cactus is a prickly pear which is one of the most recognisable cacti in the world, however, it has actually been declared a weed in three Australian states, so you need to be really careful with this particular variety. There are plenty of other stunning cacti choices than prickly pear though, so don't be disheartened if you love this look.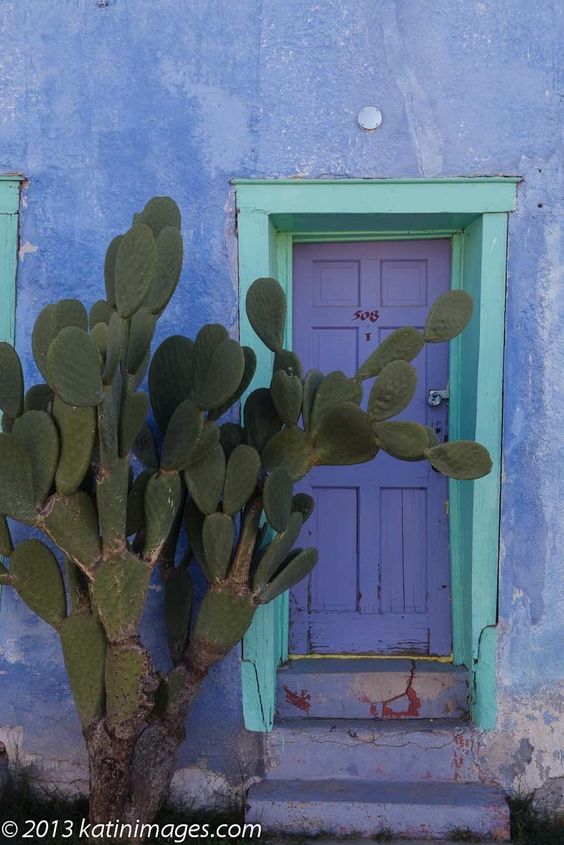 4. Palm Springs look
Cacti really suit the desert-modernism aesthetic so you'll often find authentic homes in this style, featuring whitewashed walls, bright painted doors and a selection of wildly varying cacti and succulents at the front door. Here, columnar and barrel cacti are a classic pairing, with the palm tree adding dimension as well.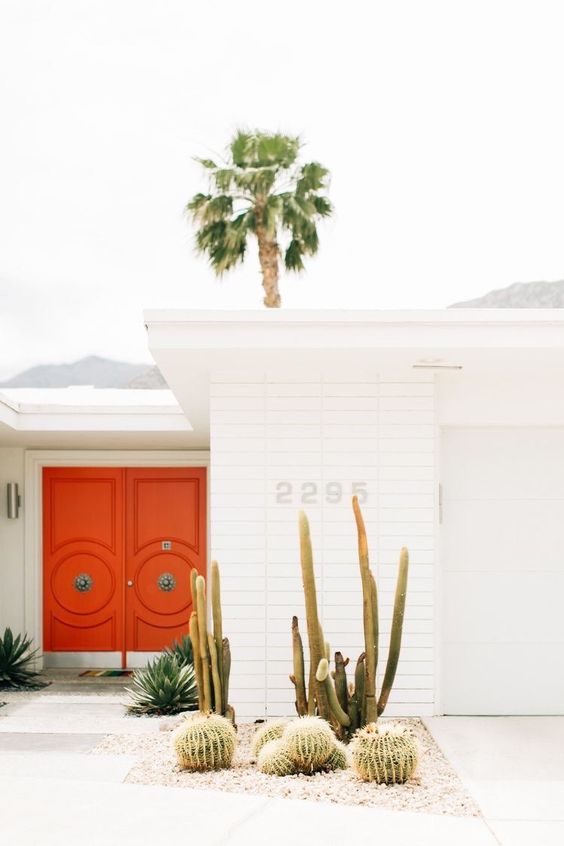 5. Cacti and soft red walls
You may have seen this iconic Spanish apartment complex called "La Murella Roja" (meaning "the red wall") as a thousand photographers have already admired it from all angles. The labyrinthine, fortress-like residence features strong geometric shapes and a striking, bold colour palette that really stand out against the landscape. The boldness of the apartment complex design requires a similarly bold planting and cacti do the job perfectly.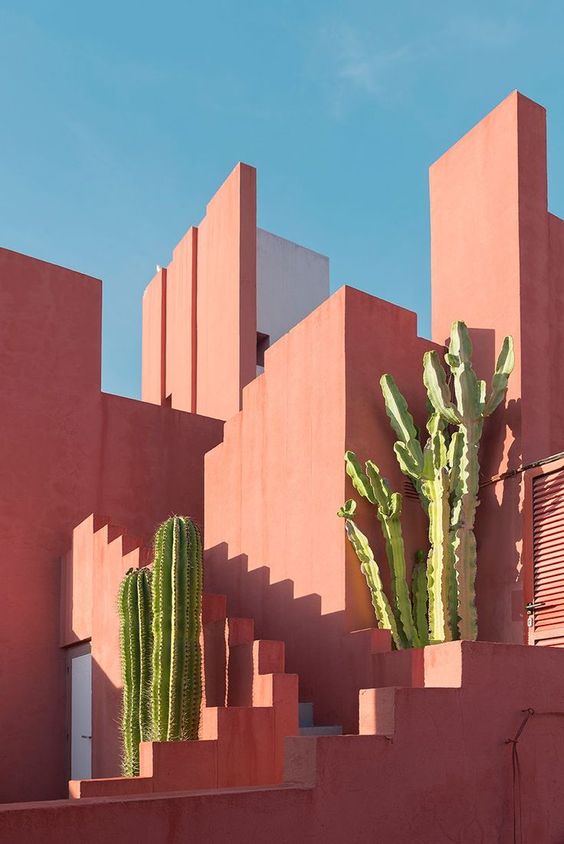 6. Painted doors
A whitewashed home with a vividly painted door evokes a classic Palm Springs aesthetic and naturally, desert-proof cacti and succulents are the perfect match. White gravel completes the look and makes for a very low maintenance front garden. And consider giving your garden a tidy up if you want to rock this minimalist look.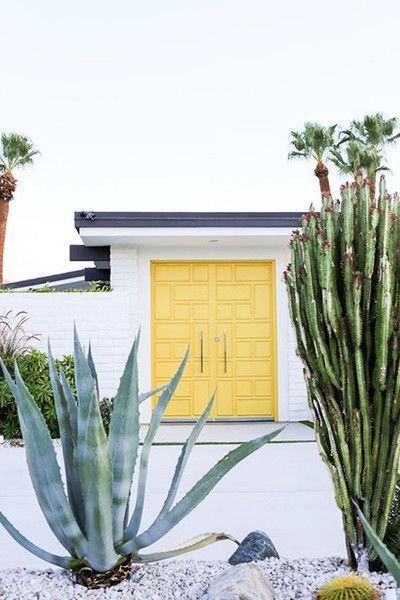 7. Blue cactus
Yes, cacti come in bright blue tones too! This otherworldly variety of columnar cacti is called Pilosocereus and features vivid blue with contrasting pale orange spines. One of these curious plants would make a stunning conversation piece, whether planted indoor or outdoors.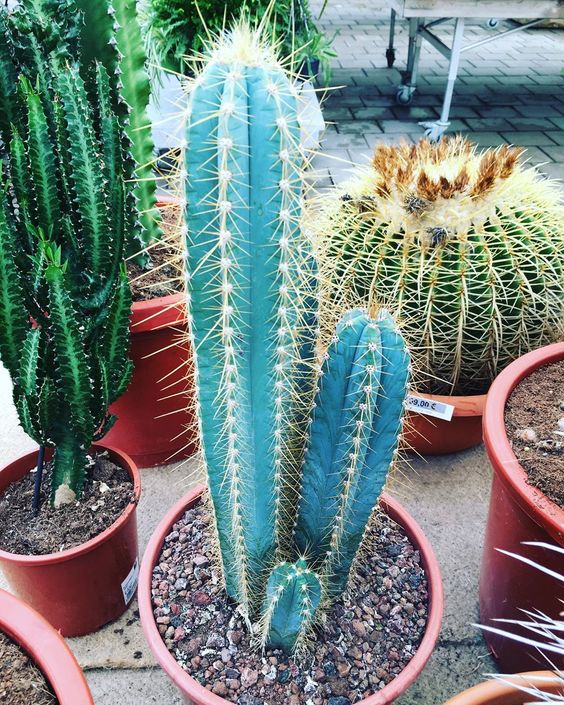 8. Yellow cactus
These lime-yellow toned columnar cacti out in front of this amazing home in the Sonoran Desert of Mexico reflect the bold, vivid colour scheme chosen by the designers. The architectural forms of these classic cacti meld so well with this strongly geometric, toy-like home. For help with planting up your garden, why not consult an experienced gardener.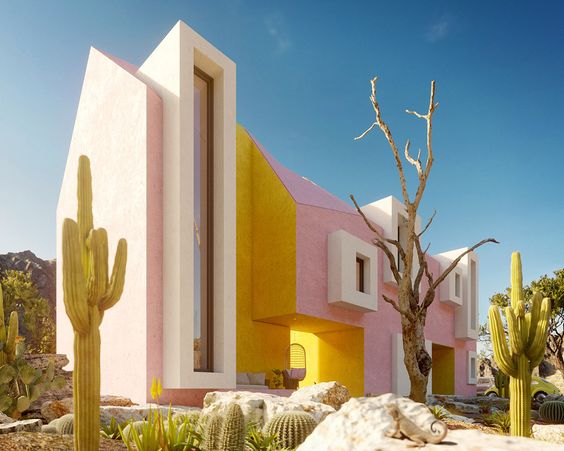 9. Pink cacti
I was a bit excited to discover there were pink columnar cacti…until I learnt there actually weren't and this image only features painted cacti. OK, so styling up a wedding with cacti painted Millennial Pink is one thing, but it really isn't recommended to paint your plants generally, as this will most likely kill them. It's a striking look though, especially against whitewashed walls and pops of black.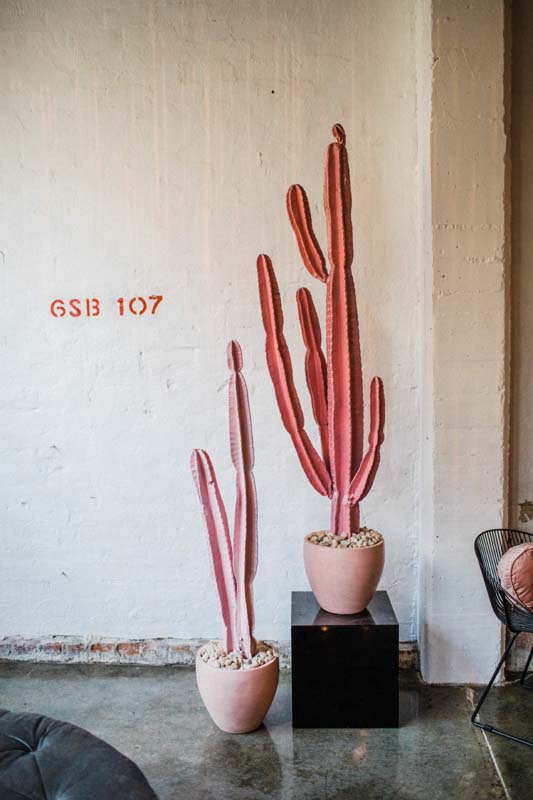 10. Cactus with pink spines
However, if you really love pink and were hoping to find a cactus in this colour, consider the Rainbow Hedgehog Cactus which features sweet pink spines that create that fuzzy warm halo around the plant when viewed from a distance. Or, consider Mexican Fire Barrel cacti, which are similar but with red spines.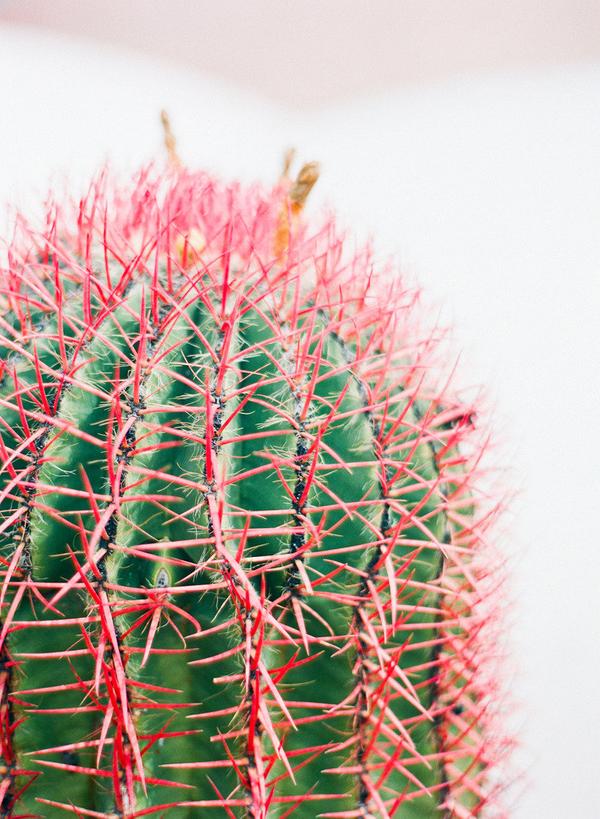 11. Solo cactus garden
An all-white colour palette creates a wonderful backdrop for sculptural plants like cacti, and enables even a single one to make a huge statement. This whitewashed piece of serenity is a B&B in the Italian countryside. All that's needed is a few pops of black in the window and doorframes to create a bit more contrast and definition.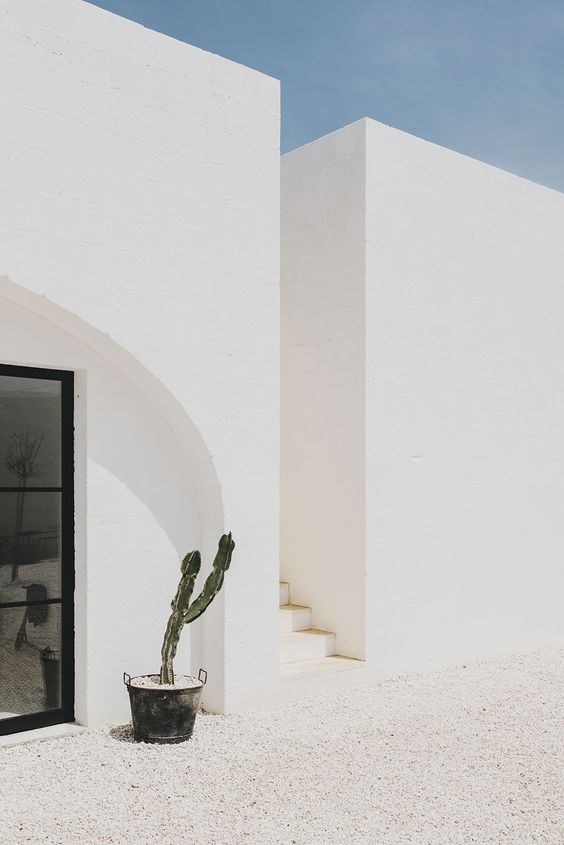 12. Sculptural seaside
This contemporary seaside home located on sandy soil and hit by salty gales required a showstopping front garden that could handle the tough conditions. Hardy cacti and succulents provide the perfect dramatic, sculptural look against the concrete supporting wall, with the home featuring varieties including wheel cactus, blue torch cactus and red aloes. For the perfect garden planting scheme, you might like to consult an expert in garden planting.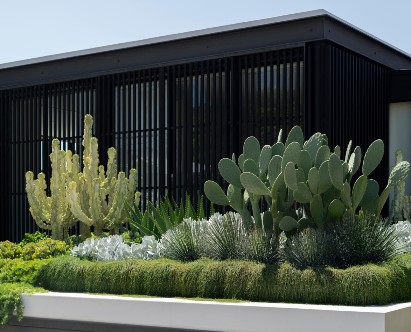 13. Privacy screen
A row of stately columnar cacti grown as garden edging makes a fantastic natural privacy fence and the varying heights of the plants create interesting filtered sunlight and shadow play. You might also like to read our article on garden edging for loads more edging ideas.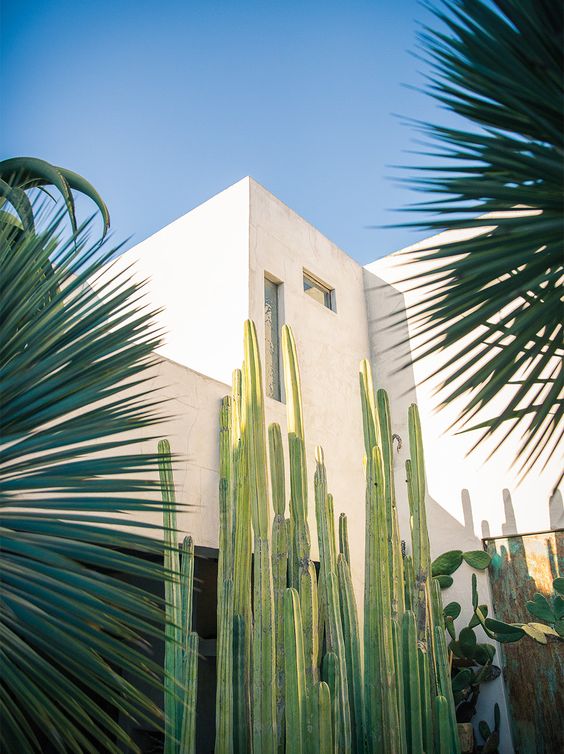 14. Cacti courtyard
Courtyards full of cacti ooze with character, as you can see in this image where the homeowners have set up a sleeping area complete with mattress, lanterns and multiple layers of textiles. Despite being out in the open, this feels so intimate and cosy. For more courtyard garden ideas, see also our recent article.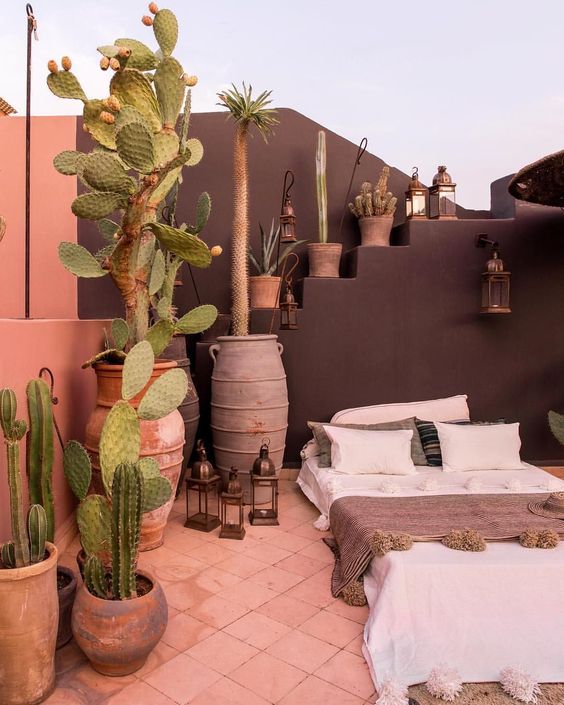 Source: Cote Maison
15. Agaves
Have you ever come across the hashtag #thatpinkdoor on Instagram? Then you've probably already seen this home. In keeping with the Palm Springs aesthetic, where many homes feature brightly coloured doors, this soft bubblegum pink door looks stunning against the whitewashed house and the two massive agaves standing sentry at the entrance. Need some advice on how to plant up your front garden? Why not speak with an expert in garden design.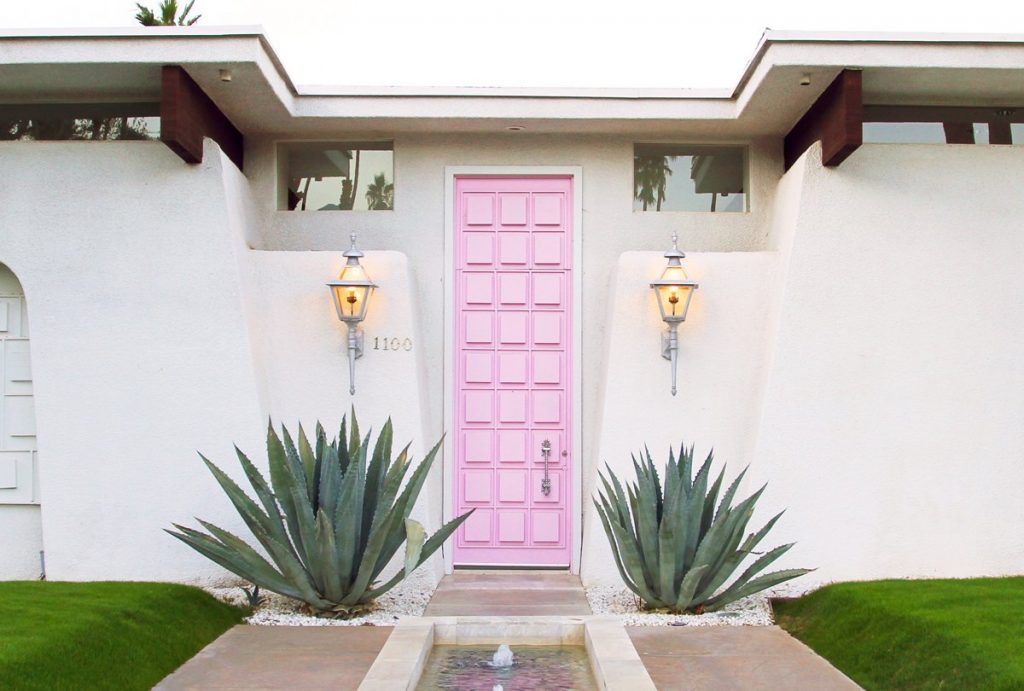 16. Formal entranceway
Another classic look here with a whitewashed home with a brightly coloured painted door and a symmetrical selection of cacti blending in harmoniously in white containers in the entranceway. Cacti are awesome for front gardens as they are such low maintenance plants – you can practically set and forget them – and yet provide such a rich decorative touch.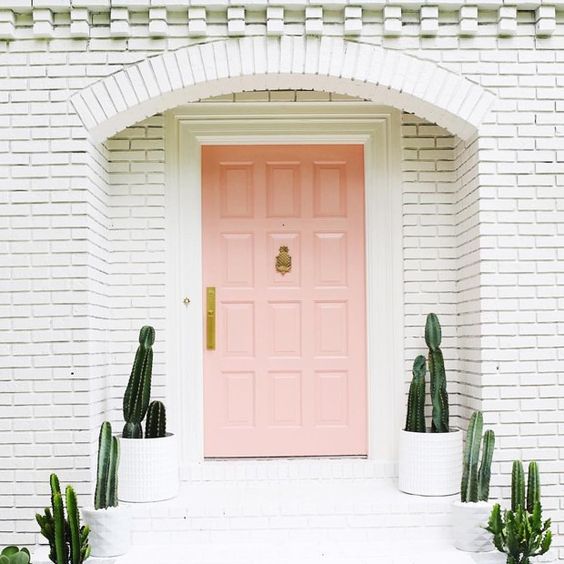 17. Curb appeal
The front garden of this 90-year-old home in Arizona has been planted up with differing heights and varieties of cacti (trees, groundcovers and shrubs) which allows them to create their own depth, darkness and shadows amongst themselves, even in the scorching sun.
This historic home actually features a modern lap pool, with the designers saying the contemporary-chic desert plants "mediate" between the home's historical origins and its modernity. Need help planting up your garden path? Find someone who can help with that.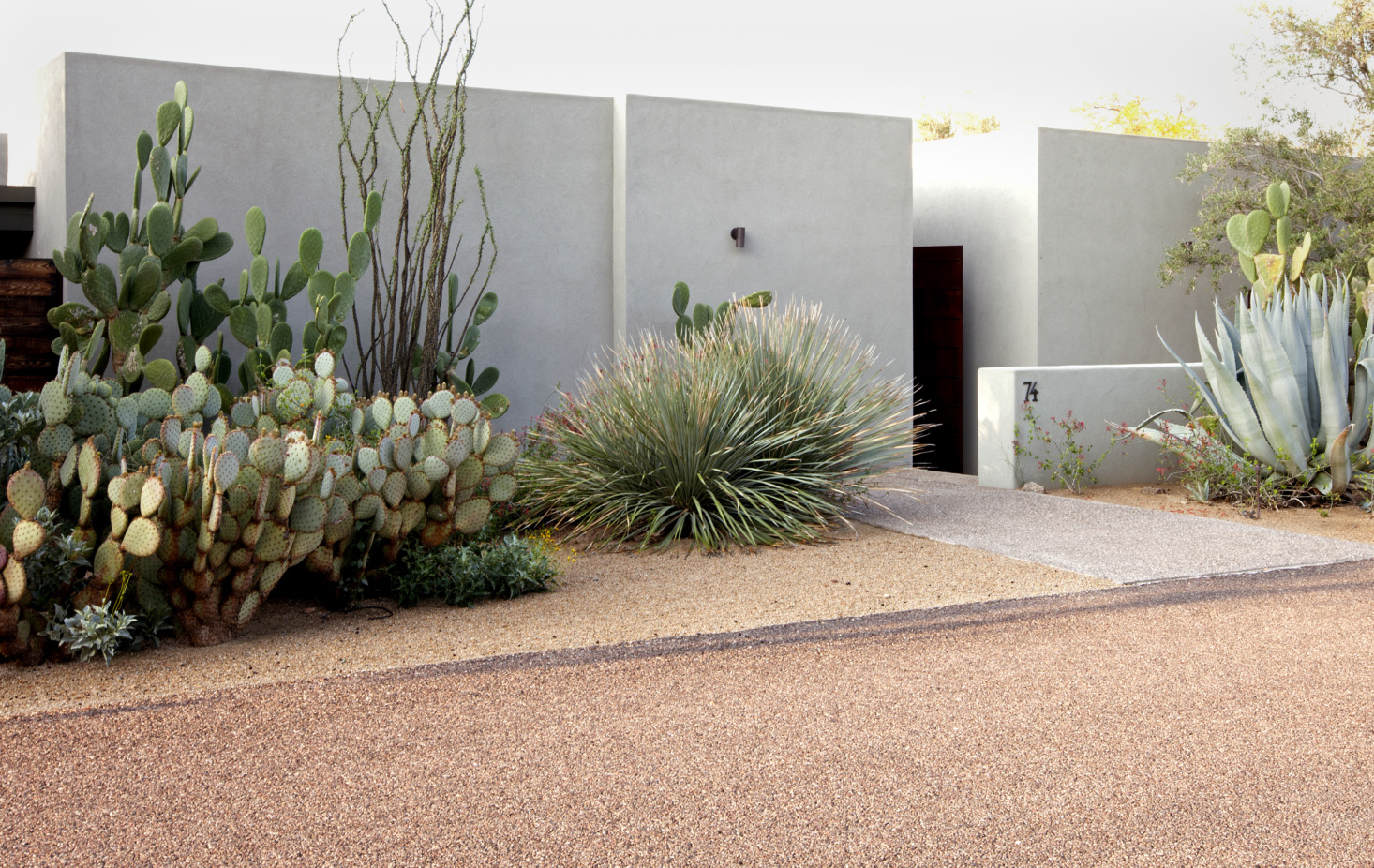 18. Snakeplants and breeze blocks
This backyard cabana looks the epitome of cool – both temperature and style-wise! Breezeblocks are currently a thing, and snakeplants are a wonderful low maintenance succulent that provides contrast and texture to this setting. For a neat and tidy look like this, you could also get some help with your garden maintenance.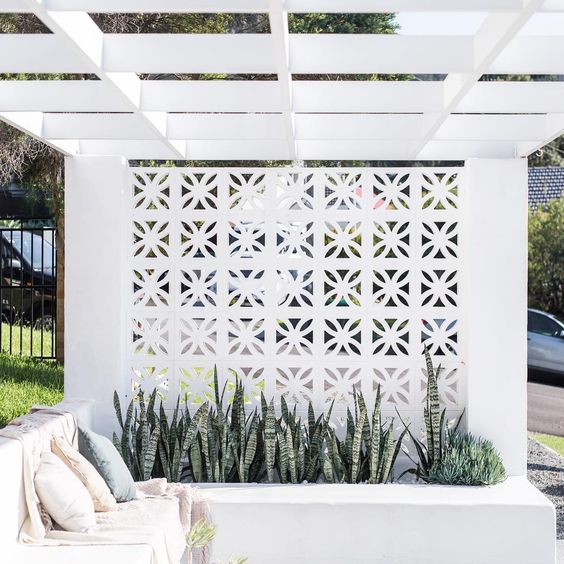 19. Poolside cacti
Deserts have oases–and so do desert-style homes! So if you have a little (or a large) oasis of your own, make a real statement poolside with a massive cactus positioned to generate a striking reflection in the water. Or, why not get the designer's touch with the help of an expert in pool landscaping?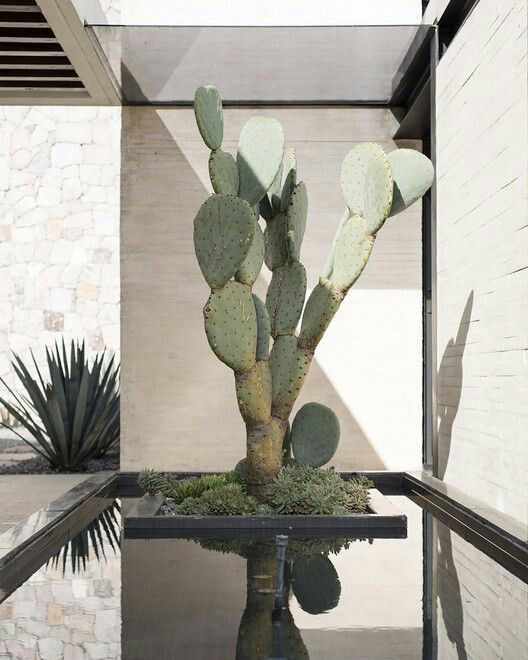 20. Cactus garden with hot pink walls
Bold colours definitely suit the boldness of this architectural plant. I love this magenta sponged wall, and also the textural contrast of the gravel floor. The gorgeous pink is amplified by the addition of a simple throw-in similar tones. A stunning and inviting vignette.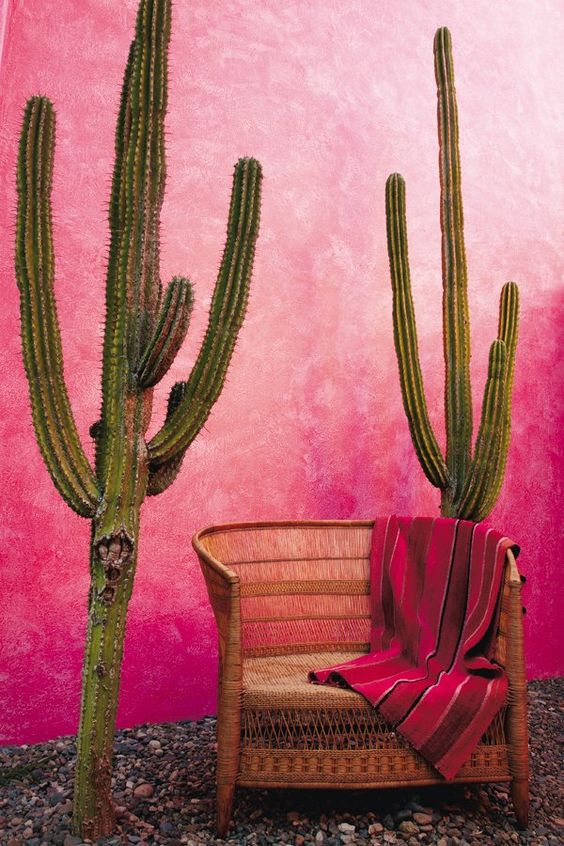 21. Graphic planters
Containers that feature stylised patterns bring all the South American vibes to your cacti grouping. Seek out pots with patterns in an array of natural tones and materials (terracotta, ceramic, concrete and handmade glazed vases) for an authentic look.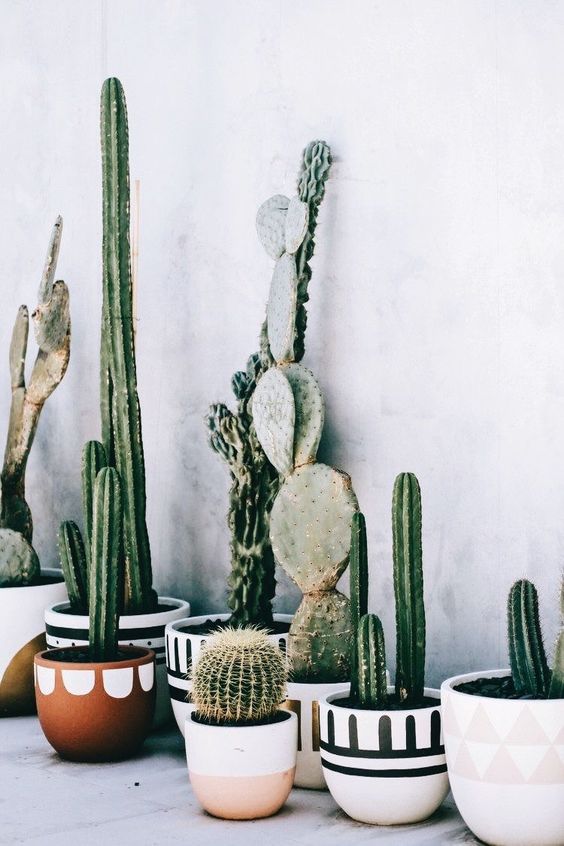 22. Cactus and concrete
Given that this is the home of Abigail Ahern, aka the queen of faux botanicals, I suspect some of the cacti in this image are not real! But it shows just how good a visual match concrete and cacti are. Industrial-looking concrete is still very popular in interiors, whether rough or smooth, as the material provides such rich texture. Here, a decidedly uncomfortable-looking cement chair that is regarded as a sculptural designer statement piece.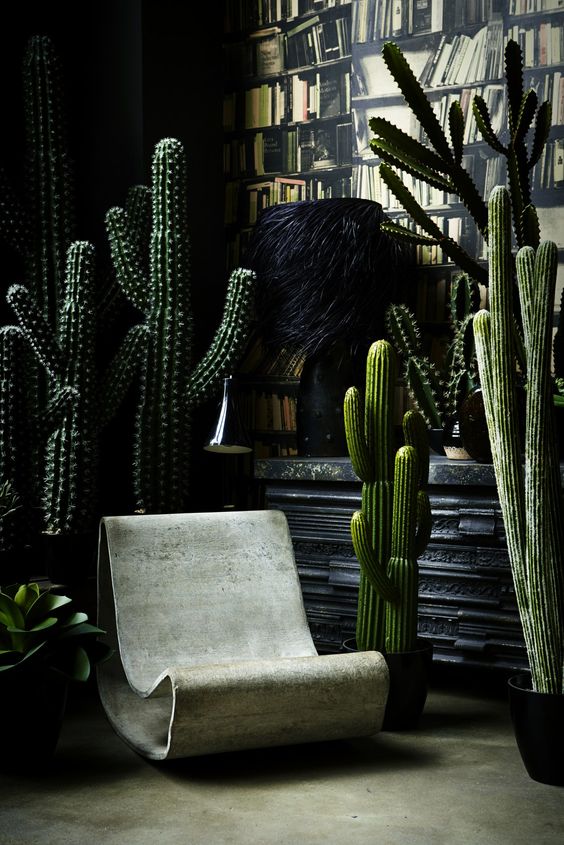 23. Indoor cactus garden
This Manhattan apartment was built in the early 20th century and renovated to give it a contemporary interior. The designers were inspired by the natural colours of Mexico with sunset-hued walls balanced by numerous shades of rich greens.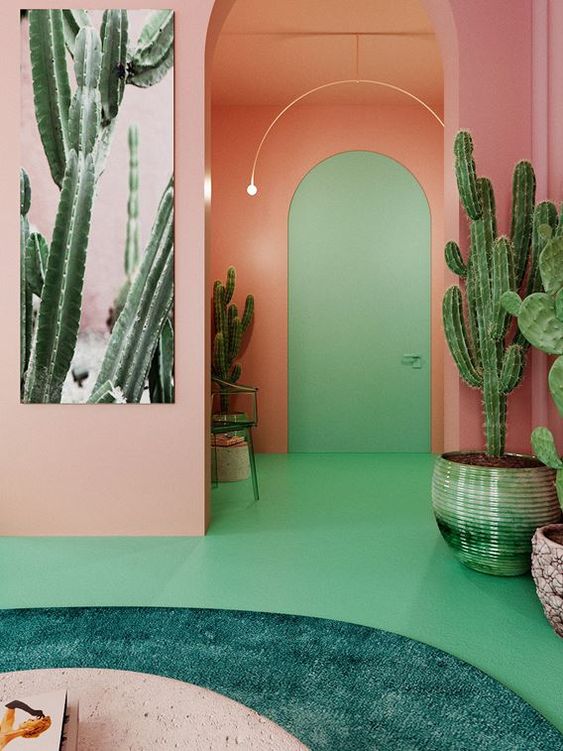 24. A minimalist setting
Here's another image from the same apartment, this time showing the entrance. Your entranceway sets the tone of your home and here it strongly signals the apartment's colour scheme and overall Mexican theme. The cactus containers painted in a gradient are a clever hint of the interior design of the rest of the apartment, which incorporates walls painted in gradients. And the transparent designer chair adds a contemporary touch.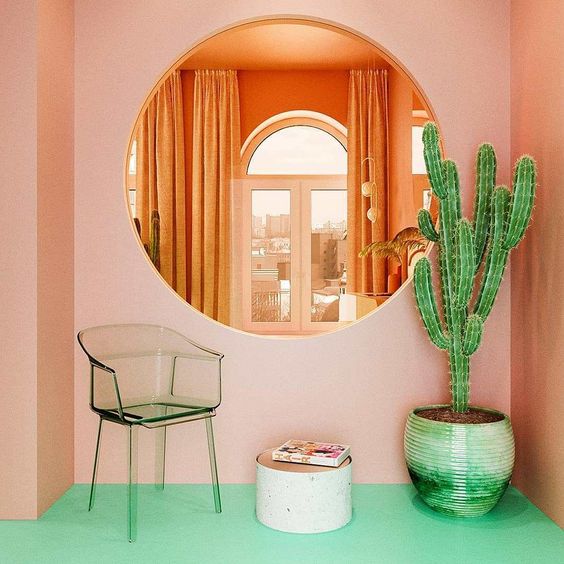 25. Cacti wall
Stick to a limited colour palette to showcase the plants themselves, as in this cactus wall arrangement. The pink pots blend into the pink shelving allowing the plants to really pop. For more succulent garden ideas, see also our recent article on succulent garden ideas .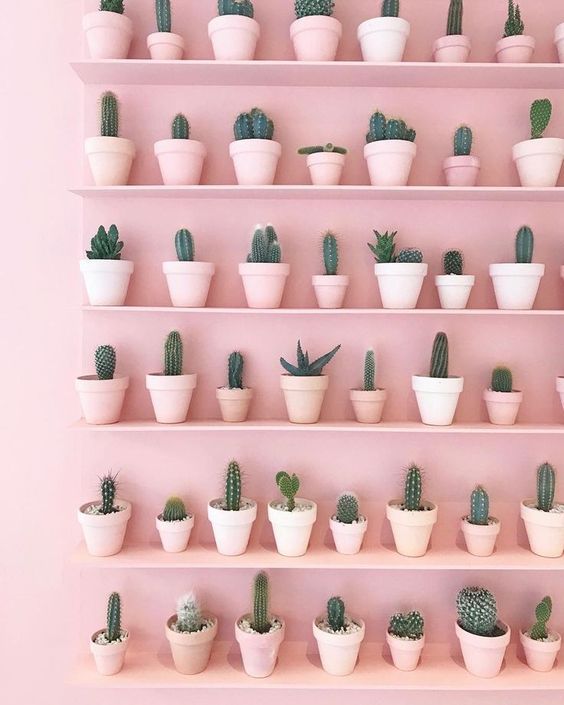 26. Mexican textiles
When choosing your planters, consider opting for containers featuring ethnic patterns and designs, as these will reinforce the South American flavours of the plant. Here, three very similar looking cacti avoid blandness by mixing up the containers with differing levels and designs.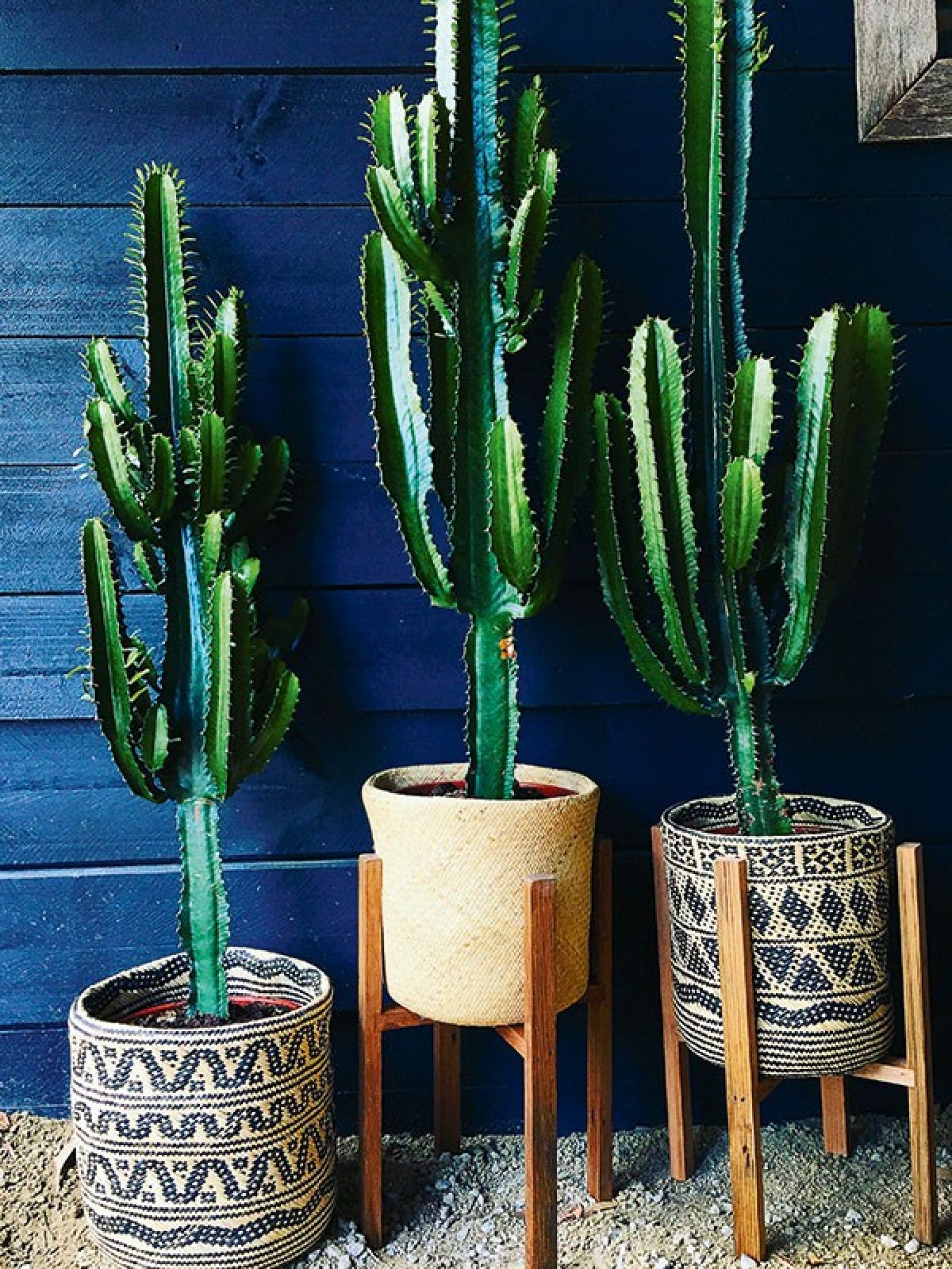 27. Minimalist cactus
A mix of old and new here with a contemporary chair contrasting with an established cactus in a weathered, fading container. As always, cacti look superb against pink walls, especially this dusty powder pink.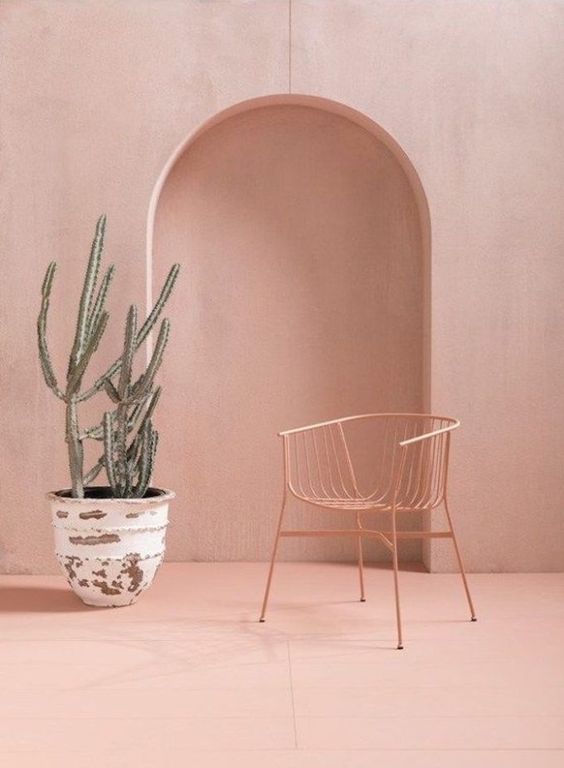 28. Happy and bright
How about this cheerful setup? I love all the rounded shapes in this vignette, from the flower chair and its cushion fabric to the wall art to the half-painted containers. And then the shapes of the cacti add still more texture and pattern, with their muted colour contrasting with all the warm tones in this space.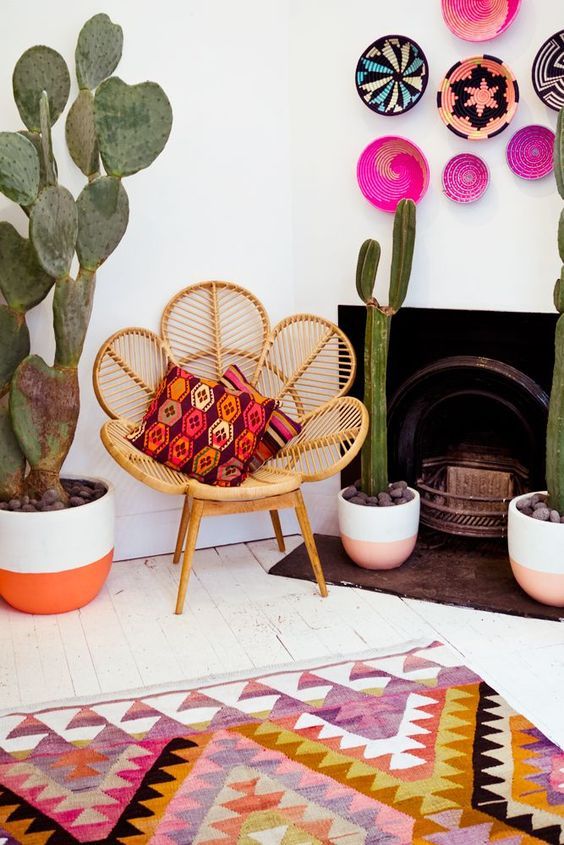 29. Grouped cactus
Go for an oversized container like the one below, so that you can group an interesting mix of contrasting cacti together in the one pot. I like how this keeps everything neat and creates a single focal point. Complement the plant's natural textures with similarly strongly textured soft furnishings, like this faux fur cushion.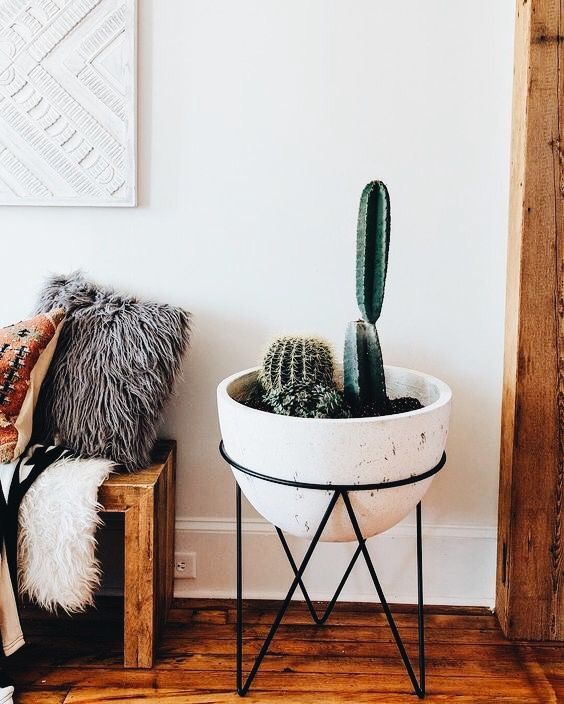 30. Cactus with rattan
The trend towards woven naturals doesn't show any sign of losing momentum any time soon. Which is great because natural materials work so well with traditional desert-landscape cacti! You can mix materials of similar textures as they will complement each other, so add plenty of wicker, rattan, jute and sisal. Then pair your woven materials with a tried-and-true colour palette of creams and whites.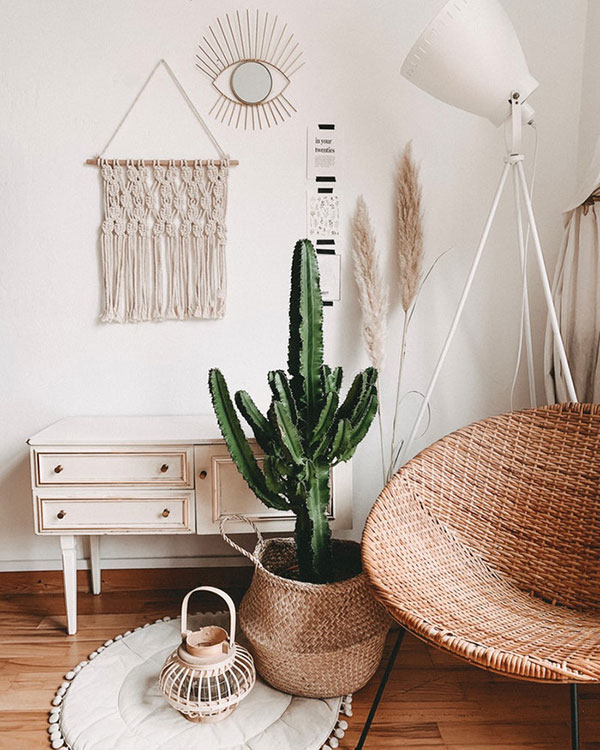 31. Minimalist cactus garden
Take one bare, plain wall, add a little curation of cacti in terracotta pots and you have one stylish and dramatic vignette. Many cactus aficionados actually claim that cacti thrive much better in terracotta pots than plastic ones. And traditional terracotta definitely suits the desert vibes aesthetic.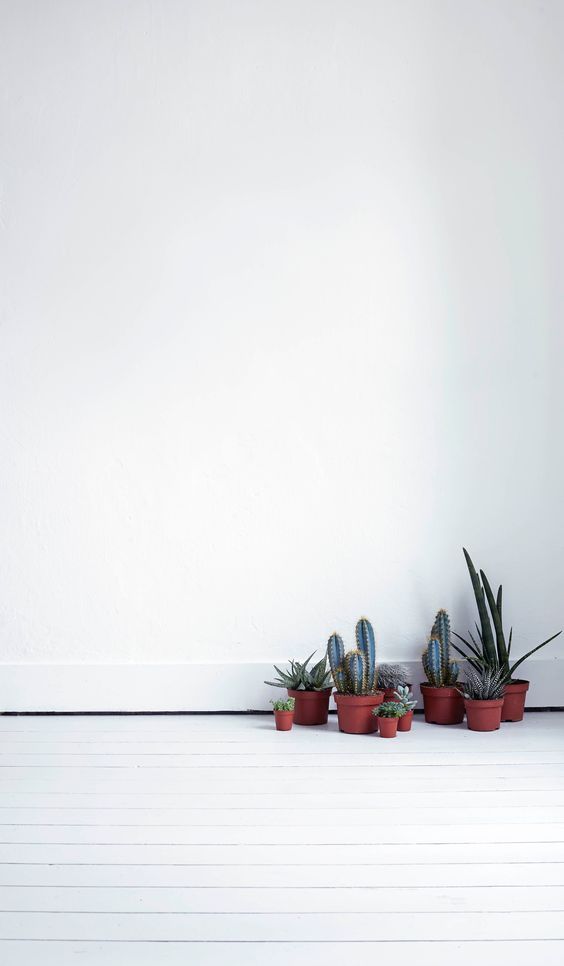 32. Mini cactus garden
Thanks to this plant's endless variety of unusual sculptural forms, a group of different-shaped cacti always makes for a cool grouped display. If you're keen on a black and white aesthetic like this, choose a range of dark, rugged cacti and just pop them in a selection of bright white pots.
33. White moonstone succulent
Apart from cacti, there are plenty of other amazing succulents out there that look spectacular when grouped together. One of the most popular and highly prized varieties is Pachyphytum Oviferum, aka Moonstones or Sugar Almond Plant. This Mexican succulent comes in a variety of colours including this gorgeous ghostly grey-white, which looks so beautiful nestled into a series of white containers and cups.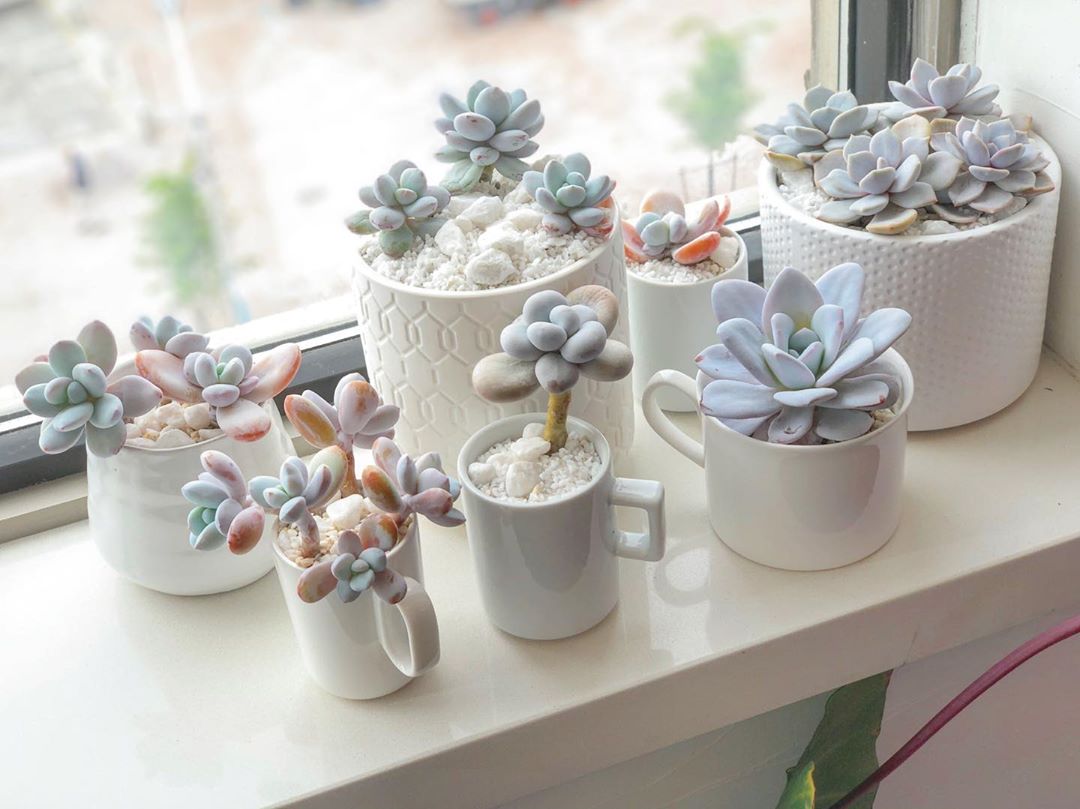 34. Pink succulent garden
Moonstone succulents also come pretty in pink, with cute chubby leaves that are covered in white powder. This is a very sought after variety due to the plant's striking colour and form, like a mini pink palm tree. The white rocks create a lovely contrast and look lovely and clean.
35. Micro minis
And finally–think you don't have room for a cactus garden? Well, think again because one burgeoning trend is to collect miniature cacti. Just look at these adorable incy wincy plants in their tiny cute pots—and they're just as easy-care as their bigger siblings.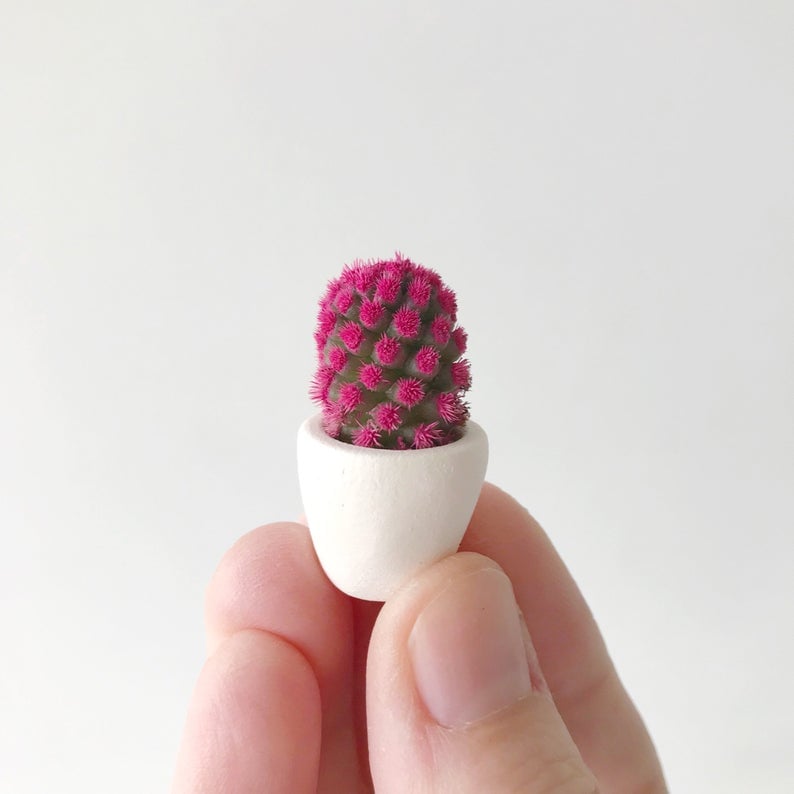 And that's my pick of 35 gorgeous cactus garden ideas on how to display these absolute showstoppers around your home. Please don't forget to check on the legality of any cactus species you intend to buy. And if you have any hints or tips for growing cacti, why not share them in the comments below?