Butler's pantries used to be a luxury reserved for the ultra-rich. Think waitstaff, polished silverware, fancy serving pieces – basically something out of Downton Abbey, and in fact, the butler's pantry was originally introduced as a place where the butler would sleep to guard expensive pantry items against thieves.
Butler's pantries have come a long way since then. They're no longer a status symbol for the elite but a practical addition (read: must-have) to a lot of modern homes. They are usually positioned just beside the kitchen or dining room and are used to prepare meals, as well as to store extra kitchen items.
Inside, you'll generally find a countertop and cabinets for holding serving pieces, as well as tableware, wine glasses, linen, candles, and other decor items. Sometimes, butler's pantries can include an additional sink, dishwasher or refrigerator. And they can even be transformed into laundry spaces. There are just so many uses and that's why I've put them all in the one spot for you.
Types of butler's pantries
You may be surprised that there are so many different types of butler's pantries and the type you choose will depend entirely on what you are trying to achieve with your space and your home's style. One of the most popular types is the walk-in butler's pantry, which you can construct by enlarging an existing food pantry.
Another option is to convert a small hallway between your kitchen and dining room into a practical pantry. If you want privacy, you can create a butler's pantry with swinging or pocket doors, a screen, or sliding panels. You can even hide your butler's pantry by creating a false back wall in your kitchen or dining area.
So if you're thinking of adding a handy butler's pantry to your home, I've done the digging for you and found 45 butler's pantry ideas – we're talking kitchen pantries, small butler's pantries, handy privacy hacks and more. Read on to be inspired!
1. Make the most of your space
This butler's pantry is the perfect example of a design that uses every inch of space to its advantage – no corner has been spared! Optimal use of space is exactly what you want to achieve when you create a butler's pantry. Draw inspiration from this butler's pantry – it has plenty of closed cupboards, floor-to-ceiling open shelving, a handy chalkboard for displaying a calendar and weekly chores, a mounted holder with space for important documents, and a hook to hold a reusable shopping bag. Not to mention, there's even space for potted herbs!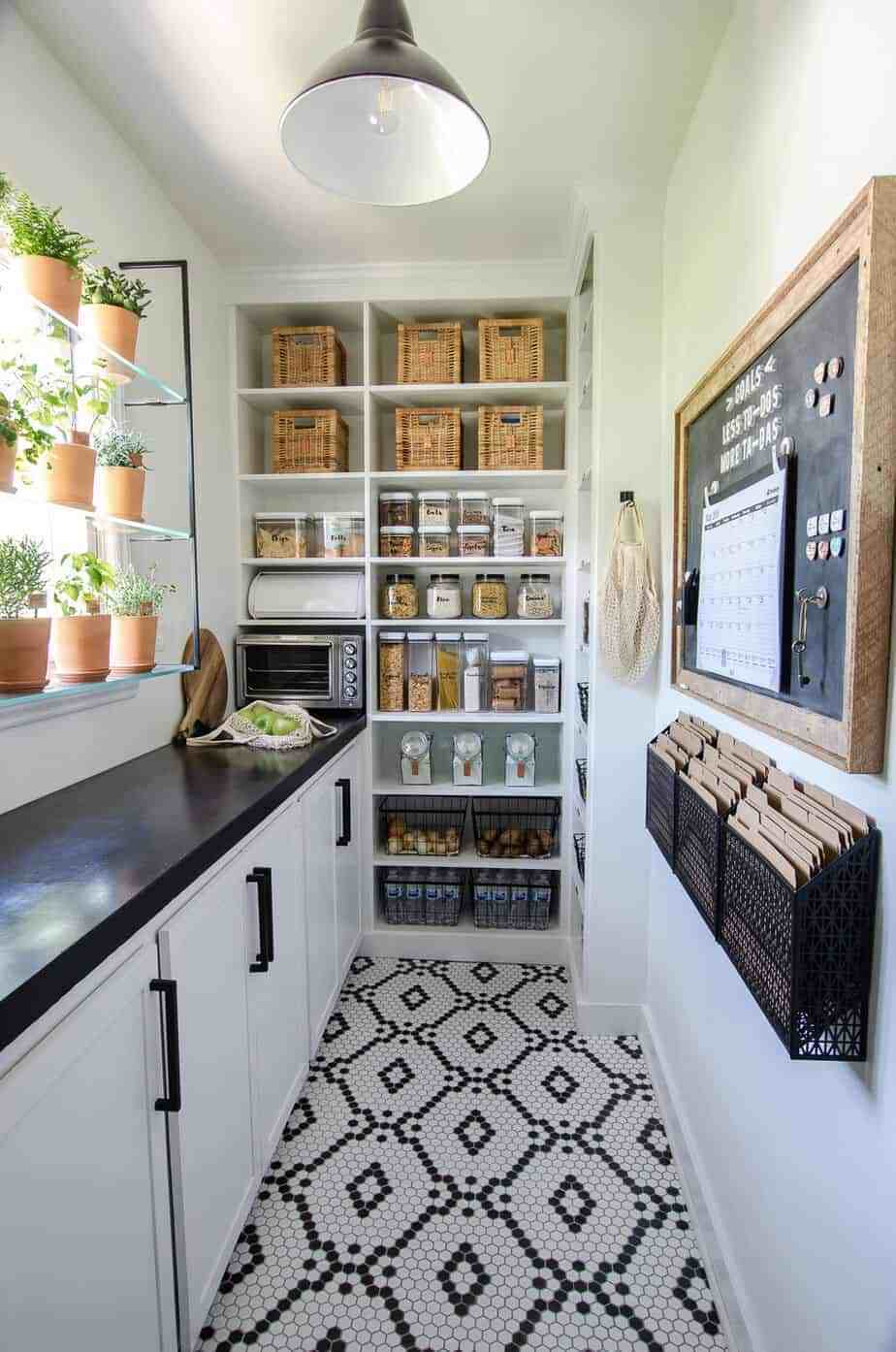 2. Open shelving
While cupboard doors are great for hiding any mess or mismatched items, it can be frustrating when you can't see what's inside them! But in a butler's pantry, your items are hidden out of sight anyway. So this is a practical place to include a whole room filled with open shelving. This makes it so much easier when it comes to entertaining. With a design like this, you'll be able to see exactly where your coffee, tea, fruit, flour, snacks,  bottles of wine, and kitchen appliances are, which makes it so easy for entertaining!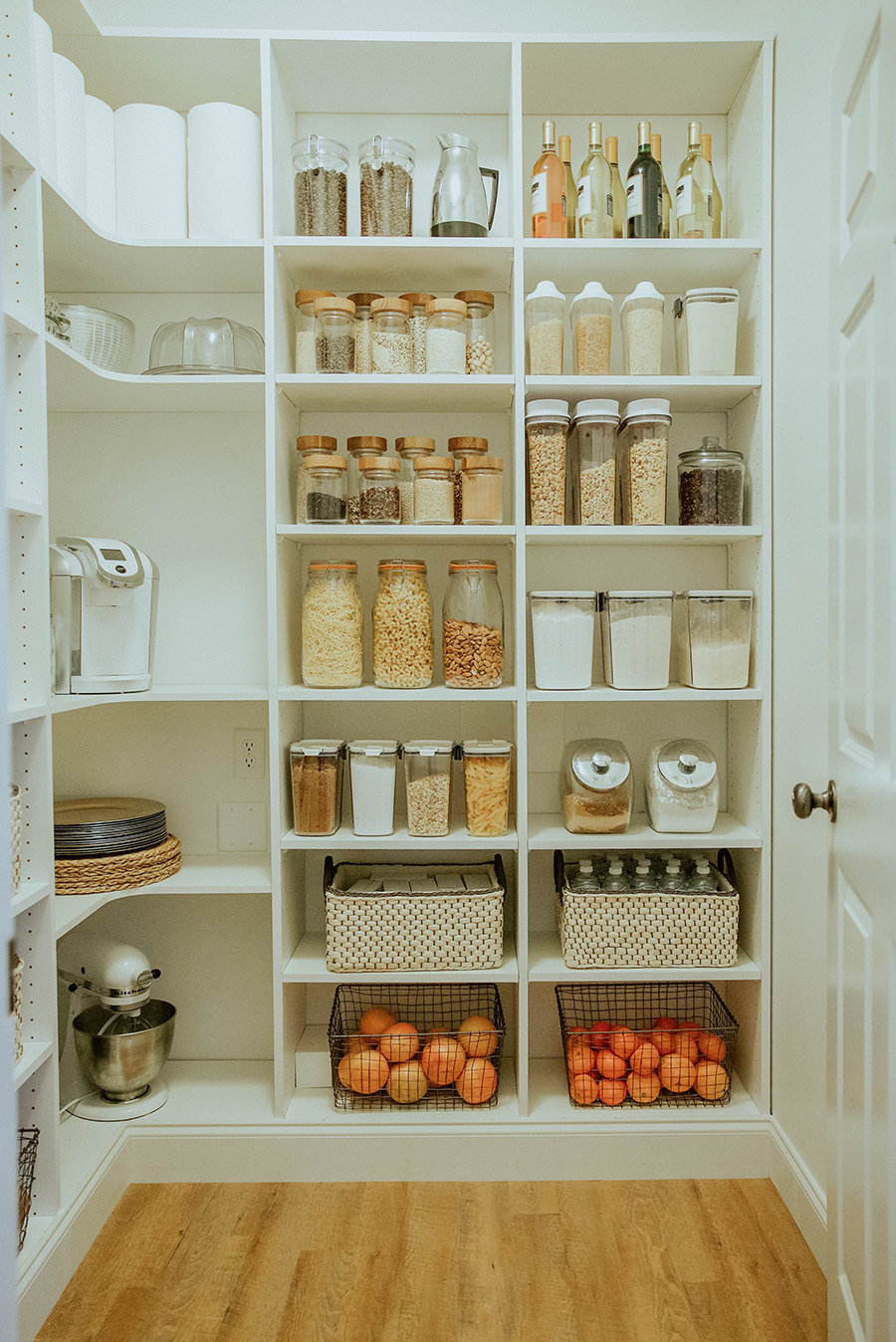 Because the room can be a unique size, it's a good idea to look into custom shelving professionals who will be able to help maximise the space that you have available.
3. Display your glassware
Butler's pantries are the perfect place to store your precious glassware because when they're hidden behind a door, they're out of sight from tiny hands that might try to pull them down! And the last thing you want is a crashing glassy mess on the floor.
Instead of taking that risk, display your wine glasses, tumblers and other glass serving items on open shelves in the safety of your butler's pantry. They'll not only sit safe, but they'll also look beautiful too should any guests wander in!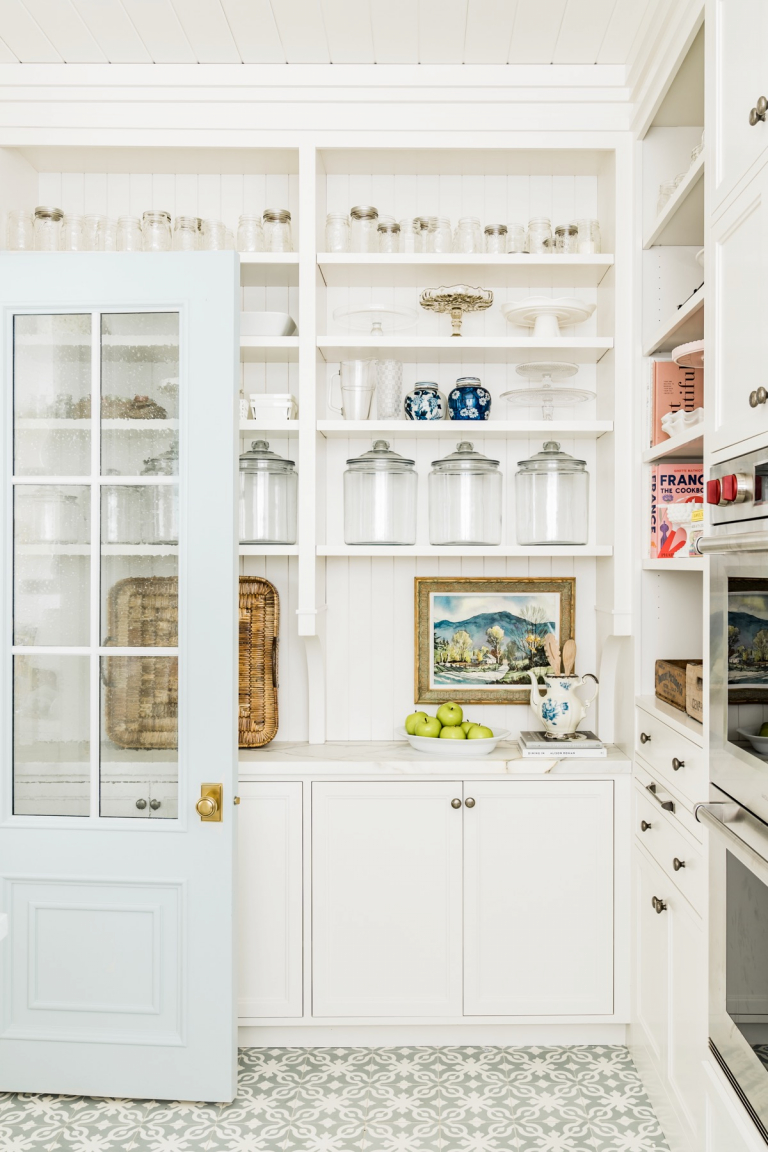 4. Black steel shelving
Create contrast in your butler's pantry with slick, black steel shelving. This looks especially great if you have an all-white background. Once you've got your shelving in place, fill up the layers with all sorts of things – from colourful serving dishes and jugs to glassware to jars filled with nonperishable pantry items. When creating your own shelving, think about the little additions that will make your life easier – like the hooks on the left-hand side. These are great for hanging tea towels or bags!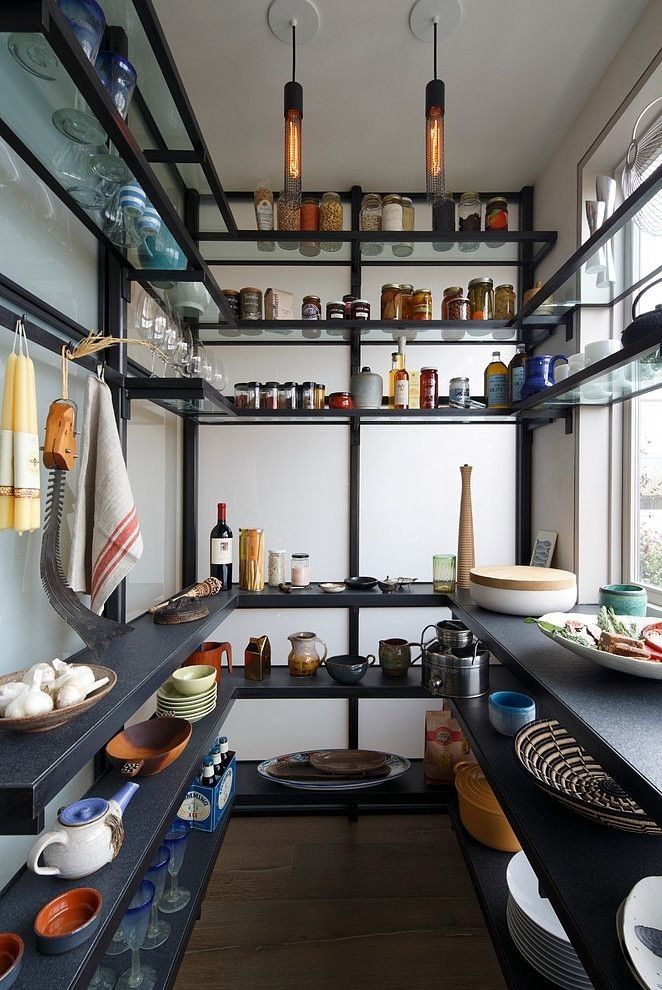 5. Add a skylight
Let the light in with a stunning glass skylight. This is a great option for a hallway-style pantry. In a space like this, the use of dark timber and finishings can easily make your pantry feel small and dark. But the addition of natural light opens up your pantry and makes it look and feel warm and bright.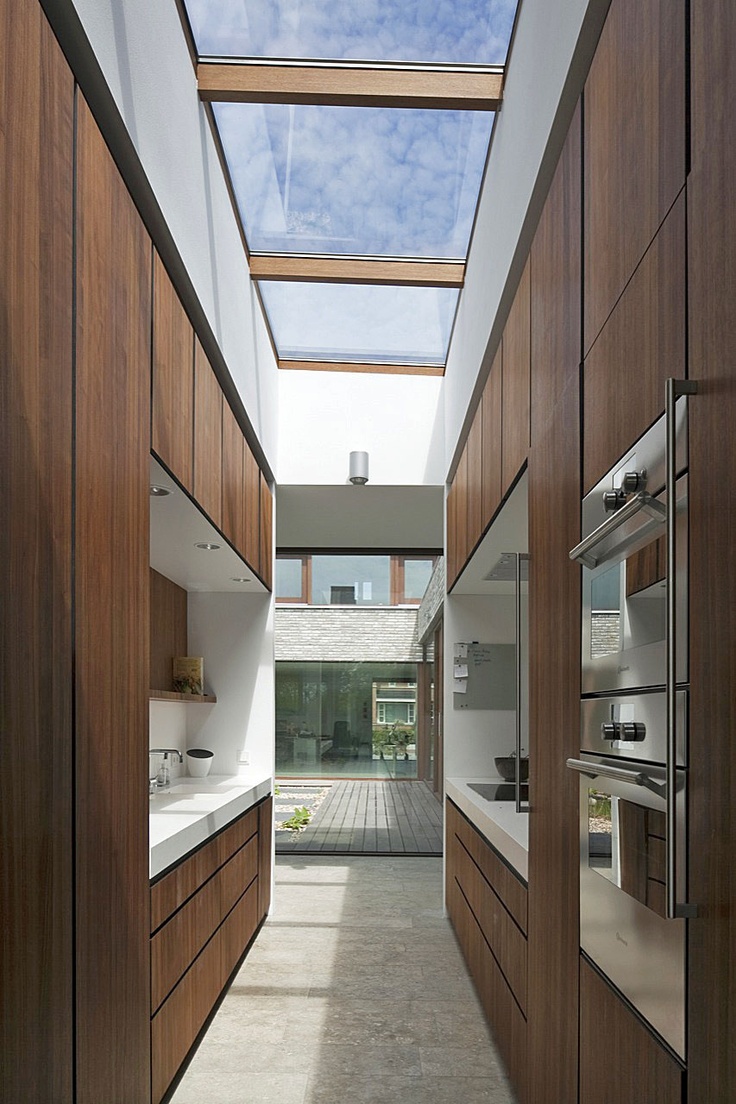 If you're looking to tie in your butler's pantry design with your kitchen cabinetry, here are some great kitchen storage ideas that may help in the design process.
6. Install a fridge
If you have a large space for your butler's pantry, why not add in a fridge? This is a great way to hide your fridge away from the front-facing area of your kitchen. It's a useful addition to your butler's pantry because it provides easy access to cooler products, which is handy when preparing food and drinks for your guests!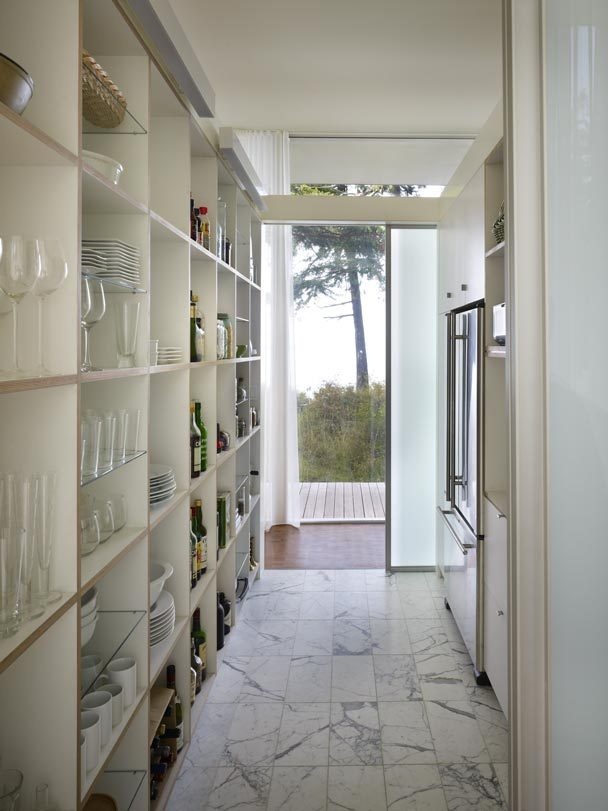 7. Mosaic tiles
Your butler's pantry doesn't just have to be a practical place to store food and kitchenware – it can also be a space to let your personality shine. And one way to do that is to have fun with some colourful mosaic tiles. I love these ones – they work in perfectly with the grey timber cabinets.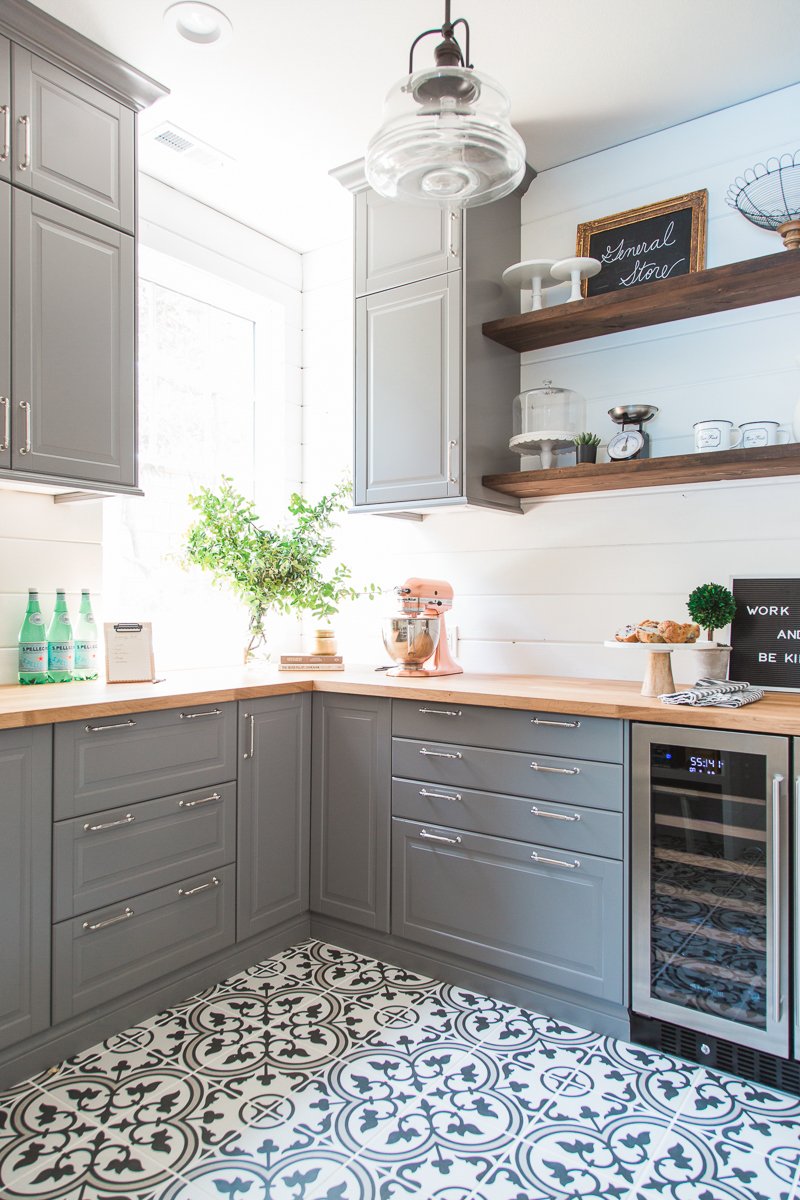 8. Keep everything organised
Because your butler's pantry is out of view, it can be easy to let it turn into a big mess. Avoid making this mistake by storing all of your non-perishable items neatly displayed in glass or plastic canisters. This is not only practical because you can see what's inside each one, but it's also a really simple way to keep everything organised. So next time you purchase nuts, flour or any other pantry items, remove them from their packets and place them into see-through containers straight away.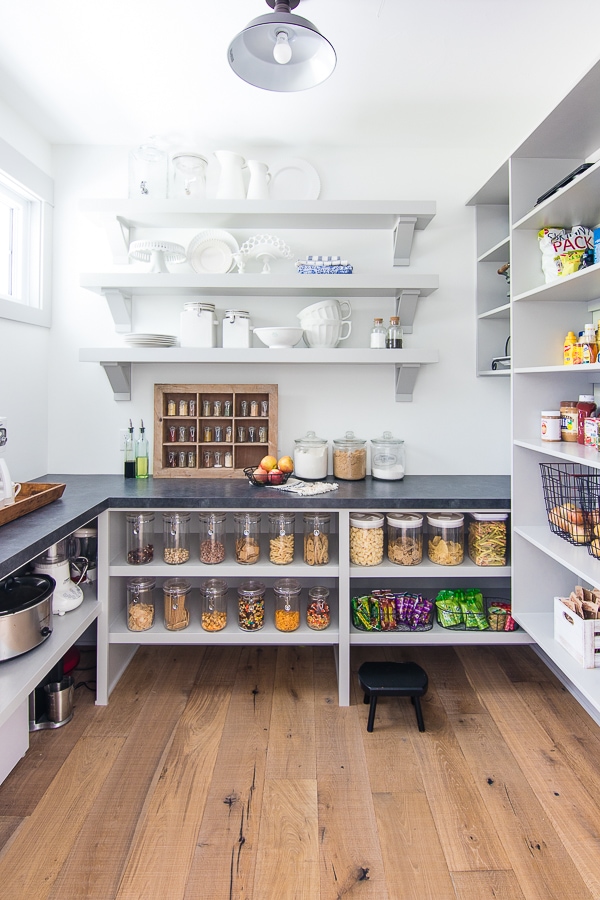 9. Wall lamps
It can be easy for your butler's pantry to turn into a dark hole at the back of your kitchen. Don't let this happen! Install handy wall lights, like these white, brass and green ones to keep the light shining bright on your open shelving.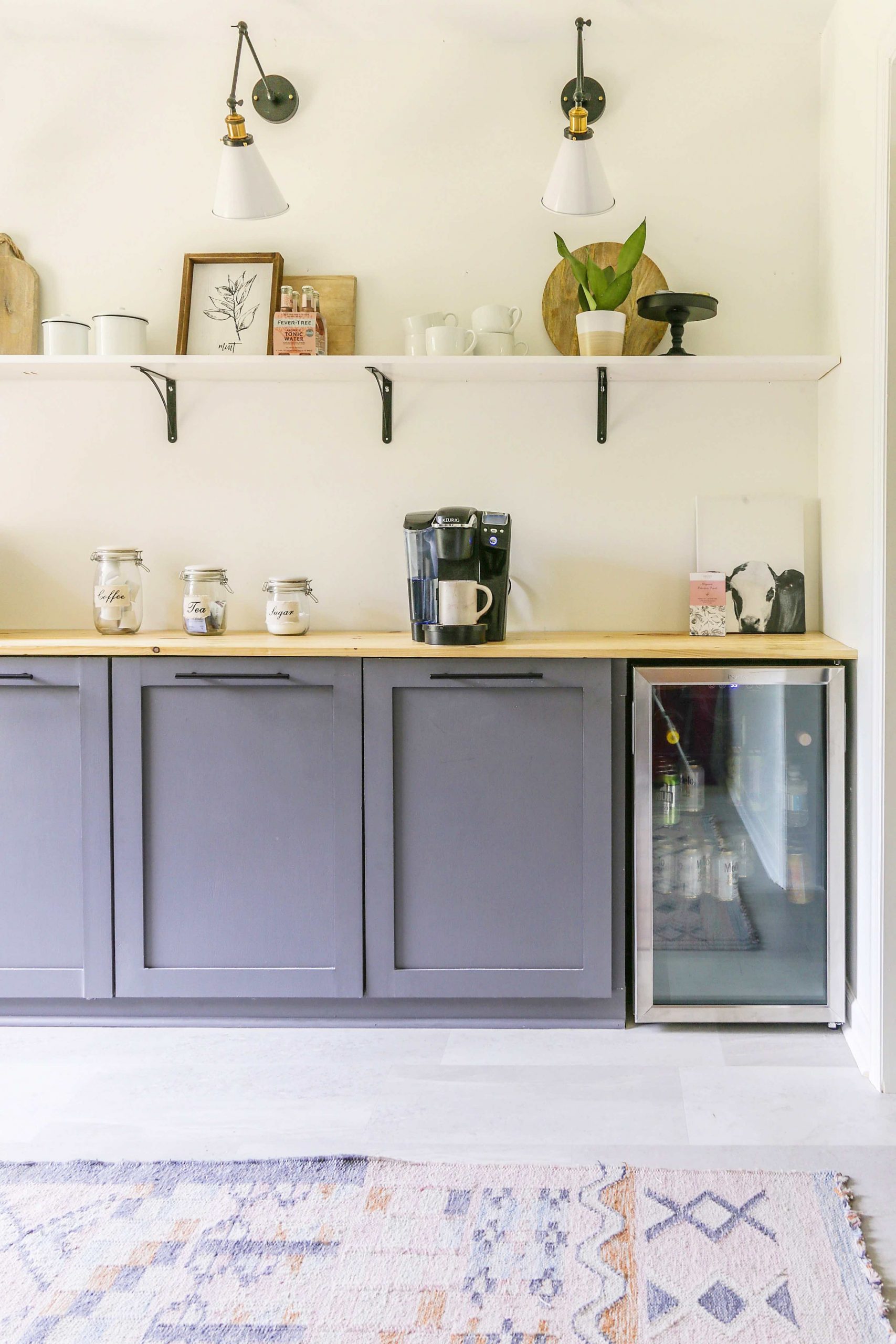 10. Hidden behind a door
Keep your butler's pantry completely separate from the rest of your kitchen by hiding it behind a door. This allows for extra privacy. This is especially handy when you're entertaining. If you have a mess, you can simply shut the door and keep people out!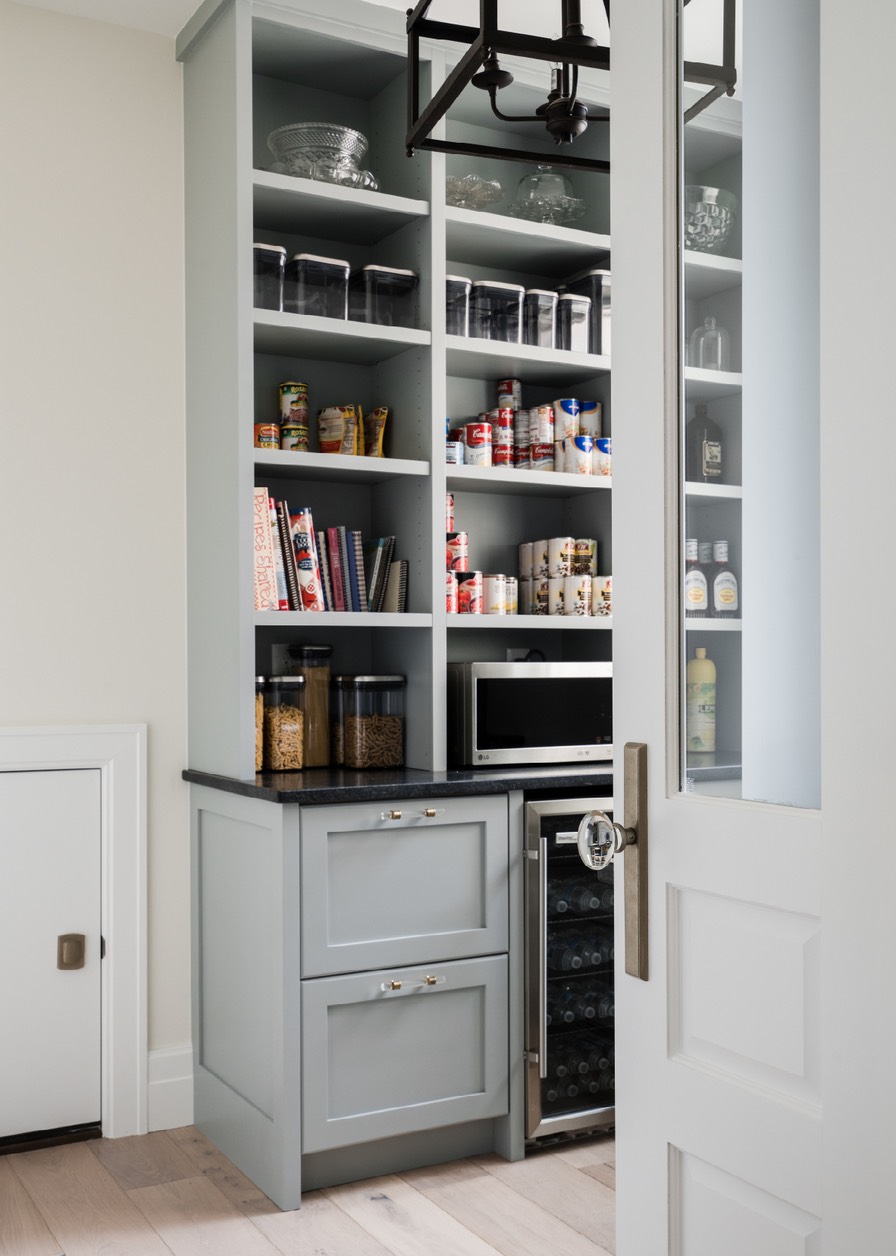 11. Baskets
There are few things more frustrating than a messy pantry full of random items. This not only makes your kitchen feel drab, but it makes it really difficult to find what you're looking for when it comes to cooking time. Keep everything organised with handy steel baskets. And arrange your open shelving by sections. Dedicate each section to a different category of food – be it pasta, breakfast items, rice or spices. Arrange your pantry this way and you'll feel instant relief!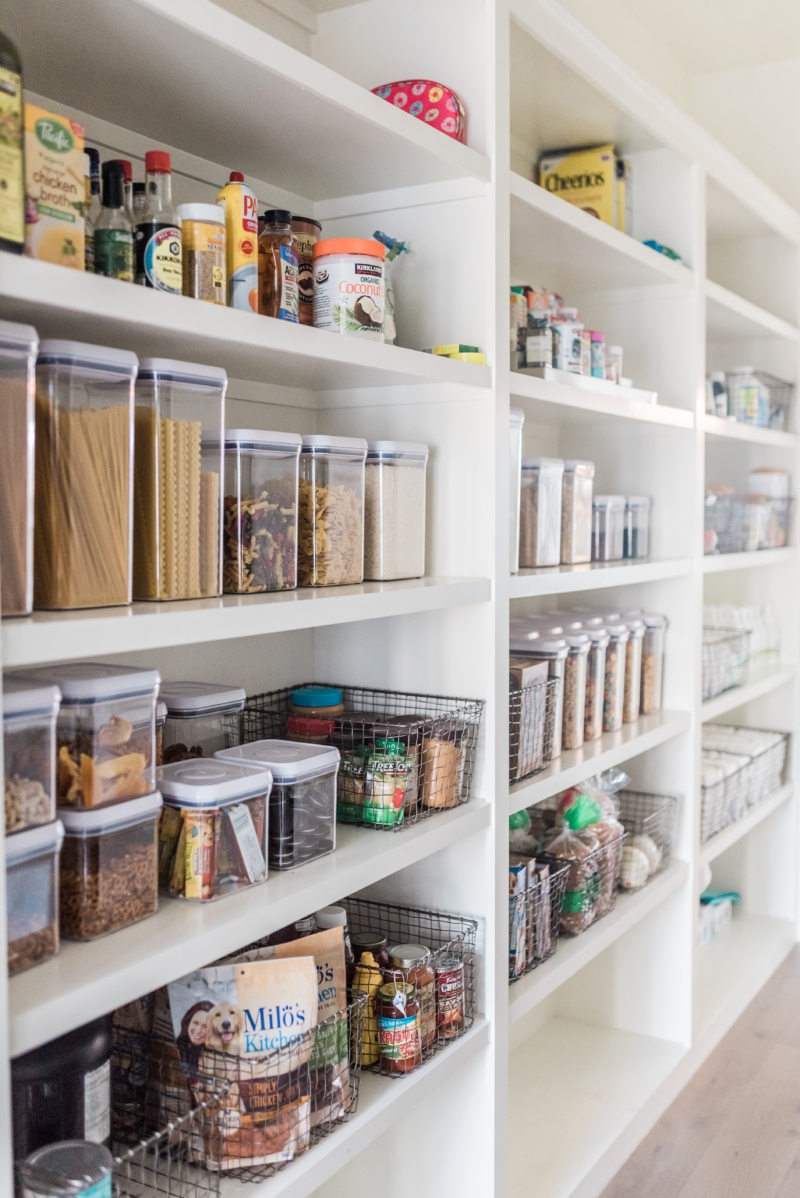 12. Fun wallpaper
If you've always wanted to experiment with a fun print, your butler's pantry is the perfect place to do this. It's hidden away, so the design doesn't have to match the rest of your house. Have fun with funky wallpaper, like this yellow-and-green lemon print.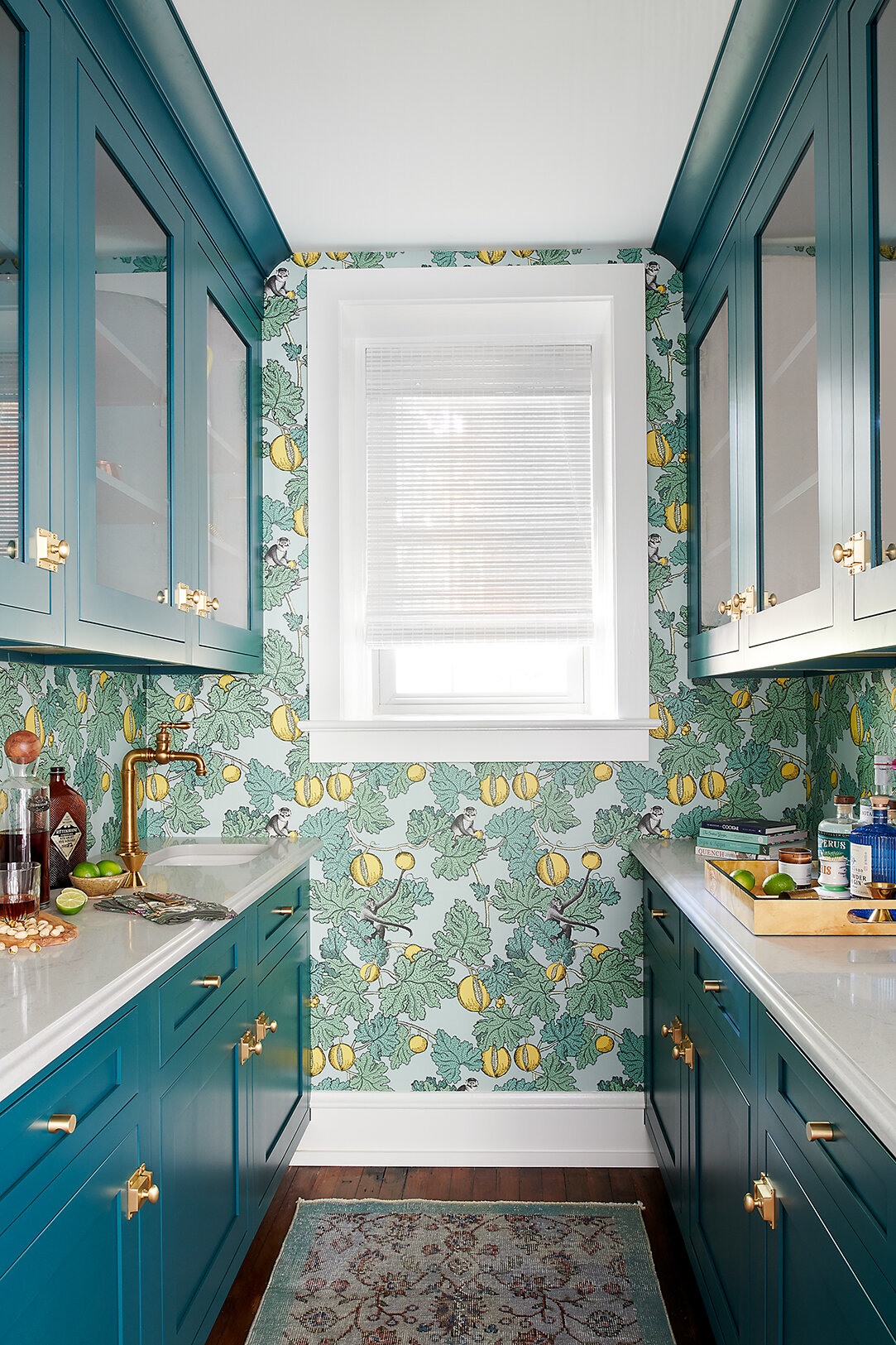 13. Neutral tones
Speaking of wallpaper, you could also go for something a little more neutral. This geometric pattern is still a whole lot of fun, but it keeps things in more subtle tones with beige and cream. This is really easy to tie into white, cream or beige cabinets. And it's the perfect base for pretty much any kind of decor!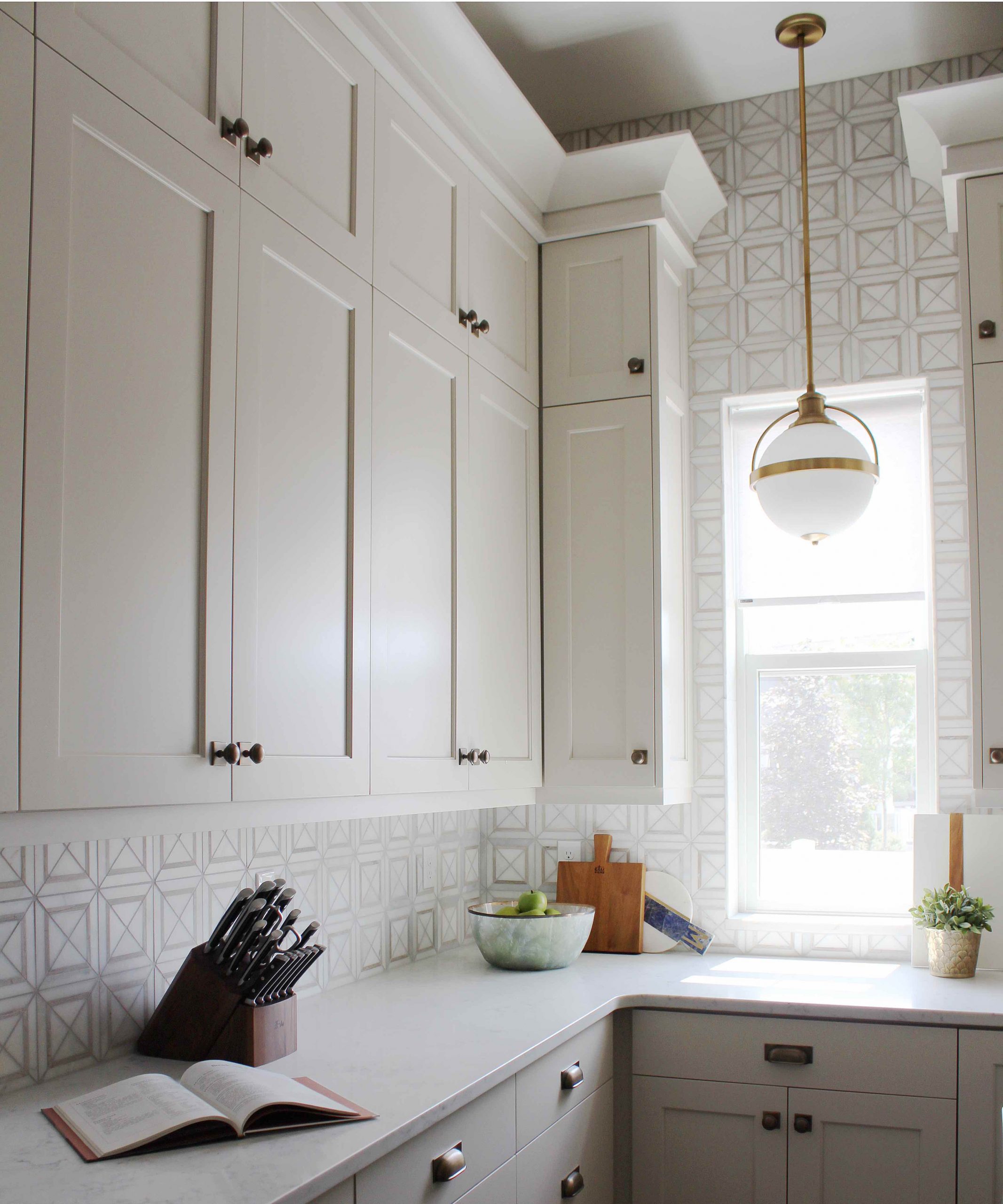 If you love neutral, check out these white kitchen ideas!
14. Farmhouse sink
Make your butler's pantry extra practical with a handy farmhouse sink, like this one. This will perfectly suit your farmhouse kitchen as well and allows your interior design to flow through the home.
So if you choose any luxurious additions to your pantry, you've got to choose a sink. This provides an extra place to wash up your dirty dishes, and to clean your hands while you're preparing food.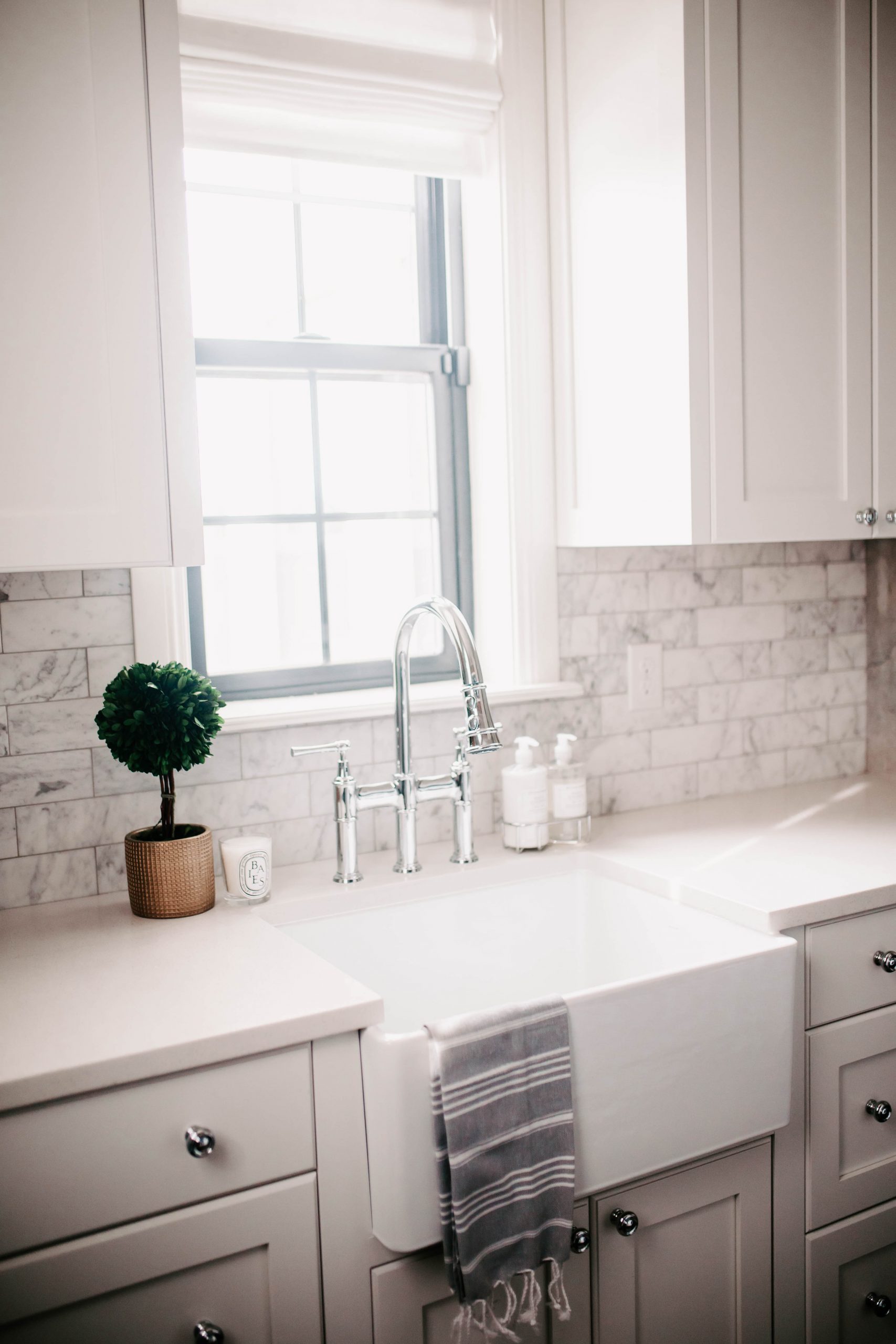 15. Tiny tiled splashback
Just as you can incorporate a fancy splashback in your main kitchen, you can also install one in your butler's pantry. This grey-toned splashback is the perfect choice for this all-white design. It creates contrast against the white and provides added interest.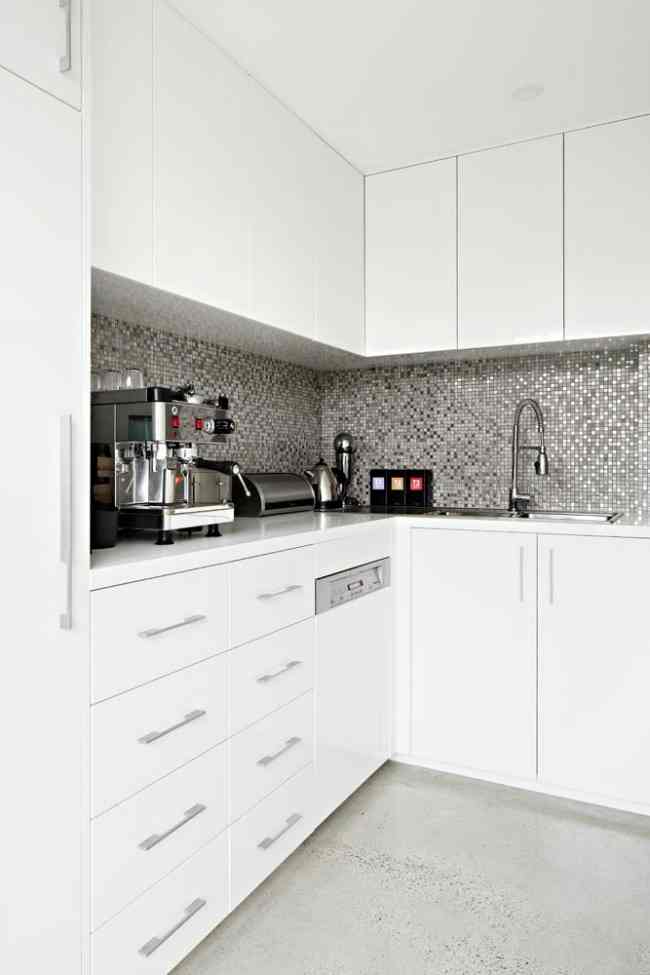 I think an eye-catching splashback can really make a room pop, so if you're looking for some more inspo here are 35 more kitchen splashback ideas.
16. Black doors
Keep everything hidden from sight with tall folding black timber doors. This adds extra privacy to your butler's pantry. And, if you don't open the doors, no-one will even know what's inside!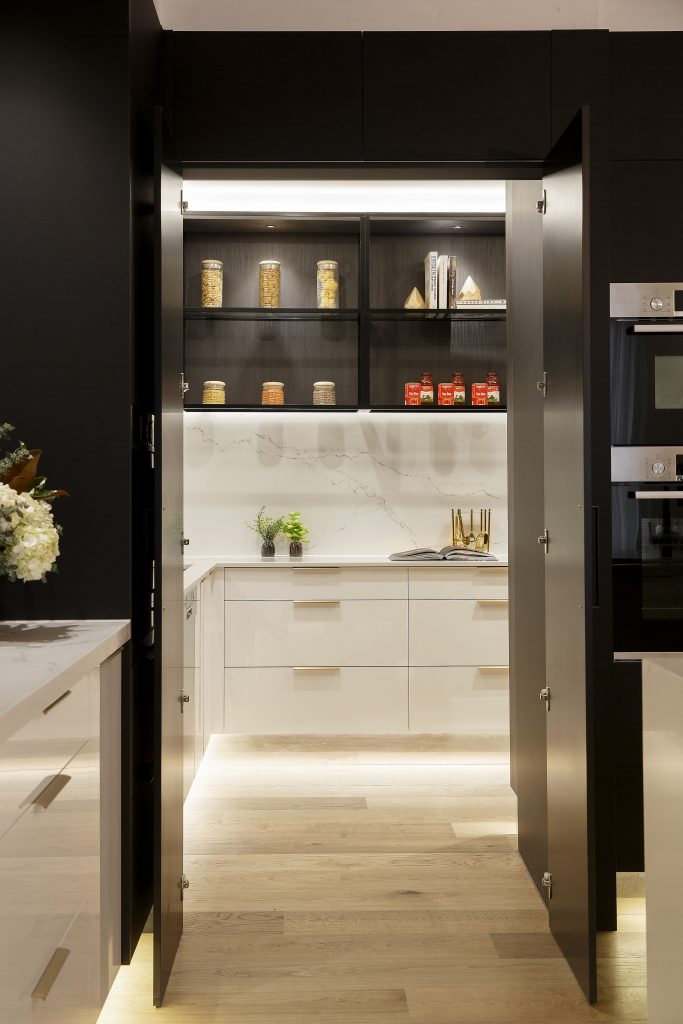 17. Light it up
Make your butler's pantry glow with built-in lighting in your shelves. This design incorporates handy strip lighting in the upper shelving, above the splashback and just above the floor. This helps light up your space and provides much-needed atmosphere.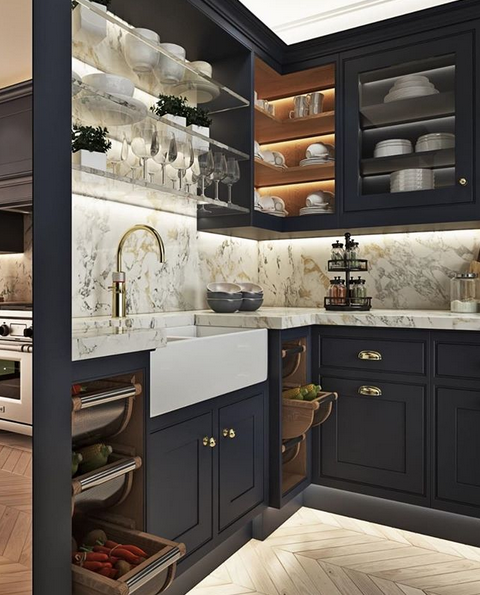 18. Interesting cabinetry
Cabinets are just cabinets – or are they? While they serve a practical purpose in keeping your glassware and plates and bowls safe, this doesn't mean they have to be boring. In fact, you can make a statement with your cabinet design by choosing interesting ones like these. This green circular-style design is such a fun addition to this butler's pantry, especially if you don't have a door to hide it.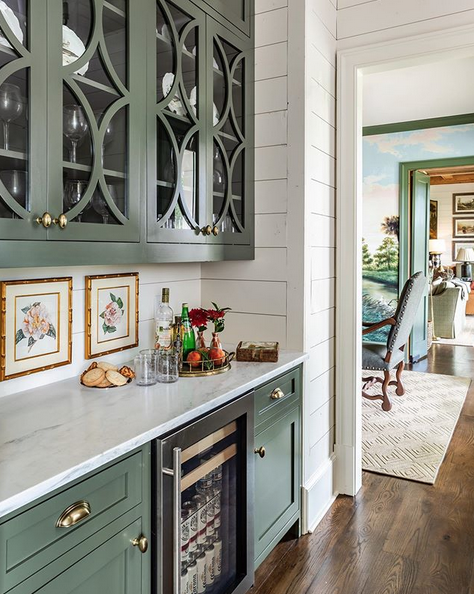 19. Consistent style
If you want to create the same look and feel throughout your kitchen , then choose the same colours and finishings for your butler's pantry as the rest of your space. This kitchen sticks to soft grey, brass and marble throughout.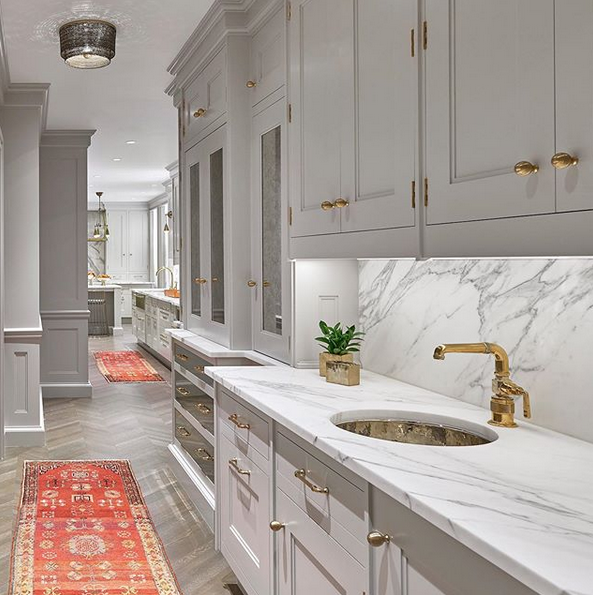 20. Cheerful glossy blue
Go bold with a fun colour like this glossy blue. This is one way to create contrast against the rest of your home. In this house, the dining room is in shades of beige and warm timber, while the kitchen is in cool bright blue!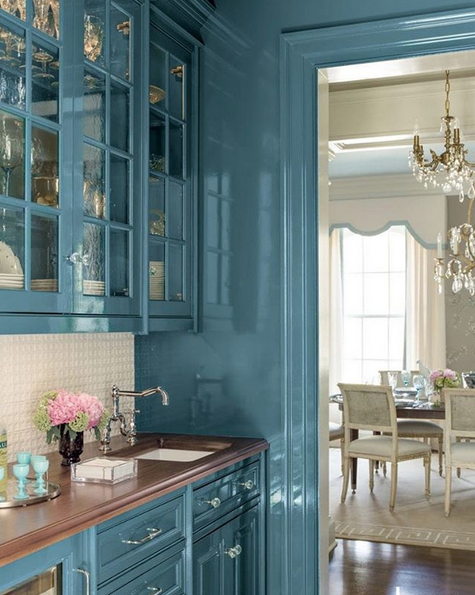 21. Farmhouse style
Whether you have a country home or not, you can create a farmhouse butler's pantry. All it takes is plenty of white and natural timber. And if you want to make it extra fancy, include high-end finishes like brass and glossy white.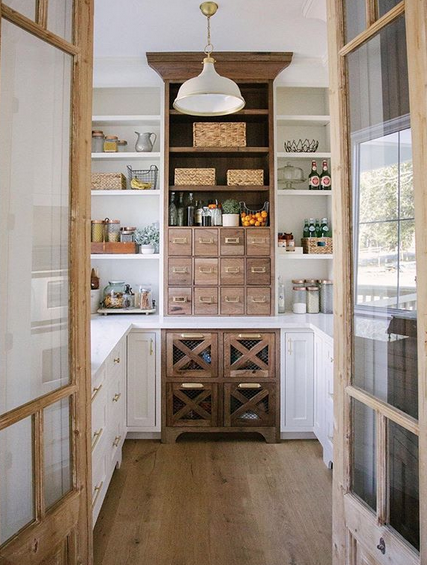 22. Contrasting colours and materials
Create a clear distinction between your kitchen or dining room and your butler's pantry by installing statement black steel doors, like these ones. This is a really great way to use modern kitchen design flow through to other spaces. I love how they provide a stark contrast to the rest of the space which uses soft neutrals like grey, marble and white.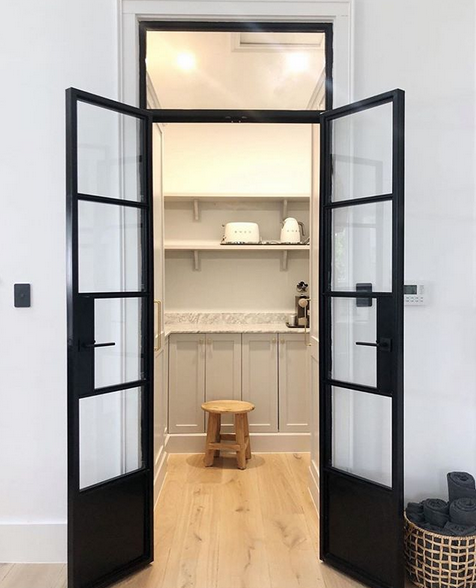 23. Wine holders
Your butler's pantry is a handy spot to prepare for entertaining, and nothing makes it more practical than a dedicated space to store wine bottles. This makes life easy when it comes to entertaining. All you need to do is pull out a fresh bottle and prepare the drinks on your butler's pantry bench.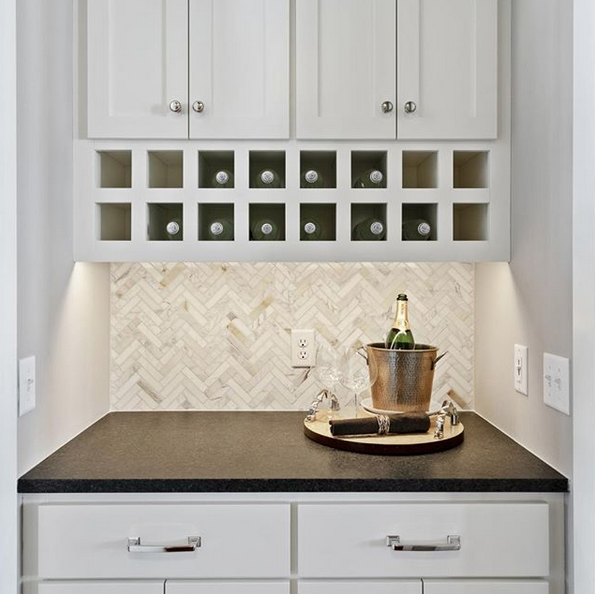 24. Butler's tray
If you like a good breakfast in bed, then you should keep a butler's tray handy at all times. This makes it easy for transporting food to the bedroom, or for carrying cups of tea and plates full of food to other parts of the house, without having to make multiple trips back and forth.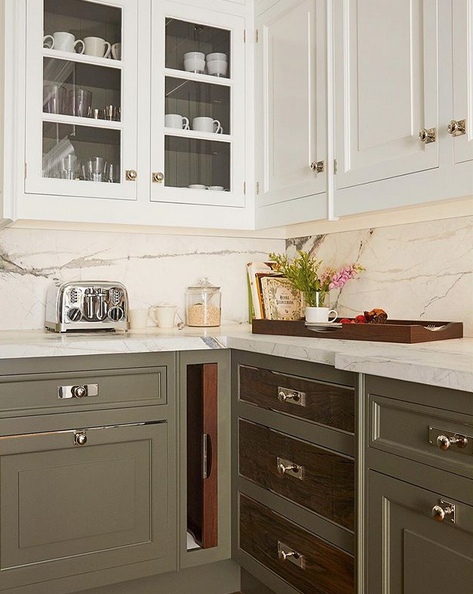 25. Glass cabinet displays
If you've got the room, then why not add extra glass cabinets on the exterior of your butler's pantry. You can do this by installing them on either side of the door. This is a great place for displaying treasured kitchenware or for putting decor on show.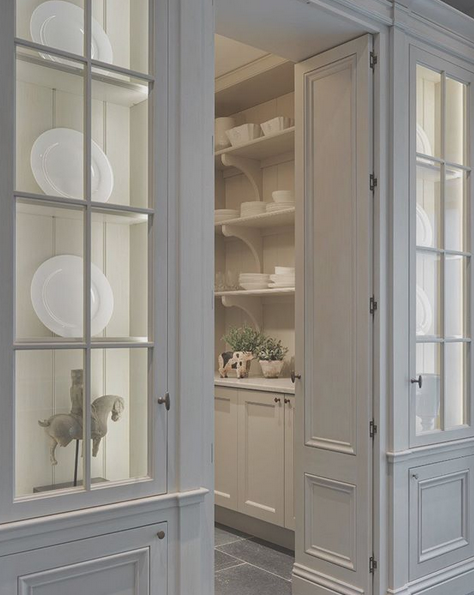 26. White and timber
This is my favourite design of all! The colour scheme is pretty simple – keep everything white and add touches of rustic wood and brass where you can. I love how this butler's pantry has an exposed timber beam – this adds to the natural look and feel of the space.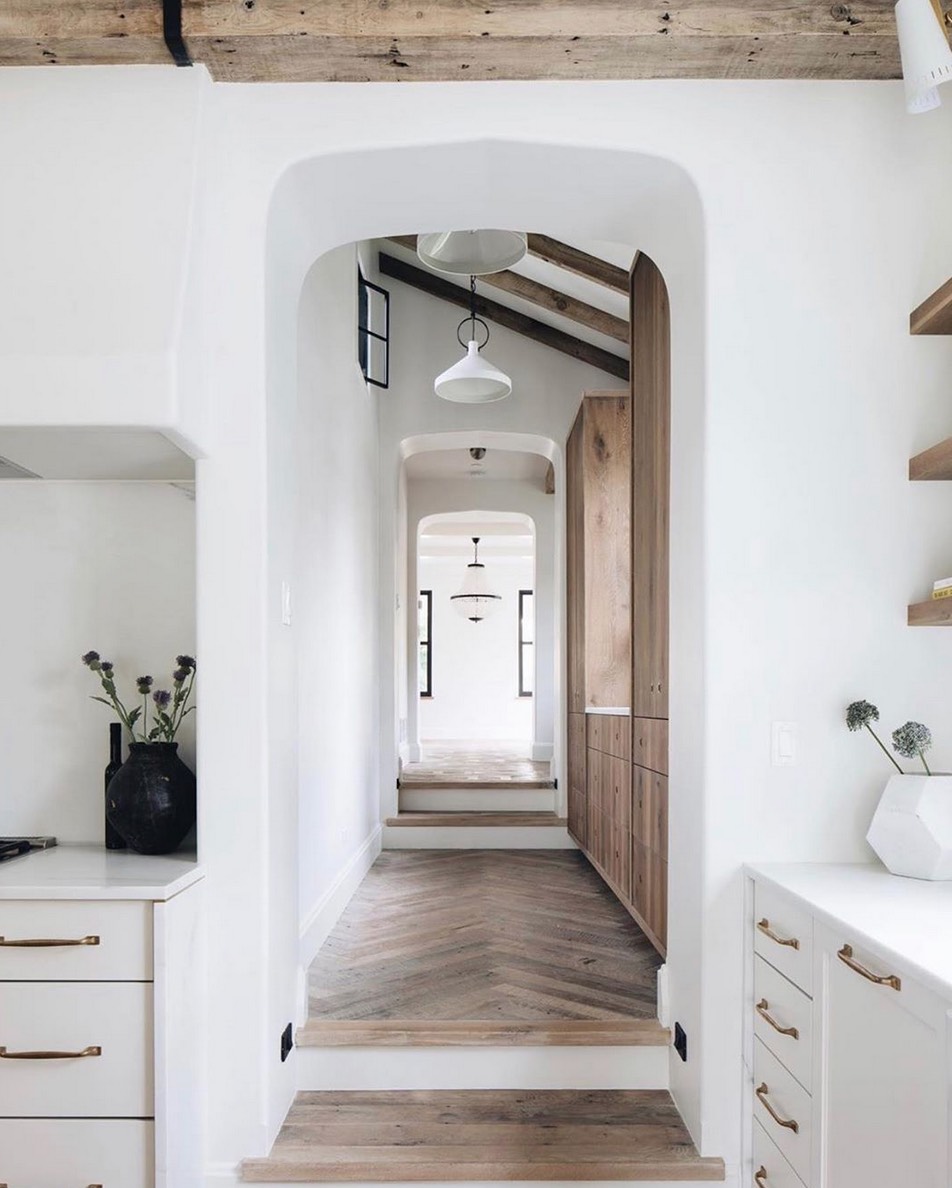 It's a very unique design (which is why it's so eye-catching) and there are so many other stunning examples out there that you can do. In fact, here's 100 kitchen ideas that will just send your creativity into overdrive.
27. Deep marine blue
If you want to choose a darker colour, then you should consider this deep marine blue. It adds so much depth to your butler's pantry. Plus, you can dress it up with touches of yellow and brass. It's simply gorgeous!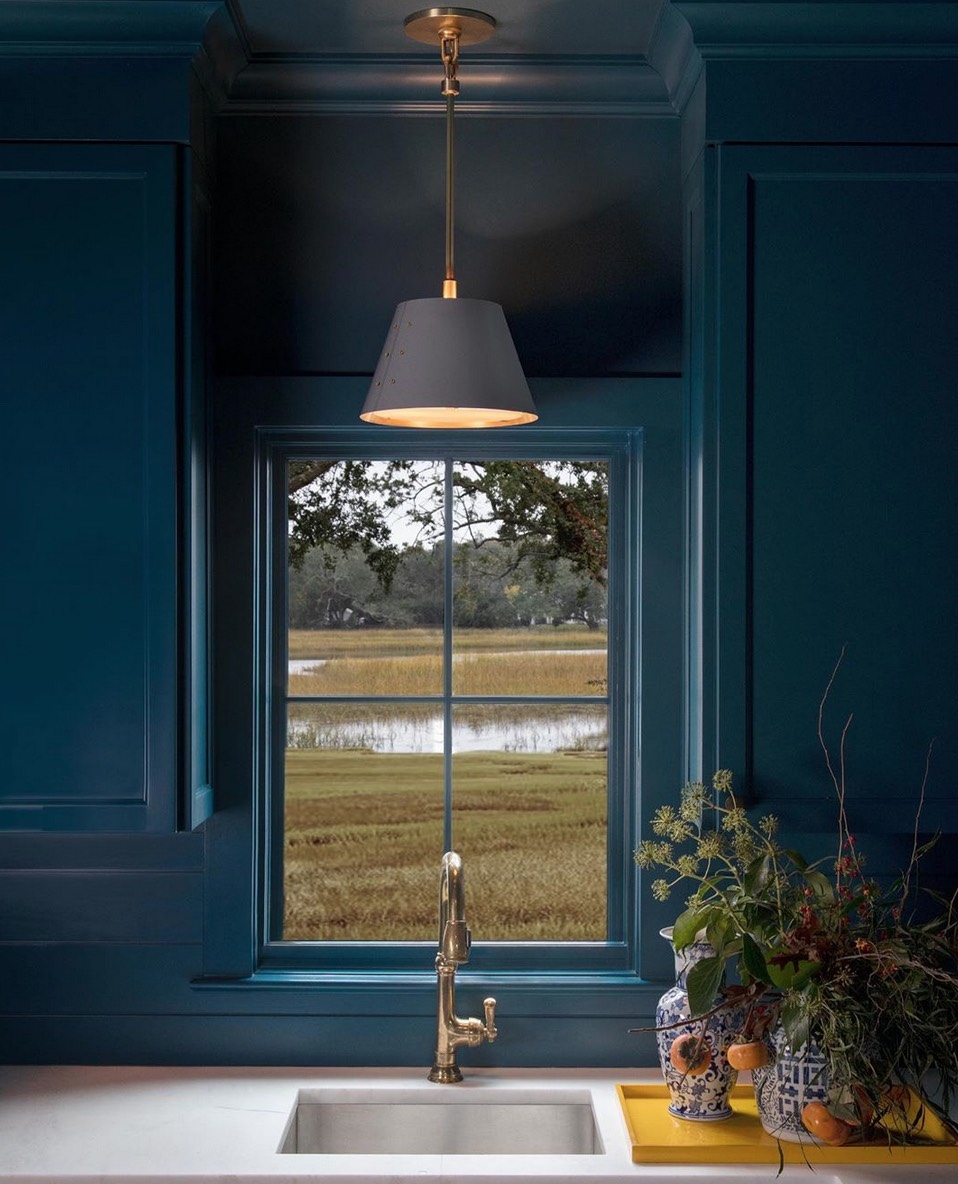 28. Hide your appliances
A butler's pantry is the perfect place for putting away your appliances and your extra mugs, cups and kitchenware that you don't use on a daily basis. Where you may not like to keep your appliances on display in your kitchen, you can keep them out all of the time in your butler's pantry, because the room is out of sight.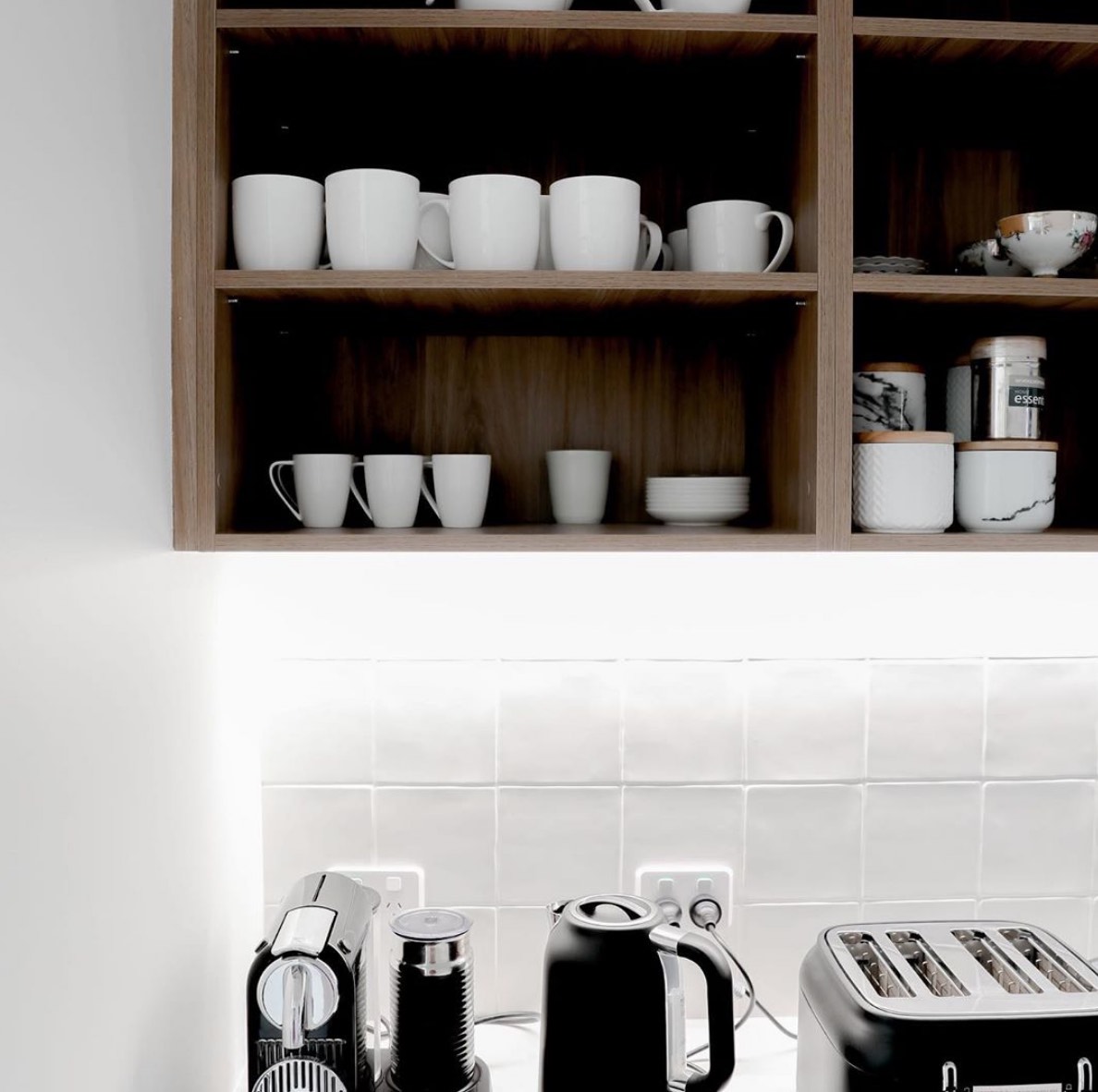 29. Lines and shapes
Your butler's pantry should be a place where you can have fun with your design. Play around with interesting shapes, colours, patterns and textures, like in this space.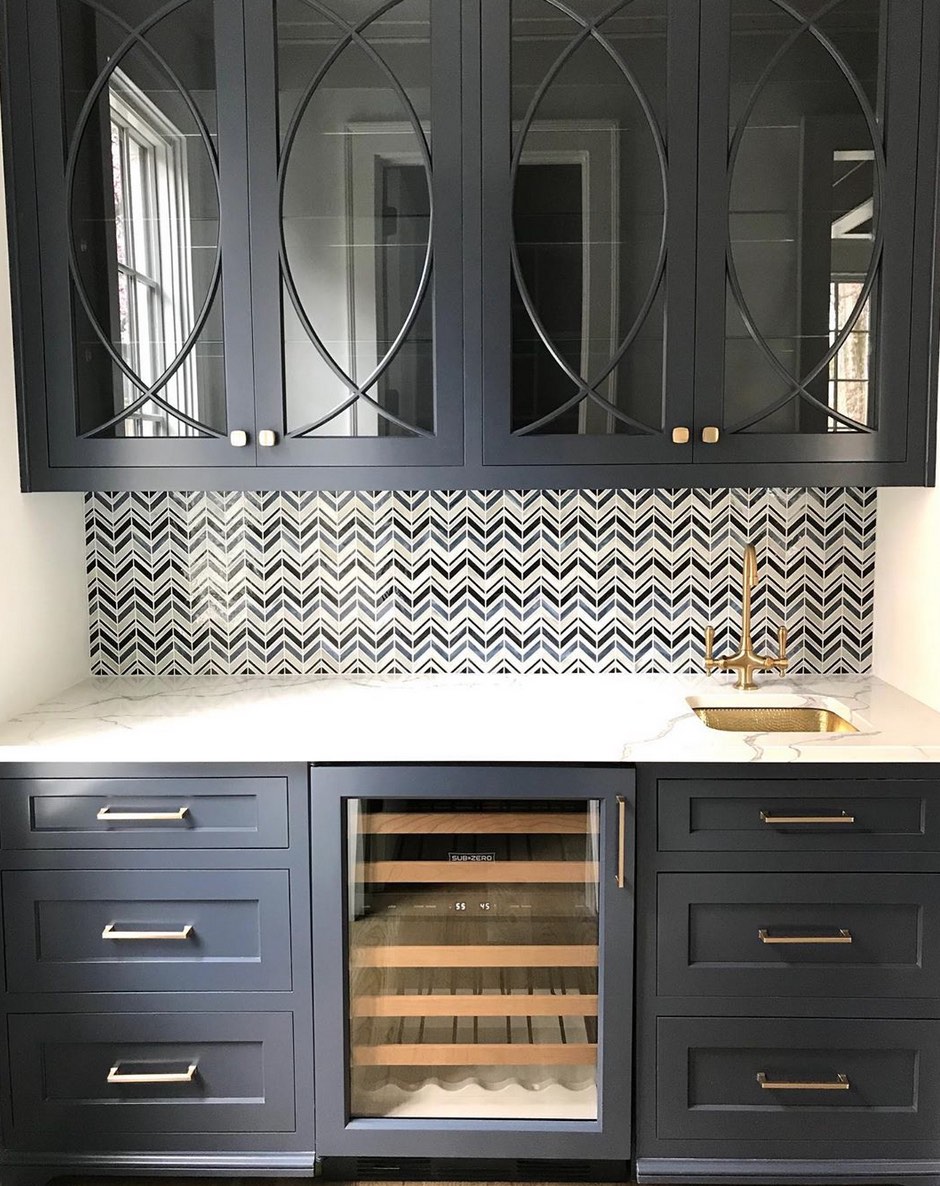 30. Reflective tiles
When it comes to design, it's important to optimise light – especially in a small space. Reflective tiles, mirrors and windows will allow you to do this. I love the shiny tiles in this butler's pantry – they bounce light around the room, giving the illusion that the space is larger than it really is.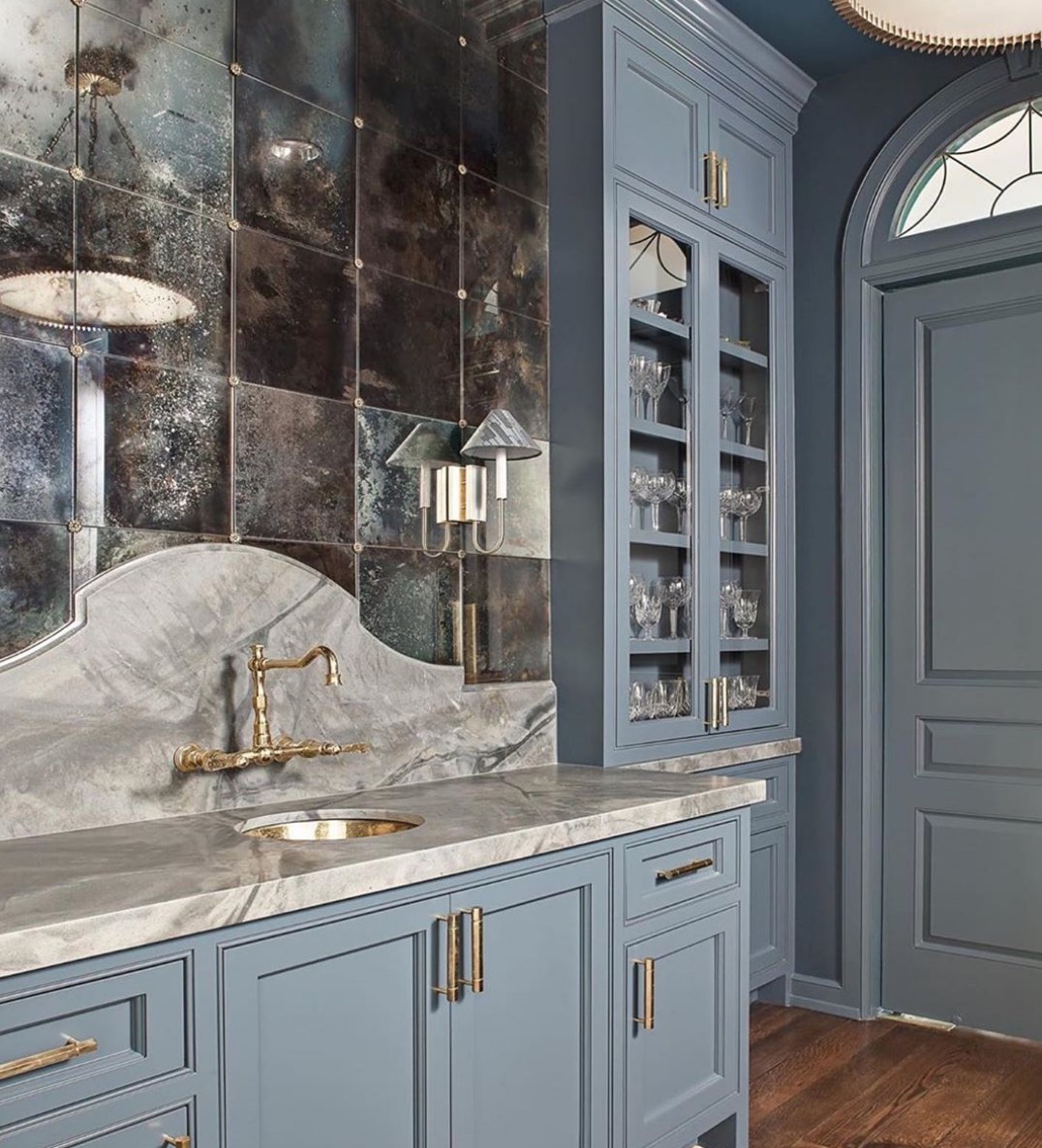 31. Choose a colour scheme
This huge butler's pantry proves the importance of strategically selecting colours so that they work well together. The colour scheme incorporates light timber, dark grey and touches of silver for a beautiful finish.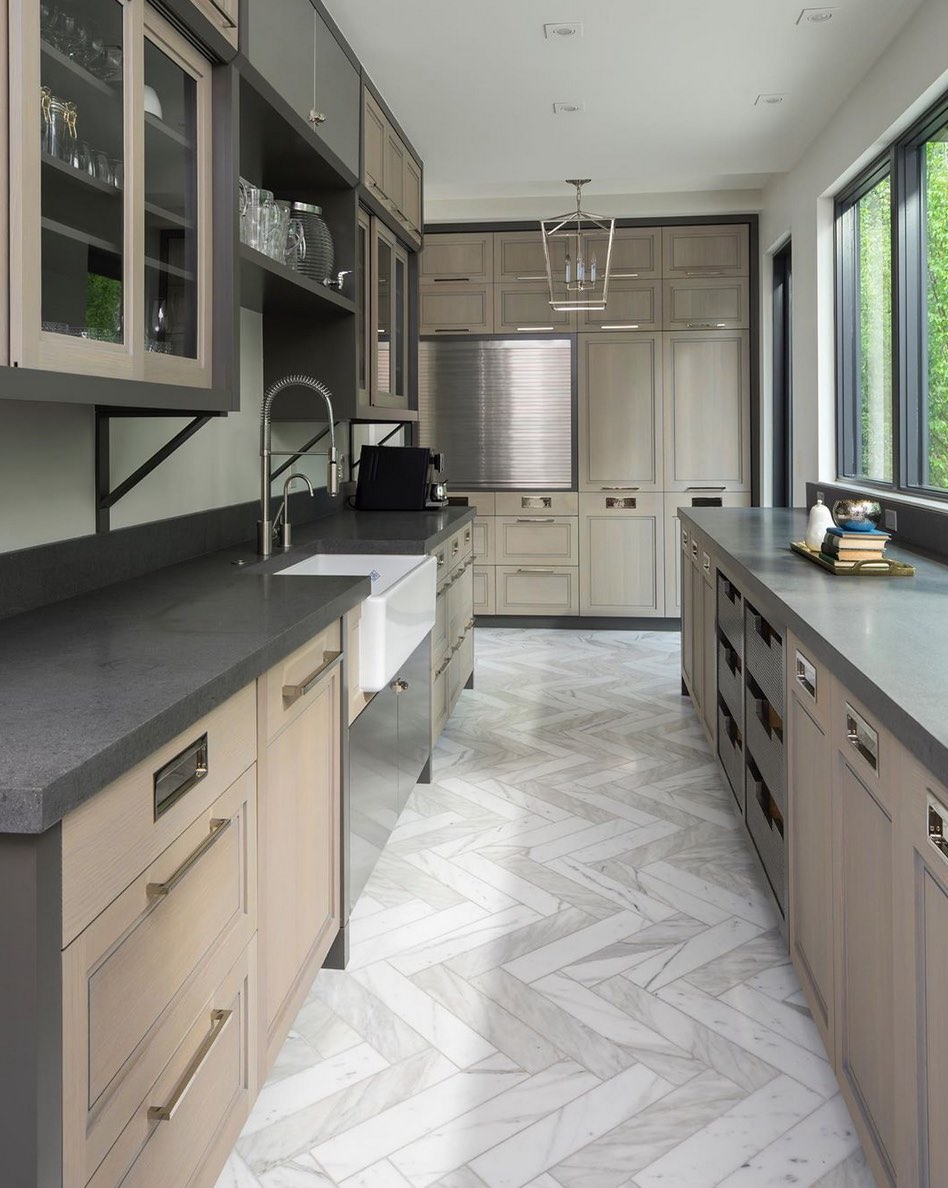 32. Exposed brick
This kitchen is a mix of traditional and rustic styles. And exposed brick is all the rage right now. So, if you have it in your home – make the most of it by allowing it to shine as a feature wall.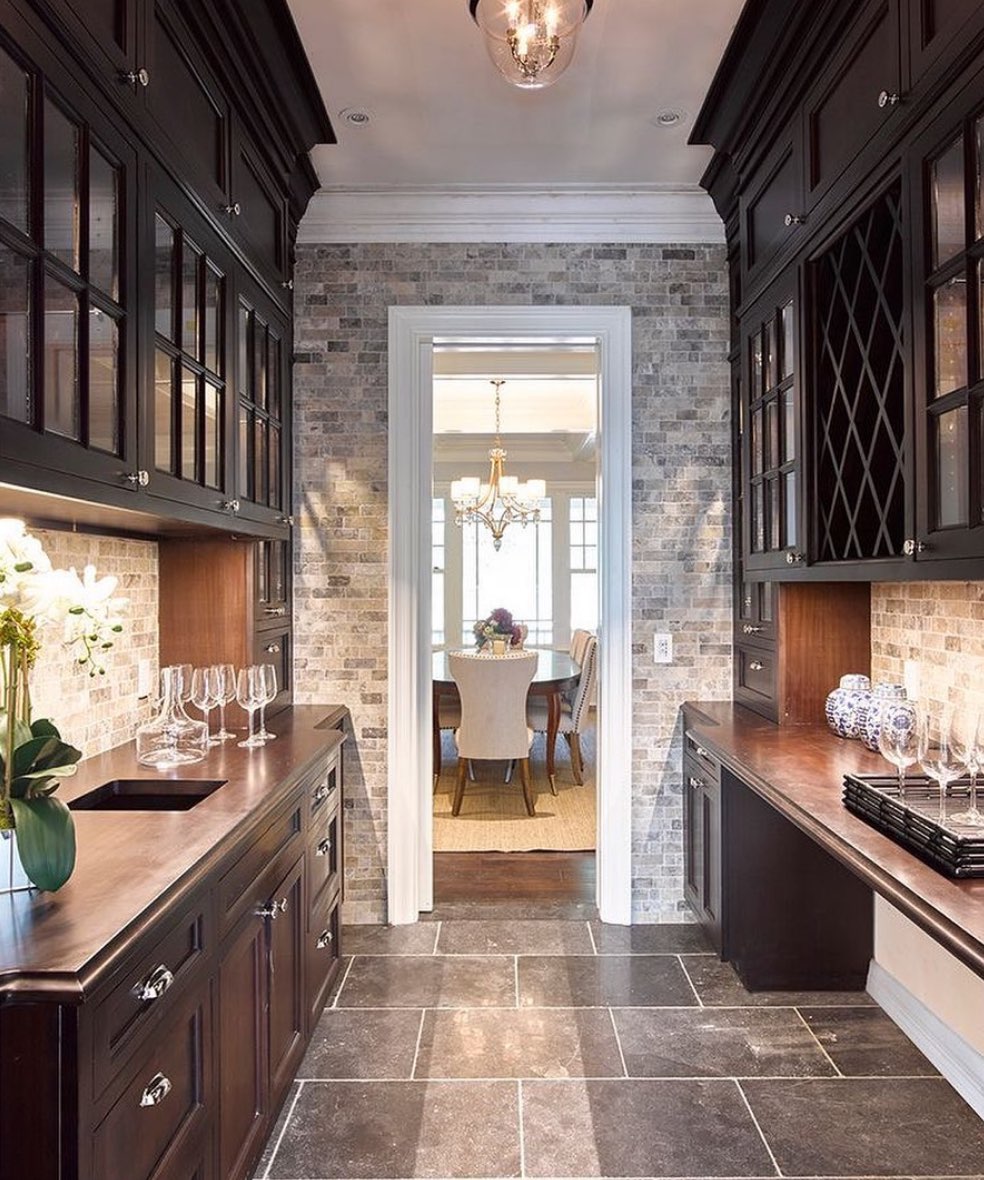 33. Classic grey
You can't go wrong with a grey kitchen and butler's pantry. It's a safe choice that'll never date and it looks lovely paired with white and neutral shades.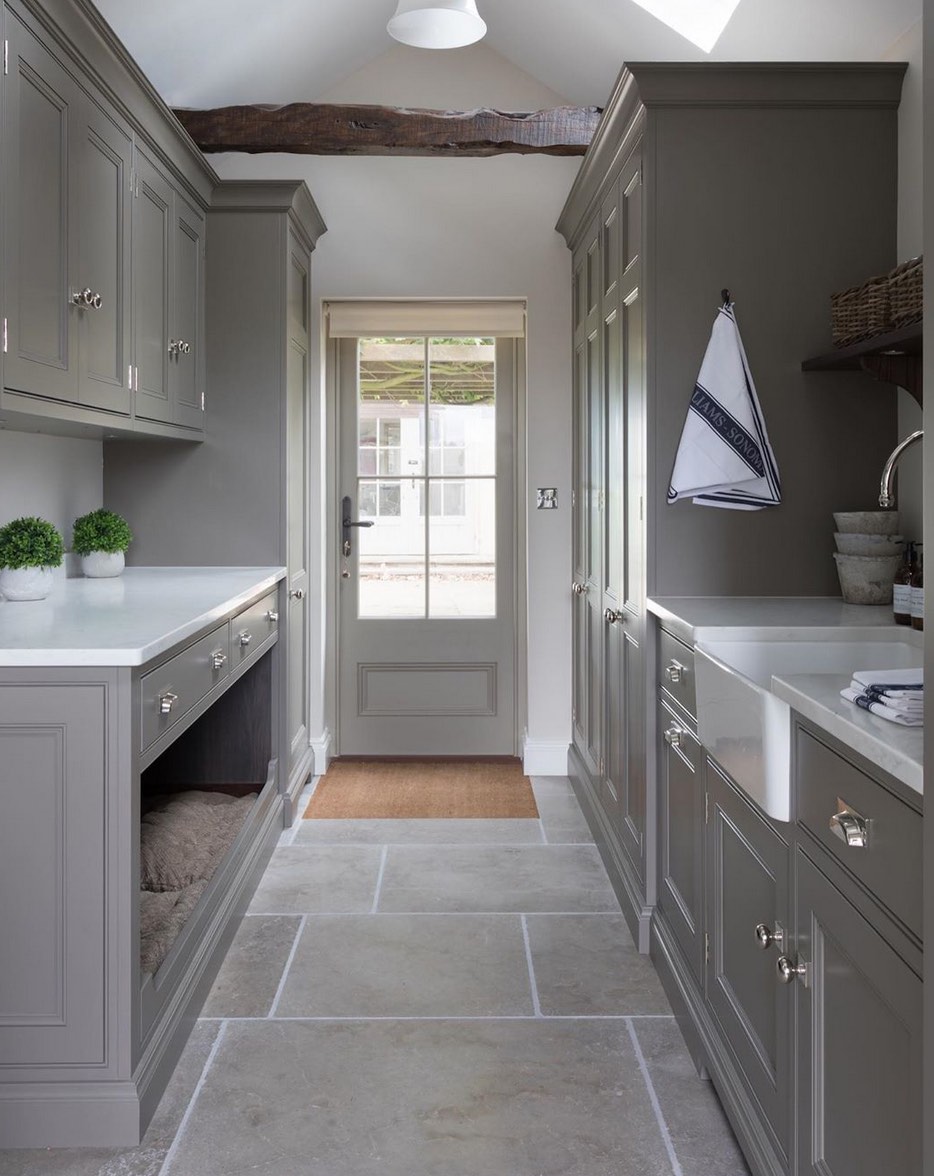 34. Natural stone
When designing your butler's pantry, you can't forget about the flooring. My favourite part of this space is the natural stone flooring. It adds a lived-in farmhouse feel to this classic kitchen.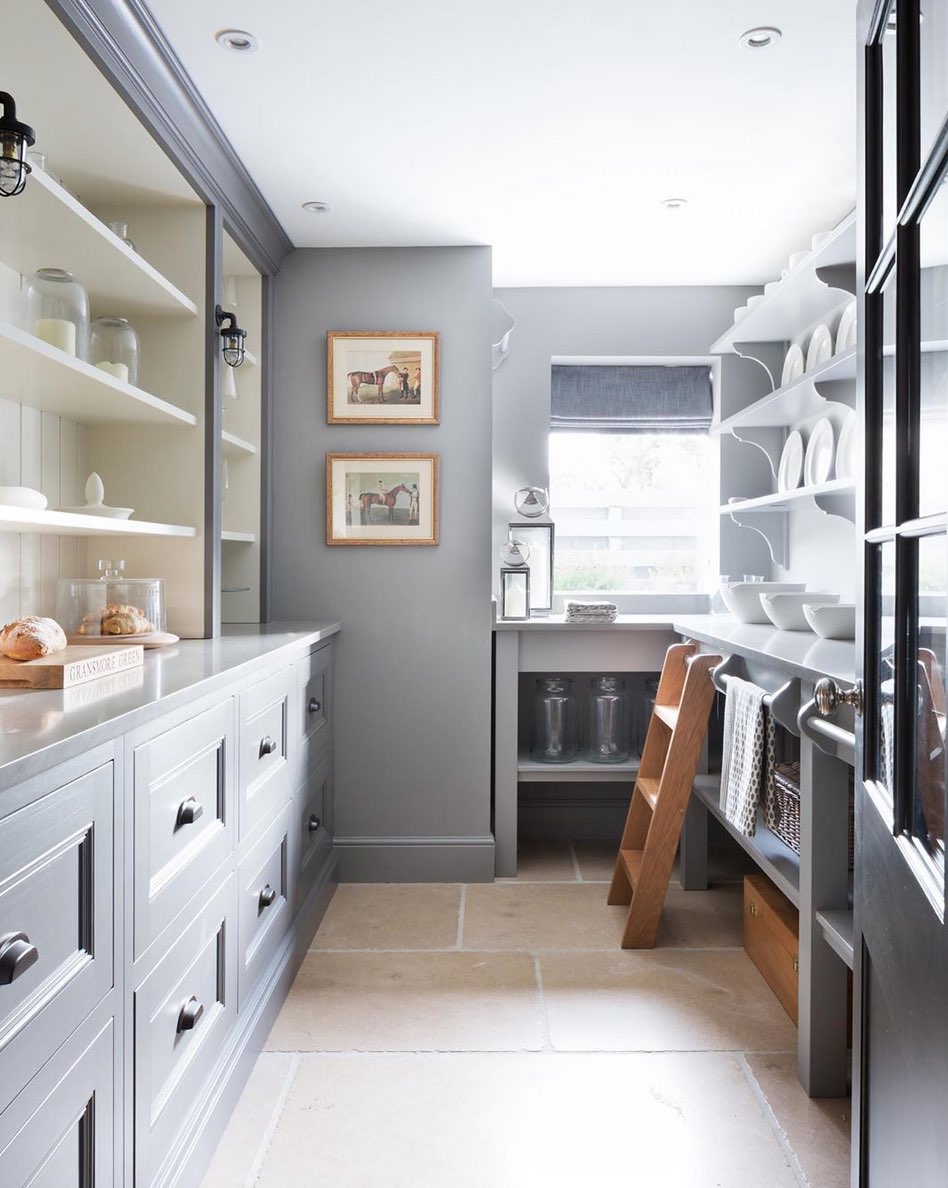 Just don't forget that you should continue whatever material you have for your kitchen flooring into your butler's pantry for continuity.
35. Watercolour wallpaper
Inject a whole lot of life into your butler's pantry with a beautiful design like this watercolour-style wallpaper. The shades of pink, green, blue brighten up this simple black-and-white kitchen and add detail that'll have your guests exclaiming "wow!".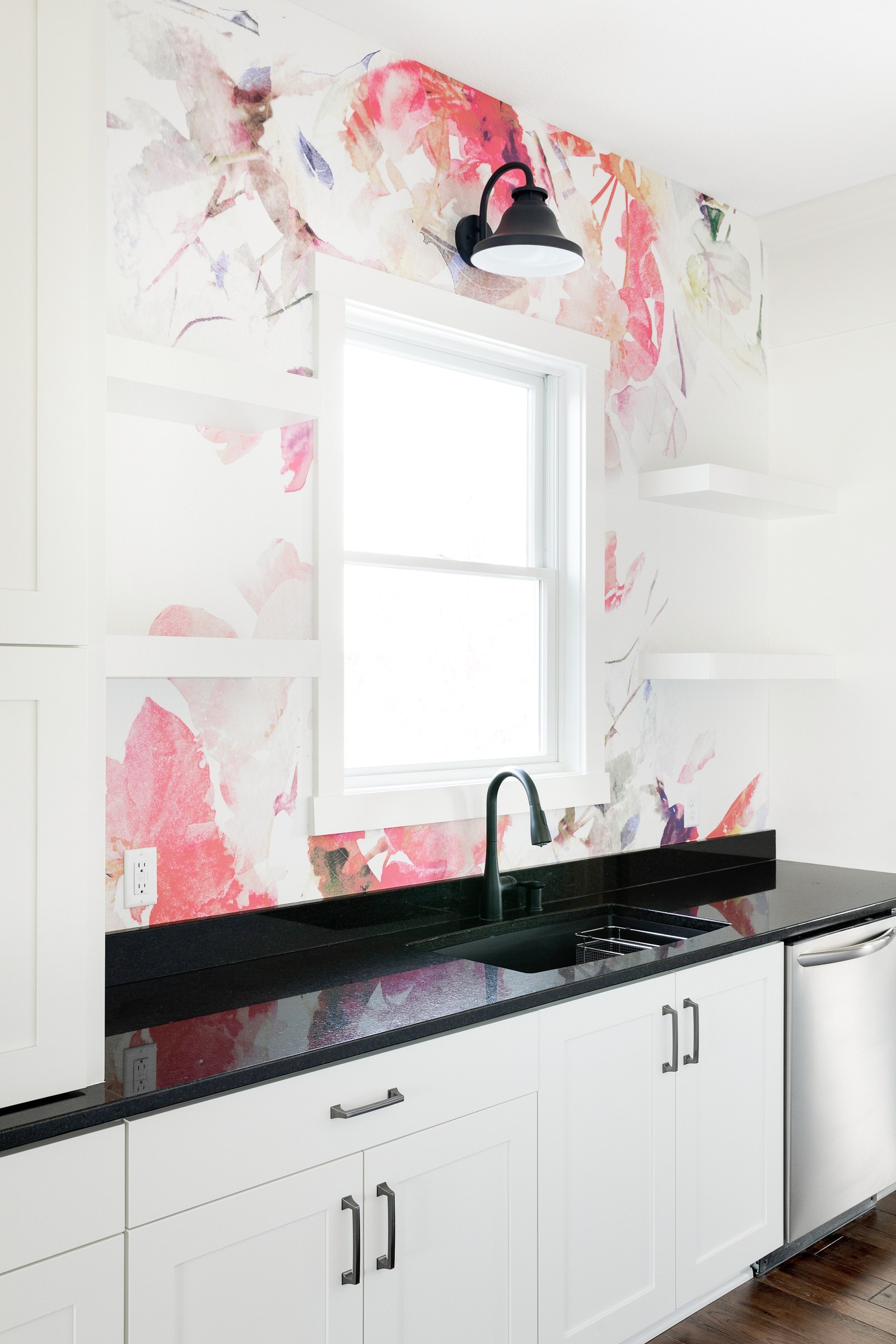 36. Modern rustic design
This butler's pantry is a gorgeous bright space that would be a joy to prepare food in. The white-on-white design makes it light and airy, while the timber adds a rustic homey touch.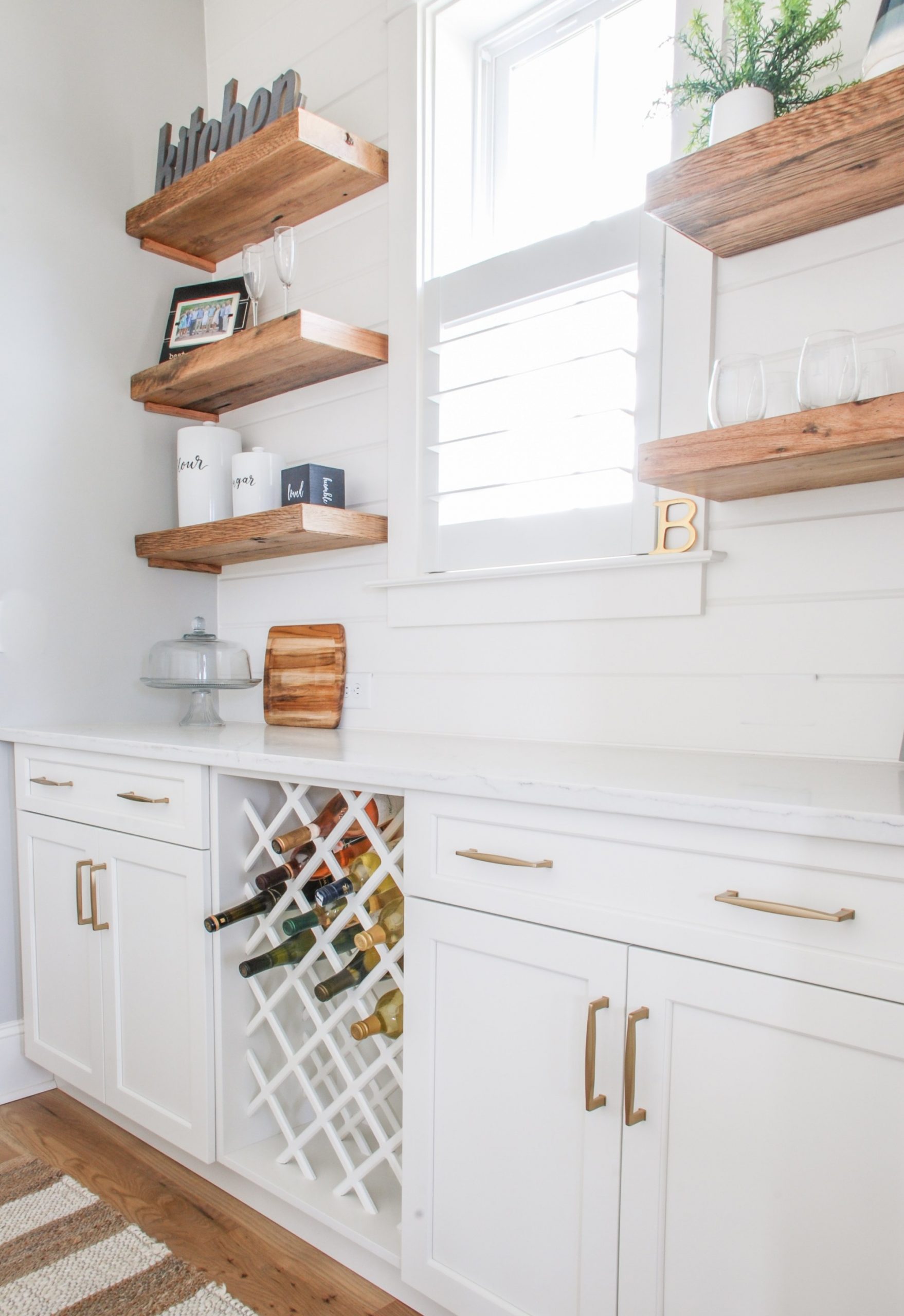 37. Strip lighting
If you don't have any sources of natural light in your butler's pantry, then light the space up by installing strip lighting underneath your cabinets. This will brighten up your bench space, so you can see what you're doing while you're preparing food.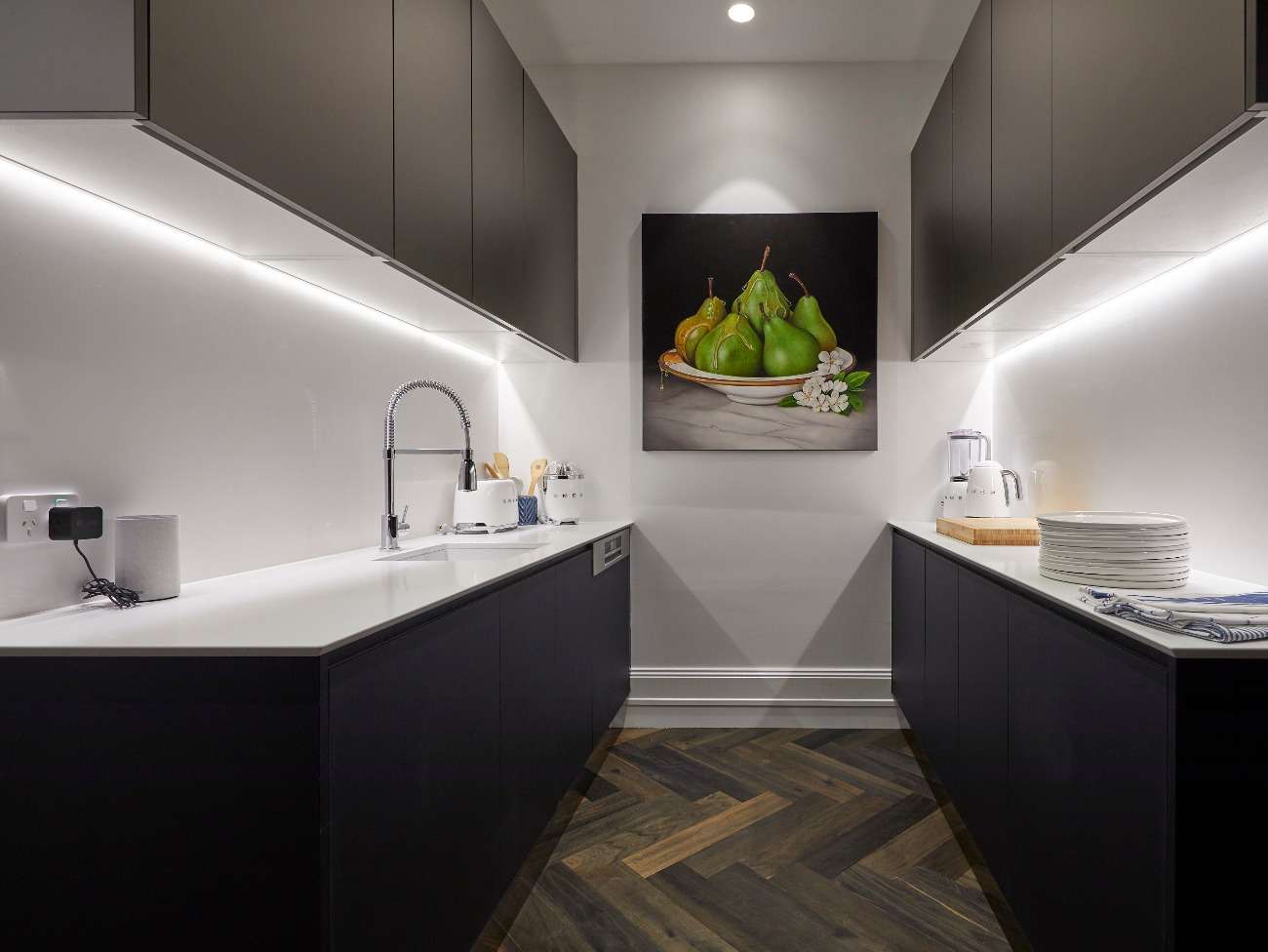 38. Luxury finishes
Move over mediocre butler's pantries – make a statement with a traditional and ornate style like this. Every part of this pantry has been carefully crafted like a piece of art. There are the beautiful brass finishes, the glass light fixtures, the patterned silver-and-blue wallpaper, and the sleek kitchen cabinets to match.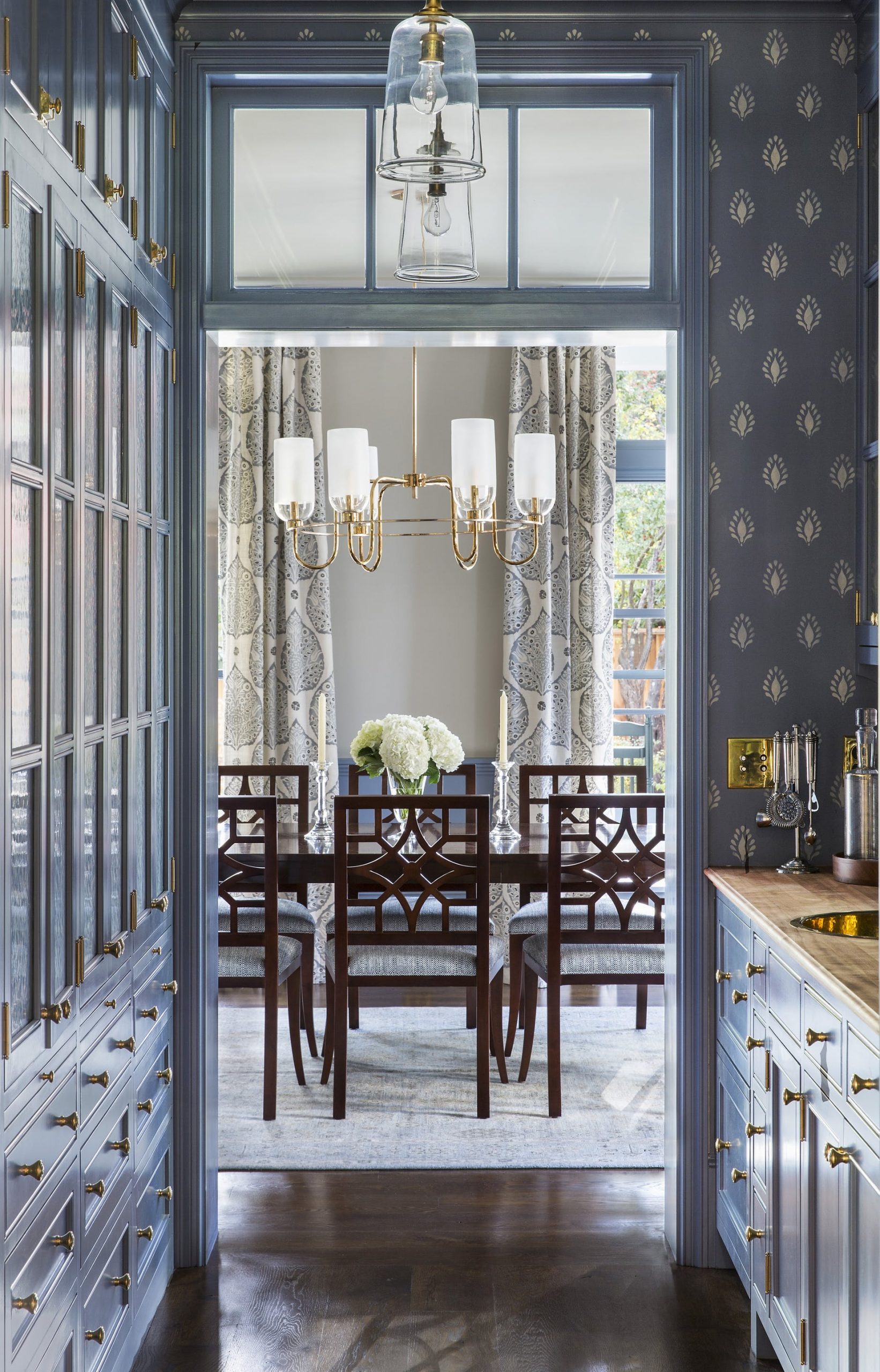 39. Butler's pantry meets laundry
If you have a small home, or if you live in an apartment, then you might want to consider merging your butler's pantry and laundry. This is a handy use of space. You can display your washing machine and dryer, as well as kitchen appliances like your toaster, kettle and coffee maker. Inside the cupboards, you can hide away your cleaning products and kitchenware.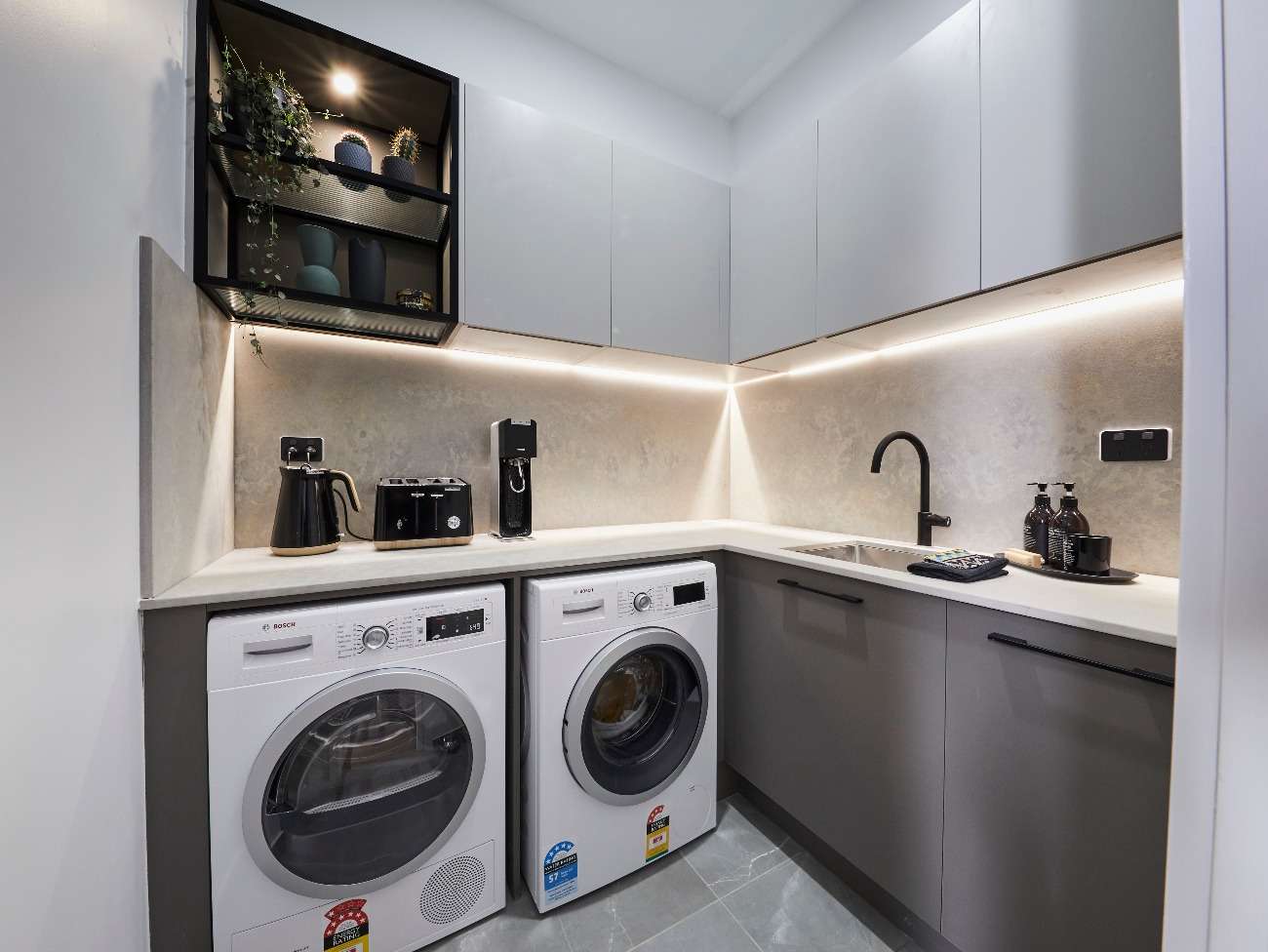 40. Glass doorway
Instead of hiding your butler's pantry away completely, keep it open by installing glass panels and a glass door. This not only looks interesting but it opens up your space to make it appear larger than it is. I particularly love the dark steel framing – it looks great contrasted against the white interior of the pantry.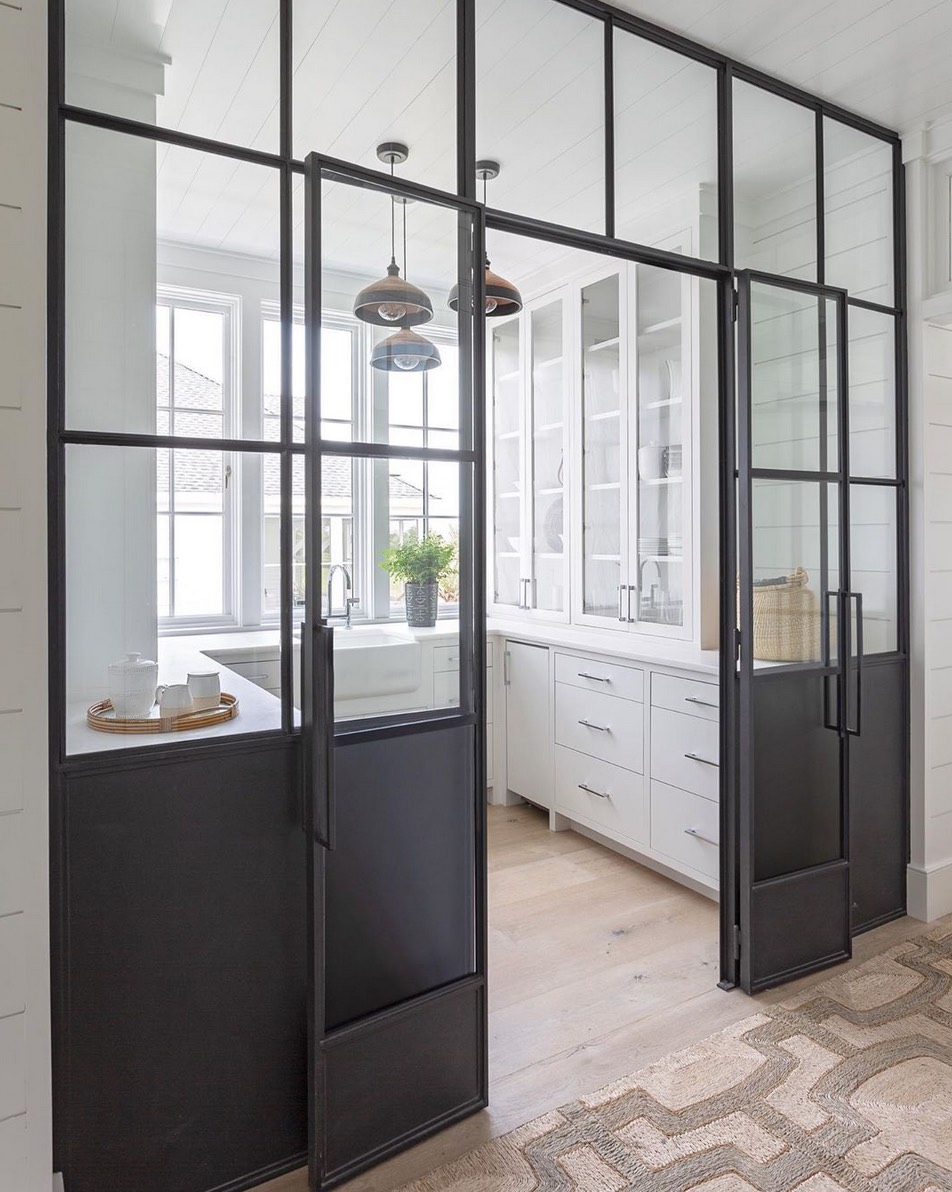 41. Dark timber
Make the most of any extra hallway-style spaces by installing dark timber cupboards and cabinets. This is a great place to put your oven, dishwasher, sink and other appliances that don't need to be at the front of your kitchen.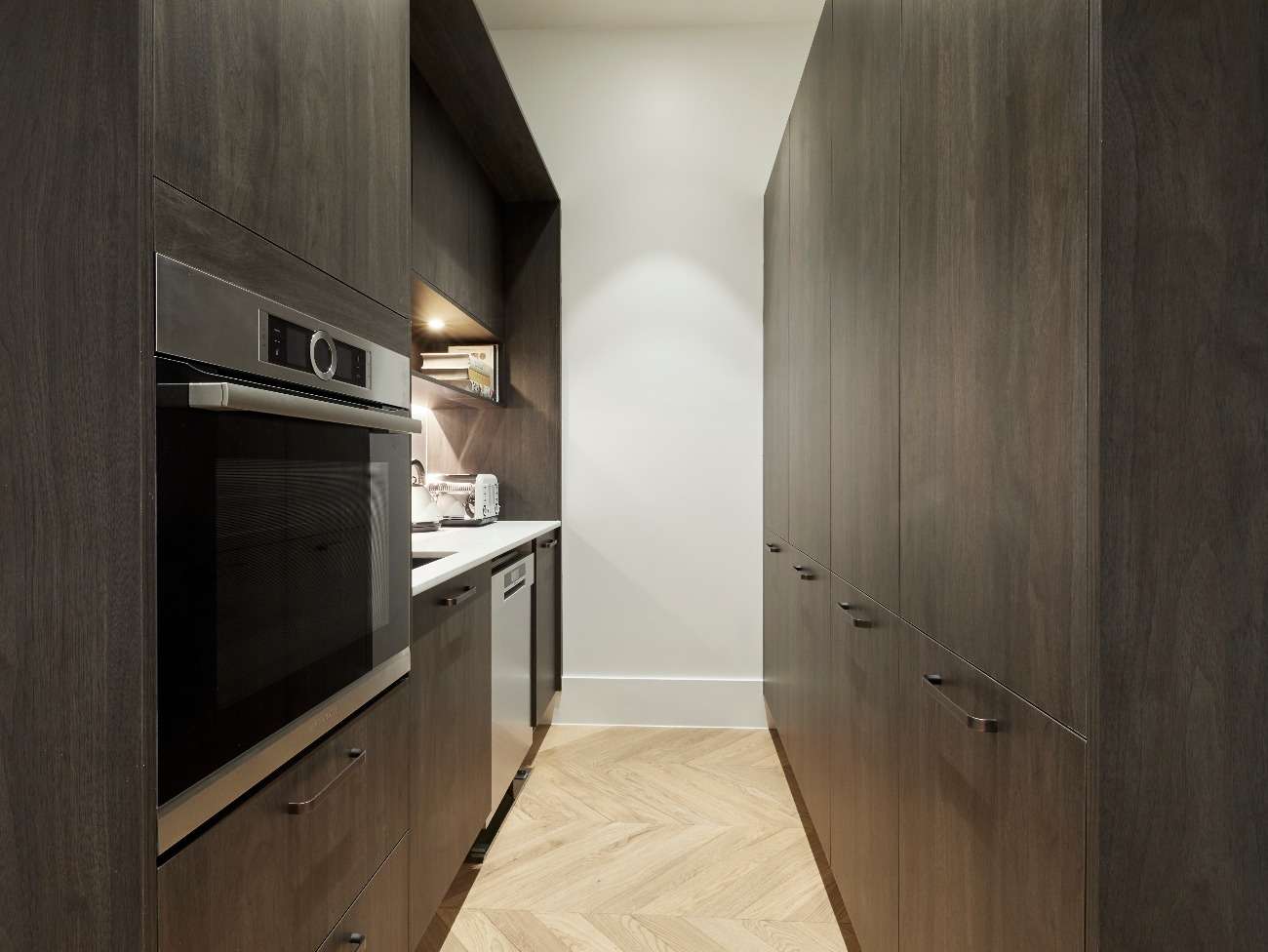 42. Traditional timber
If you want to go for a really traditional butler's pantry, then you can't go wrong with classic timber. This light timber shelving and cabinetry looks gorgeous peeping through the open doorway in this home. It's also a style that's easy to pair with other elements and decor – so you just can't go wrong with it!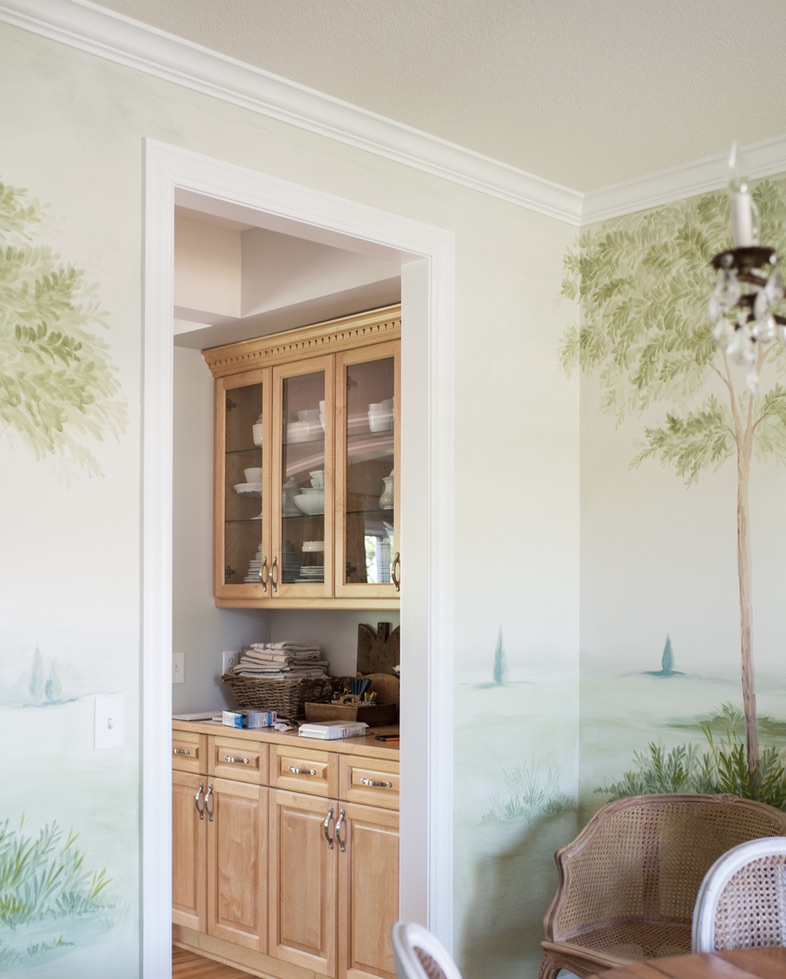 43. Grey and black
This is a timeless colour combination that will look great wherever you use it – whether in your main kitchen or hidden away in your butler's pantry, like this design. I love how grey and black work so well with the blue kitchenware in this design. So, if you've got a colour palette like this, fill your shelves with blue-and-white china and ceramics.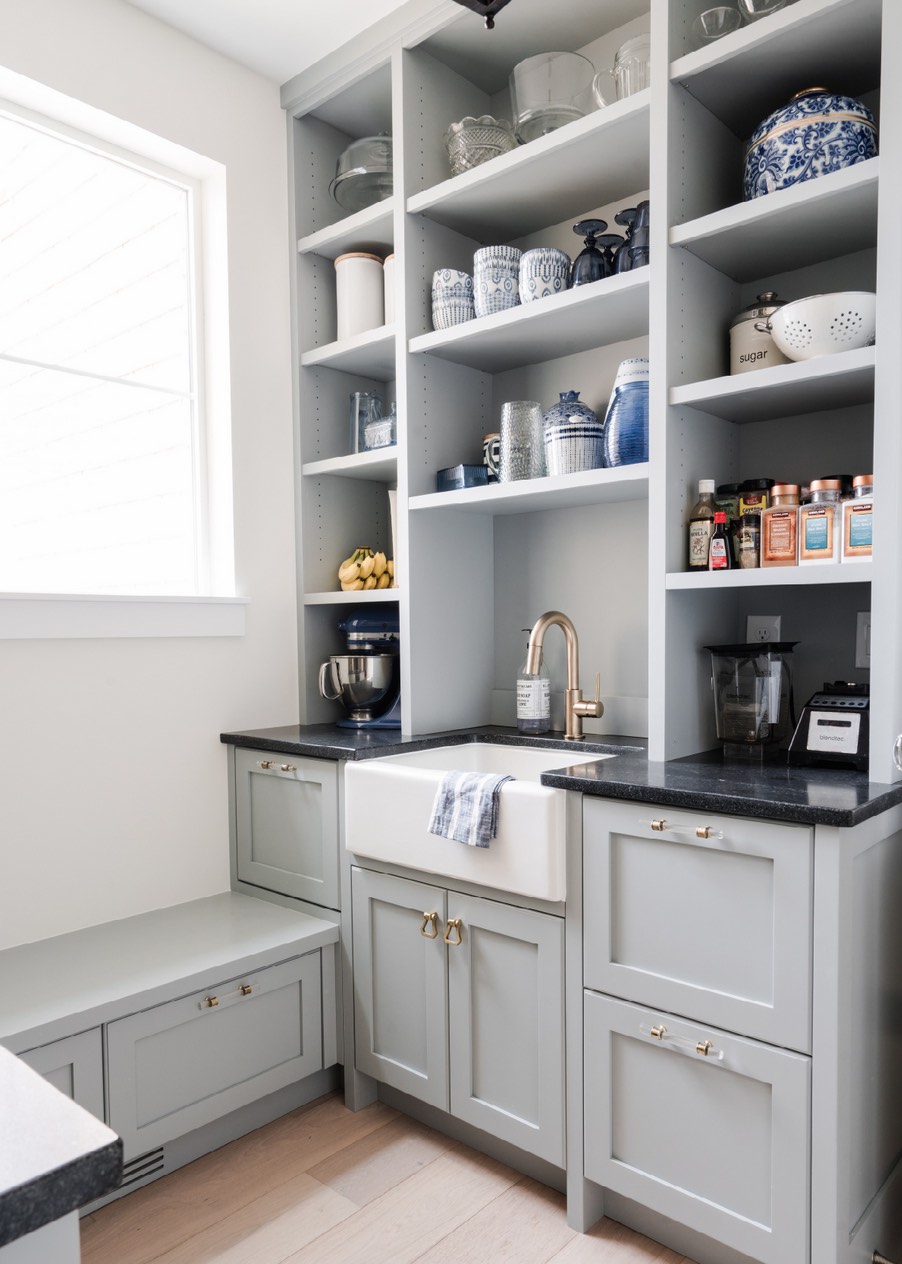 44. Coastal white
Make your butler's pantry light and bright with a white on white style. This design is fresh and beautiful. If you want to create a space like this, start with white timber for your cabinets and walls, use marble for your countertop, and install white steel or timber open shelving for displaying your kitchenware.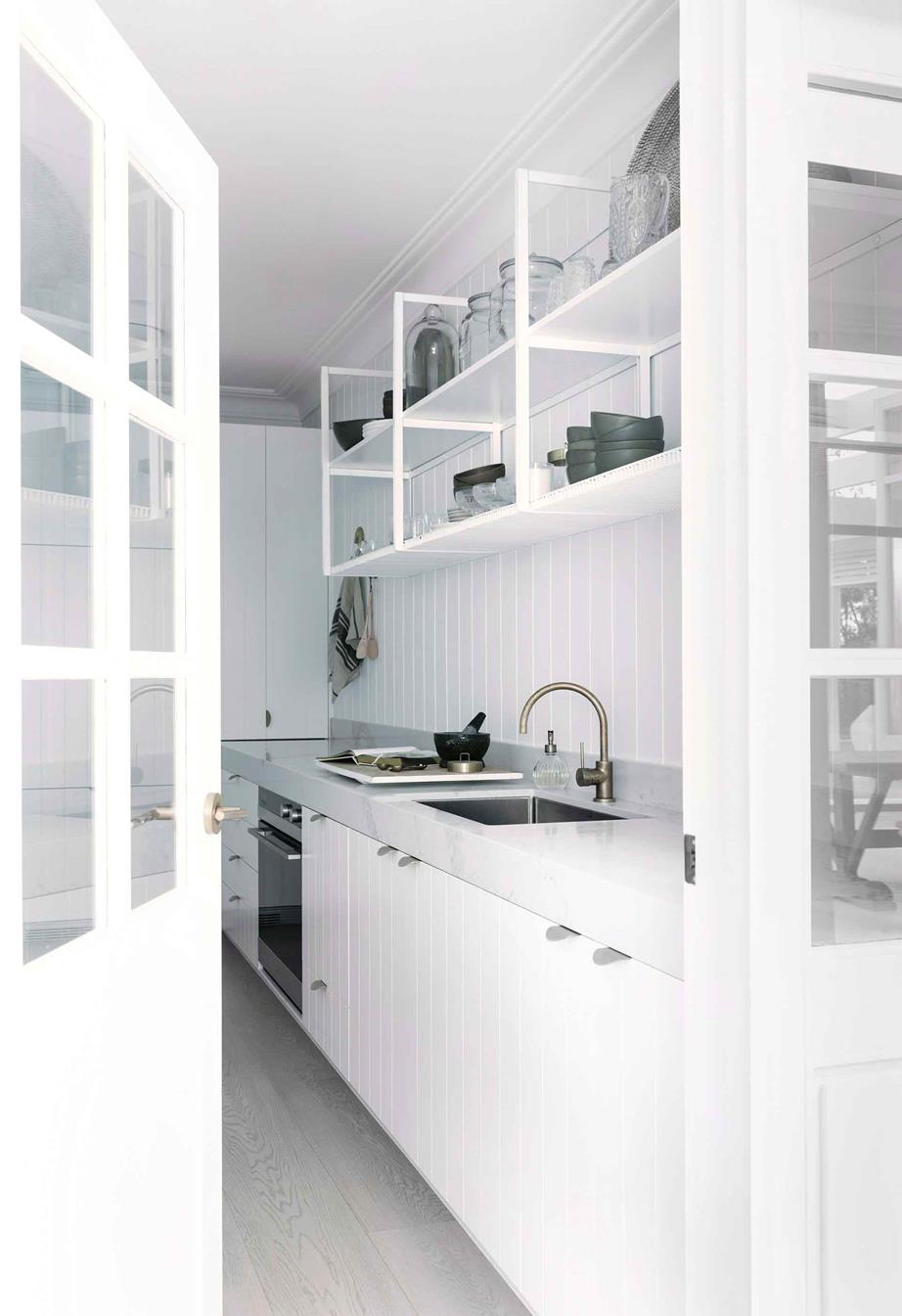 45. Scandi-style
If you don't have a lot of extra room for an entire butler's pantry, you can use clever custom joinery, like in the kitchen space of this revamped Scandi-style home. This creates a separate pantry nook and additional prep-space, which is handy for when you have guests around.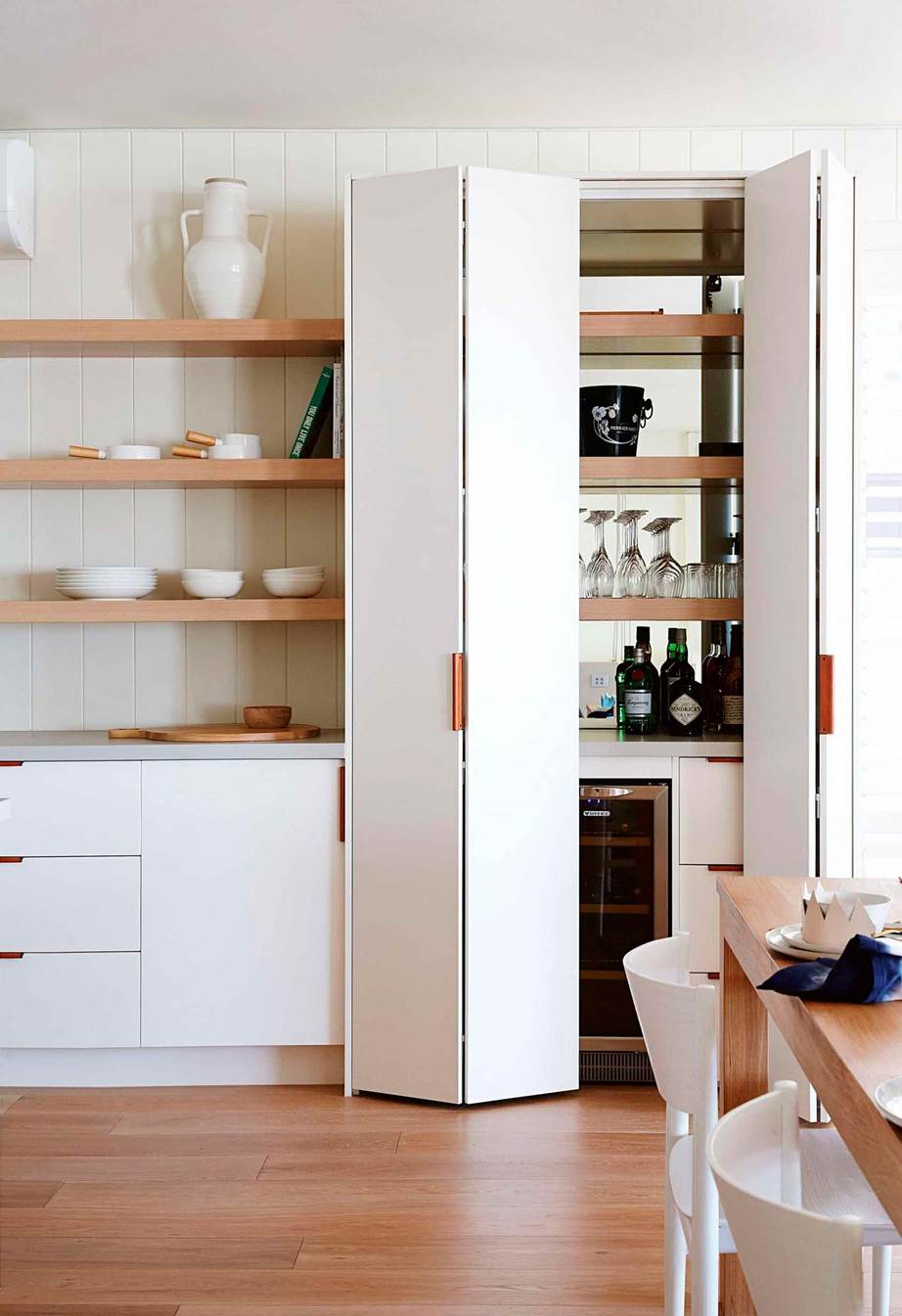 That's the round-up of 45+ butler's pantry ideas. I've covered everything from handy kitchen cupboards to small butler's pantry designs to hidden privacy features and so much more. And I've shown you so many different types of butler's pantries in a range of styles to suit your home design.
Comment and tell me which design was your favourite. And if you have any other ideas for butler's pantry designs, comment and share them too!