When it comes to designing your home, it can be easy to dismiss the balcony. But the truth is that's it's as much a part of your home as your living room – especially if you enjoy the outdoors. So, if you're lucky enough to have one, here are some lovely balcony ideas so you can make the most of it.
On one hand, you may be a fan of all things simple and minimal. On the other, you might prefer loud colours and vivacious patterns. You might have a large, expansive space to fill, or you might only have a tiny nook. Whatever your requirements and your style, there's bound to be something for you below.
1. Hammock
If you're going to be spending a lot of time on your balcony, then make it a calming place with a hammock. You'll have the perfect spot to kick back, relax and enjoy a good book while taking in the fresh air.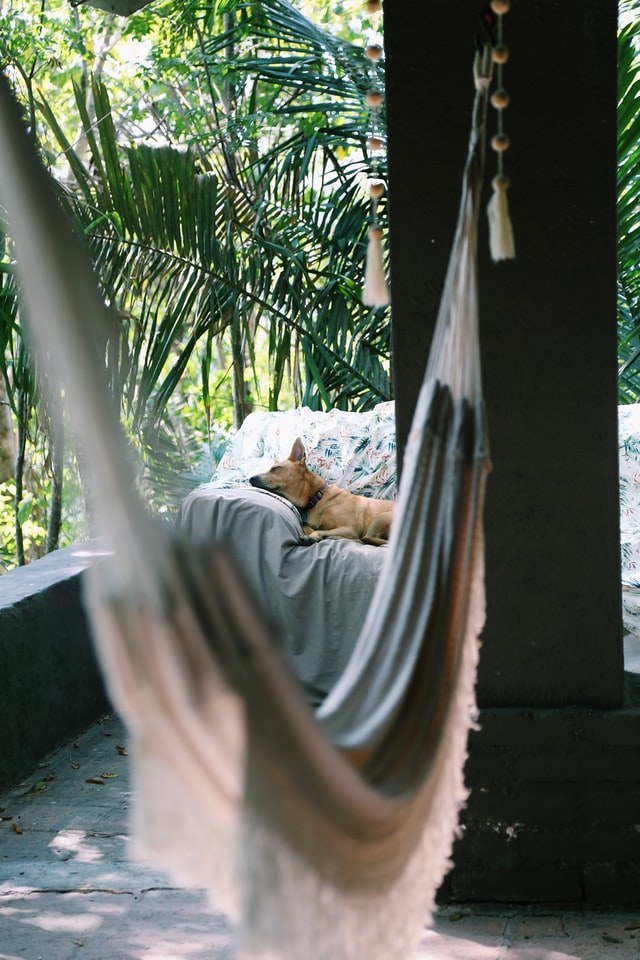 2. Flower explosion
If you're looking for a simple, no-fuss way to pretty up your balcony, add flowers. Fill your space with a little more joy—the more extravagant the better. Think colourful flowers, simple greens, cactus or succulents, or even herbs.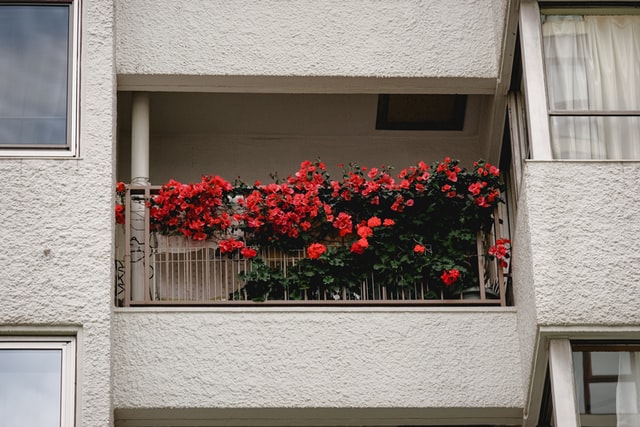 3. Make it an extension of your interior
Stop thinking of your balcony as completely separate to your house. Instead, picture it as an extension of your interior. It's another living space to enjoy with family and friends. With this in mind, treat your balcony as you would any other living space. Add a table, include your favourite pot of flowers, and add little personal touches that reflect your personality.
4. Mix up your seating
Rather than a full set of matching chairs, switch things up and use a bench on one side and chairs on the other sides. The bench will give you more room so you can accommodate more people around the table.
5. Add a rug
Who says rugs are only for the living room? Bring comfort and style to your balcony with a Persian or vintage rug. You can find them for great prices at places like IKEA, from a discount rug store, or even secondhand on Gumtree or Ebay.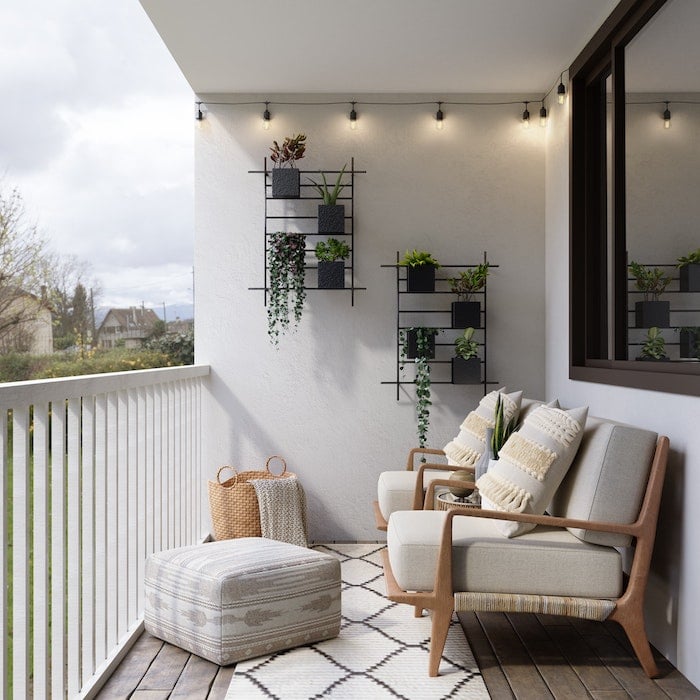 Just make sure you place your gorgeous new rug under covers, so it won't be affected by bad weather. Or you could even buy an outdoor rug!
6. Decorate with vibrant colours
If you have dark timber flooring or furniture, add pops of colour to bring your space to life. You can do this by adding colourful cushions, throw rugs, flowers, and other pieces of decor. The key to making this work seamlessly together is to choose one base colour and integrate it throughout all of the pieces.
Looking for more ideas on how to tie in your balcony with your surrounding garden? Take a look at these backyard ideas for some more inspiration.
7. Dark and black
Make your balcony moody with dark flooring and black walls. But be sure to lighten it up with a little bit of white in the cushions and colour in the plants – otherwise, it could feel a tad too heavy!
8. Add festoon lights
Make your outdoor area sparkle with festoon lights. Drape them over your balcony fence or hang them up above. However you arrange them, you can be sure they'll look amazing in the evening. This is also the perfect way to dress up your space for a party or simply for having guests over for dinner.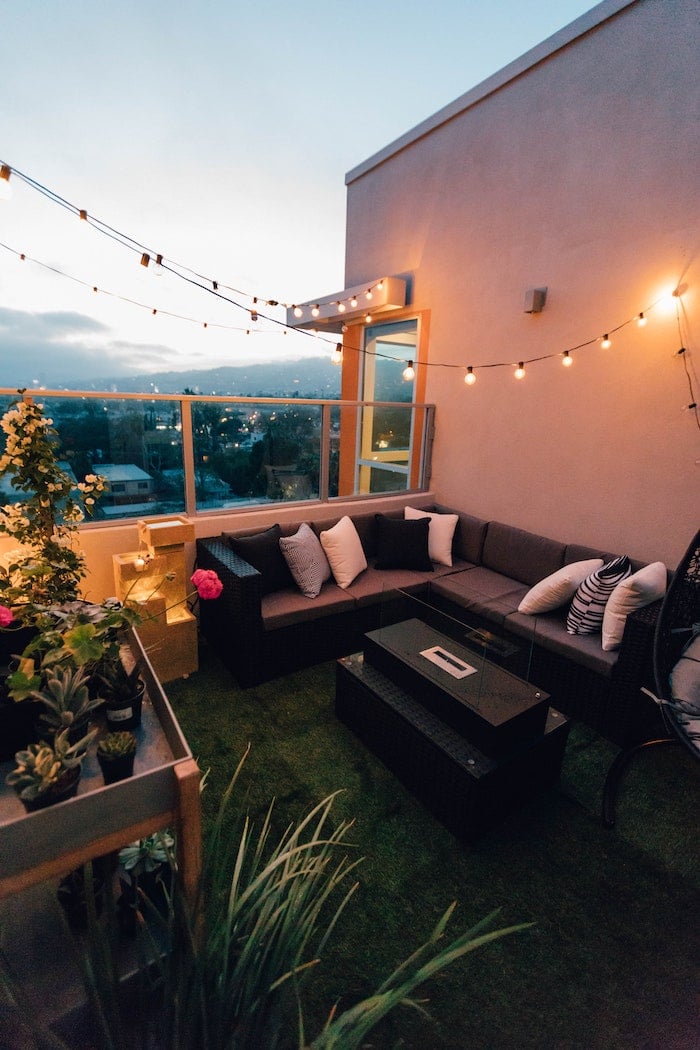 9. BBQ for entertaining
With outdoor living being a huge part our lifestyles a BBQ on hand is a must and you can get quite compact ones these days. Imagine sitting out on the balcony with a few friends while you cook up a storm with a beer in hand. Sound good? Make it a reality.
10. Sweet and simple
If you have a tiny balcony, make the most of it by adding a small two-person table and chairs. As for decor, simply add a small potted plant on top of your tiny table and your space is complete!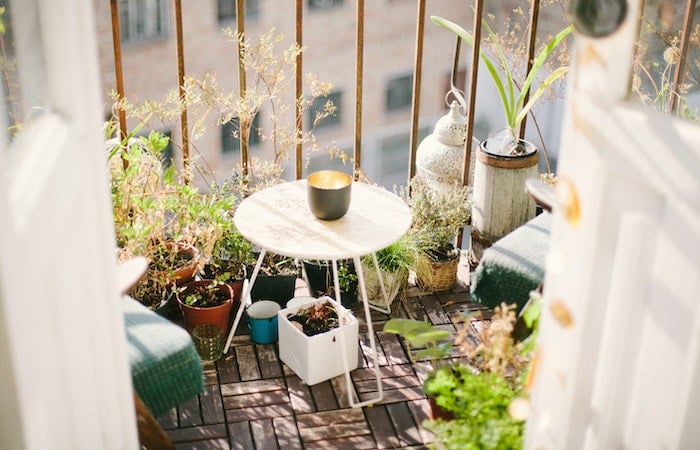 11. Drape curtains
One way to make your balcony chic (and private!) is to add some gorgeous white curtains. Hang them right at the roof to create a dramatic effect as they flow down to the floor. You'll have the option of keeping them wide open to enjoy the view or closing them up for extra privacy.
12. Stone paving
Add texture to your balcony by changing up the flooring. I love these stone pavers – they bring a touch of the natural world to your outdoor setting. If you're going for this more earthy look, then I suggest adding in a pop of colour somewhere, even if it's just a vibrant green potted plant.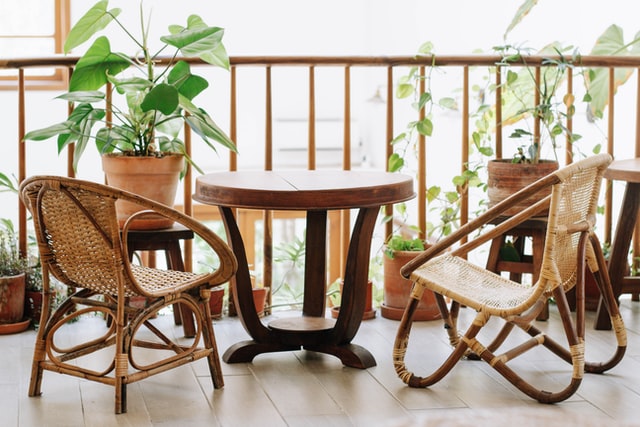 13. A trendy haven
Bring your balcony into the 21st century by using contrasting shapes to make it a contemporary space. It might be a curved outdoor sofa plus a round coffee table and a single square-shaped chair. Don't forget to add flowers and greenery for a warm personal touch.
14. A little bit of everything
Just because your balcony is outside doesn't mean you have to go all minimalist–in fact, I'd suggest you consider going maximalist. Upholster your cushions in a bright, fun colour. Then paint your walls in a complementary tone. Add some stylish coffee tables to make your outdoor space feel as put together as your home's interior.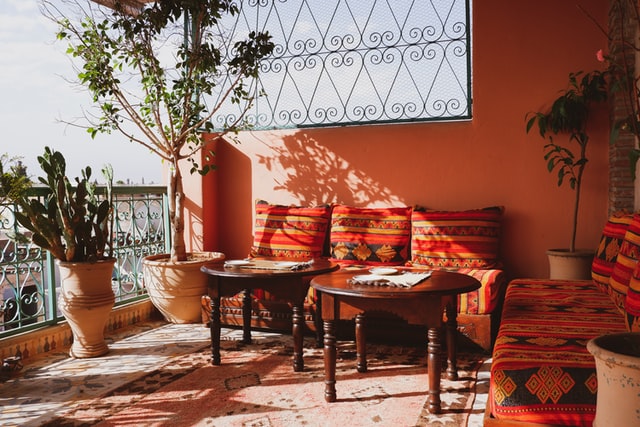 15. Warm tones
Create a warm and cosy space with colours like burnt orange, brown and yellow. These shades will be sure to bring a touch of autumn to your balcony all year round, but it's also easy enough to change up if you want to mix up your seasonal approach.
16. Maximise the view
If you have a breathtaking view like this one, then you're going to want to make the most of it. Sometimes too much furniture or too much colour in a space like this can detract from the scenery. So instead of going all out, keep things simple with a white table and chairs and a couple of potted plants.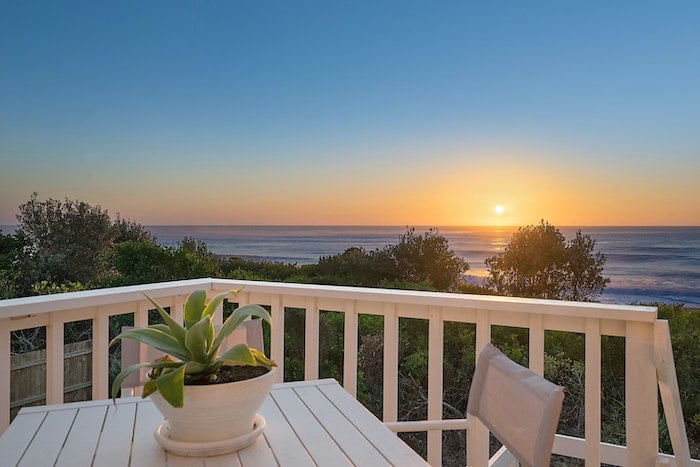 17. Peaceful retreat
Create a calm and relaxing environment with contrasting timber. Think beautiful shades of dark brown and blonde woods plus accents of black on the window frames and chairs. Add a throw rug over the arm of a chair to make your space even cosier.
18. Flower boxes
Never underestimate the power of flowers to liven up a space! The prettiest way to incorporate them is to hang them over the side of your railing in little planter boxes. I personally love the look of vines spilling out over the edges of the boxes. Some great options are clematis, jasmine and wisteria.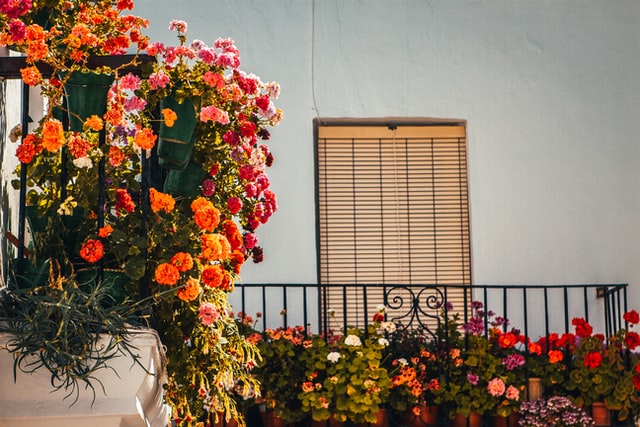 19. Add details
When creating a beautiful balcony, we can spend so much time focusing on the furniture that we forget about the details. But it's the little things that can make the biggest difference! For example, adding candles, pretty coasters and gorgeous flowers add a feminine touch to your space. If you don't want to buy fresh flowers every week, you can buy some fake peonies.
20. Swing chair
A swing chair is an attractive and fun piece of furniture, that kids and adults alike will be sure to love! Not only practical, but woven swing chairs will add a soothing coastal vibe to a clean, neutral balcony space.
You'll just want to make sure that your hanging chair is hung correctly, so find a local handyman near you to take care of it for you.
21. Make a small balcony cosy
Don't despair if you've only got a small balcony to work with. The good news is that you can make it a space you love! Make your little balcony cosy by adding a colourful or patterned rug, a small outdoor sofa or chair, a few pillows, and a simple potted plant. Keep the rug and sofa in the same colour scheme to tie the look together.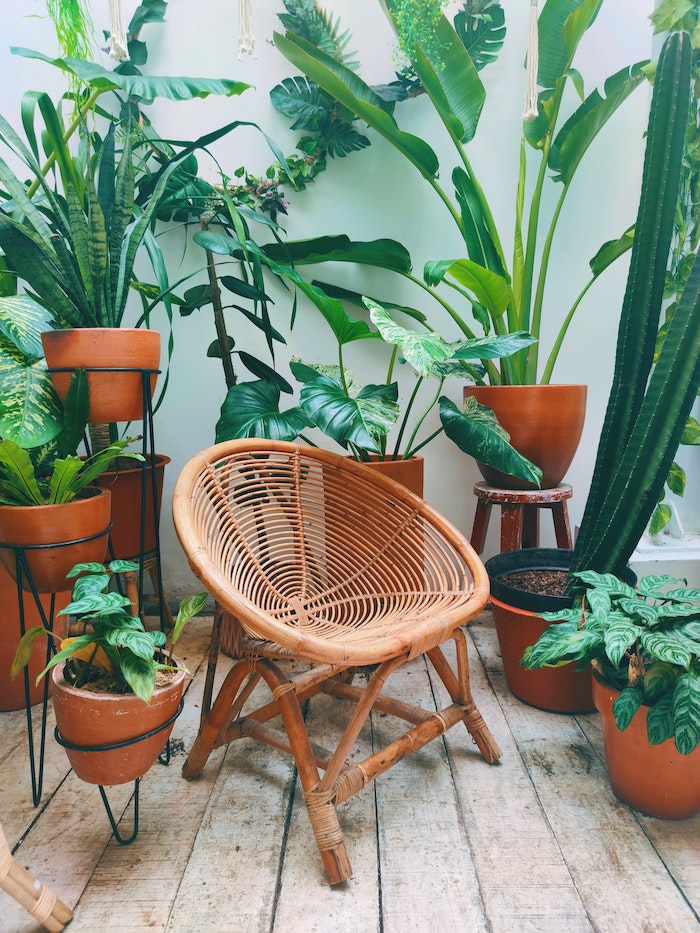 22. Pendant light
A bold metallic pendant light is a great way to jazz up your balcony. But remember, this isn't your living room. So to put it in the right context, incorporate nature-inspired materials with wood ceramics, and anything rattan.
23. Bar cart
Adding a bar cart is super practical foor when you've got guests over. You can simply serve them a drink from your comfy spot on the balcony, instead of having to go inside.
24. Turquoise
If you've got a favourite colour, why not go all out with it? Take this turquoise decor as inspiration. Who says you can't paint your balcony shades of turquoise? It's your space – decorate it how you want!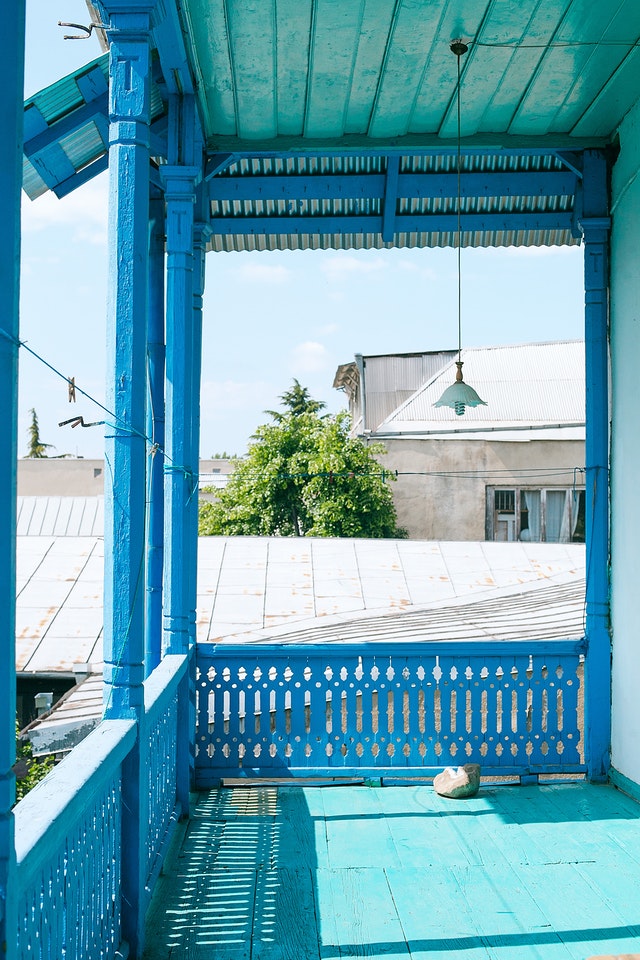 25. Create comfy corners
Don't neglect your corner spaces! These can be the cosiest spots to hang out, read a book, and sip a cup of coffee or tea. Make the most of these little nooks by adding a chair, a throw and pillows for comfort, a small side table to hold your drink, and a touch of decor or plants to spruce it up.
26. Jungle oasis
I don't know about you, but this space just screams tropical holiday to me. Create your very own jungle oasis incorporating plenty of greenery, faded timbers and woven furniture.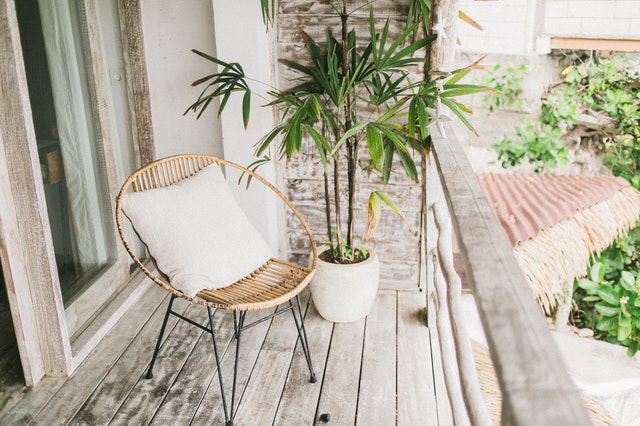 27. Choose a colour scheme
When creating a cosy space, it's important to think about a colour scheme. For instance you might go for a simple balcony that's kept consistent with grey, beige and mauve throughout the pillows, rug, throws and furniture.
28. A single tree
If you're a minimalist at heart, then you'll love this balcony. The single tree standing tall in a chic concrete pot adds elegance to the area. And the greenery adds a touch of colour to the otherwise neutral space.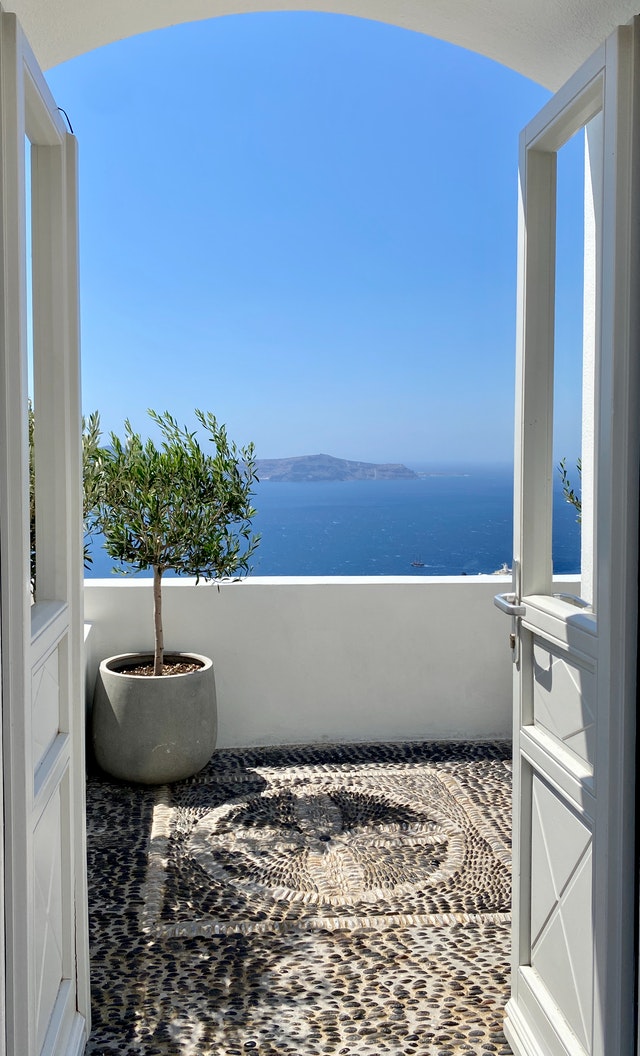 29. Light and bright
A white on white style makes this balcony look very light and bright. Adding textural elements through the light and rug makes it feel inviting and homely. And a statement light will add style as well as functionality.
Thinking about getting a statement light for your balcony or perhaps another space? Well, you can find someone near you to take care of the light installation that way you'll get it all hooked up correctly and hung at the right height.
30. Rectangular planter boxes
Planter boxes come in all shapes and sizes. For a classic minimal design that looks beautiful with simple, structured greenery, opt for a rectangular design with straight edges.
31. IKEA table set
A simple IKEA set is perfect for a narrow balcony. Look for one that's foldable, durable and lovable, such as one with a mix of natural acacia hardwood and powder-coated steel. They're the perfect size to place on your balcony or in a cosy corner of your deck.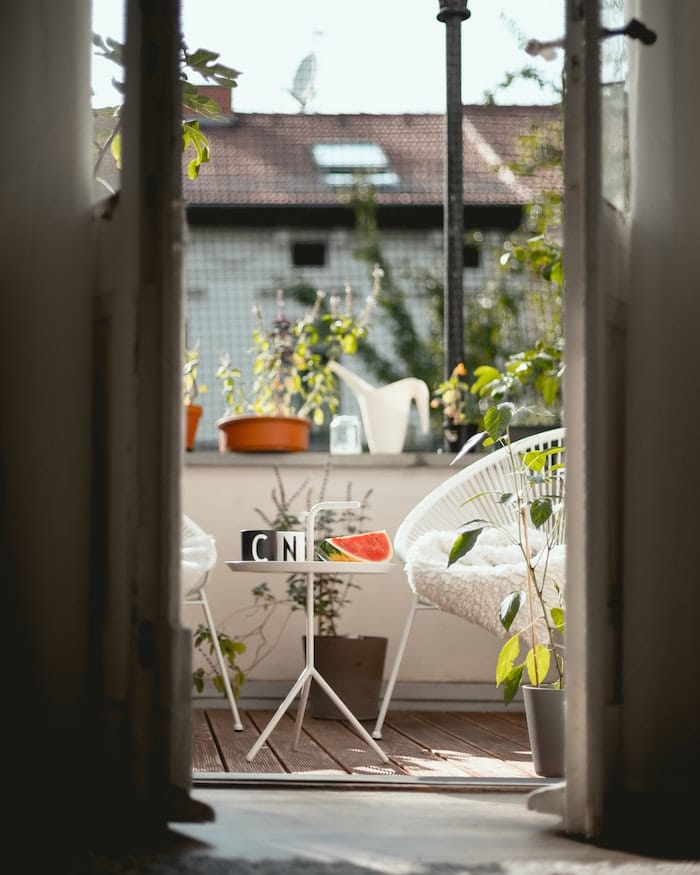 32. Use patterns and texture
Don't be afraid to mix things up a bit by adding different patterns and textures. It might be something as simple yet effective as a mosaic-tiled table. Or you could mix up your lighting to incorporate different textures, such as with a woven pendant that will emit a golden glow. The key to pulling off a look with multiple textures is to choose one or two key colours and incorporate them throughout the space.
33. Umbrella for shade
If you haven't got a roof over your balcony, then you should add an umbrella to keep you shaded all year round. Go for a large one to keepi everyone covered. And remember, you've always got the option of pulling it down in the evening so you can enjoy the night sky.
34. Use space-saving furniture
You don't need to have an expansive balcony to put it to good use. Opt for space-saving furniture, like a compact set of chairs and coffee table. Then make it cosy and inviting with pillows and decor.#. Treat it like a living room
35. Treat it like a living room
Use a living room design formula on your balcony to ensure it's a place you'll actually want to spend time. Include a comfy couch or armchairs, coffee table, pretty lighting, maybe a rug. Oh, and crack out the rosé too, because you'll be needing it for those warm summer nights that are just around the corner!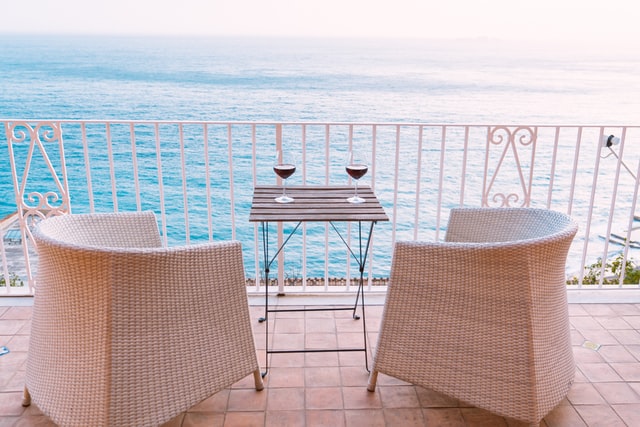 So are you ready to take your balcony to the next level? Whether you have a tiny space, an awkward-shaped space or too much space, I hope you'll be able to integrate these ideas to create a balcony that you and your family truly love.
Now for the important question – which ideas are you going to use? How about hanging up a hammock so you can lie back and relax with a book in hand? Or what about adding festoon lights to give your space some atmosphere in the evening? Would you consider including a BBQ and an outdoor dining set so you can entertain on those warm summer nights? Or maybe you'll pull a wild card and go for something totally out of the box like spotted furniture? Whatever you choose, I know it will look amazing.