Lack of storage is a common pet peeve for most of us! Unless you have the luxury of employing an architect and a handyman to custom-design your space, chances are you feel the same way. So more often than not, items are stored in wardrobes or just out in the open, making the space look cluttered and messy.
Installing shelving is a great way to organise your house and we've put together some inspiration based on the current hot trend of industrial interior design.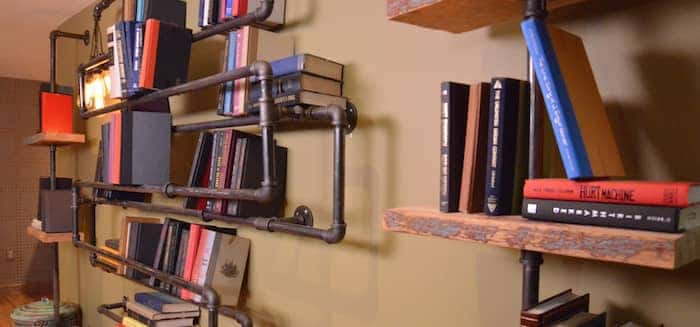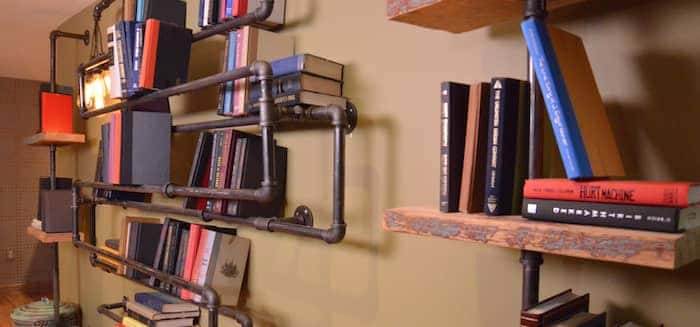 Source: kijashi
When you think pretty, industrial shelving might not be the first thing that comes to mind. But with a little elbow grease and some creative styling you can create inspiring, unique pieces for your home.
Storage shelves
There are many different ways to jazz up a stark industrial shelf to use in your home. First, you need to source one. Consider auction houses, bric-a-brac stores or garage sales. You may even have one in your own garage or shed that you can re-purpose. Next, take a trip down to your local hardware store as they are sure to stock many of the items you'll need as fixtures for your industrial shelving. Some other ideas include visits to antique stores and local vintage or trash 'n' treasure markets. You'd be amazed at some of the interesting and rare finds you can make at such places.
To get the ideas flowing, we've collated some creative solutions other home owners have used by incorporating industrial shelving into their décor.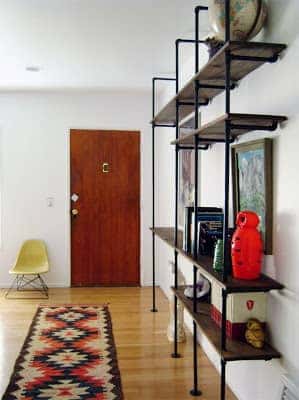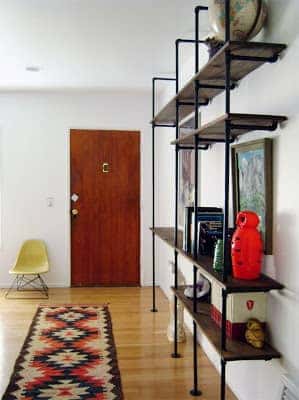 Source: The Brick House
Bookcases
If you're a bit of a book worm with piles of books everywhere, this is a wonderful take on the traditional book case using reclaimed wood and steel pipe fixtures.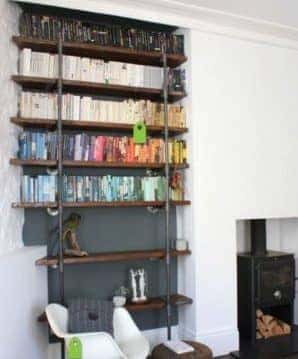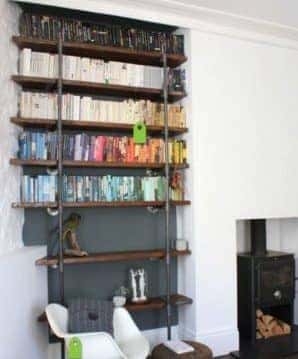 Source: Houzz
Small shelf
For a hallway or bathroom, you may just need a simple small shelf to put your keys, phone, make-up or other quick to grab items on. A wall shelf can be a fantastic space-saver especially when you have limited room. These mounted shelves combine wooden panelling with industrial pipe and rope to create a sleek and tidy look.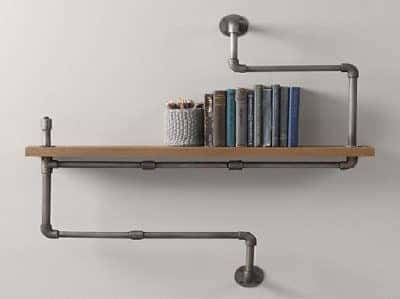 Source: minimalistdesignhomes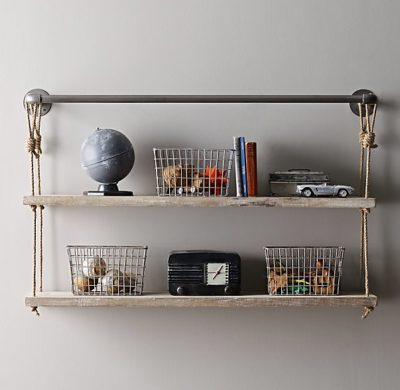 Source: rhbabyandchild
Side tables
Creating a bespoke side table allows you to add additional shelving into it if you are low on space.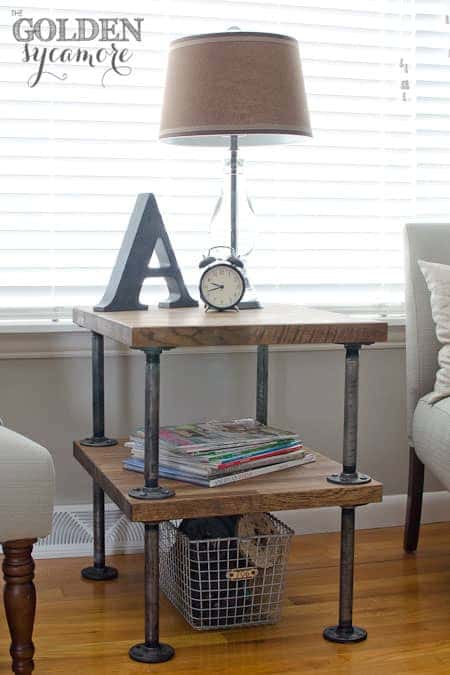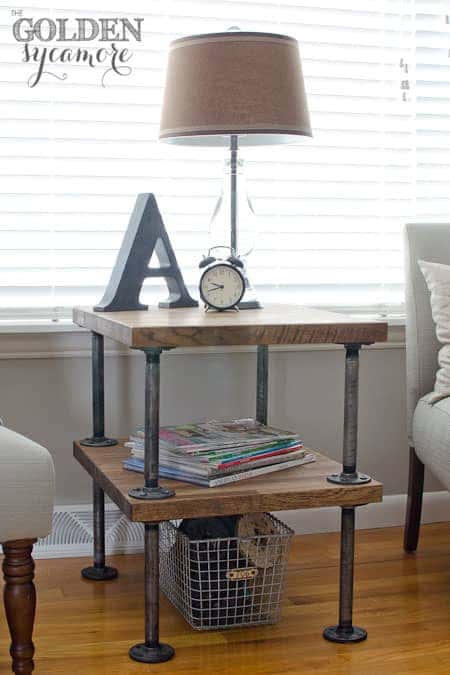 Source: thegoldensycamore
Styling Options
When it comes to styling options for your industrial shelving, they are almost endless. Think about painting the pipes to make it a real focal point in the room.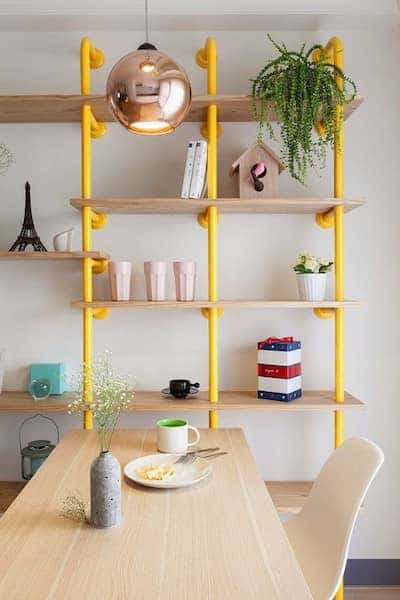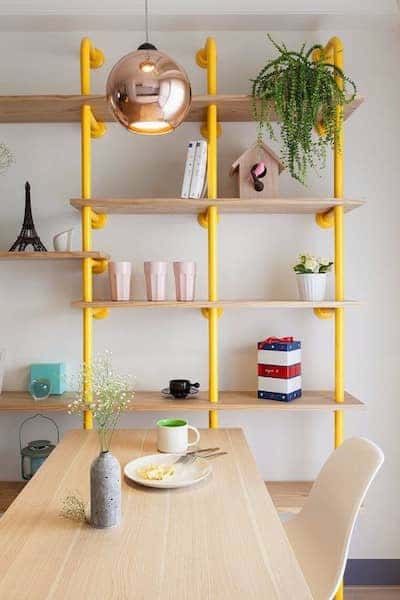 Source: Fresh Designpedia
Or how about when old meets new again and incorporate some other existing antique/retro furniture.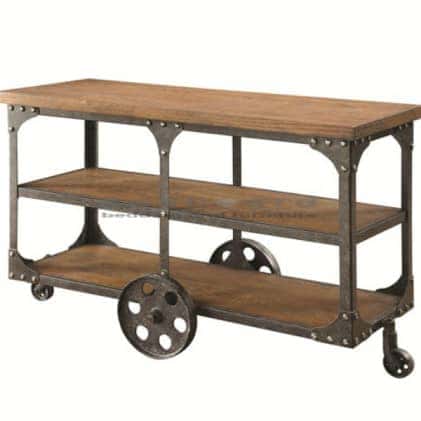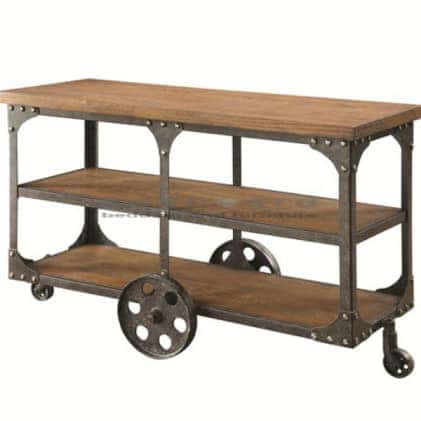 Source: seaboardbedding
Or even 100% up-cycled with a little bit of copper.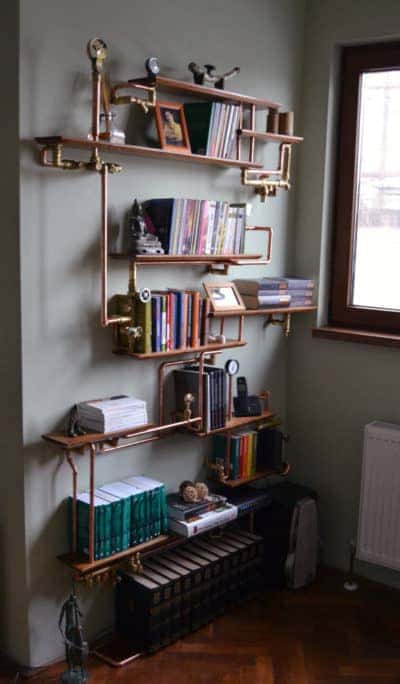 Source: instructables
Whilst this isn't all pipes, metal and wood – it's a step in that direction, without taking the leap and potentially conflicting with the rest of your interior design.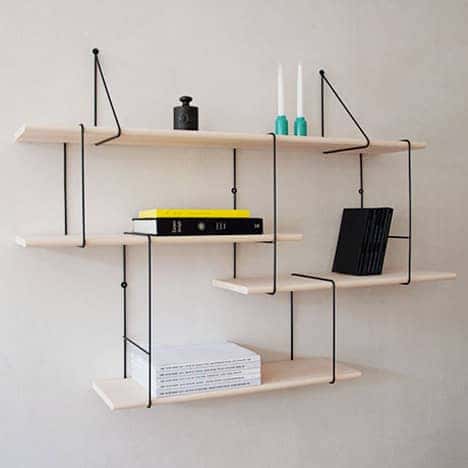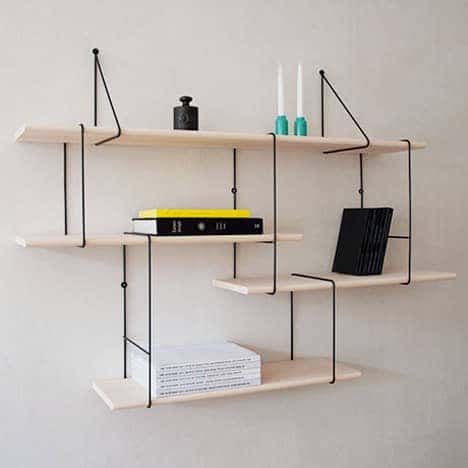 Source: Denzeen
If you're a fan of metalics, you can't go past this gold shelving – it's AMAZING!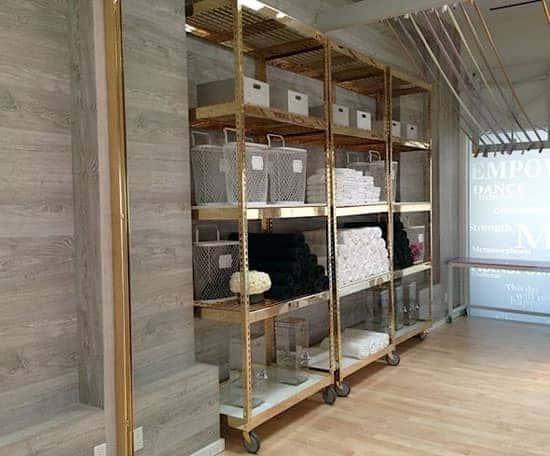 Source: The Design Confidential
Innovative Ideas
If you're handy, your imagination is your only limit. A great example is the following project as it showcases the true nature of industrial elements while combining practical with just a hint of quirk. Sure to get your guests talking!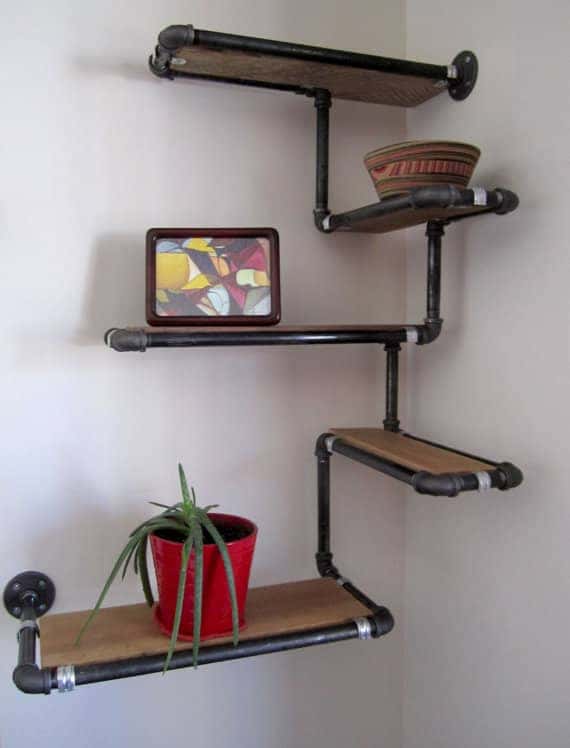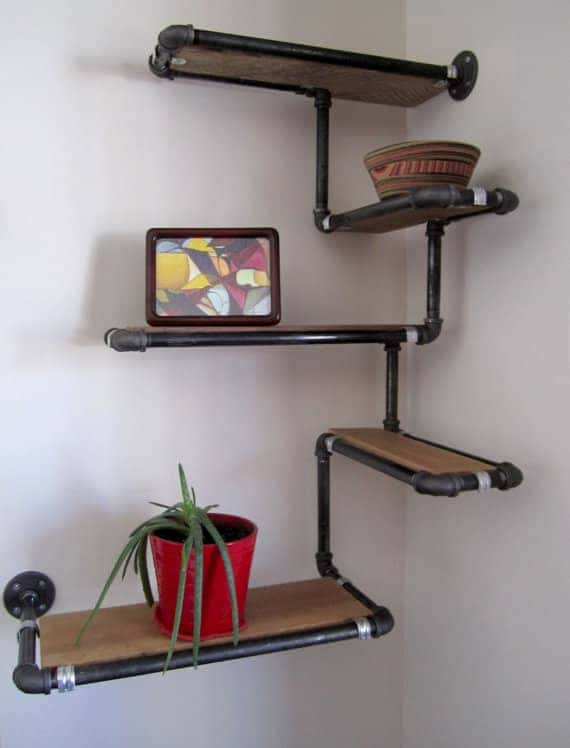 Source: Etsy
Hate DIY – fear not!
If you aren't a DIY person – and let's face it, some of us aren't! – that doesn't mean you can't incorporate some 'industrial chic' into your life. This style of decoration is currently on trend so many affordable, mainstream designers such as IKEA are producing pieces that reflect this character. Or if you need something bespoke, there are plenty of handymen on Airtasker who are happy to help.
Have you used industrial shelving in any other creative ways? Or do you have some handy tips when it comes to space-saving shelving? We'd love to hear from you in the comments below if you do.