A fresh coat of paint is the best way to add new life to your living room. And while you could stick to the same old white or cream coloured walls, there's so much fun to be had with a splash of colour and I'm about to show you why with these beautiful living room paint ideas.
But the colour on a wall is so much more than just a colour – it's the feeling that you (and others) get when being in that room. So let's take a quick look at what different colours create which atmosphere.
Green is the colour of harmony and renewal – it brings new life to your living room.
Grey is not only a popular neutral, but it will also make your small living room feel so much more spacious.
Blue is an all-time favourite colour and, with the calming, stabilising effect it has on your home, it's no wonder why!
Beige is a timeless favourite, which will work well with neutral furniture and decor.
And black is a bold choice that creates a dramatic effect. Perfect for those who enjoy a strong moody house.
But, those aren't the only options on the market. There are so many more colours and shades to choose from and endless ways to style your walls. To get you started on your decorating journey, I'm sharing my favourite living room paint ideas including colour schemes, feature walls and all-encompassing wall paint. Are you ready to be inspired? Let's go!
1. Bold blue
If you want to pull out all stops, hold nothing back when you choose a dark shade of blue like this one. You can add even more drama to your living room by adding matching furniture in an expensive texture, like this blue velvet couch. Now admittedly the blue is a bit much so you can complete the space by hanging pictures and prints on your walls in different kinds of frames. I especially love the brass and gold frames and how they match with the black-and-gold lamps on the wall.
2. Pretty pink living room
I've got to admit, I'm a sucker for all things pink. So I think this is going to be my favourite wall colour. I love how this design combines a peach lounge with the pink to make this a beautiful, feminine living room. But the dark wooden lighting fixture on the wall and dark green and brown on the painting keep this space from feeling too girly. All of the elements complement each other to make a very creative space!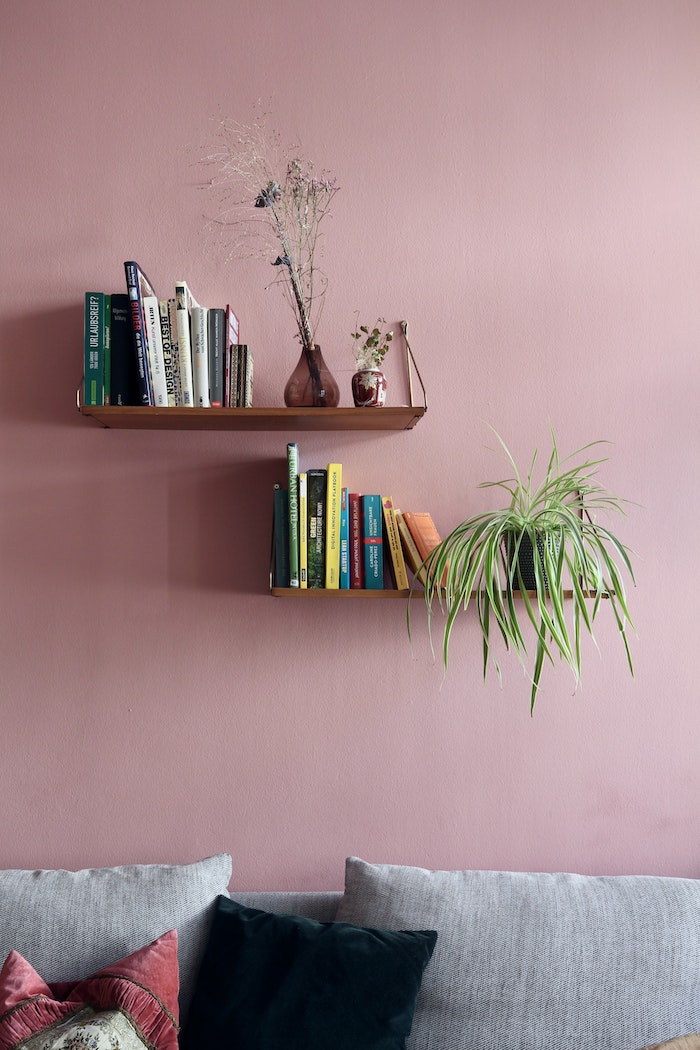 Some people love painting and others, well, not so much. If you're the latter then fear not, because you can get a painter to do all of the endless rolling and cutting in for you.
3. Warm yet simplified
If you live in a timber cottage or cabin, why not ditch the paint altogether and embrace a more natural look. Of course, you'll still have to finish the timber with a coat of sealer, but this is a fairly low maintenance option. And combined with warm colours and neutrals, this makes for a really cosy space.
4. Grey-blue in a vintage maximalist room
If minimalism is so not your thing, embrace your inner maximalist with a quirky living room like this one. Go all out with colour and statement pieces like this pink velvet lounge and square marble coffee table. But make sure you ground your choices with a more neutral shade of paint. The sleek grey with blue undertones as pictured below is perfect for this space. It brings another dimension to the room while softening the bold pink.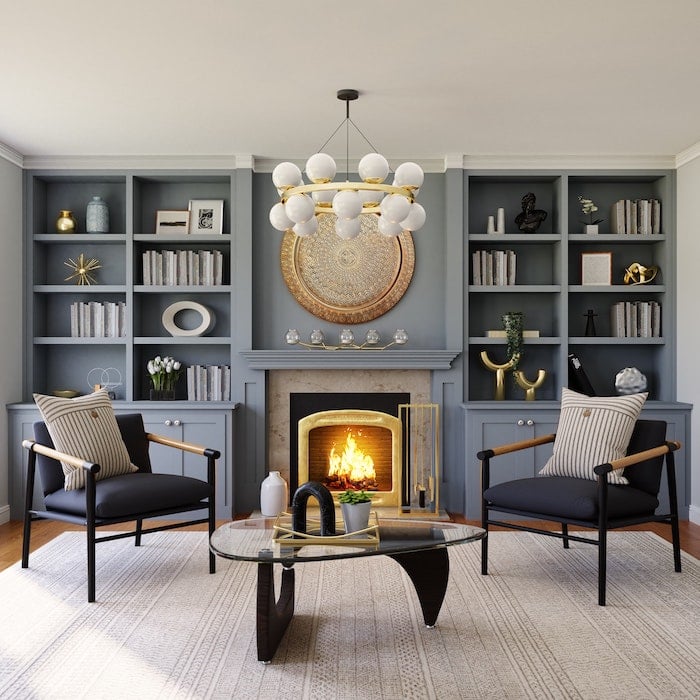 5. Green and blue
If you want to bring nature inside without the fuss of having houseplants, then you should consider slapping some green and blue paint on your walls. This design is so creative – it uses different shades on each wall which creates a lot of interest. The furniture compliments the walls, with a light green chair and dark blue TV cabinet.
6. Red walls with animal print
If you're going to go with red for your walls, then you may as well make a statement with your furniture as well. Animal print is very on-trend right now and it doesn't just have to be for clothing.
As you can see in this living room, you can incorporate animal print in your chairs and also in your cushions. If you want to go all out, you can even lay animal print carpet or a fancy rug!
7. Choose sunny yellow
If you're looking for a colour that will brighten up your living room, then you simply can't go past yellow. It will completely transform your space, making it inviting and warm. And if you want to create detail, leave the bottom part of your wall white. This will break up the yellow and add a sophisticated touch.
8. Green roof
When you think of painting your walls, you usually think about painting the four walls around you. But what about the ceiling? This lime green roof is proof that your ceiling doesn't have to be left out.
Along with the grand chandelier, the ceiling serves as the focal point of this room. And it's always nice to have a splash of colour in a room that would otherwise be fairly neutral.
9. Lime green walls
Speaking of lime green, here's what it looks like on the walls! This isn't a common choice but it adds another dimension to this room, taking it from sophisticated to a little bit fancy. The green works in this space because the rest of the room is fairly neutral, with the yellow seat cushions and pillows on the couch being the exception.
10. High gloss pink paint
Can you glam up your living room with a simple coat of paint? Why, yes you can – especially if it's high gloss pink paint! I know this is a really different choice, but hey, it's one way to make your space stand out from the rest. Hang pictures, prints, and your favourite pieces of art on the wall to complete the space. And don't forget to choose a beautiful ceiling light. I love the one in this living room – it's a mix of old and new!
11. Palm print wallpaper
Looking for a fun theme to take your living room to the next level? You've got to consider palm wallpaper. As this design will show you, just because it's palm print doesn't mean it has to be green. This print is a subtle grey and white design and it's very effective in this space. And to top things off with a splash of colour, the rest of the room is bold and blue!
This is definitely something that should be left to the professionals because it can be difficult to not only install but also line up the print perfectly. So it's important to find the right help with your wallpaper installation.
12. Deliver a wow with wallpaper
Now, you saw the red paint earlier on. But have you considered red checkered wallpaper? Probably not! This is a brave choice and definitely not everybody's cup of tea. But if you're wanting to challenge the status quo and go for something totally out of the box, then this might just be the option for you. Combine it with mixed red patterns on the walls and curtains.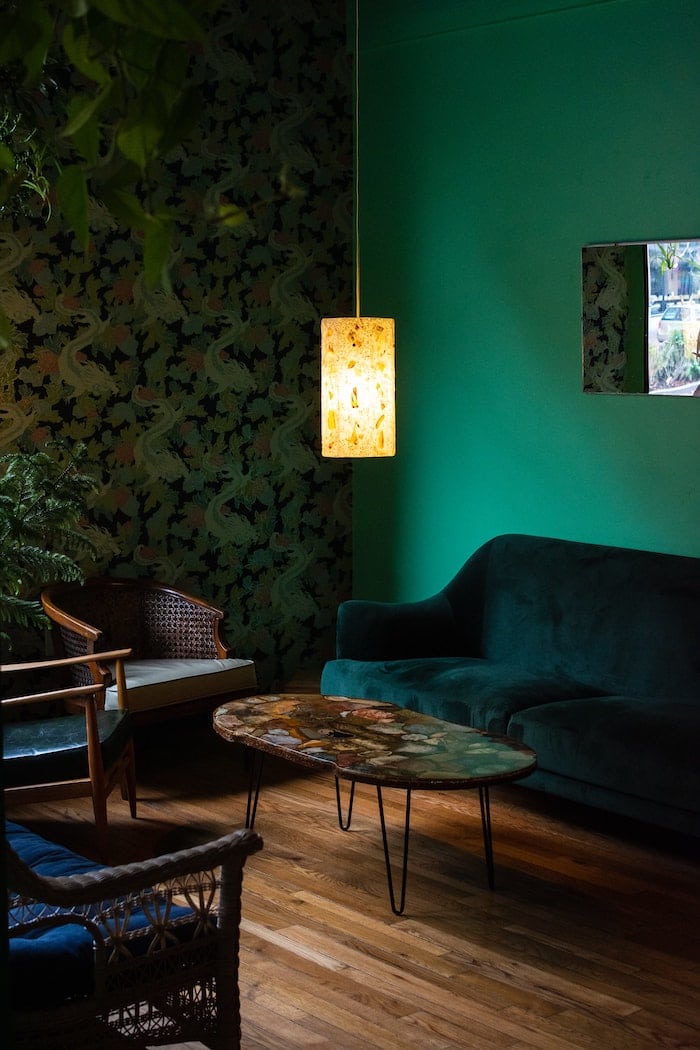 13. Bird wallpaper
If you want to create a vintage living room, why not consider a quirky wallpaper like this bird-print design? Team it up with patterns and textures for a maximalist look, or keep it simple with white or timber furniture.
14. Pastel colours
If you can't decide on one colour, combine a whole bunch of them! This pastel themed room is so much fun, and the paint makes it look feminine and sweet. To achieve this look, you'll need to choose a few key colours like purple, green and blue, and then you'll need to layer them as you paint. Try your hand at doing the job yourself or hire a professional painter to make sure it's done well.
15. Star theme
Transport yourself to space with this star-themed wall. This could be a little too much for every wall in the room but I think it would work well as a feature wall. Just make sure you let plenty of light through large windows and glass doors to make sure your room gets the brightness it needs.
If you love a statement, I've put a collection of the best feature wall ideas regardless of whether it's for the bedroom, living room or even the bathroom.
16. Eggshell blue
This is a soft and subtle choice for a relaxed living room. Light blue instantly gives your room a coastal feel, adding a sense of peace and calm. Decorate your room with white furniture and pops of blue and one other shade (in this case dark red) to complete the design.
17. Yellow and pink
Can you mix two bold colours together? Why yes, yes you can! Take this living room, for example. It combines yellow, pink, and even a touch of blue to create a vibrant space. It reminds a bit of a tequila sunrise 🙂
18. Beige and white
This is a traditional choice that will make for a very sophisticated living room. The good thing about beige and white is that these two colours are so versatile. You can layer on other neutrals or you can choose pops of colour like yellow, pink, orange and blue, and decorate with furniture and hanging wall prints.
19. Lemon yellow and patterns
This living room shows that you can combine a bold colour choice like lemon yellow with a patterned wallpaper like this lime green one. If you're going to do this, I recommend sticking to two colours and using them both on the walls and in your furniture.
20. Dark wall living room
Make your living room feel more masculine with a dark colour choice. Popular options include navy, dark green or even black. I like how this design offsets the dark with a clean, white roof and a gorgeous gold-and-white suspended light.
21. Blue hues
How much blue is too much blue? I don't think there's a limit! While this colour does make a bold statement, the brown leather couch, brass wall lighting fixture, and brass bar cart add warmth to this otherwise cool space.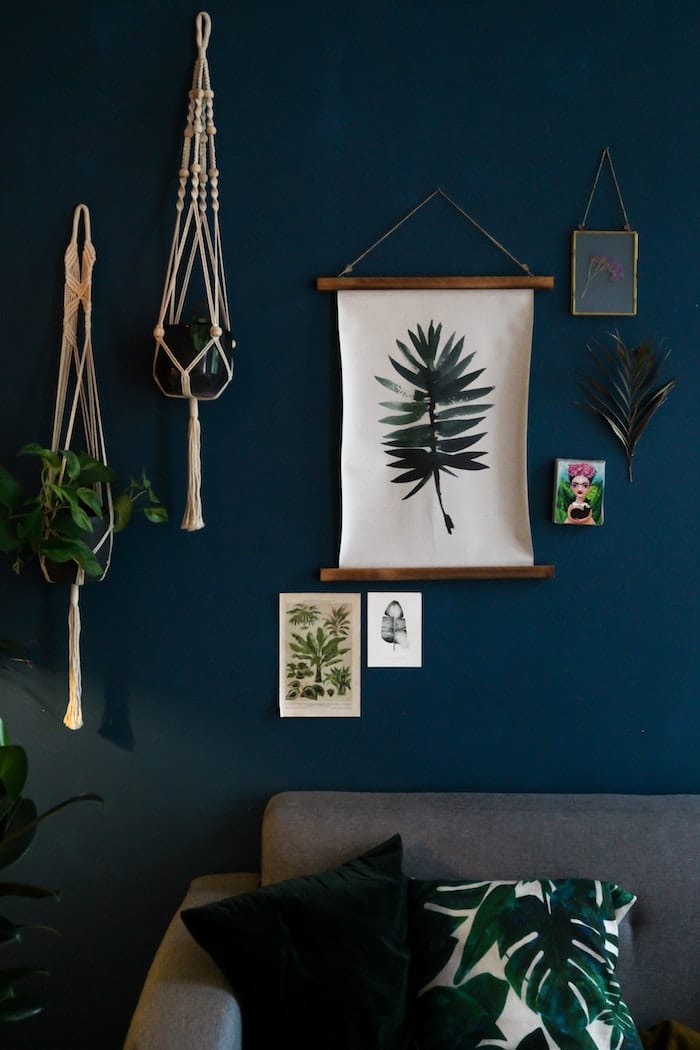 22. Olive green living room
Green is very hot right now in the home decor space, and this shade sure packs a punch. I love the dark burgundy couch against the green walls. And combined, the two colours make this space feel like a trendy winter retreat.
23. Mustard yellow living room
Another popular choice is mustard yellow. If you want to create a space like this, add earthy tones like cream or chocolate to complement the softness of the yellow.
24. Green living room
This is a soothing, peaceful colour. In colour psychology, green is thought to create a sense of serenity. So if you need a little bit of balance in your life, then this just might be the right choice for you!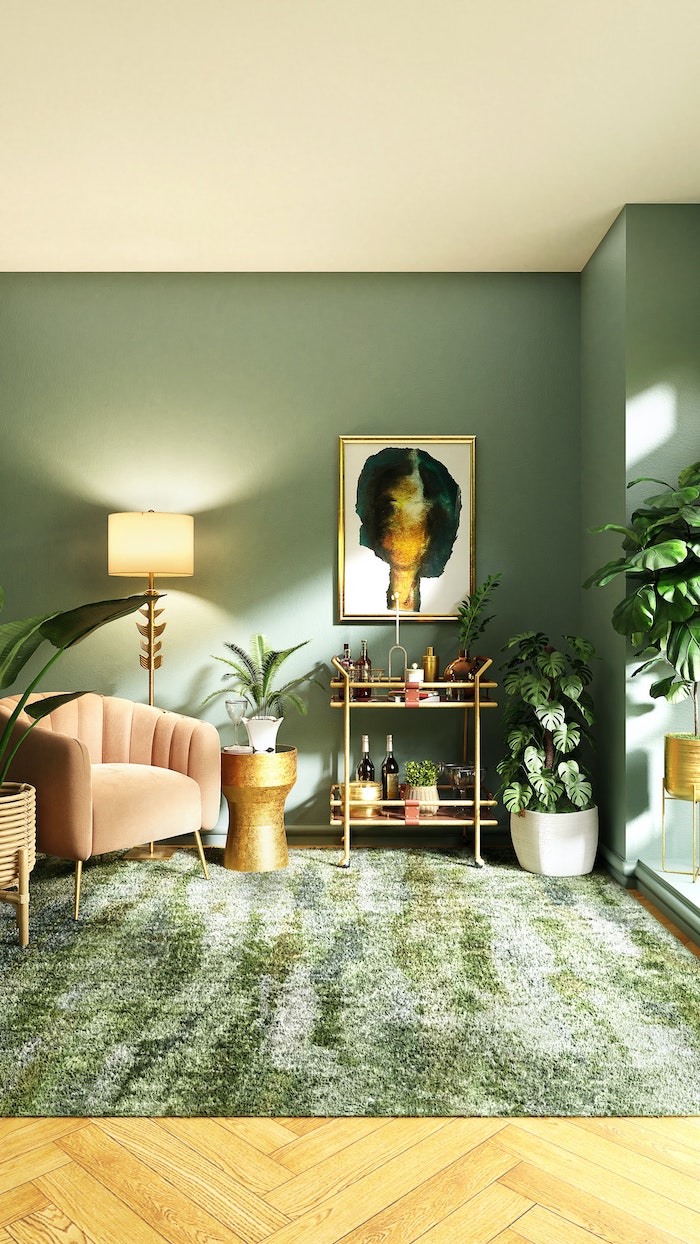 25. Colourful feature wall
Add life to your cosy living room with a colourful geometric feature wall. This design certainly breaks the boundaries, but I don't have a problem with it! And if you're the kind of person who wants to try something new, why not give it a go?
26. Pink and grey
If you want to make your living room a little oriental, then consider using this soft shade of pink with a cute grey pattern. While this living room colour scheme may be simple, the wallpaper adds so much character and detail! And the neutral timber chair looks great sitting pretty front and centre.
27. Deep ocean blue
Create a serene living room with the darkest of blue on blue. A dark wall colour, like this one, will make your furniture and decor stand out. However, in the case of this living room, the decorations and furniture have been chosen to blend in with the colour of the wall. And light has been brought into the space with the soft grey rug and stool.
28. Mountainscape wallpaper
If you're looking for different living room colour ideas, why not add subtle shades to your living room with wallpaper in soft neutrals? This mountainscape design isn't at all intrusive but adds just the right amount of depth and interest to this space. And it's an easy foundation to build on. Use the colours from your wallpaper for furniture and decorations.
29. Soft blue living room
This rustic living room strikes just the right balance between warmth and cool. The timber flooring and deep red cushions add warmth to the space, while the pastel blue painted walls and cushions bring a cool feel.
30. Pink with white
The shades of pink add so much beauty to this small living room. I like how the colour has been broken up by the use of white moulding in two distinct sections across the walls. And the deep pink velvet couch creates a lovely focal point.
31. Grey wall
Create an elegant adults-only living room by adding plenty of grey. While you can combine colour with grey, it's also very effective on its own or with touches of white.
Take this living room, for example, almost everything in this space is grey, just in varying shades. There's the grey velvet couch, the sheer grey curtains, and the silver and grey decorations. The white fireplace adds a nice break from the colour without distracting from the theme.
If you like grey but maybe this darker approach doesn't tickle your fancy, that's ok – my feelings aren't hurt. In fact, I want to help you and so here are all my other 35 grey living room ideas for you to be inspired by.
32. Jade green
You don't have to get away for the weekend to relax. All you need to do is create a tranquil oasis in your own home. And the best colour to do this with is green! Add deep green to all of your living room walls or create a standout feature wall like this one. And then decorate your room with greenery and flowers to bring more of the outside world in. Before you know it, you'll have your own peaceful space.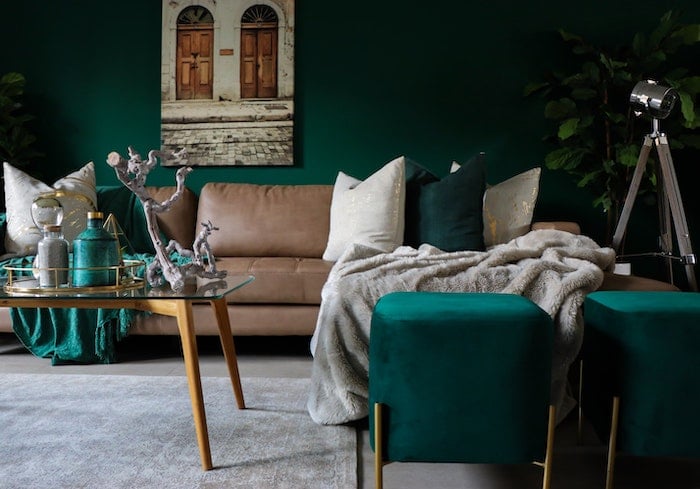 33. Blue patterned
There's nothing wrong with a busy space, and this one is no exception! The patterned blue walls make for a striking statement room. Commit to the patterned theme by adding a colourful rug and hanging a bold art print on the wall.
34. Panelled walls and pastels
Add character to your living room with timber panelled walls. While you can paint them any colour you like, I always think a classic white looks best. And it looks so sophisticated when combined with soft pastel colours like blue and pink. Integrate these touches with a beautiful armchair and a colourful cosy rug.
35. Grey and blue tones
Grey walls will make your living room feel elegant and sophisticated. And there are so many benefits to this colour. Grey makes your living room feel more spacious and it's so versatile, suiting many different styles. You can keep things simple by sticking to grey and white, or you can experiment with pops of colour and statement pieces. I love how this living room design combines pops of soft and dark blue for a calming feel.
36. Orange
While this isn't a very common choice, orange sure adds a lot of fun and warmth to this little corner. When painting your walls, it's important to remember that you don't have to add the same shade to the entire four walls of the room. Instead, you can add one colour to parts of your wall or just one side as a feature wall.
37. Colourful
If you want to create a multi-coloured living room with eye-catching pieces of furniture and decor, then it's important to make a careful choice when it comes to your walls. Choose a colour for your walls that will complement the tones in your furniture. Take this dark blue, for example, which is the perfect foundation for the green and light blue throughout this living room.
38. Wood panels
Set the foundation for a warm theme in your living room by applying wooden panels to your walls. This is such an easy base that you can build on with neutral colours like grey, brown and black.
39. Lavender and white
If you want something that's a little more grown-up than pink yet still feminine, then you can't go past lavender. Its light shade gives a delicate and elegant feel to any room. And it's easy to combine with cream, white and grey. I love the striking floor-to-ceiling lavender curtains in this living room. And the lavender cushions help to bring this look all together.
40. Black
Now, this isn't the most obvious colour choice for a living room, but that's what can make it so appealing. A living room with four black walls (and a black ceiling) is dramatic and totally unexpected. Black can help to bring attention to architectural details in your walls, and can also highlight furniture which pops against the dark backdrop.
If you have a large window or glass door that allows a lot of sunlight into your living room, black walls can help to balance out the glare. And there are just so many ways to decorate a black living room. Choose dark furniture to complement the existing design or white and light furniture to create a stark contrast. Whatever you choose, your black living room is sure to make a bold statement that will form the centre point of your home.
Well, that's the round-up done! 40 lovely paint and colour theme ideas for your living room.
Now it's over to you. Which style are you going to choose? Are you going to go with something bright and fun like a yellow, orange or pink wall? Or are you going to choose dark and moody with a navy, green or timber living room? Or maybe you're going to draw completely outside the lines and choose something patterned or multicoloured.
The great thing about your walls is that you can dress them up again and again! You can always choose a colour now and change it in a few years time as your style evolves. Or, you can dip your toe in the water by starting with a fancy feature wall. Whatever you do, I want to hear about it. Comment and tell me what fabulous paint choice you're going to choose for your living room.