It's as simple as this; if you have a bike, you need a bike rack. It is so easy to create a DIY bike rack; why wouldn't you put your pride and joy on display? But, more importantly, you can get it up and out of the way to avoid a trip hazard or, even worse, damage to your sweet ride!
A simple, sturdy bike rack clears up space in the garage or yard. Unfortunately, in urban areas, there is a combination that requires bike racks desperately; small apartments and bicycles as the primary mode of transport. Luckily, we have some easy DIY bike and scooter rack options to solve the problem.
Most home designs are not tailored towards the pedal-pushed, so create your own storage solution with these multiple DIY bike rack ideas today.
How to make an easy DIY apartment bike rack
Let's start with a quick step-by-step for a DIY bike rack that will work in most areas before getting to some more alternative solutions. To create a DIY multiple bike rack, follow these steps:
Step 1: Measure the wall space
Decide where you will be hanging your bike(s), preferably with about 12″ of space per bike and another 12″ on either side of the bike for room to move. Take two 2x4s and cut them each down to your required length.
Step 2: Mount the 2x4s on the wall
The bottom 2×4 should be mounted about 65″ from the ground to allow your bike enough room to hang freely from the hooks (always measure the length of your bike first to confirm this is enough).
The upper 2×4 should sit roughly 14″ above the lower 2×4 so you can stagger your bikes, avoiding a clash of the handlebars. Mount the 2x4s to the wall with 3 ½" screws driven into the studs (use two screws per stud).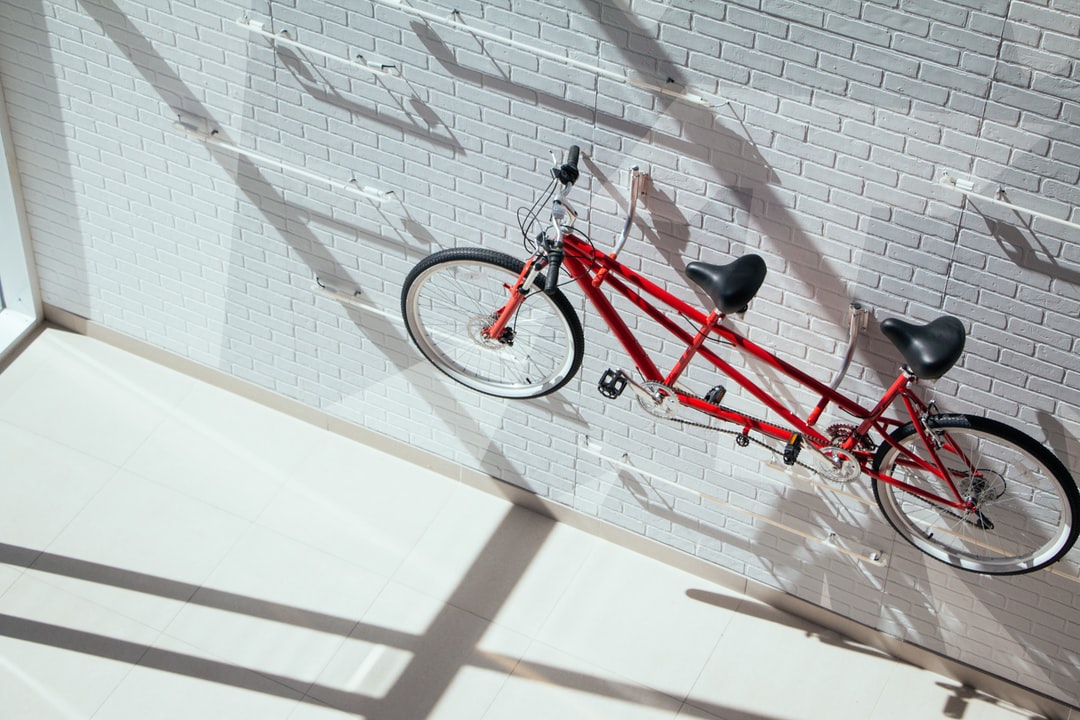 Step 3: Mount the bike hooks
Mount your chosen hooks 24 – 26″ from one another on the same row. This gives you enough room to take individual bikes off the rack without knocking any others that may be hanging up. After mounting the hooks on the lower 2×4, centre the upper 2×4 hooks between the lower ones. Mount the hooks by pre-drilling the holes with a ⅜" drill bit, then thread the hooks into the hole.
Alternative DIY bike rack ideas
You may not want to hang your bike rack on the wall or just be looking for some other storage methods – well, we have you covered with these clever ideas:
DIY PVC bike rack
With a little bit of PVC, some pipe cement and a handsaw, you can build a DIY bike rack that is large enough to hold a bicycle collection without needing to put anything on a wall. Create a stand that holds the front tyres of the bike in the PVC tubing, and you've got yourself a lightweight frame that can be moved from one location to another with ease.
Pre-made bike racks
We realise an off-the-rack solution isn't really "DIY", but many sporting goods stores offer portable ready-made bicycle storage products. We just thought we'd mention it for those who aren't confident with tools!
Scrap wood bike rack
Grab a bunch of scrap wood and create a stand that will fit the front tyre of your bike rack in it to prop it up. The good news here is that only straight cuts are required, so your woodworking expertise can be minimal. You can even paint or stain your creation to help it suit your home's aesthetic a little better.
Handlebar bike rack
Use a bike to hold your bike. This is perfect for the bicycle enthusiast! Find an old, second-hand scrap bike (or even just parts of one), specifically the curved handlebars, and if you can find a vintage racing bike, even better. Mount them to the wall using a metal flange and hang your bike from them like they are a hook.
DIY pallet bike rack
The easiest DIY bike rack to create involves a shipping pallet, as it literally needs no alteration whatsoever. The slats of a pallet are perfectly spaced to hold a bicycle wheel. You can either lean the pallet against a wall in your garage or garden or let it sit on the floor, and you've got yourself the easiest DIY bike rack of all time. You may even be able to find a pallet for free! It doesn't get much simpler than that.
5 DIY bicycle maintenance tips
Bicycle maintenance is important, and we have five basic and useful tips & tricks for even beginner mechanics to help you be safe and get more out of your rides. We recommend the following:
1. Keep the drivetrain clean and lubricated
You can avoid that annoying loud rattling sound coming from the chain and sprockets by making sure you have enough lubrication on your chain and sprockets. These are not cheap to replace, so ensure regular cleaning and lubricating of the drivetrain with disposable rags, bike oil, and degreaser.
2. Keep your tires inflated
If your tire pressure is too low, you have to work harder to achieve speed, and you'll get flats easily. Find out the suggested pressure of your tires (usually written on the side), and always make sure the rear tire has more pressure than the front. We recommend checking your tire pressure once every two weeks.
3. Keep nuts and bolts tight
All screws, bolts and nuts should be checked regularly to ensure they are not loose. Newer bikes have a maximum torque limit, so it's important to be aware of that.
4. Check and change brake pads (if necessary)
If you often pull the brake lever until it touches the handlebar, you need to adjust the brake pads. This can be done by tightening the adjusting barrel in the brake lever. Keep both pads and the braking surface clean, as dirty ones can wear out a lot faster.
5. Fix that flat tube
Every bicycle rider should know how to fix a flat tire. There is no shortage of good videos on YouTube explaining how to prepare and glue the patch on your tire. If you notice a lot of flats on the same wheel, the inside of the rim may have a sharp object or protruding spoke that is causing the issue.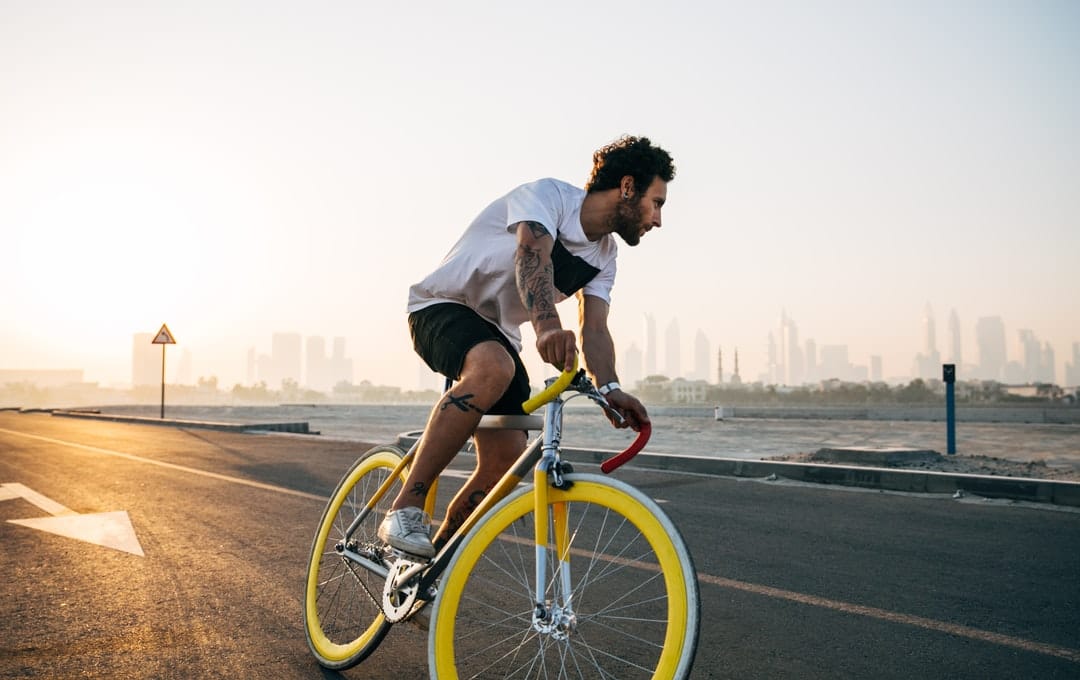 Frequently asked questions
Do you really need a bike rack?
A quality bike rack is often considered worth it for the peace of mind if nothing else. Most bicycle racks are very affordable or easy to make DIY, so there is no need to put your expensive equipment at risk. In the long run, a bike rack will be a worthwhile investment of your time and money.
Is it safe to hang a bike by one wheel?
It is perfectly safe to hang bicycles by one wheel. There is only one exception for bikes that have speciality aero carbon rims. These rims are very light with carbon that will flex if squeezed.
Is it bad to hang your bike upside down?
It is recommended that you avoid turning your bike upside down or even on its side as it may cause the brake not to work correctly. This could lead to a serious accident. Always operate your bike lever before riding the bicycle to check that the brakes operate as they should.
Take care of your ride with a bike rack today
If you are precious about your bicycle (as you should be), make sure it has a safe home to live in when you're not our pushing the pedals. We've given you a few DIY bike rack options so you can pick the best option for your space or aesthetic and get to work.
If you want to take care of your bicycle even more, check out these Taskers who offer a professional bicycle service. A regular service is important to keep you safe out on the road and ensure the longevity of your bike.
After you've made your DIY bike rack, check out our garage storage ideas blog to neaten up your space. The garage is often the spot where everything gets dumped, so bringing in a touch of organisation will make your life a lot easier!