A minimalist design is all about no-fuss, straightforward, uncluttered spaces with essential items that still make a statement. Uncluttered homes create a calm ambience and decrease stress. Since the bedroom is your space to relax and recharge, a minimalist bedroom design is a great idea.
You don't have to throw away all your prized possessions. A minimalist space only means scaling back to the most necessary items. Choose your favorite pieces and have them on display, but put away what you don't need.
You can go for a neutral color palette and still add a pop of color here and there. It doesn't have to be complicated and restricting! Let's keep the good vibes going by checking out the 35 minimalist bedroom ideas below.
1. Warm and homely
A minimalist bedroom goes for a simple look that you don't have to compromise on making your home warm and homely.
White bed linen and plain walls can already provide a minimalist foundation, while framed pictures, soft floor coverings, neutral-colored pillows, plants, and curtains bring cosiness to the space.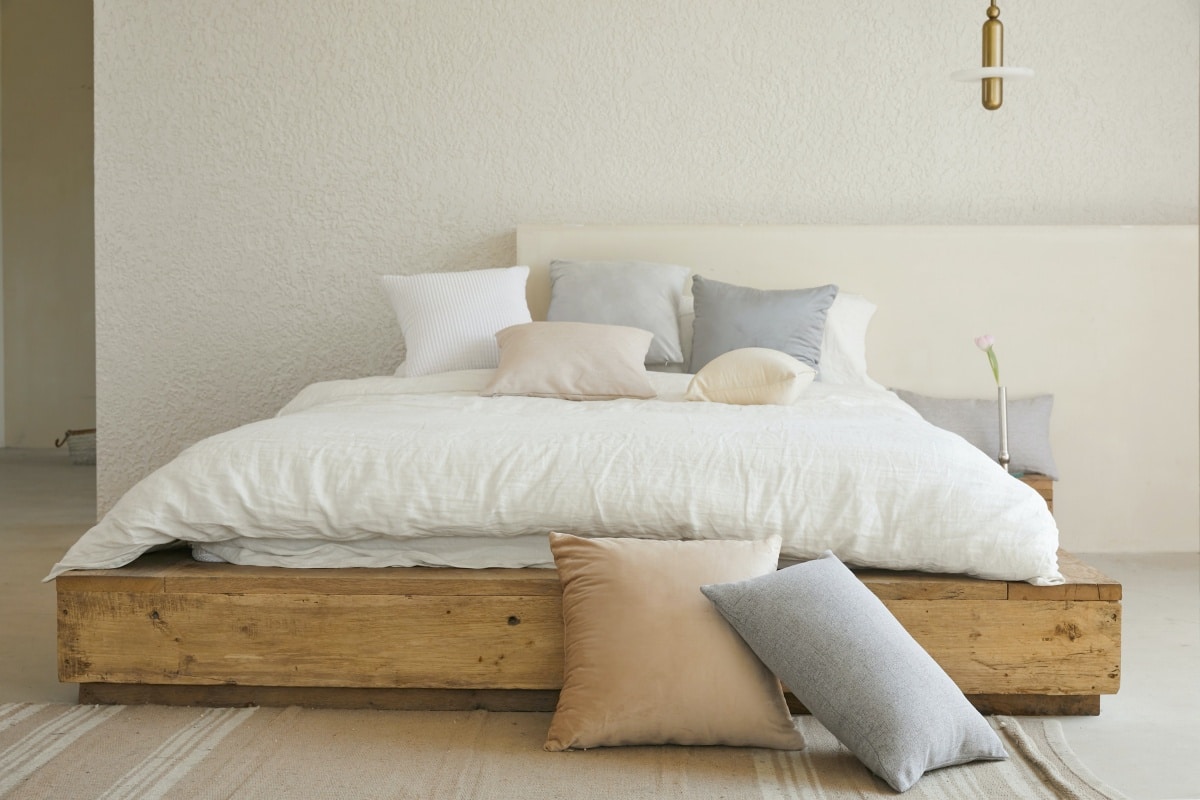 2. Monochromatic minimalist bedroom
If you were ever wondering what the definition of a monochromatic and minimal bedroom would be, this is it! Choose the base color of your choice, like white or cream, and use various shades of it in the space. The differences in shade bring depth to the room while still keeping it simple.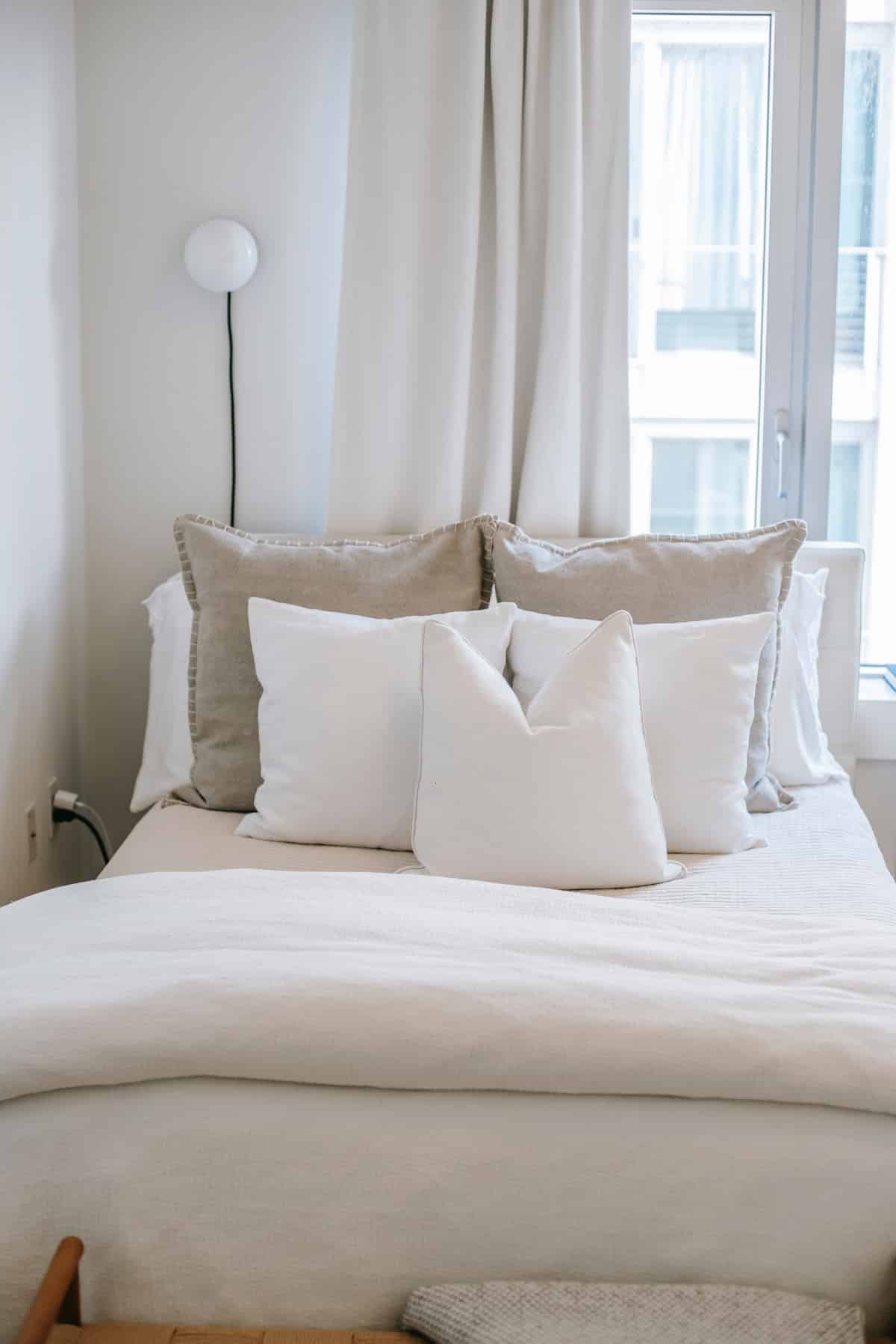 3. Wood details
Minimalist bedrooms often feature clean lines and a simple color palette, creating that rustic feeling.
Even in small elements like furniture, shelving, or trim, incorporating wood details adds warmth and natural texture to the space. The organic and inviting nature of wood can make the room feel more comfortable and homey.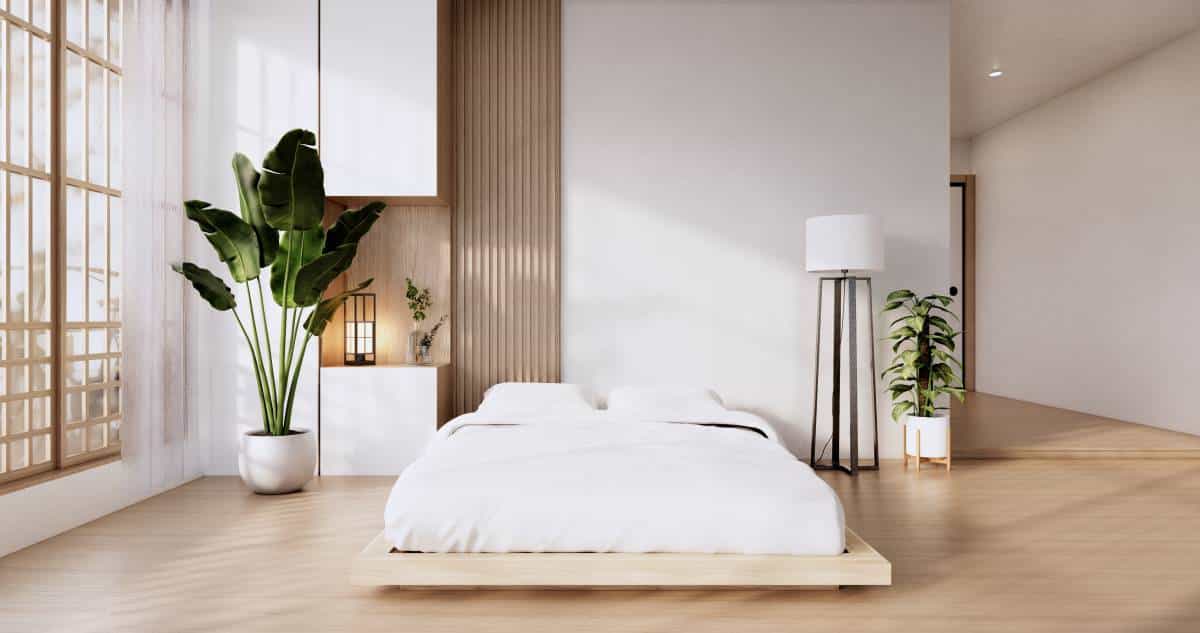 4. Bringing the outside in
Bringing items into your indoor space that typically belong outdoors can help make a space seem more open and natural. Who can go wrong with a selection of indoor plants to help purify the air?
On top of that, you might love the idea of a hanging chair in your bedroom, which provides a place to sit and serves as a fun feature of the space.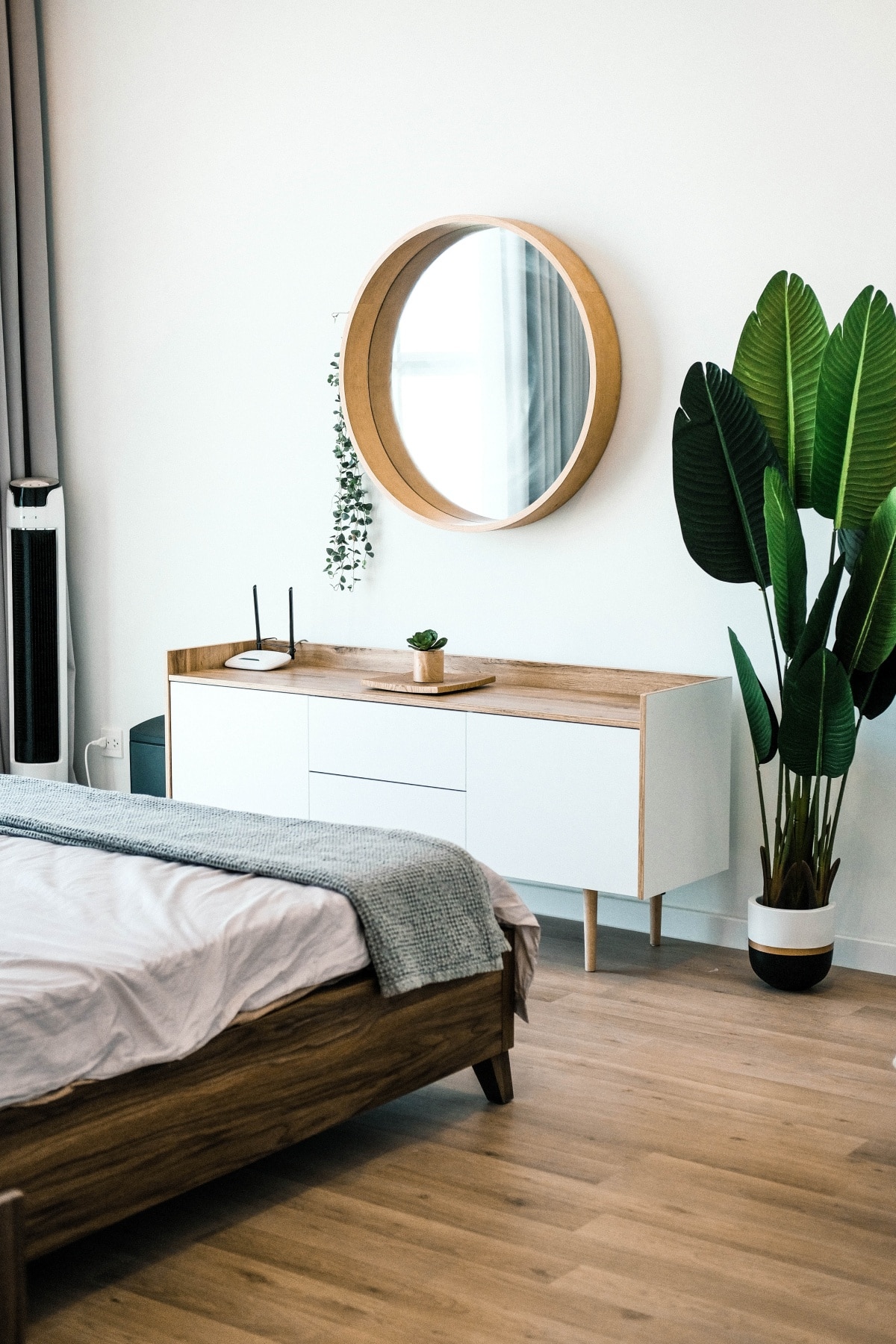 5. White minimalist bedroom
A white-on-white bedroom would be stunning, especially in various shades of white and different textures, to add dimension and create interest.
White minimalist bedrooms usually have white bedding and walls. The bed frame can be more off-white, and the floors, rug, and other decorations can play more around grey and creamy white shades.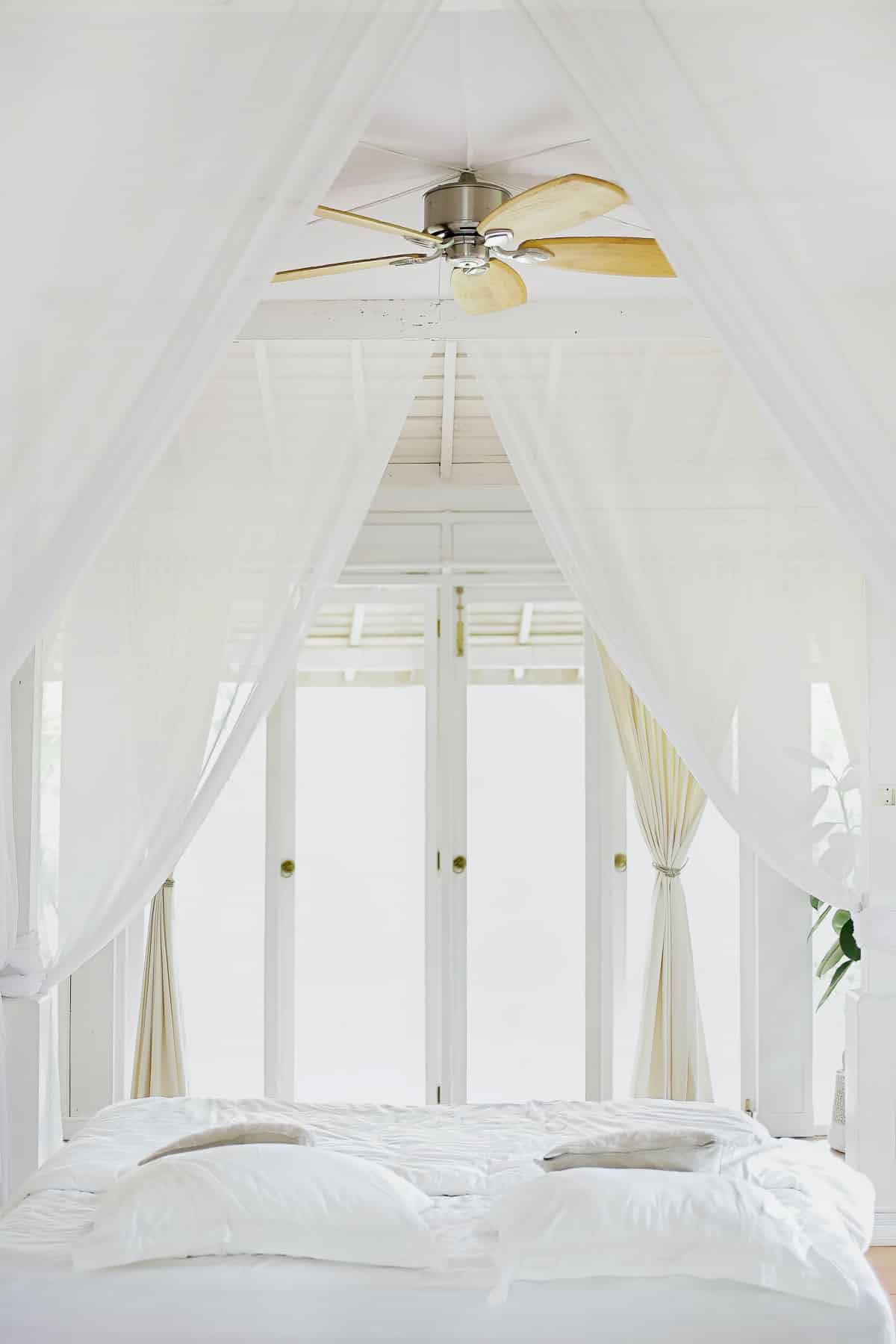 6. Floating shelf
Floating shelvings are a fabulous idea for a low bed. Whether you're putting it near the bed head or the foot of the bed, it is a nifty storage space that does not take up any much-needed space on the ground.
To achieve a minimal look with your shelves, stick to the same color palette and only put the necessary items on top.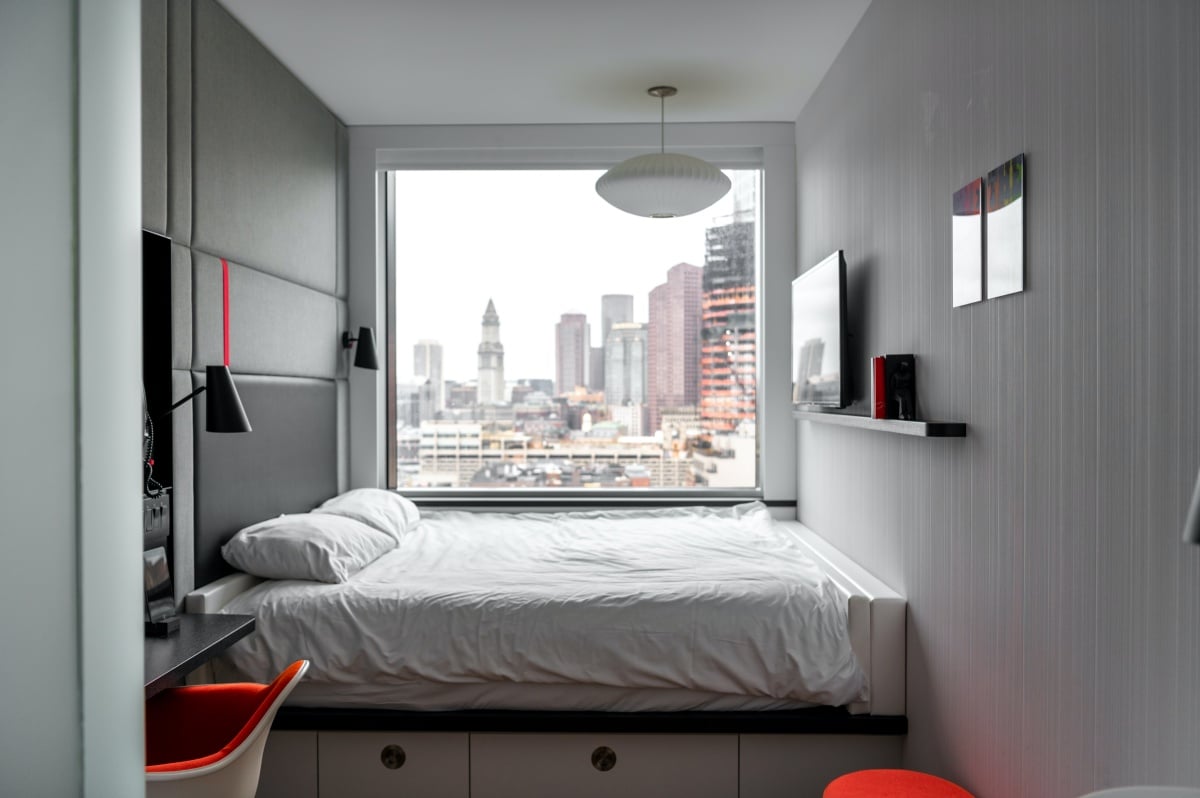 7. Adding color
If you love color but still want a minimal look, choosing neutrals with a pop of color will do the trick. You can bring these colors in through cabinets, plants, shelves, or bedding. That way, you can still bring personality into the space.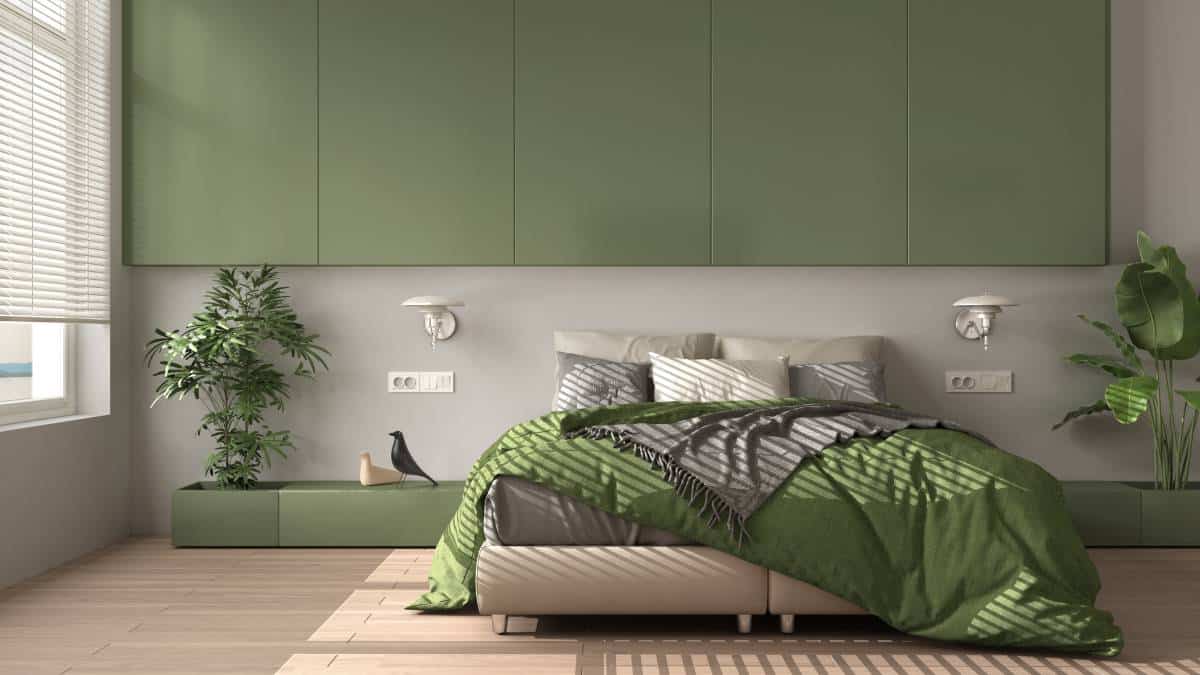 8. Bright and airy
Picture yourself basking in the soft glow of natural light that floods the room, courtesy of stunning wide windows gracing your bedroom walls. Oh, how they effortlessly blur the lines between indoor cosiness and the great outdoors!
Thanks to these windows, your room can come alive from sunrise to sunset. You can also add an indoor plant at the corner of the room to bring in more natural elements.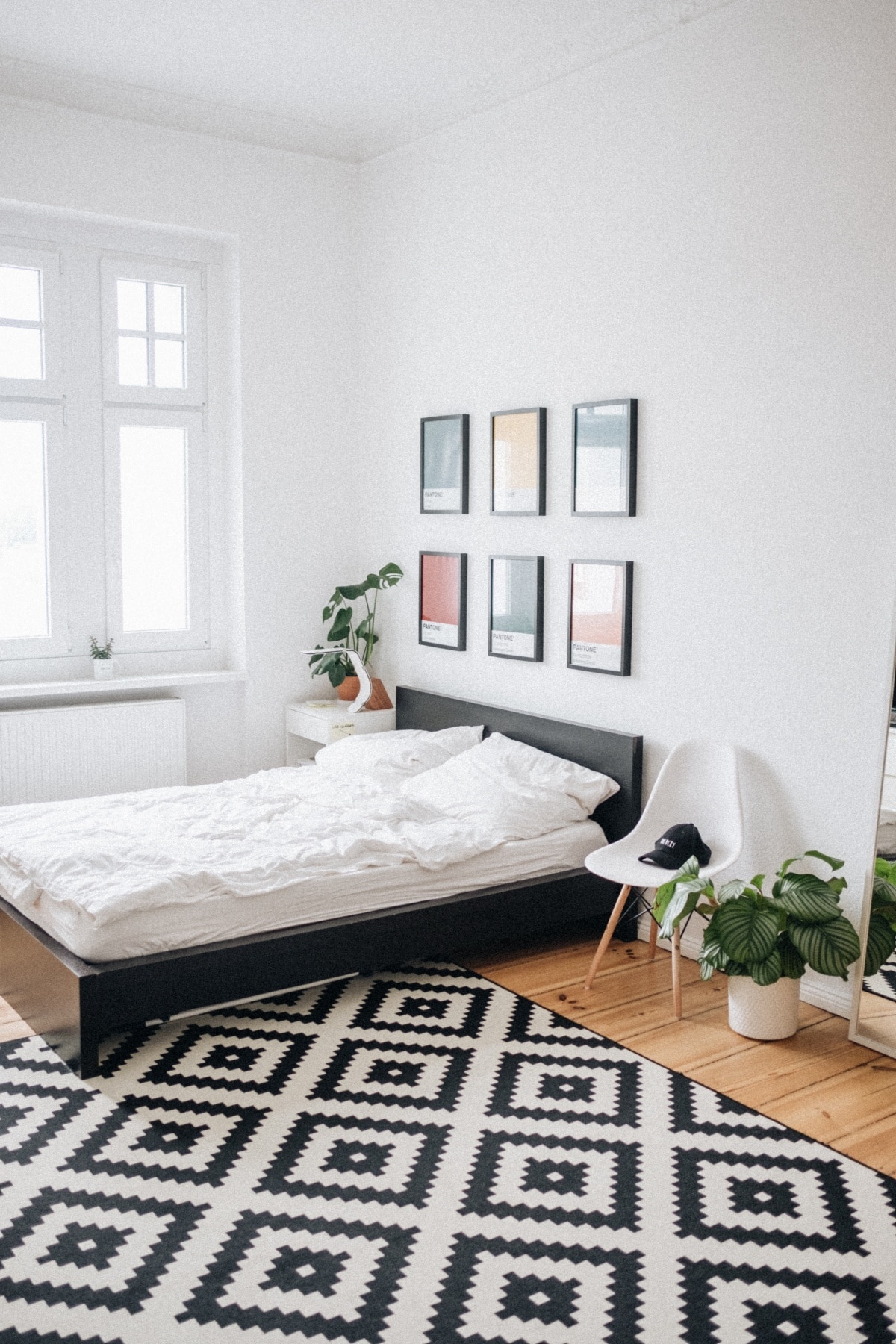 9. Jute Decor
Jute and rattan are natural finishes that are on-trend right now. The woven look is so natural and gives a boho vibe. Combining minimal furnishings with a boho touch is a match made in heaven.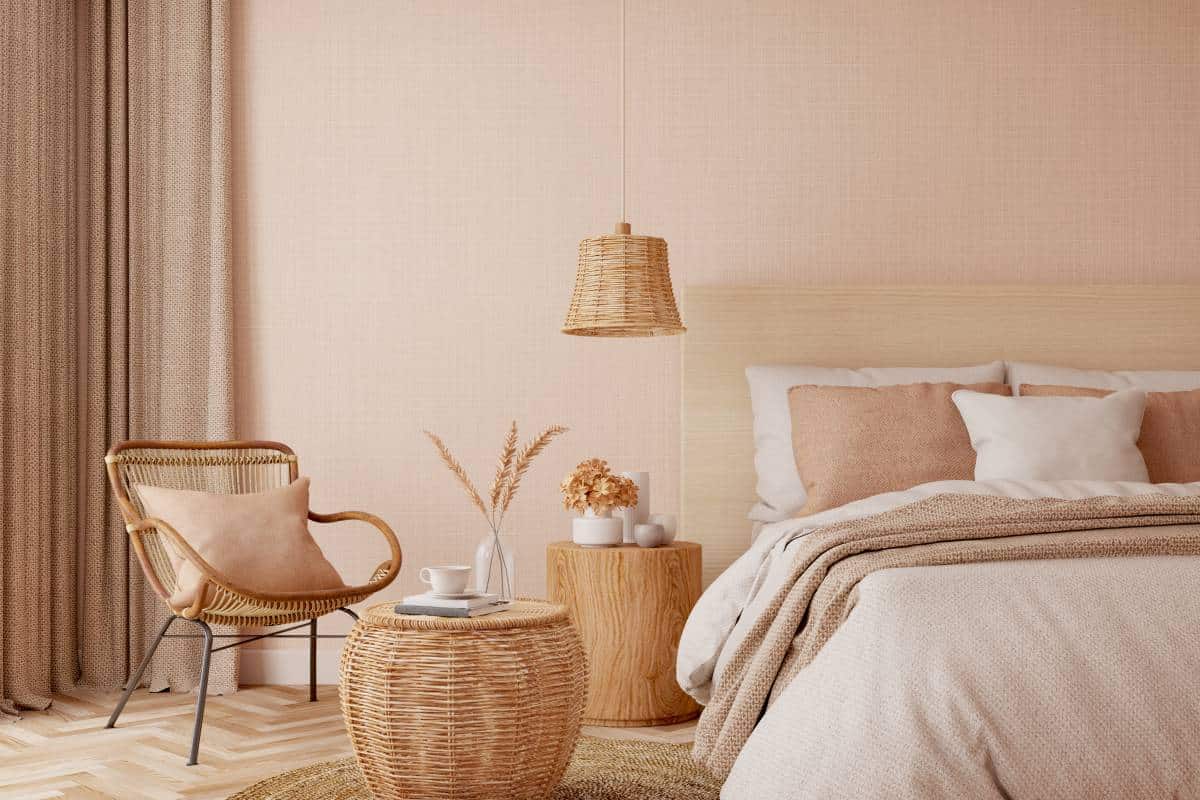 10. Feature pendants
This is a tip for you if you love minimal spaces yet still want your space to pack a punch.
The bedding and furnishings can be extremely simple and minimalist, yet the feature pendants above the bed become the room's centerpiece. You can choose oversized, quirky, or over-the-top lights as long as they stand out.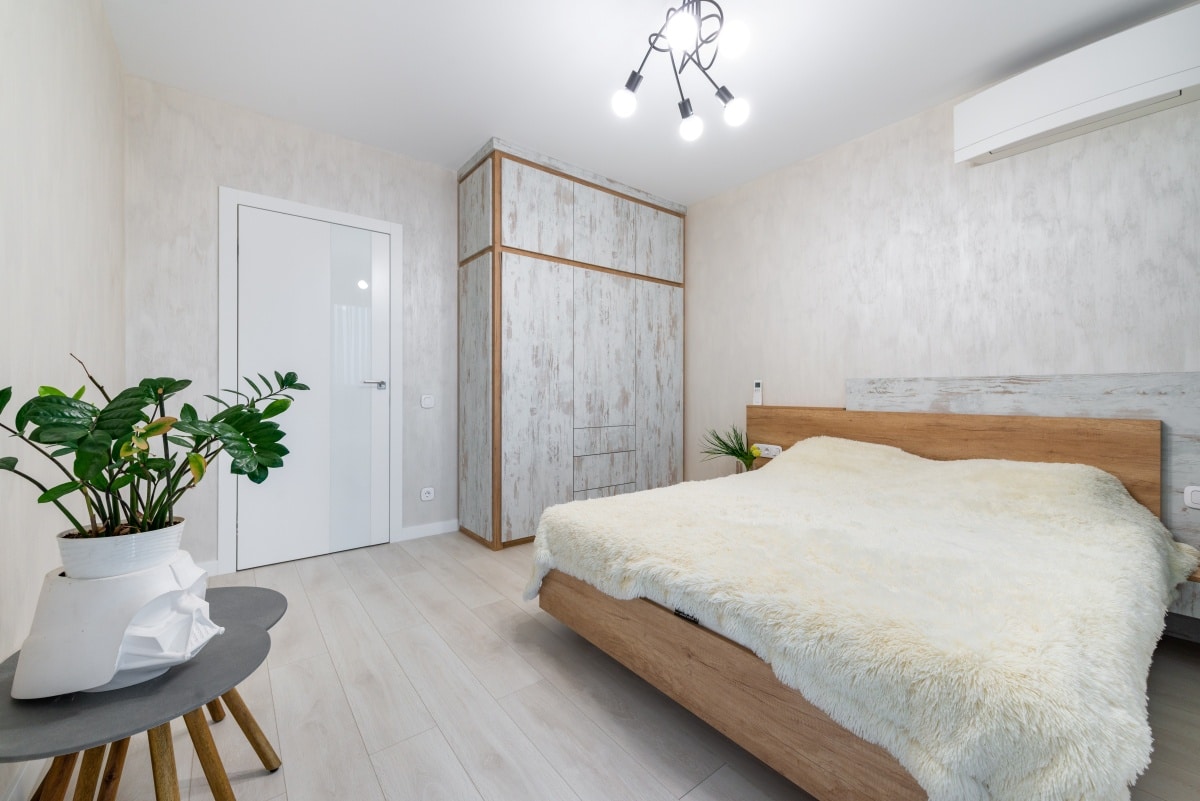 11. Line art
This bedroom idea is classy, bright, and timeless. It brings some personality into your bedroom through framed art, echoing a room's minimalist vibe. This style would be so great for a spare room, make sure you get it hung in the right spot with someone to help with your picture hanging.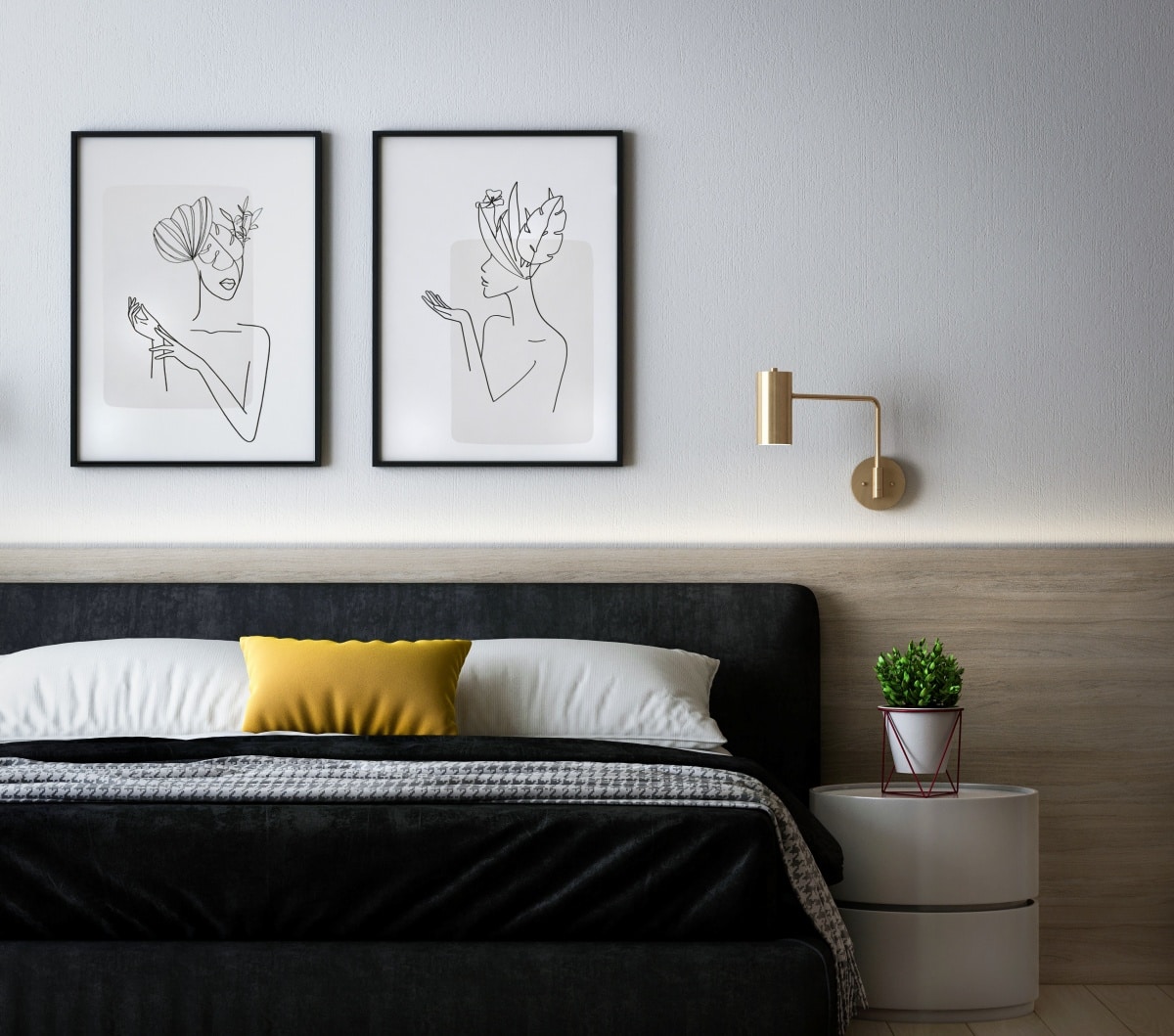 12. Symmetry  meets asymmetry
Both symmetry and asymmetry can work well in a space. So if you're unsure whether to go with symmetry or asymmetry, why not both?
Place the same type of table on either side of the bed, then put different things on each bedside table to incorporate asymmetry and help to create a very organic and lived-in look.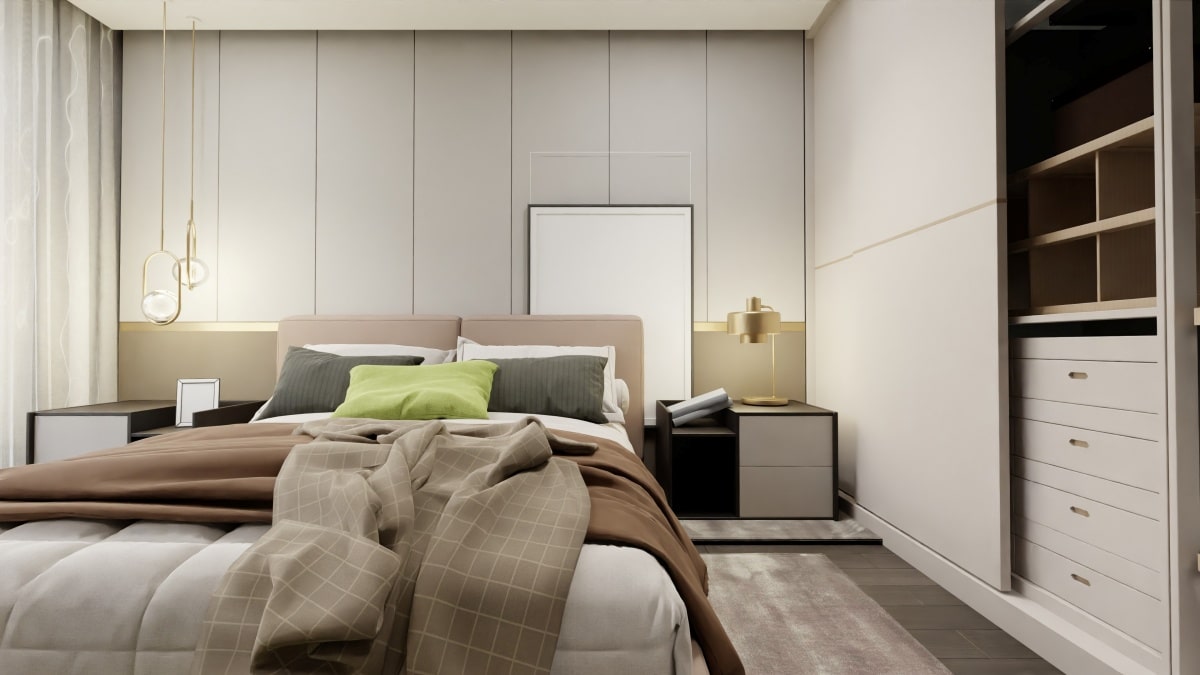 13. Black and white minimalist bedroom
Another minimalist style you can go for is using light or dark finishings. If you can't decide, you can always go for both. Black and white are such different colors, yet they still work so well together, especially if used in minimalist design.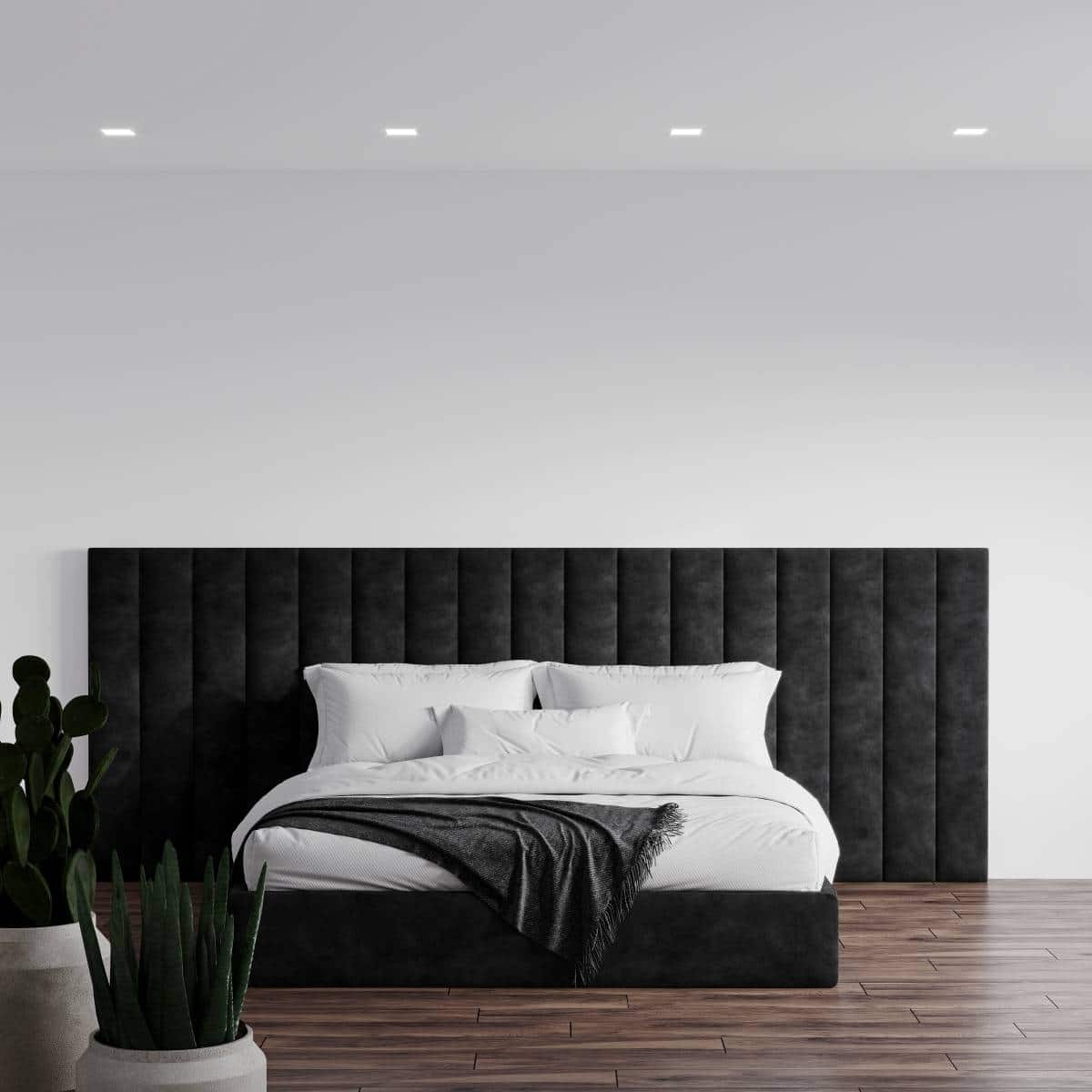 14. Brick wall
A brick wall brings texture and warmth to a bedroom. Wooden or light-colored bed frames work well for this, as the grains in wood match the tones in brick. If you don't have an existing brick wall, you could always add some brick the traditional way or even use a brick wallpaper!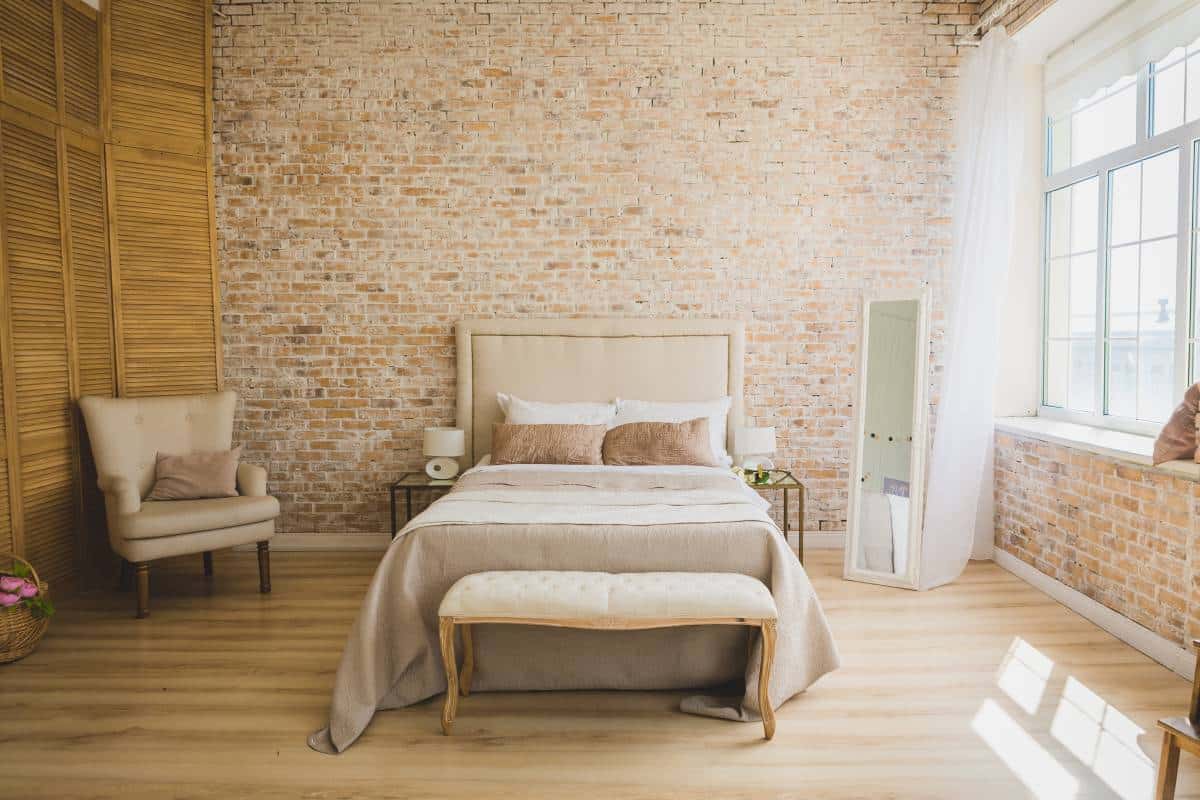 15. Tranquil tan
Creamy dark room colors like ivory, brown, tan, and taupe look modern and appear classic in a bedroom. You can use these colors in cushions and bedding, complementing them with darker tones for furniture and a bed frame.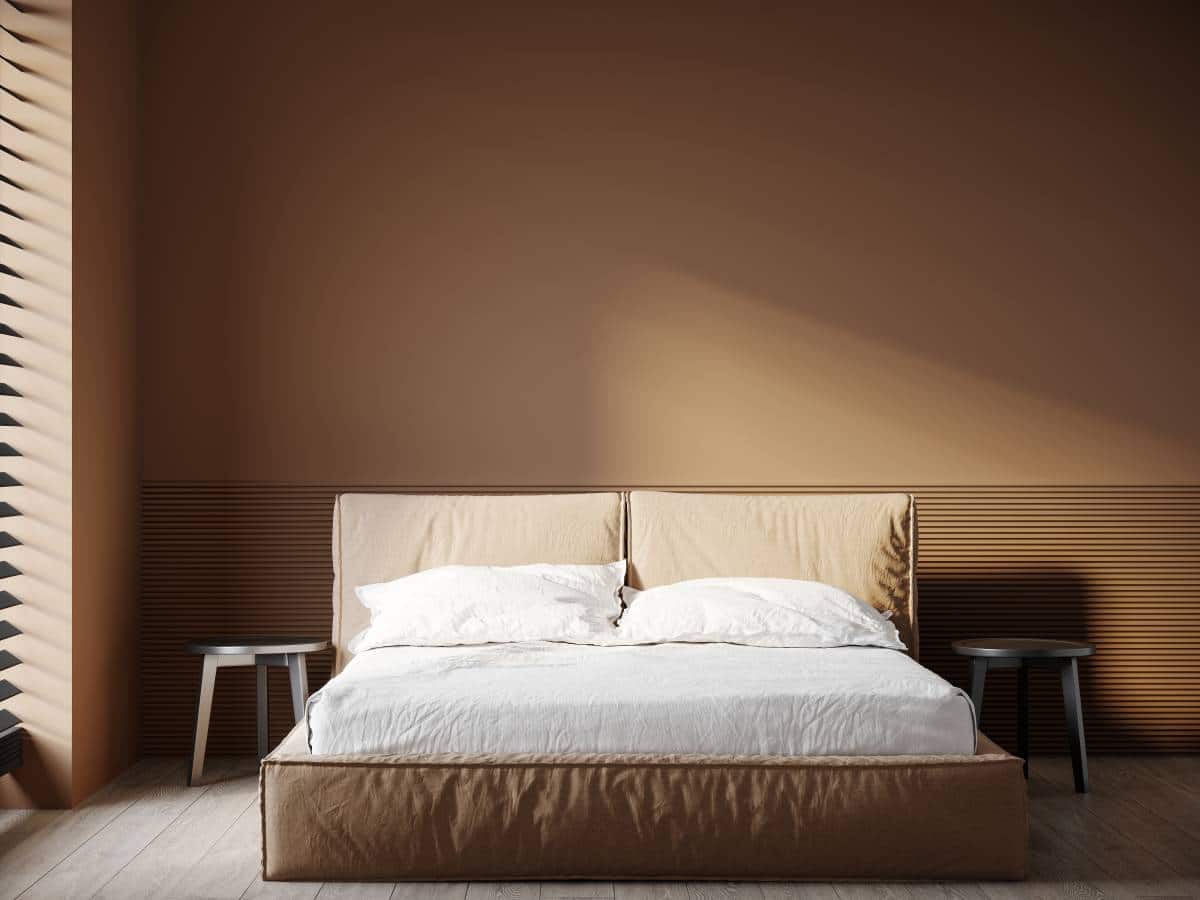 16. Charcoal and beige
A neutral color scheme is a perfect choice for minimalist design, and the combination of charcoal and beige in a room is exceptional! Charcoal is a great color as it is still classy but a little softer than black, and beige matches seamlessly with natural finishes like wood in the room.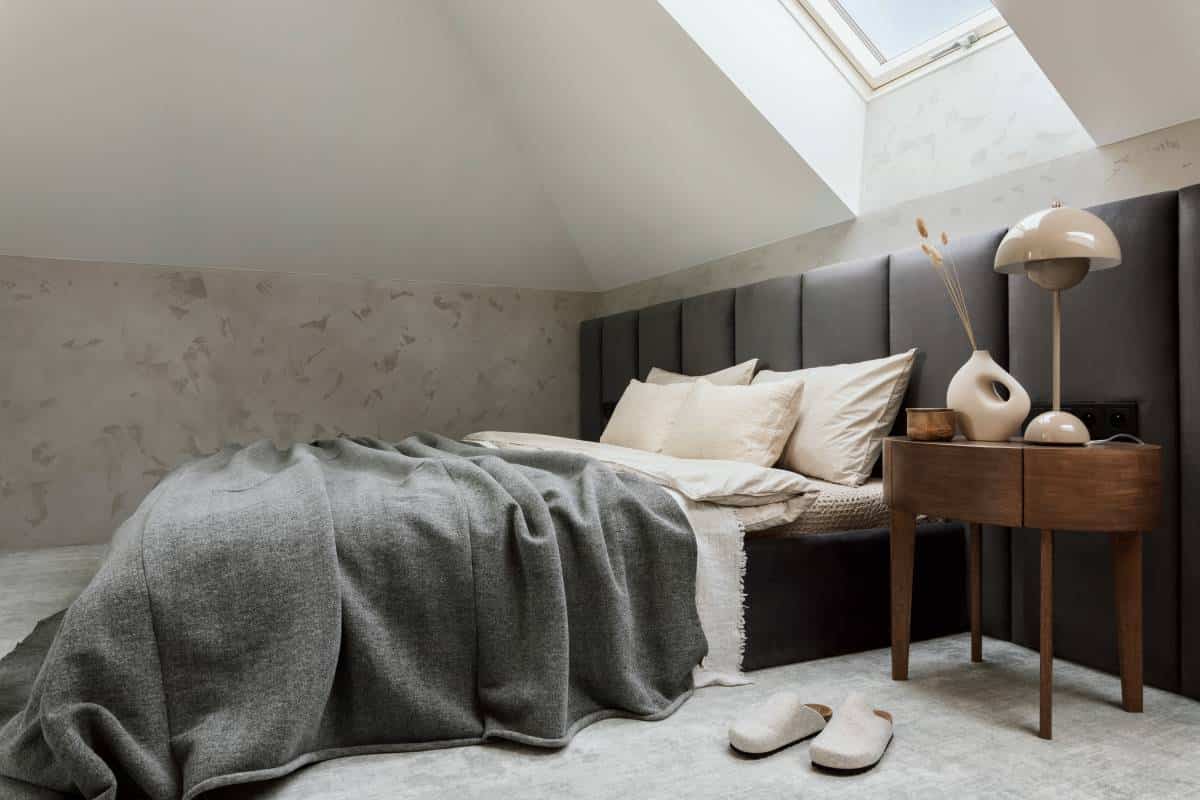 17. Rattan pendant
Light pendants are a great way of creating interest in a space. A rattan pendant in your room would place it at center stage. When the space's decor and furnishings are minimal and unobtrusive, the eyes get directed to the pendant. What a great feature!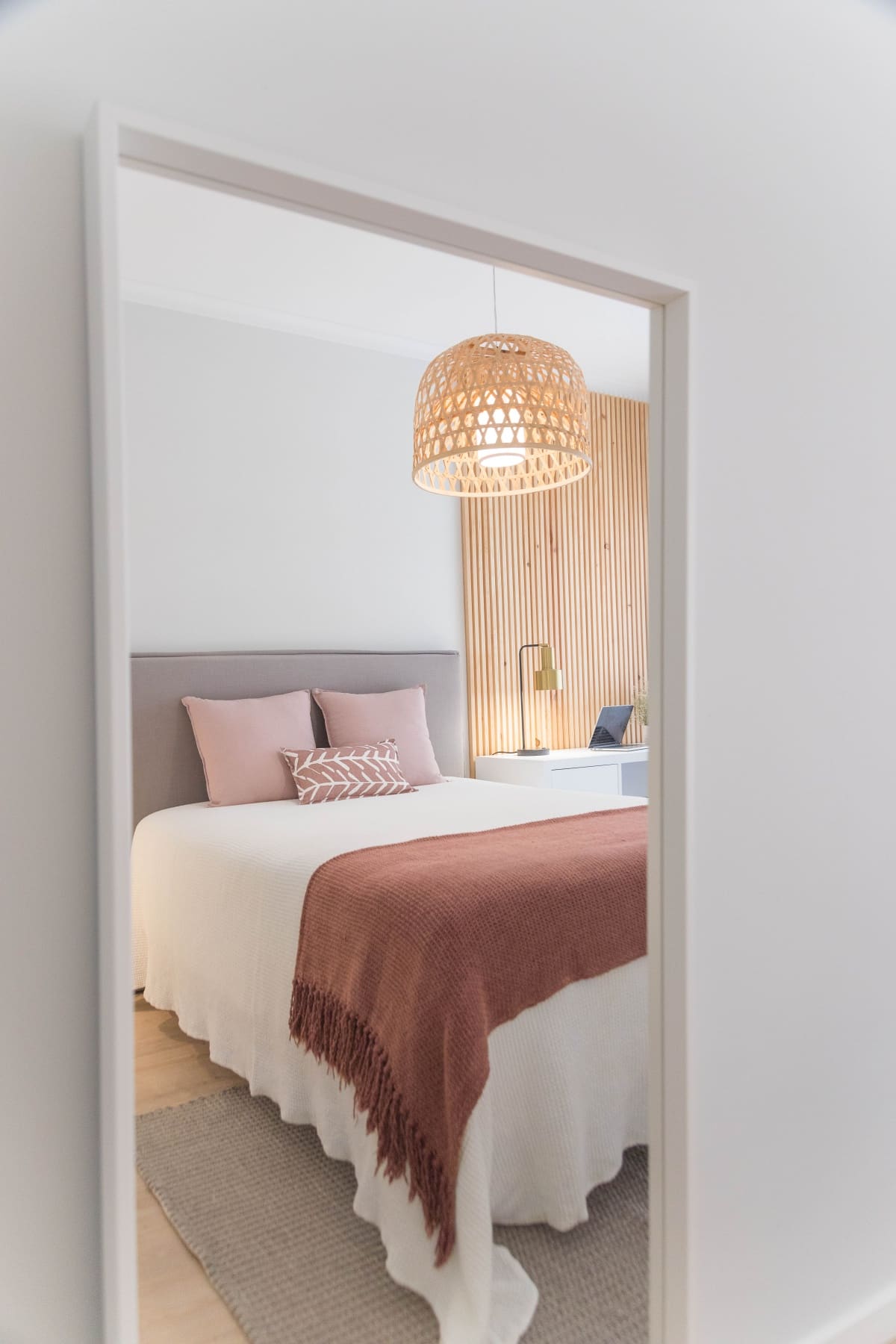 18. Thoughtful touches
A misconception in minimalist design is that it can't be personal and thoughtful, but you can absolutely bring a personal touch to your room.
Even though the bedding and furnishings are simple, you can still put your favorite motivational quote or inspirational message above the bed or display your travel trinkets or collections on the side table!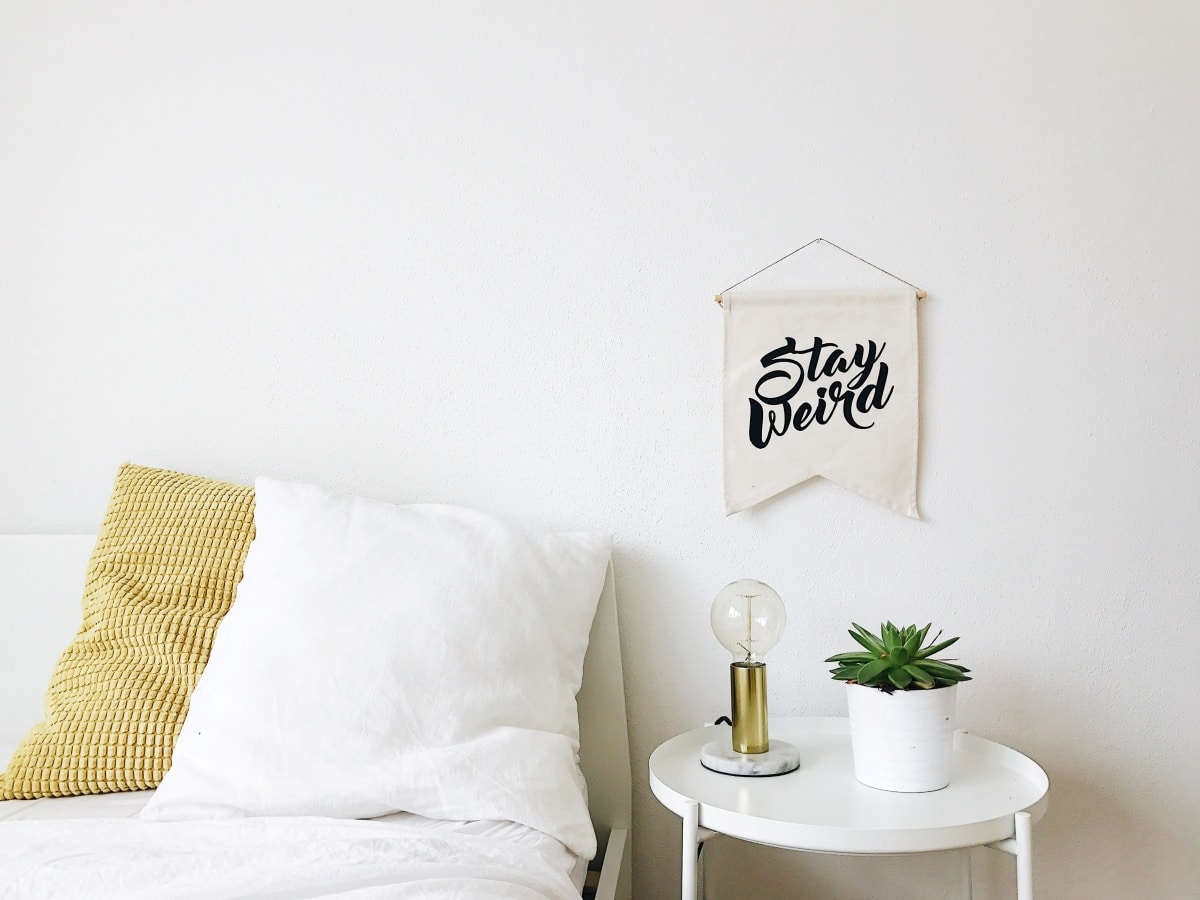 19. Narrow space
If you're working with a narrow or small space, minimal design is a great idea as it will help the space feel as big as possible rather than cramming too much in the small area. You can paint a feature wall or add a light pendant to add character to the space without taking up any floor space.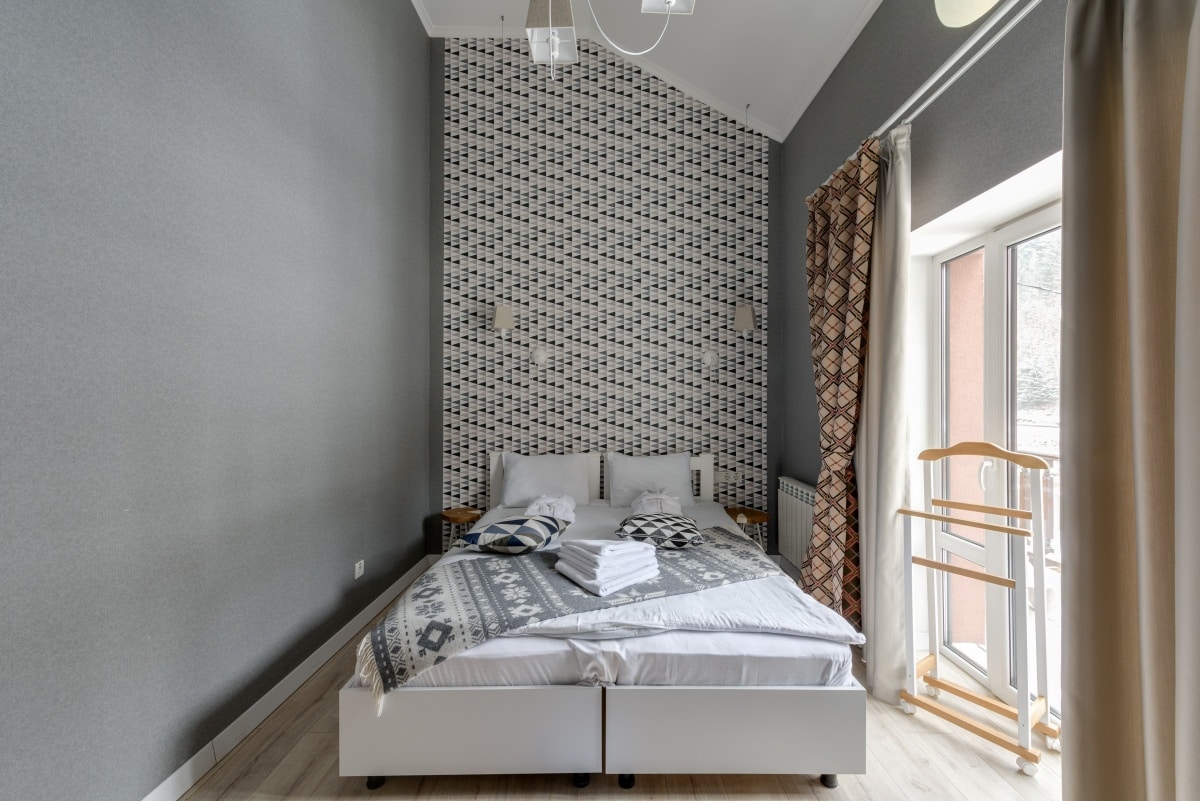 20. Hanging bulb
Give your bedroom an industrial look by having filament bulbs as lamps for your bedside table. For a more rustic feel, you can add some metal shelves on the walls to display your favorite decorative pieces.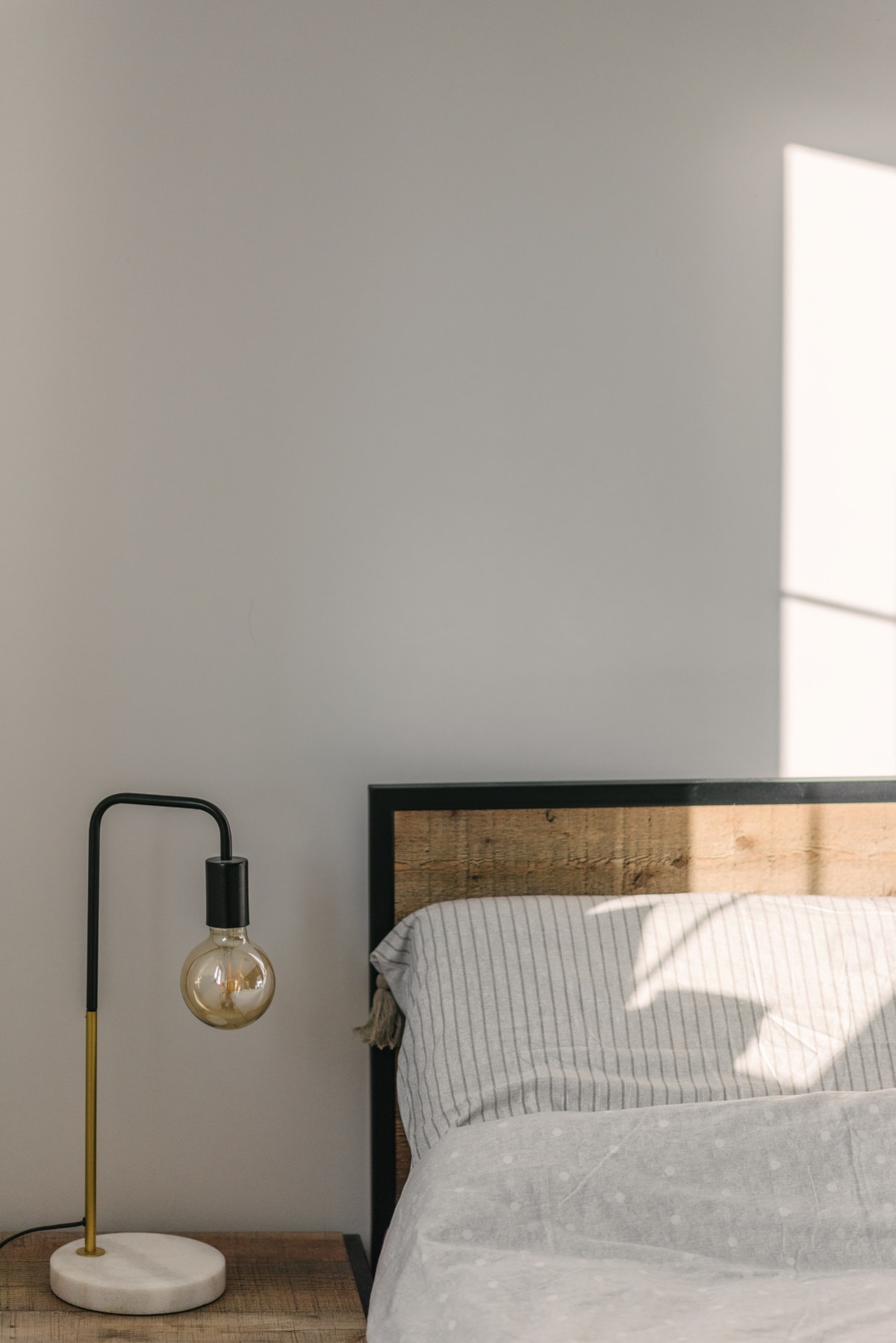 21. Minimal prints
No matter what mood or vibe you are going for in your space, there are countless minimal prints available out there that can achieve the look you want. Make sure that the prints you choose still match the room's overall feeling.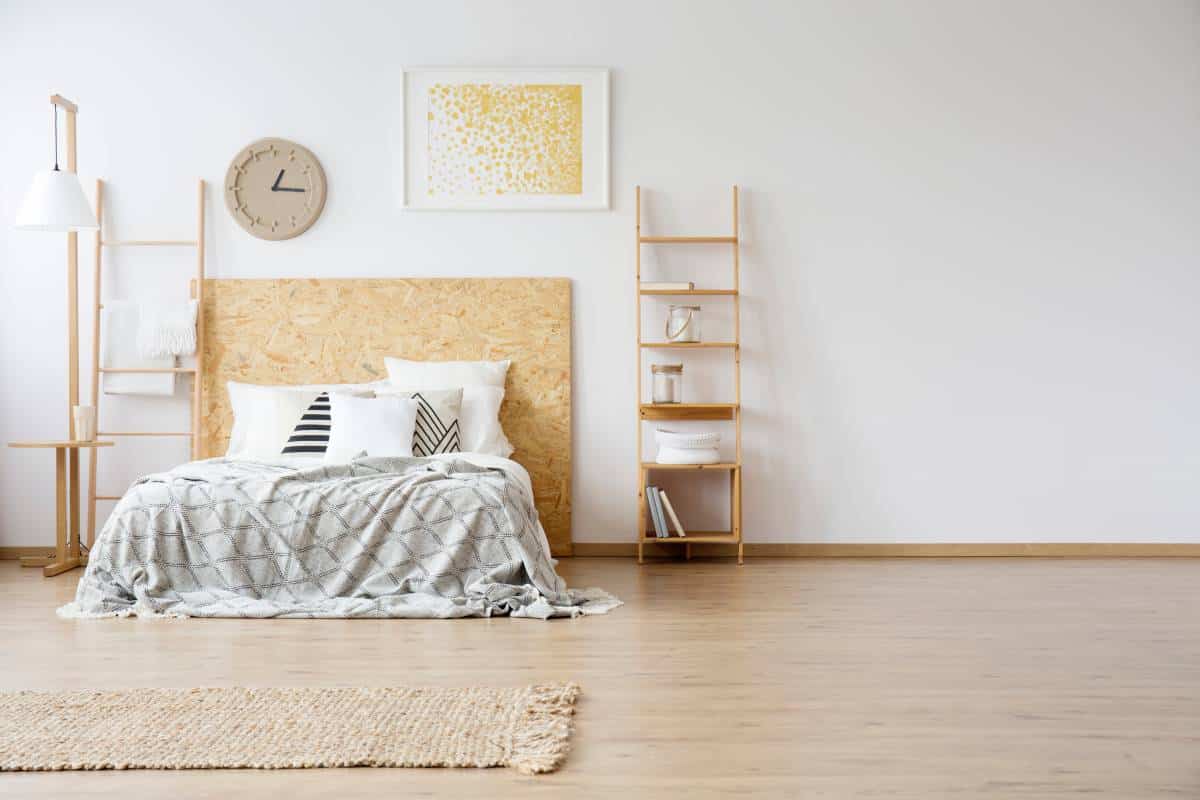 22. In the attic
With uncluttered simplicity, having a minimalist bedroom in your attic maximizes space and exudes cozy charm. Natural light can stream through windows, creating a tranquil oasis. Embrace the unique architectural details and enjoy the tucked-away privacy of an attic retreat that soothes the soul.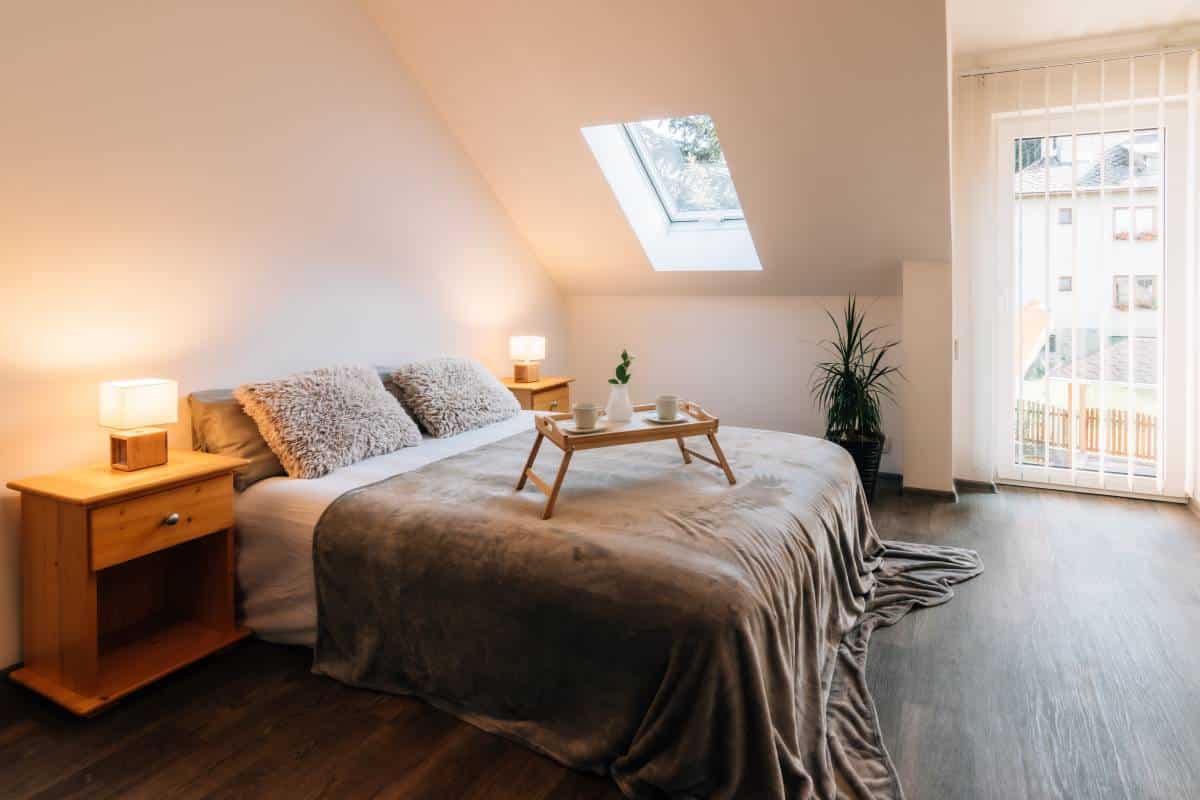 23. Color among neutrals
This one's for you if you're going for a minimalist look and have lots of simple furnishings yet still want a pop of color. Even if your space is mostly white, adding some blooms will add a burst of color to the room!
Plus, if you have a certain favorite color or flower, you can chop and change your bouquet as you please or until your current flowers look a little sad, and it's time to replace them with fresh ones.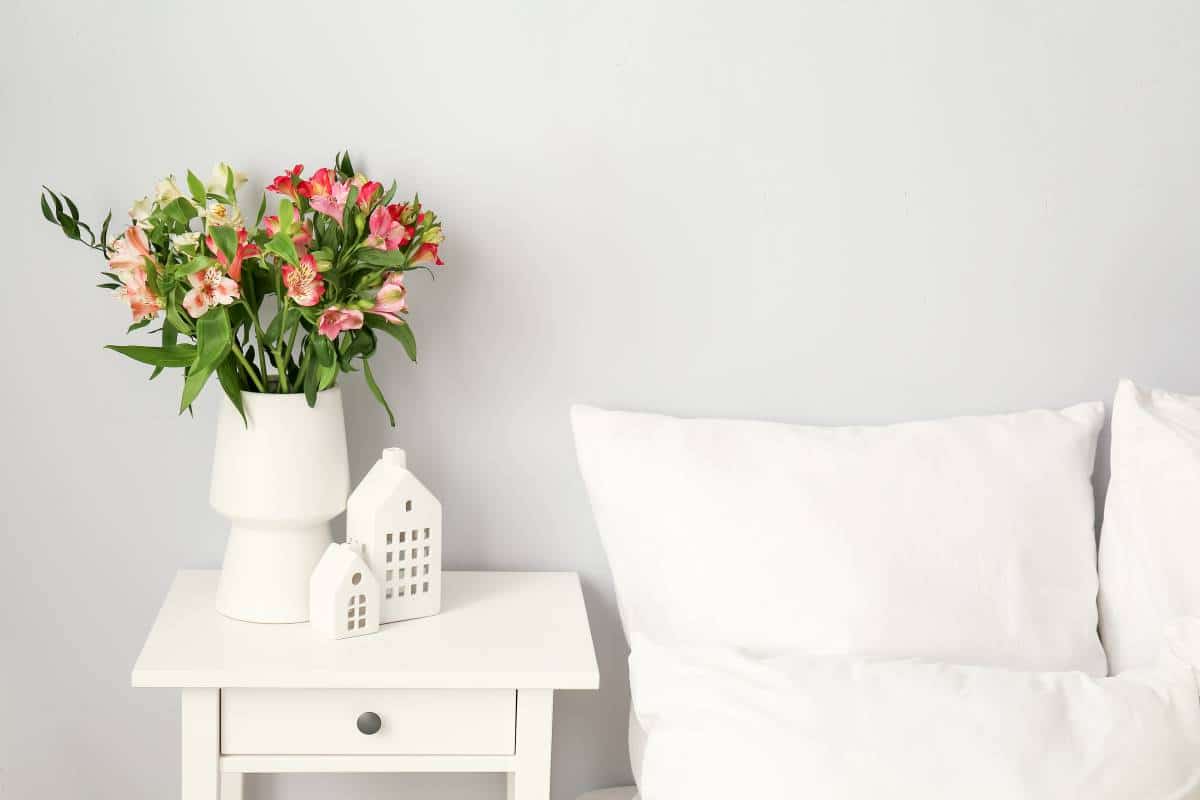 24. Dried palm
Dried bouquets and foliage are pleasing to the eyes. Not only do they look great, but they last forever. Dried palm leaves bring a touch of nature indoors, adding a sense of organic beauty and serenity to the bedroom.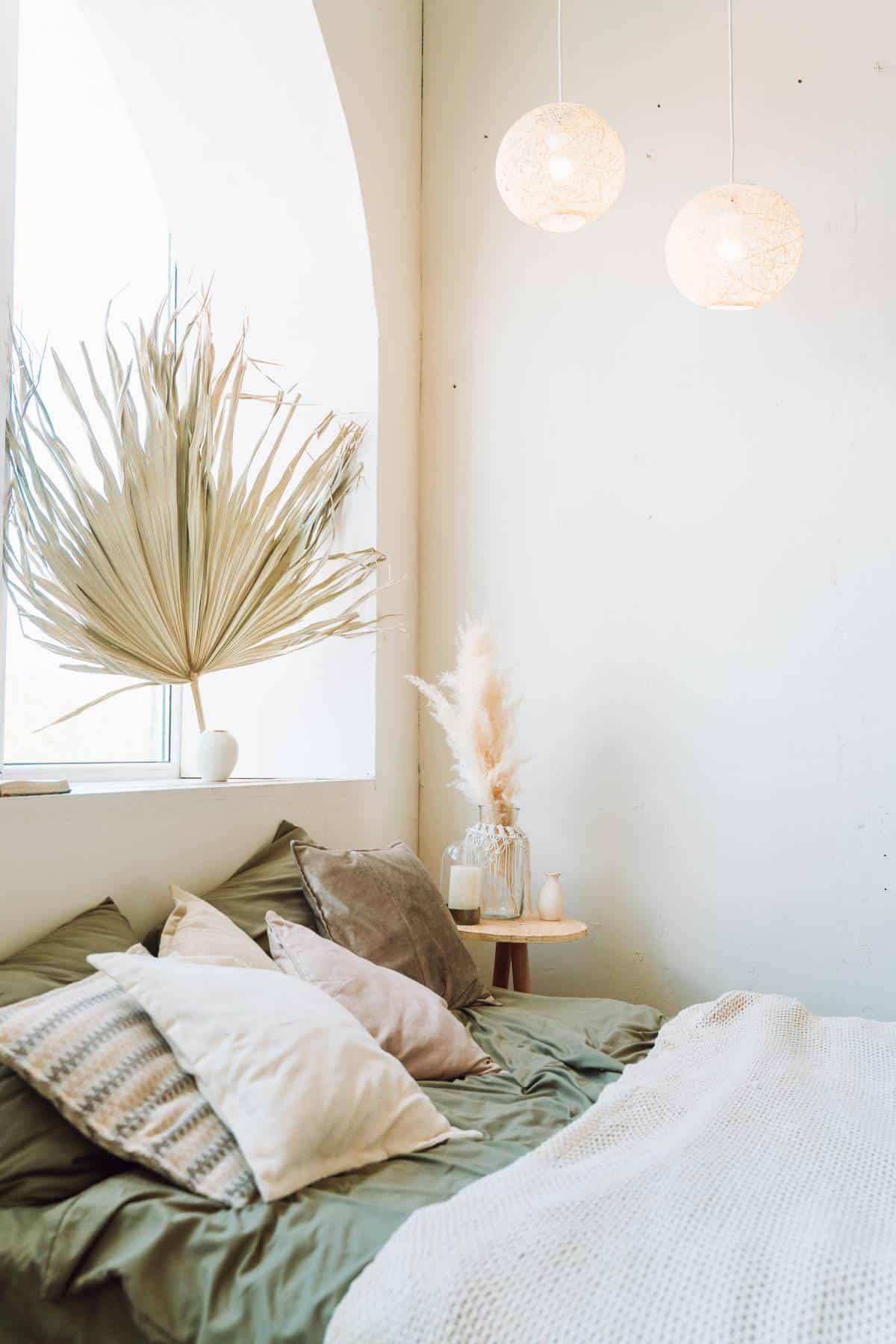 25. Curtain border
Four-poster beds scream beauty and luxury, especially when adorned with sheer white curtains trailing on the floor. The space will appear more relaxing with little furnishings and decor pieces. Just imagine how well you'd sleep watching the subtle movements of the curtains.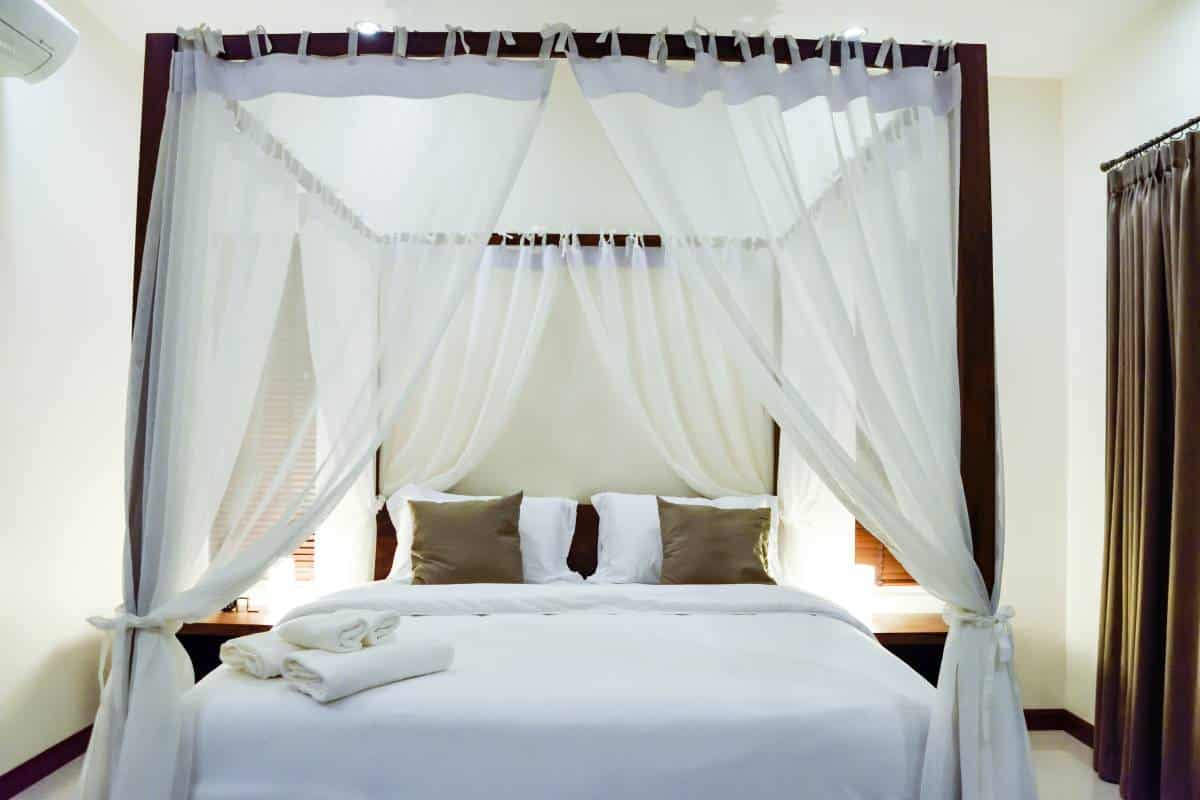 26. Black finishes
It's a good idea to create some definition when working with a room full of white by using black finishes. You can have a black bed frame with white sheets, black lights and panels with white walls, or a black door frame to a white door. This creates a very modern yet minimal look.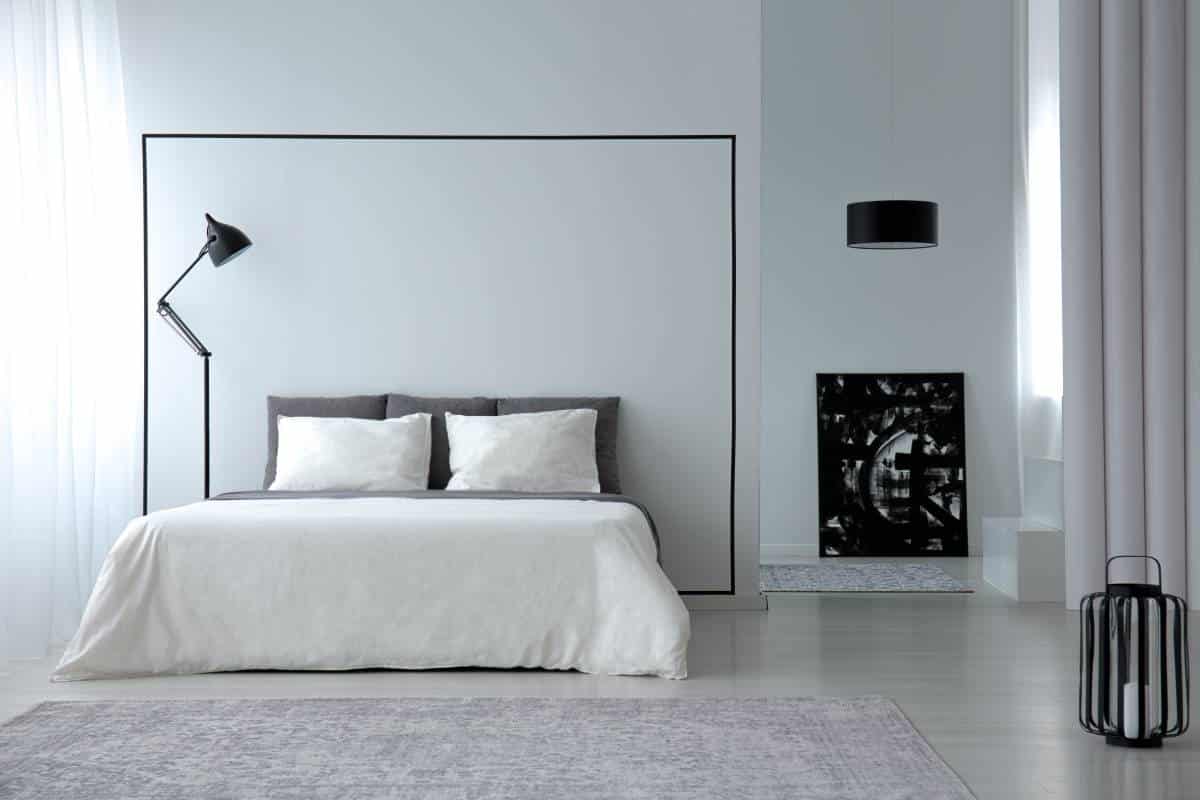 27. Mixing textures and patterns
Even if you have limited furnishings and decor in your minimal bedroom, that doesn't mean you have to leave out textures and patterns. Adding textures and patterns makes your minimal space more interesting. Different patterns can come through cushions and rugs, among other things.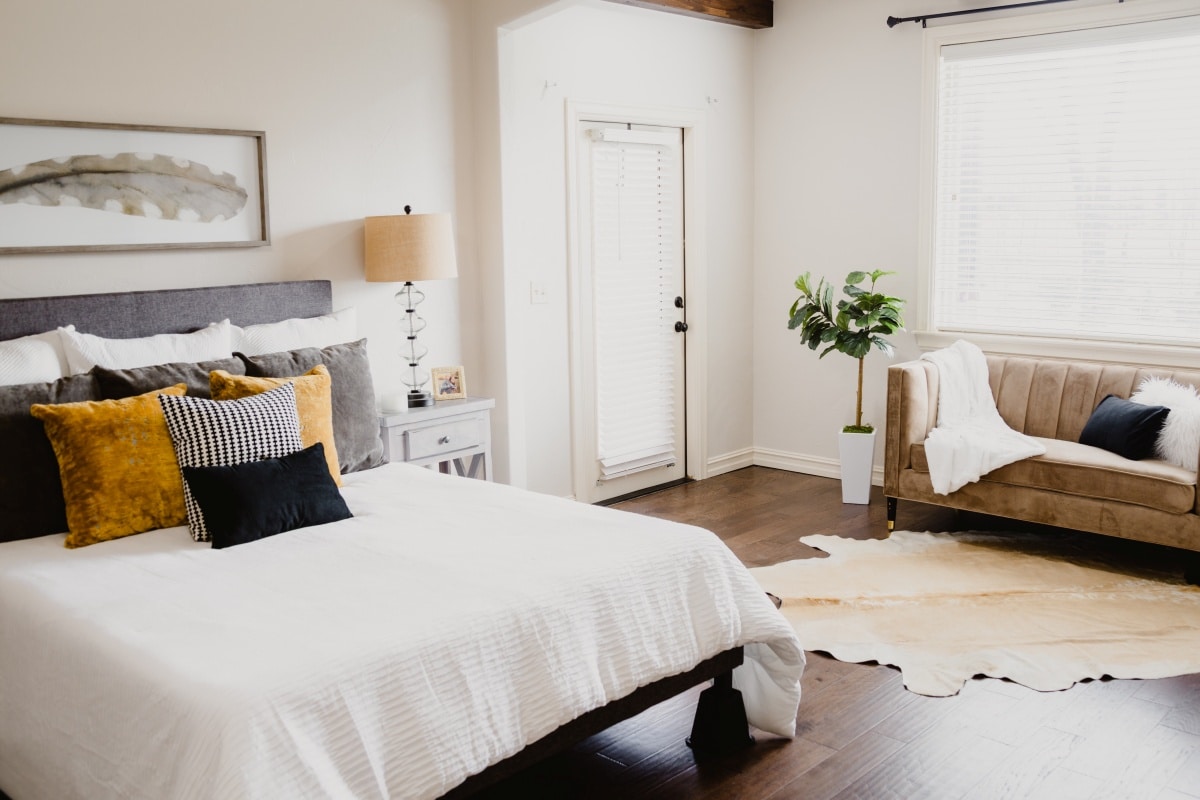 28. Subtle and soft color palette
Color schemes are important when creating a minimal bedroom. You definitely don't want to have too much color, as it will defeat the whole purpose of being minimal and make the room look busy. Soft creams and subtle greys are good options for these kinds of bedrooms.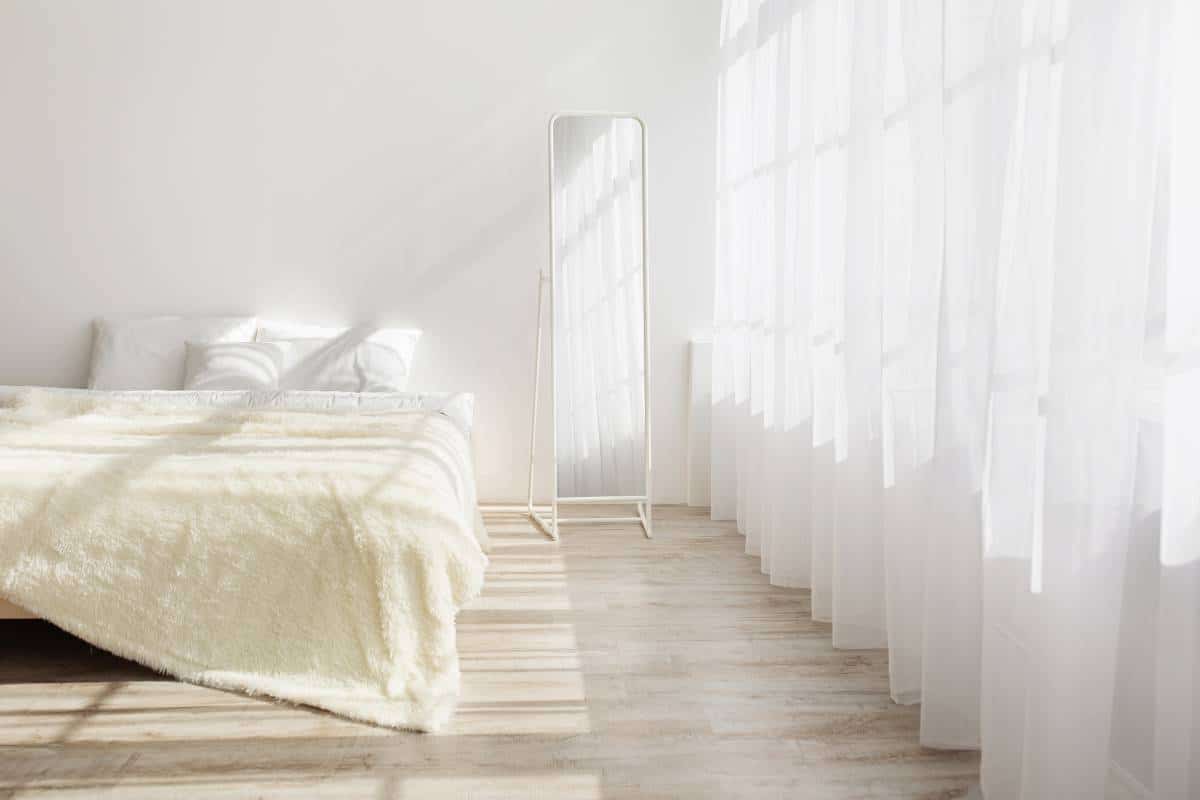 29. Bedroom lighting
Bedroom lighting can turn any space from drab to fab. Not only is lighting important to be able to see when it gets dark, but you can also make it a feature of your space during the day with creative lighting pendants and fixtures.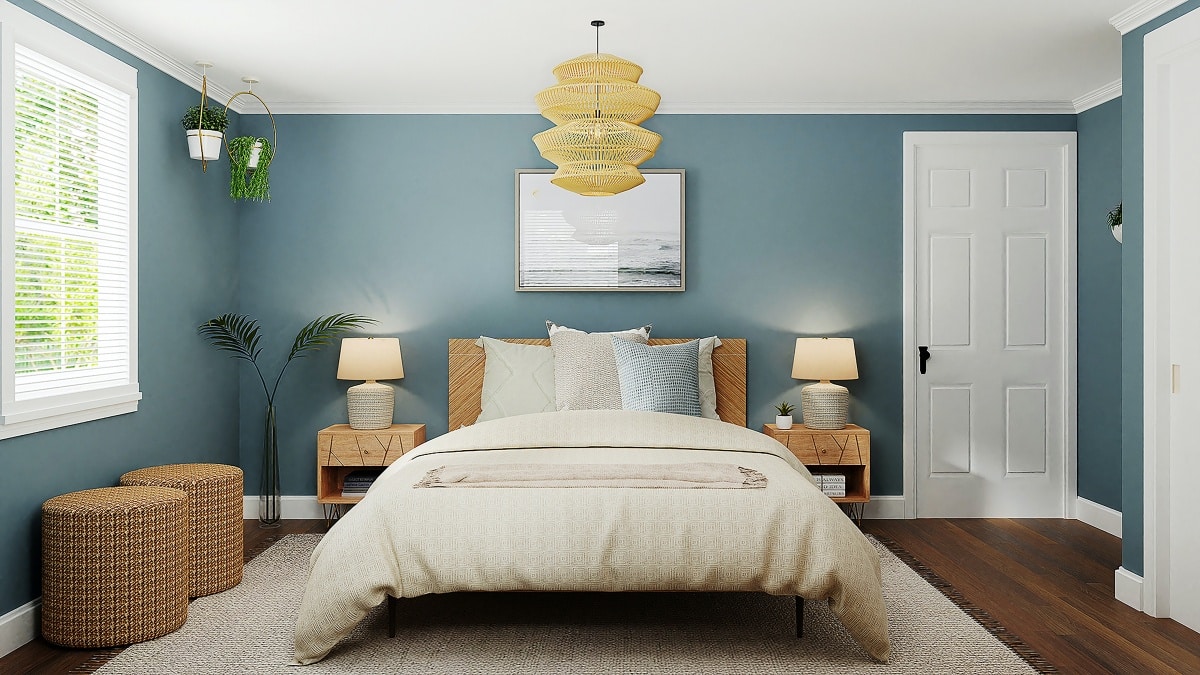 30. Soft green
Soft green is perfect for a minimalist room due to its calming and natural appeal. Plus, it complements such style effortlessly and infuses the space with a tranquil atmosphere. As a soothing color reminiscent of nature, it fosters a serene ambiance without overwhelming the space.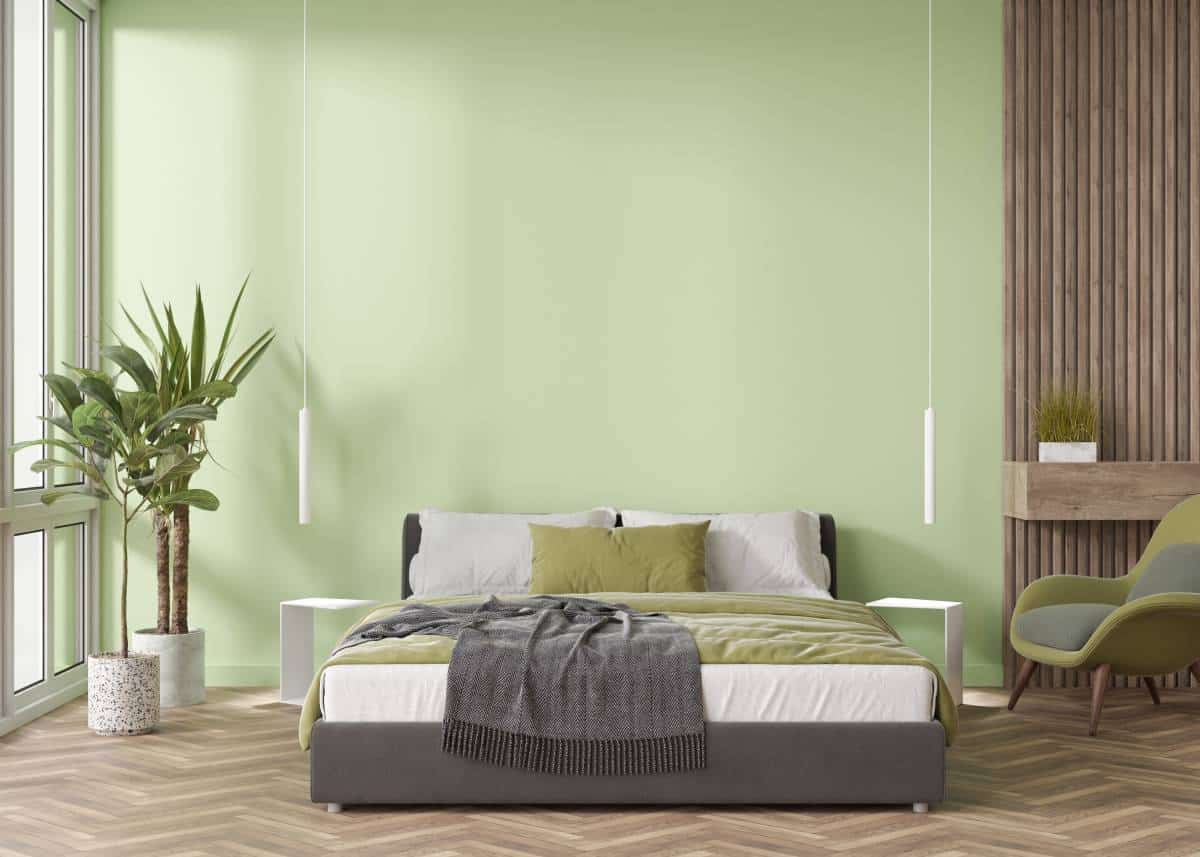 31. Minimalist modern farmhouse
This unique fusion combines the timeless charm of the farmhouse style with the sleek simplicity of minimalism. Clean lines, neutral hues, and natural textures blend harmoniously, creating a serene and uncluttered space that honors tradition while embracing contemporary elegance.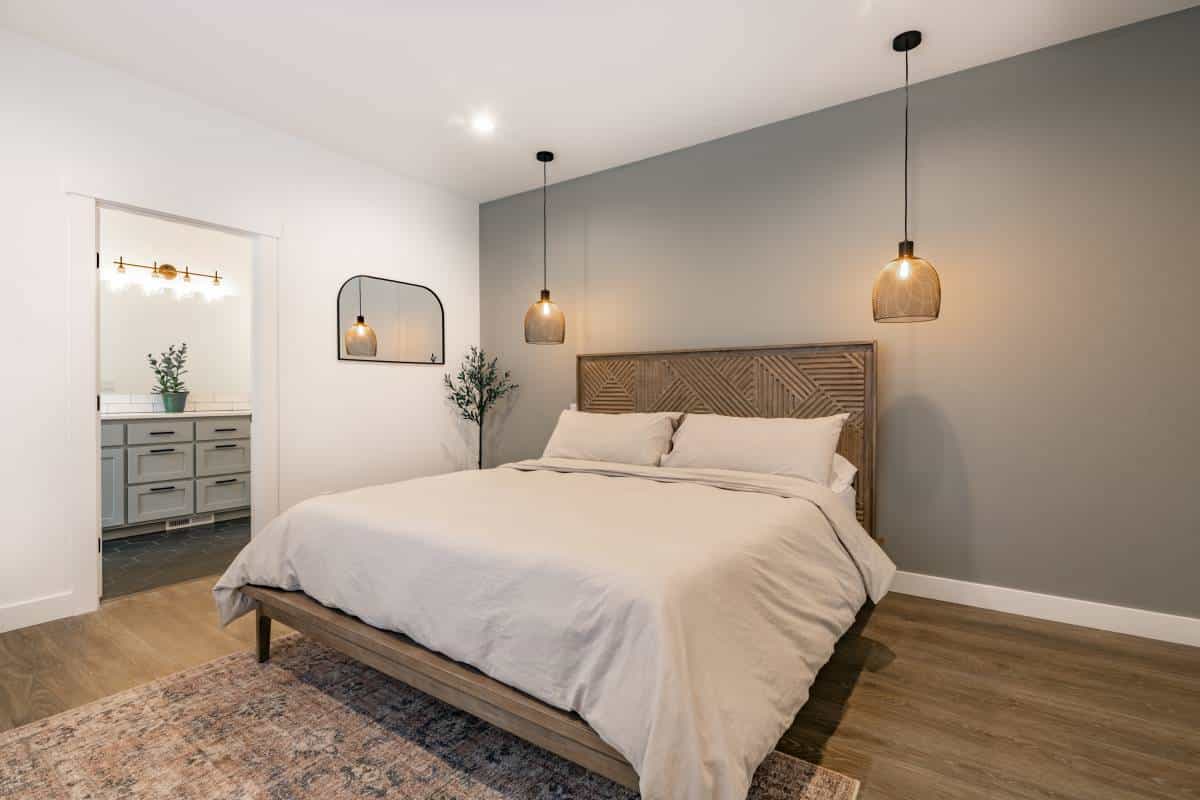 32. Bedside table
While it's important to emphasize your bed, it won't hurt to pay attention to your bedside table styling, too. Get a unique and functional bedside table, and voila, you now have a great surface to sit a drink on and place your favorite book or other decor you want to display or put within easy reach.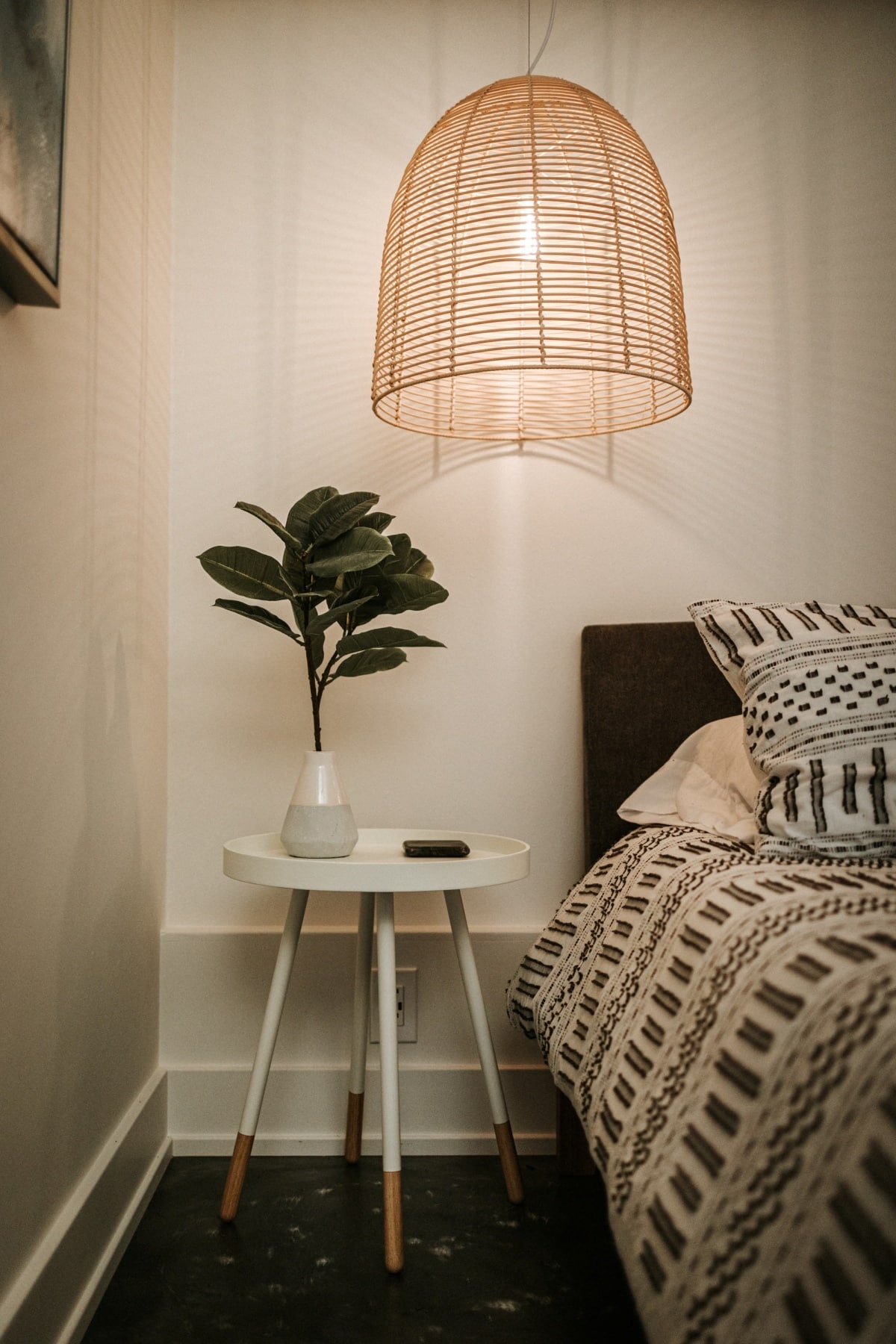 33. Gallery wall
If you're not a big fan of line art or minimalist prints, your usual prints will still fit in a minimalist bedroom. The beauty of a gallery wall is that you can mix and match your favorite prints. You can put them in similar-looking frames for a more uniform and minimalist vibe.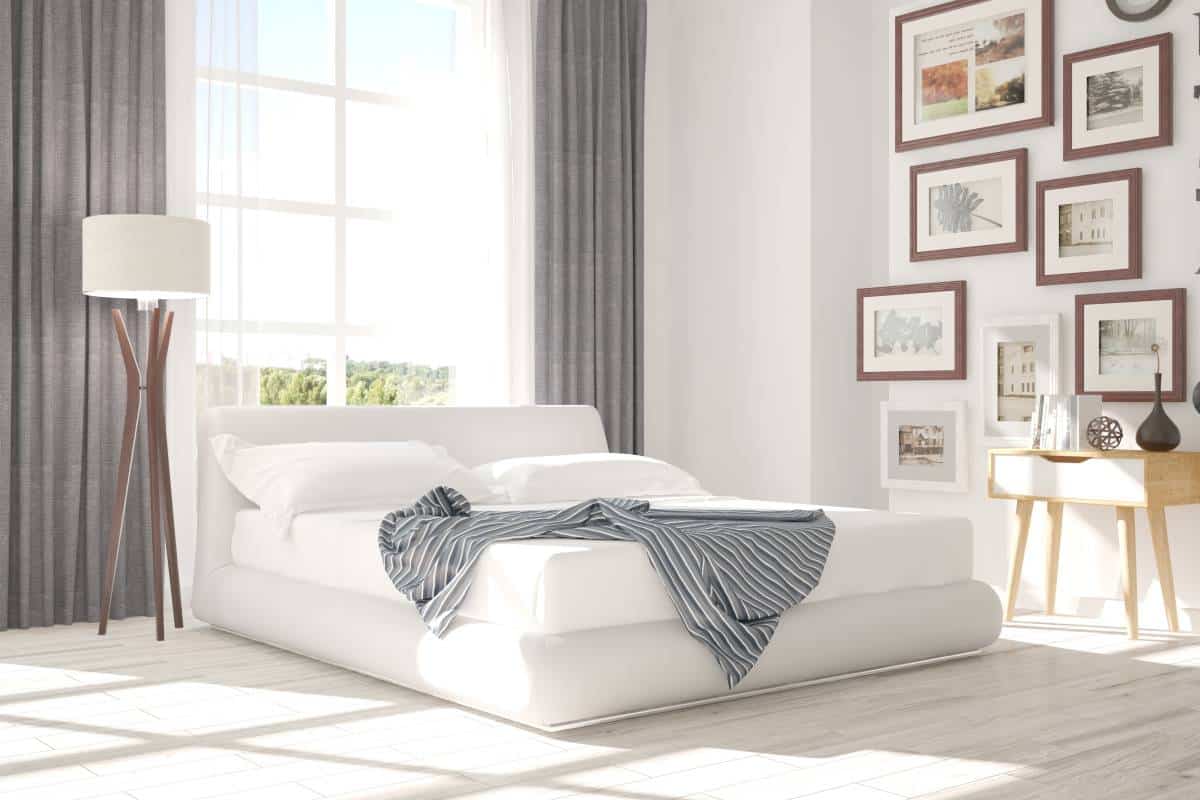 34. Warm color palette
Even though your goal is a minimal look, you don't have to be scared of adding some color! You can use a warm color palette for the bedding in your bedroom. If you have items in warm mustard and orange tones, they also work well with wooden furnishings.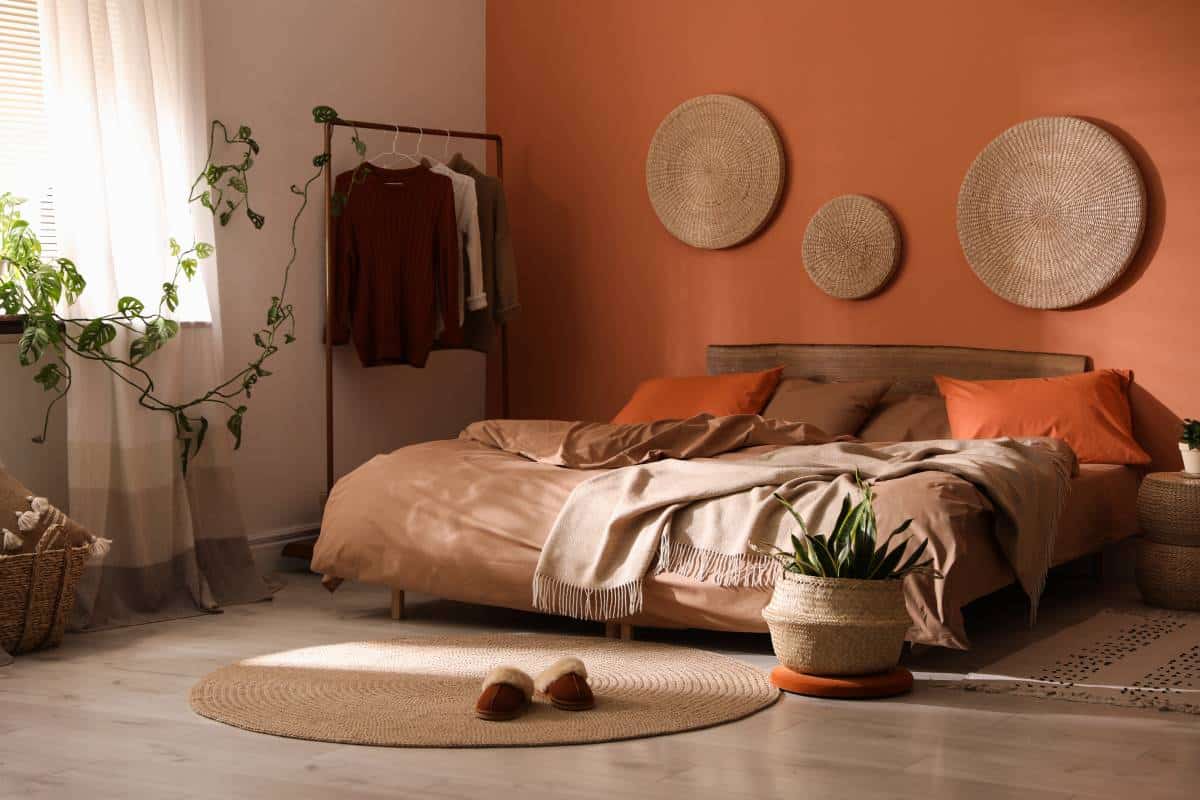 35. Minimalist Zen
Combining the harmonious elements of Japanese and Scandinavian styles, Japandi embraces clean lines, natural materials, and a neutral color palette. Emphasizing functionality and purpose, it creates a clutter-free space.
With its Zen influence and focus on balance, Japandi effortlessly complements the essence of minimalism, providing a cosy and inviting sanctuary.
So there we have it – 35 minimal bedroom ideas to help you get inspired. What were your favorite minimalist bedrooms in this collection? We'd love to know below!
Need help creating this inspiring environment in your own home? Post a task today and work with a Tasker to create your own bedroom sanctuary.