Gardening is often seen as a high-maintenance activity, preferred by people who have monogrammed weeding gloves – but gardening trends are evolving and more people than ever are getting into the green.
It's easy to maintain your garden (or your window box) if you know where to plant things and how much water to chuck on it – but if you're a novice, it might seem like a task too big.
You don't need to spend your life pruning and investigating every leaf spot though, just simple knowledge and gardening services will do. Here are five examples of the toughest greenery – and some outdoor plant advice – for even the most careless gardener.
Geranium Rozanne
Appropriately nicknamed 'hardy Geranium', this five-petalled outdoor flower can put up with most things. It doesn't mind what pH the soil is, won't judge you if your garden isn't south-facing, and grows like a trooper in both sunlight and shade.
Geraniums are worth it for a small amount of care – you'll see green leaves throughout spring, summer and autumn.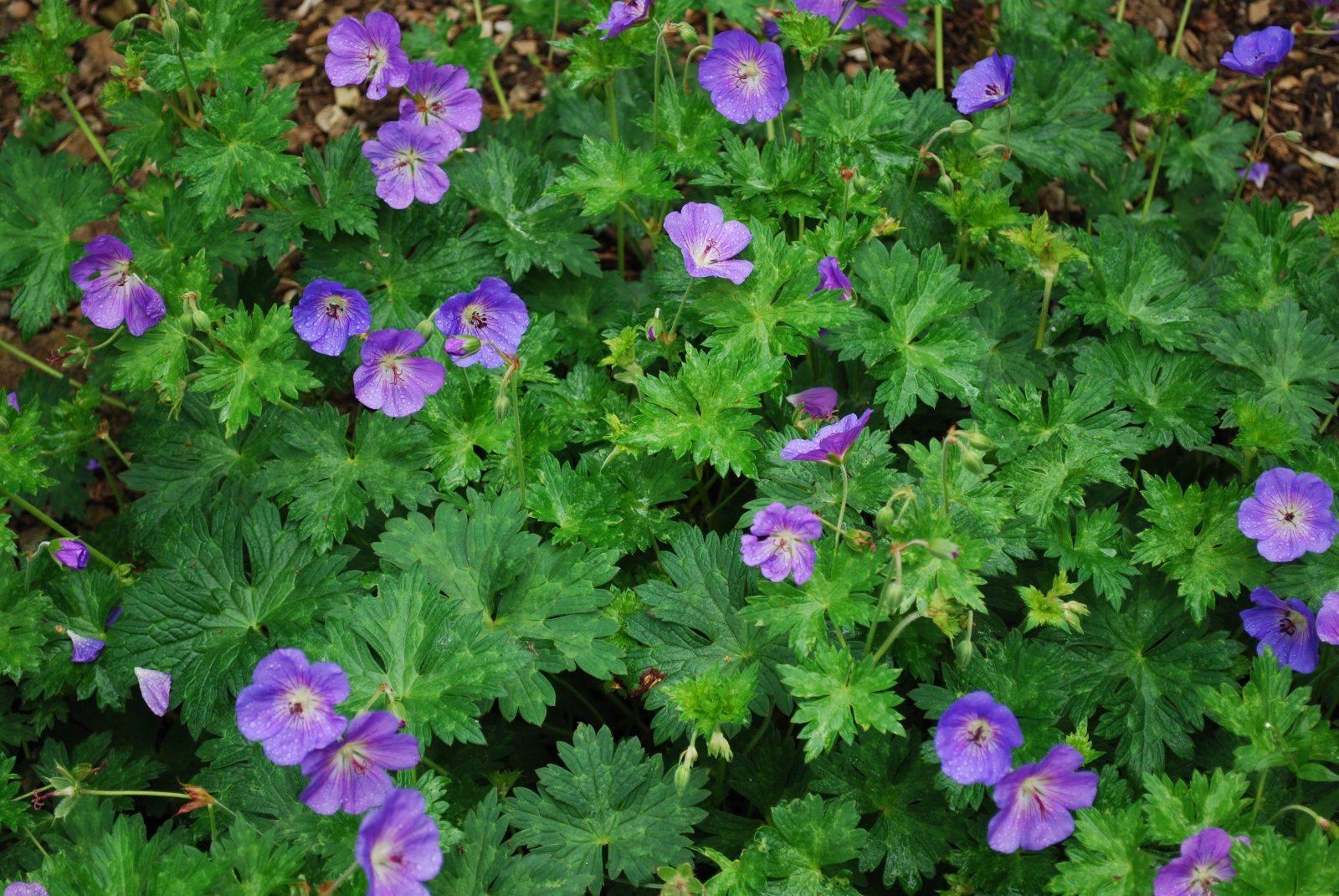 Source: Let's Go Planting
How to keep it alive:
Water – Keep geraniums moist, but make sure the water can drain if in a pot.
Light – A mix of direct sunlight and partial shade.
Anything else? – This is super low-maintenance – you don't even need to trim off old leaves. Leaving them alone encourages new growth.
Iris
It might look delicate, but the Iris achieves a top score of 7 for toughness, according to the Royal Horticultural Society (RHS). That means it grows nicely even "in the severest European continental climates". Much like Jon Snow, the Iris knows winter is coming and it couldn't be more ready for it.
Avoid this one if you've got dogs or cats. Chewing on Iris can make them quite sick.
How to keep it alive:
Water – Water regularly so the soil doesn't dry.
Light – This one enjoys the sun when it can get it, but doesn't mind some partial shade too.
Anything else? – Prune after the flowers have died off in autumn. Iris are happiest in flower beds and borders.
Lady's mantle (Alchemilla mollis)
With large, round green leaves, and small delicate flowers, Alchemilla mollis is relatively pest-free. Slugs and snails will find something else to chew on. Its tough constitution also means you can plant it anywhere, including sloping beds, sandwiched between other plants, and even in gravel.
Lady's mantle flowers in summer and throughout autumn, so you'll get a lot out of it. Foliage is green all year too.
How to keep it alive:
Water – Keep topped up with water, the soil shouldn't go dry. Make sure water can drain away.
Light – Anything goes with this one. Direct sunlight, partial, and full shade are all fine.
Anything else? – Only prune if it looks untidy.
Jerusalem sage (Phlomis fruticosa)
This evergreen shrub is originally from hot Mediterranean countries. It's still easy to grow in the UK as long as it gets the occasional blast of bright sunlight. Chalk, loam, and sandy soils are its personal favourites, and it only needs pruning once a year after flowering in summer.
Jerusalem Sage has been given the Award of Garden Merit by the RHS, which sounds incredibly fancy, but basically means it's easy to get hold of, simple to look after, and perfect for British gardens.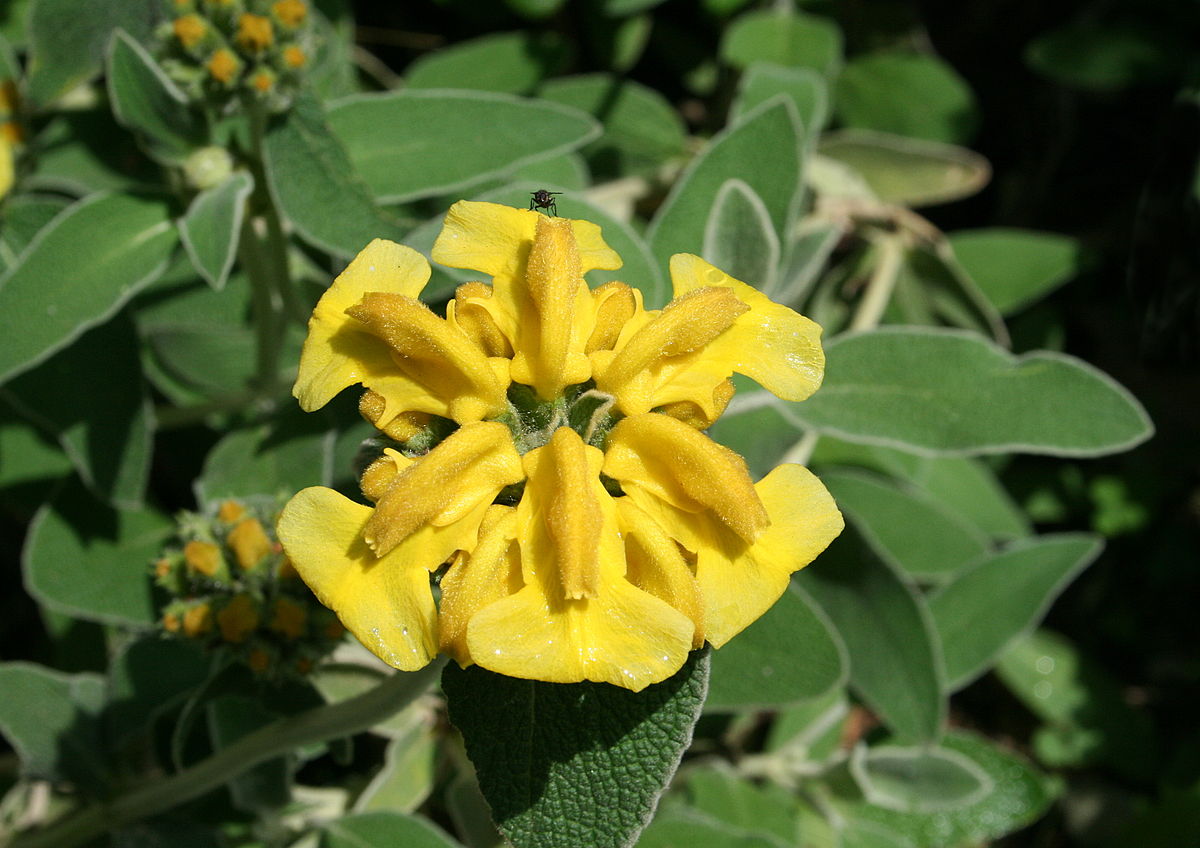 Source: Wikipedia
How to keep it alive:
Water – Keep the soil moist but well-drained. (We looked for an alternative word to 'moist' but it's just not happening.)
Light – Full sun exposure where possible. Ideal for East, South, and West-facing gardens.
Anything else? – You don't need to trim the seed heads before winter, they're quite spikey and interesting looking.
Thyme (Thymus vulgaris)
A herb garden really helps you feel like you've got your life together. Better yet, thyme is pest and disease-free, and trimmings can be taken all year round. A 15cm deep pot is plenty of room, or you can plant it directly in the soil.
Thyme will keep growing for 5-10 years before it reaches its full height. It's not all about utility though, in summer you'll see pink and white flowers.
How to keep it alive:
Water – It doesn't like to be too wet, so make sure the water can drain if it's in a pot or a flower bed.
Light – As much sunlight as possible.
Anything else? – Cut the dead bits off during spring.
Hopefully you're not baffled by all the Latin names anymore – gardening help doesn't have to be complicated. Next time you go to a garden centre, look for familiar faces with simple needs. They'll live for ages, help save the bees, and brighten up the view from your kitchen window.
Looking for gardening help in London? Find trusted and reviewed gardeners on Airtasker.