Growing up with a spacious backyard to play in is a glorious memory from the childhood of many lucky Australians. If you had a sandpit, cubby house (DIY with help from Dad, of course) or trampoline, you were probably one of the most popular kids in the neighbourhood every afternoon after school. Thanks to the internet, technology and the DIY and upcycling trends, the ultimate 'outdoor playground at home' game has stepped up a level. Here are some inspirational outdoor playground ideas that kids of all ages will love; young and old (even grown ups).
Outdoor playground easel
Do your children love to paint, draw, use chalk and crayons? Taking the art station outside will encourage them to play outdoors and help keep the mess under control. You can mount an easel to your fence, or build something standalone. To make an outdoor easel is easy and cheap; use a sheet of Perspex (a.k.a. acrylic) for painting and crayons, or a wooden board covered in chalkboard paint for chalk drawing.  You can even buy ready-made, mountable chalkboards.
Heytherehome has a great project guide for a DIY outdoor chalkboard.

Source: Made with Happy

Source: tts
Mud kitchens
Mud pies… Surely they're a golden memory from everyone's childhood!  Many of us used to use sandpit buckets and ice cream containers for our mud pie-making extravaganzas, but parents these days have caught on to some great up-cycling trends to make the 'mud kitchen' a more serious business.

Source: DUMPaday
Upcycle an old sink and some wooden pallets to build a mud pie kitchen. Accessorise with a few pots and pans from the camping basket, and the kids are in business!

Source: Learn with Play at Home
Stacked bricks with boards or wooden sleepers are a great way to DIY a kitchen bench. Mount some shelves and hanging hooks for utensils.
Outdoor cinema
With winter on its way out, the change in season is the perfect time to host an outdoor movie night with the family. You can make it as simple as hanging up a sheet, borrowing a mini projector and speaker combo, and hooking it up to your laptop; or you can go all out and invest in your own equipment and a proper projector screen. Make some popcorn, throw a picnic blanket down and scatter a few cushions on the ground, and enjoy your outdoor cinema experience.

Source: The Garden Glove
Swings
Bring the park to your home by installing a swing in your backyard. If you've got a large shady tree with some sturdy branches, this will make for a perfect (and reasonably quick) DIY job. Use a rope or chain, with a smooth plank of wood (sand and paint it to avoid splinters), or try some of the creative swing ideas below.
Don't have a ladder? Get an Airtasker Handyman to safely install your swing for you.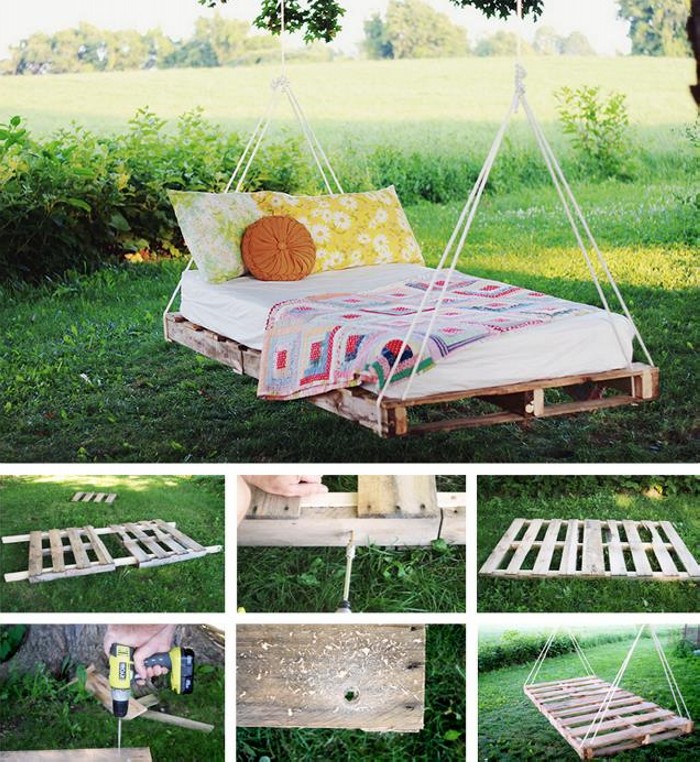 Source: Pallets Ideas
What can't you do with a pallet? This bed style swing looks like a great adult sized swing (perfect for resting on with a glass of sanity, perhaps?).

Source: The WHOot
What a great idea – painted tyre swings!
Green teepee
This idea is so much fun – give the kids some shade in their outdoor playground by growing a green teepee! Climbing beans are awesome for teepees because they grow very quickly, and when they begin to produce a crop they'll double as a 'help yourself' snack for the kids while they're playing inside. This DIY idea is affordable and relatively beginner friendly, involving a few poles, wire or twine, seeds and elbow grease.
If you'd like some help bringing your green teepee dream to life, Airtasker have plenty of Handymen and women available – get a quote today!

Source: the artful parent
Inspired by these outdoor playground ideas for your home? If you've got anymore, we'd love to hear them!