We've all heard the saying 'home is where the heart is' and the true heart of any home is most certainly the kitchen.
The kitchen is a central meeting point for families to gather so everyone can talk about their day, grab something to munch on or just sit down and chat to the cook of the family while having a coffee. It makes sense this space encapsulates all you want your home to be – inviting, comfortable, happy and functional. Choosing the right kitchen pendant lighting will help you create this mood by becoming a standout feature and really set the tone.
Here's how to pick the right kitchen lighting: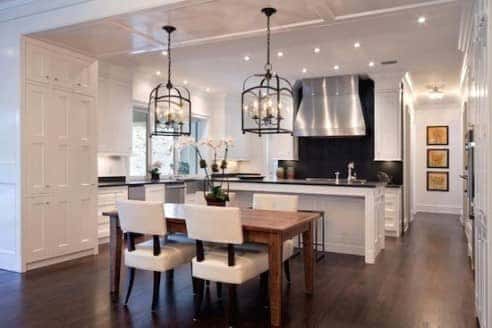 Source: Cedar Run Townhomes
Why is pendant lighting a must in your kitchen?
Pendant lights have two distinct advantages over other types of kitchen lighting – first, as focused task lighting and second, they can be a feature.
1. Task lighting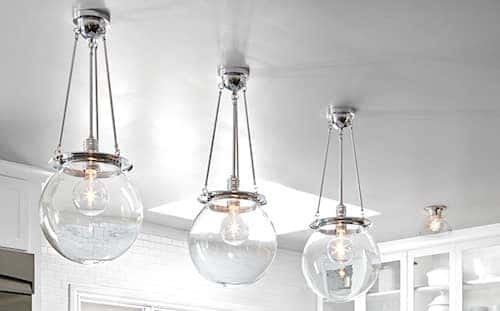 Source: Rejuvenation
When you cook, it's fundamental you can adequately see what you're doing. No great Masterchef was ever created in dim light! The greatest advantage of pendant lighting is they hang down low creating a focused pool of light exactly where you need it. Depending on the type you choose, the pendant can also reflect a bigger surface of light, highlighting the immediate task at hand and well as the areas surrounding it.
2. Feature lighting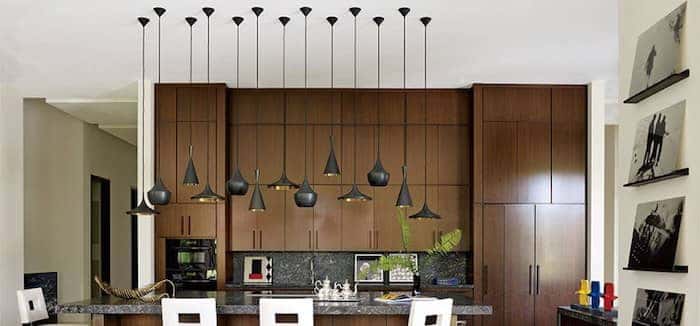 Source: Architectural Digest
Pendants also have the power to set the 'look' of your kitchen. They come in an immense variety of shapes and colours and can even be custom-designed to allow you to choose the right feel for your space. They can be your home's central statement piece and well worth the investment.
How to choose the right pendant light for your kitchen
There are 4 factors to consider then choosing the right pendant light for your kitchen.
1. Size & Number
There's a direct relationship between how big your kitchen is, and the size and number of pendant lights you choose. Choosing the wrong size for the space can make your kitchen look out of proportion, seemingly making it look smaller. Handy tip: if you can't decide on the size and number of pendant lights, stick with the rule of 3 as this usually creates a symmetrical or balanced look.
2. Height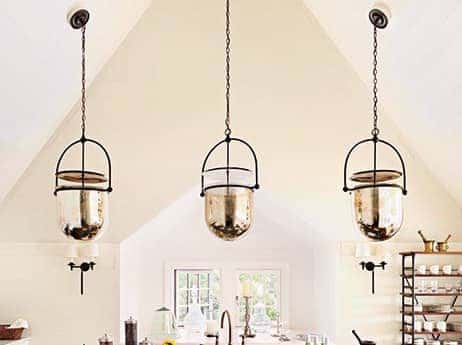 Source: Architectural Digest
How high are your ceilings? You need to know so you can choose the right lead length for your pendant light and position it optimally. If it hangs too low, it may block your view or impede important aspects of your kitchen.
3. Brightness
The kitchen space can serve two functions: a practical one to prepare food and an atmospheric one to set the 'feel' of your home in the evenings. Pendants lights have a distinct advantage over downlights here – they emit a much bigger pool of light to enable you to create an ambient feel. If you add a dimmer switch you have more flexibility to adjust the lighting according to purpose, practical or atmospheric. There's a huge range of different bulbs to choose from plus light diffusers to help you create the right mood for your home.
4. Colour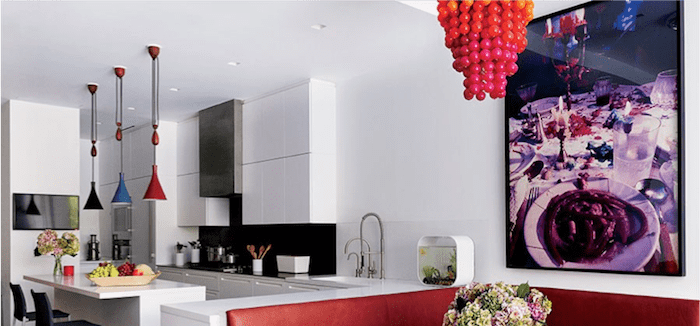 Source: Architectural Digest
Is your kitchen bursting with colour? Or is it neutral and in need of a splash to perk it up? The answers to these questions will help you choose the right colour pendant light. If you're satisfied with your colour scheme, pick a similar coloured pendant light so it blends in. If you need that burst of colour, try a vibrant pendant to make a statement.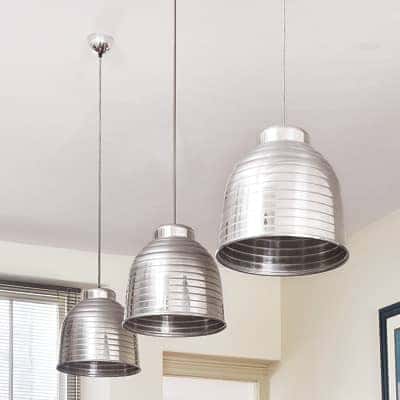 Source: This Old House
As you can see, there are lots of factors to consider when picking a pendant light for your kitchen. The sheer variety of forms available – from chandeliers to traditional dome shapes to one-off artistic pieces – can be mind-boggling and calls for lots and lots of shopping (smiles all around ladies!). Whatever you choose, we hope these tips have helped you consider what will benefit your kitchen space the most. Subtlety or statement – you decide!