Thinking of splashing out and getting a pool installed for summer? If you can't decide between an inground or above ground pool, here's some tips and inspiration.

Image credit: Annette O'Brien via the The Design Files
Pool cost
The cost is usually the reason people choose an above ground over an inground pool; they're generally a cheaper option and can come readily available in a kit. Inground pools are expensive to purchase and install, so expect to pay anywhere in the vicinity of $25,000+ (Compass Pools) for the most cost efficient choice. Above ground pools are definitely less expensive; depending on the surface material or kit purchased, you're looking at a couple of thousand dollars (plus), but you should check to make sure the installation cost and full equipment kit (i.e. pumps, etc.) is included (hi pages).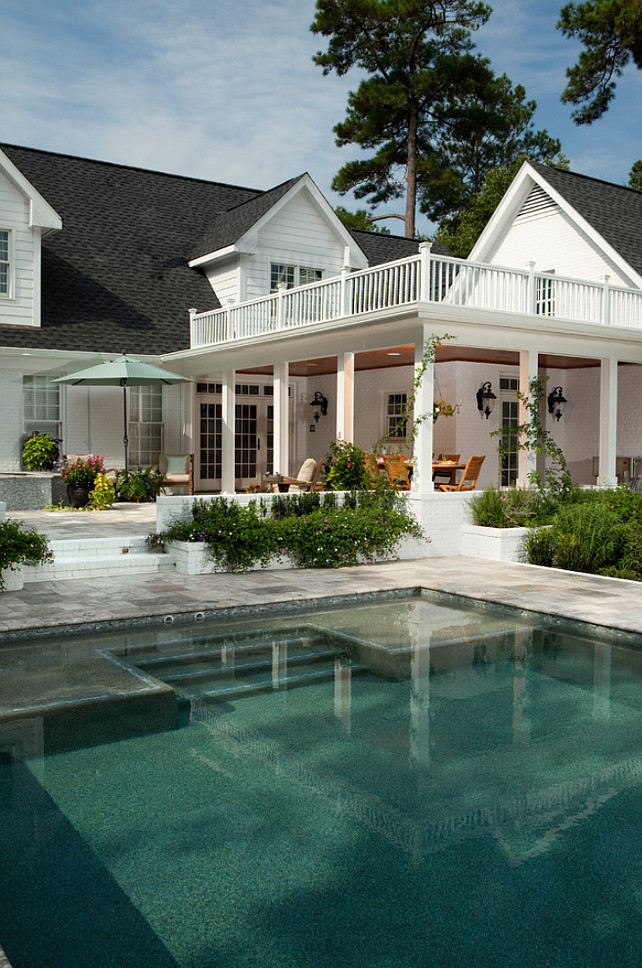 Hamptons style inground poolspiration.
Source: Home bunch

One of the benefits of choosing inground is the endless options for shapes and sizes.
Source: Angie's list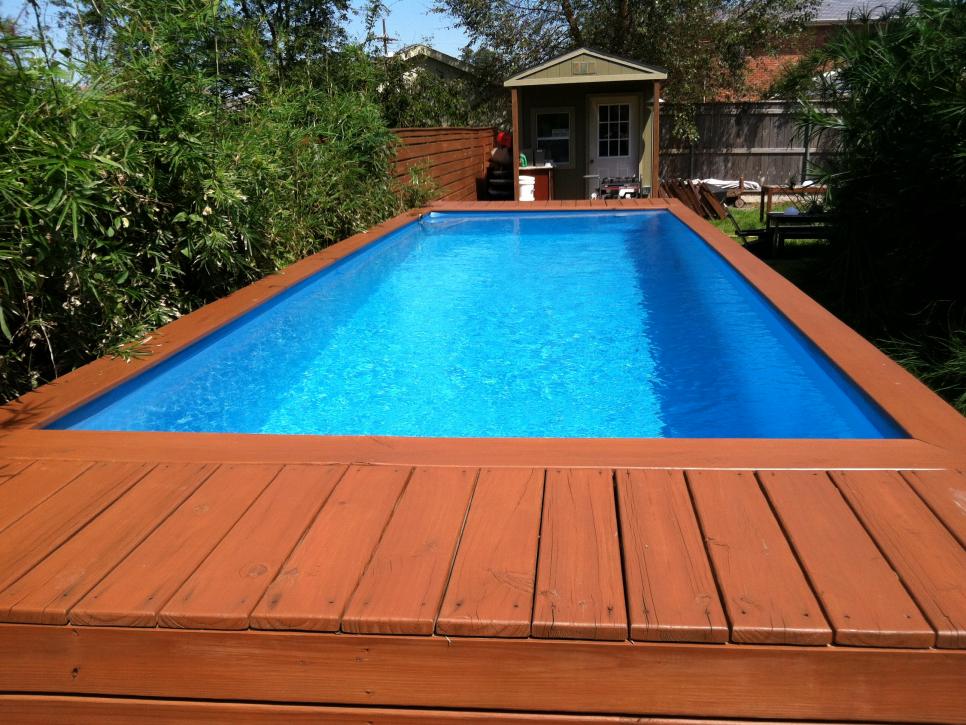 There are endless ideas online for repurposing items, even to use as pools! This one is a repurposed dumpster.
Image credit: Stephan Beese via HGTV
Property value
If you live in a warmer climate, having a pool could potentially do wonders for your property valuation; it adds an aesthetic of relaxation and luxury to your home. But is it worth it, and does the fact of whether it's an inground or above ground style matter? Well, that depends on the market and how much you might need to spend in order to leverage any increased property value (Aussie Home Loans). There is no 'one size fits all' answer to this question; it's best to do some research or speak to a local property agent.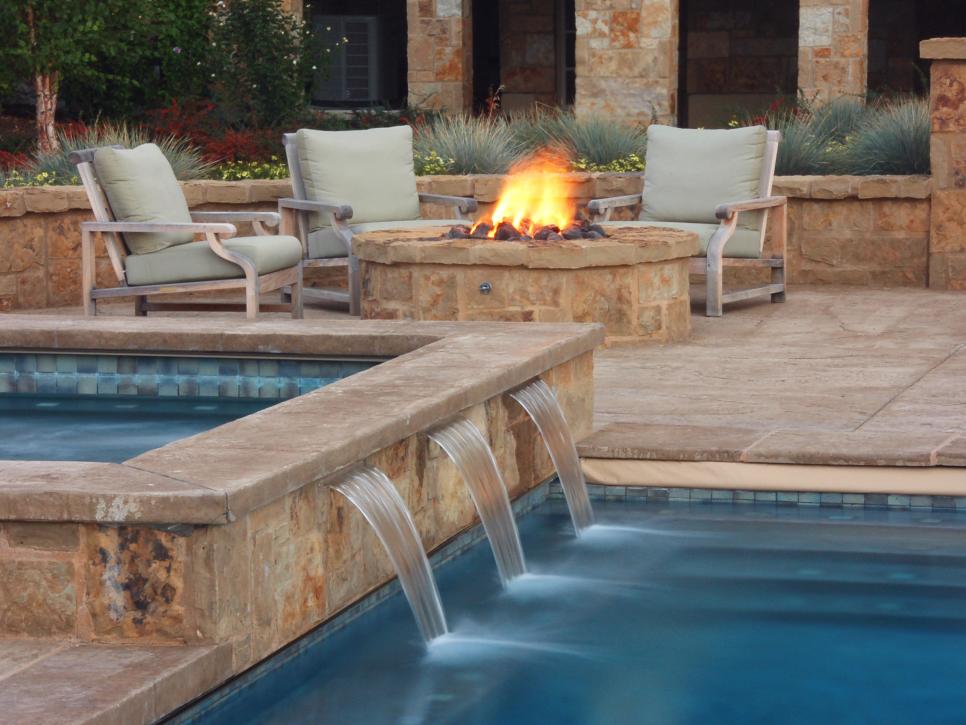 Fire pit features are on trend.
Source: HGTV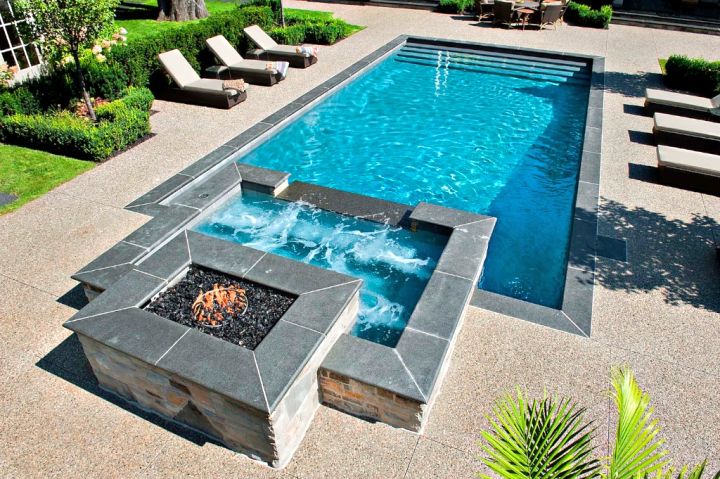 Spas are still popular drawcards and work well in inground pools
Source: Austin Elite Home Design
But aren't above ground pools ugly?
Some people shy away from above ground pools based on the misconception that having an above ground pool in your backyard can ruin the aesthetic of your property. But really, it all depends on what you have to work with. If you've got a sloped backyard that is otherwise unusable, an above ground pool is perfect for utilising this space, and can add a great deal of style to your property.

Proof that above ground pools can make a property look beautiful: Timber decking kits can easily be installed and can even give the illusion of an inground pool.
Source: Minimalisti

Create a stunning above ground pool with contemporary design.
Source: Pinterest
Maintenance
Above ground and inground pools usually require the same level of effort, and the same approach to maintenance tasks, so costs can be comparable.  It also comes down to the surface material of your pool (i.e. vinyl, fiberglass, etc.), whether it's salt or chlorine, and your maintenance routine. If you consider the fact that an inground pool is a permanent fixture on your property, it could be more expensive in the long term to resolve issues if they occur (Pool pricer).
Tip: There a number of basic pool maintenance tips you should know and budget for; Airtasker have a number of pool professionals available to help.

Plants and landscaping around edges look great but might require some extra attention and care. Landscape with plants and grass that are resistant to saltwater, or hose poolside plants off with fresh water after splashing.  
Source: designrulz
So perhaps we haven't helped much with your decision making… have you got any other poolspiration or above ground vs inground advice to share?