Looking for inspiration to solve a storage issue and enhance your bathroom design? In addition to some great ideas we have on how to plan your bathroom design and small bathroom design, we've collated some beautiful bathroom shelving ideas for you to enjoy.

Source: Bodie and Fou
Mounted bathroom shelving
Create a great looking storage space by mounting shelves. Brackets used to position the shelving can easily work as part of the design if you choose your materials and colour scheme wisely. Position the shelves on a back board and add additional hooks for hanging towels, or go for the 'no back board' option.

Source: The Frugal Homemaker
Floating shelves
The 'floating' look is a variation of mounted shelving where the shelves are slipped over a protruding support attached to the wall and appear to float against it. They look really effective in white or natural wood.

Source: Bless'er House
Industrial shelving
Bathrooms are full of pipes and plumbing, so if the you're in to the industrial look, the bathroom is a great place to implement it. Achieve the look by exposing pipes and plumbing, and complimenting their aesthetic by installing industrial style shelving, towel racks and toilet roll holders. Teaming industrial elements with reclaimed wood gives a really nice effect.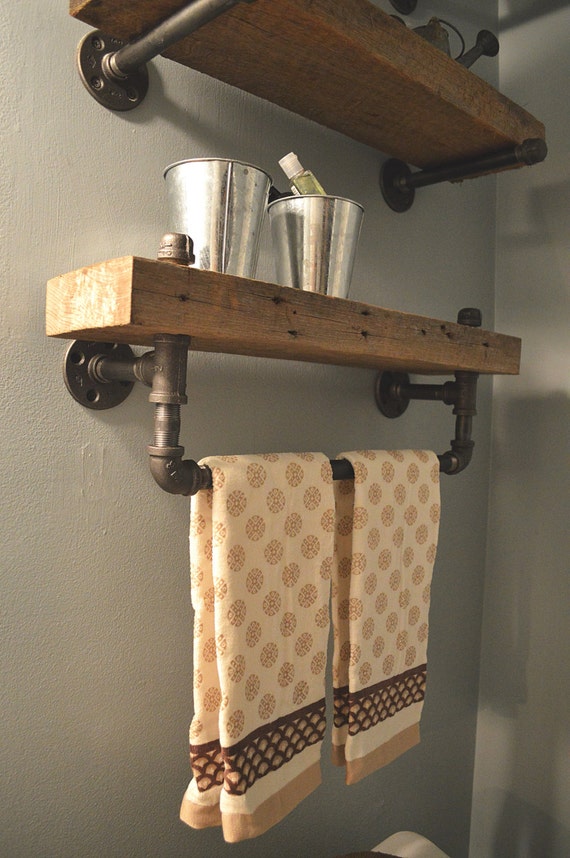 Source: Etsy
If you're inspired by this look and want to take it out of the bathroom, we have some more Industrial wall shelving ideas for your home.
Cube shelves
Clean lines and symmetry; there's nothing nicer. Give your bathroom fashionable, modern character by installing cube shelves. Use them to display lotions and towels, or to house a little hint of greenery. You can DIY your own by using old drawers.

Source: Pinterest
Recessed shelves
If you don't have space for shelves to be mounted or freestanding, you could recess them in to the walls between studs (if you own the place, or the owner gives you permission, of course). The little 'nook and cranny' look can be really beautiful.
If you need shelving installed or built in to your bathroom walls, take the fuss out of it by hiring a Handyman on Airtasker.

Image credit: Carriage Lae Design-Build Inc.
Source: Houzz
Freestanding and hanging shelving
If you don't have the option of drilling in to walls, consider using a freestanding or hanging bathroom shelving solution. Freestanding storage racks come in many different designs, are cost-effective and moveable. Hanging storage racks are a great option if you've got a towel rail you can hang them over, or even just a wall hook for lighter items.

Source: Remodelaholic
Leaning shelves
Leaning shelves that have the 'leaning' or 'ladder' effect are wonderful; their height, varied depth and sturdy base allows you to store plenty of essential bathroom items.  Store hampers on the bottom shelf.

Source: Love Chic Living
Ladders
Ladders are perfect alternative to bathroom shelving to use as towel racks! See if you can find an old one that's feeling a bit unloved – sand it down and paint it in a nice accent colour before rehoming it in your bathroom.

Source: funky junk interiors
Reclaimed wood
Reclaimed wood is a great look for any bathroom and will suit almost any colour scheme. Old wooden pallets are easy to get, often free, and are perfect for wannabe DIY carpenters to work on at home.

Source: Viva Terra
Do you have other rooms in need of some shelf-spiration? If so, we have a wonderful collection of wall shelving ideas for you to muse over.