The outdoor area of your home can often be a little neglected but I'm going to show you how easy it is to get a beautiful alfresco set up in your backyard.
From weatherproof decking options to decorations, let's take a look at these fabulous alfresco styles.
Hamptons alfresco styling
It's the look of the moment and rightly so with its fresh white and blue colour scheme. It allows you to keep a white base and introduce textures in different patterns and colours as you choose.
For alfresco design, I opted for a relaxing lounge and coffee table setting whether it's to enjoy a cup of tea and a magazine, or a G&T and catch up with friends. The occasional chair (3) has an eye-catching hexagonal pattern in a rattan weave keeping the area coastal. And then teamed with an understated modern white coffee table (8). Both of these are highly durable, making them the perfect choice for outdoor settings.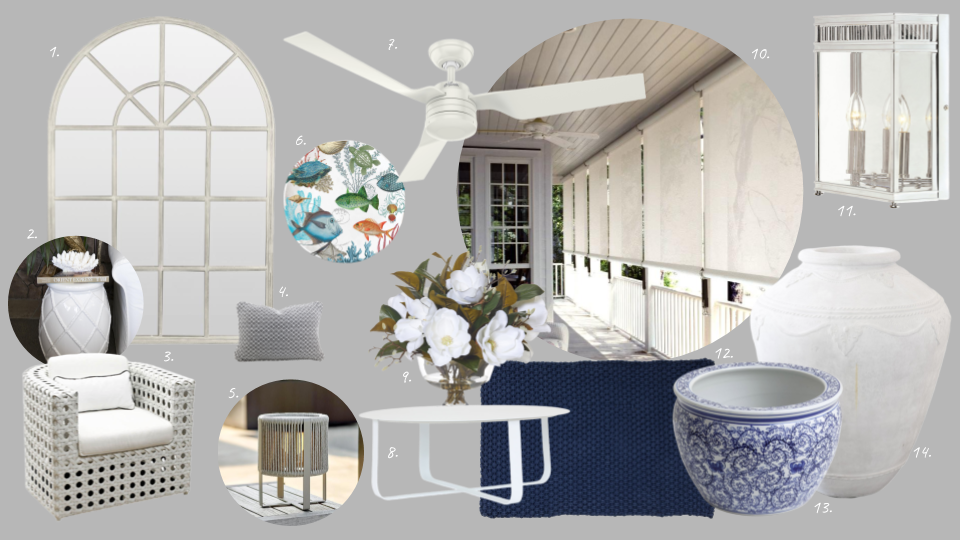 To keep this area shaded all day, these straight-drop awnings (10) are a great option, they also provide a bit of privacy at night as well. If you want to stay cool an outdoor fan (7) is perfect, you just need to make sure that it's under a covered area.
Now when it comes to decorating as long as you keep it navy and white with maybe a splash of a few other colours, you'll be embracing the Hamptons theme. A navy outdoor rug (12) will add some colour and the diamond-patterned cushion will add texture. For other colours, think about using it in plates (6) and cushions (4), opting for outdoor weather-proof items if you can.
Greenery is always a must and your pots can really emphasise the styling. Pick pots as different heights and designs, such as this large white stone pot (14) and smaller ceramic blue and white patterned pot (13). But if want something lower maintenance, invest in high-quality fake plants. I love the bunch of magnolias (9) which is perfect for a Hamptons alfresco area.
It's definitely worth making your outdoor space day and night friendly with some stunning lighting options. I love this 1900s Georgian-inspired wall light (11) in the polished chrome, it's simple elegance personified. And for ambience, a modern rope table light will help you do just that.
For the finishing touches, an arch mirror (1) and an embossed rope stool (2) for resting items on will complete your Hamptons styling.
Poolside alfresco styling
If you're one of the lucky ones to have a pool, incorporating it with your outdoor entertaining creates a great area for kids and parents. Although the image I've looked at for inspiration below is not a realistic reflection of what we all have in our backyards, it still helps to create a space you love. The items I've pulled together will really refresh your poolside alfresco area.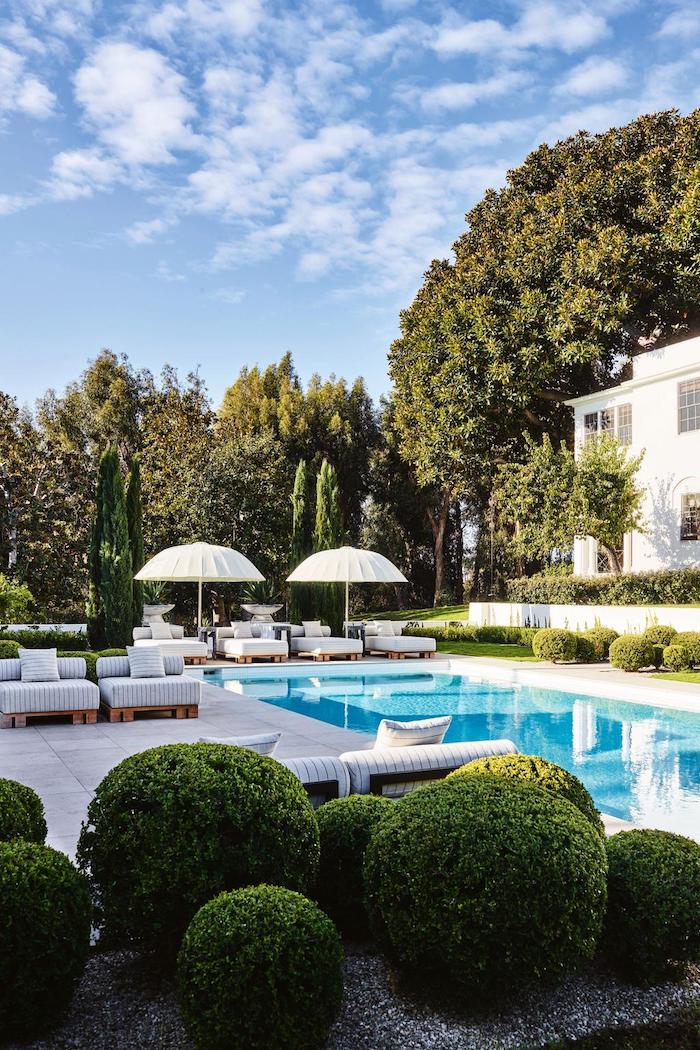 Being by the pool you'll need durable paving or decking product and the HardieDeck (11) in a light grey colour is a beautiful choice that will go with any style.
Another item worth investing in is high-quality awnings. If you buy a folding arm awning (1) you can get installed at the right angle for you, meaning you always have the flexibility of customising how much shade you need.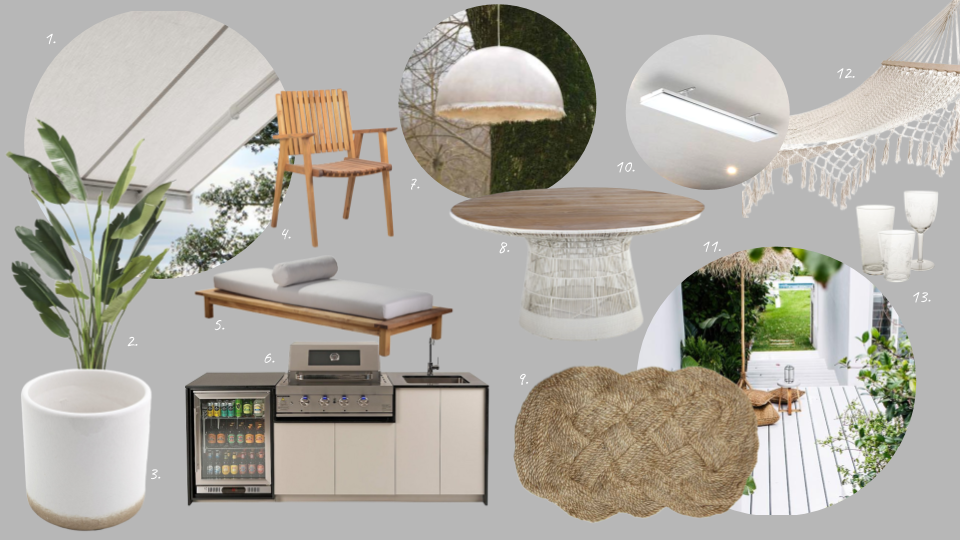 For lighting, I love this fibreglass pendant light (7) which has frayed-like edges adding a coastal vibe. Next, you'll want to install a Heatstrip heater (10) so that you can use the space as autumn, and maybe even winter comes along.
If you're going to have an alfresco area next to your pool, you'll definitely need a sun lounge (5) and I love that this one has a wooden border around it to rest your favourite book or sunscreen on. And why not go even one better and also put up a stunning macrame hammock (12) to fall asleep in.
Enjoying a meal is easy to do with a state of the art outdoor kitchen (6) in your backyard complete with fridge, sink and of course the all-important BBQ. But you'll need a table and chairs, right? This intricate woven-based dining table (8) compliments this space beautifully and the teak dining chairs (4) match the teak top of the dining table.
To style a poolside alfresco, I leaned towards the boho beach look but only a tiny bit, as you can see with this choice of outdoor jute rug (9) and planter (3). I've also added a fake traveller's palm plant (2) for a bit of greenery inspiration. And lastly, for a bit of flair and to match the palm plant, I love these palm tree outdoor glasses (13) – now all you need is that pina colada!
Tuscan alfresco styling
You see Tuscan inspired houses and styling throughout Europe and it's very popular in Los Angeles but the trend is spreading all over with its paired-back earthy rawness. Drawing colours from browns and blacks to terracotta and whites – it's easy to adapt this style into your outdoor area.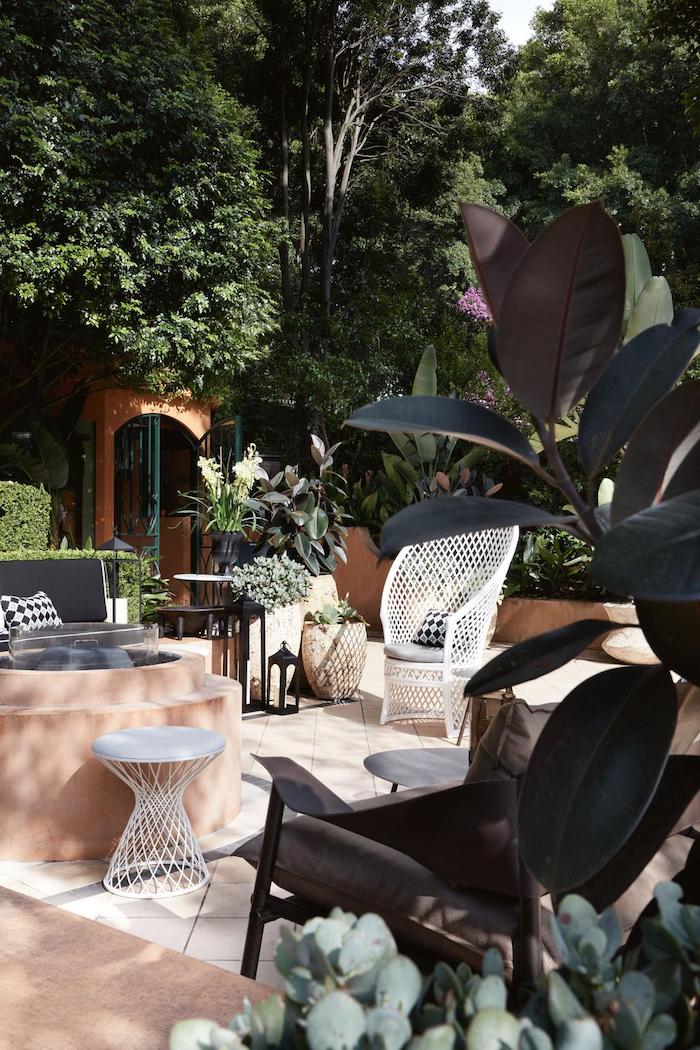 I really drew inspiration from this fire pit that I came across from HardieDeck (3). I would opt for the warm sand or burnt clay colour which will give an overall warmth to the space.
This decking option would pair really well with the various planters that I've stumbled across. I wanted to make sure that I got a collection of large, medium and smaller planters in different shades and patterns. When put all together in a close formation, you can really see how this will be an understated focal point. Here's the sandstone planter, terracotta pot, Bali sandstone planter, and the quirky Alessandra white head vase (12).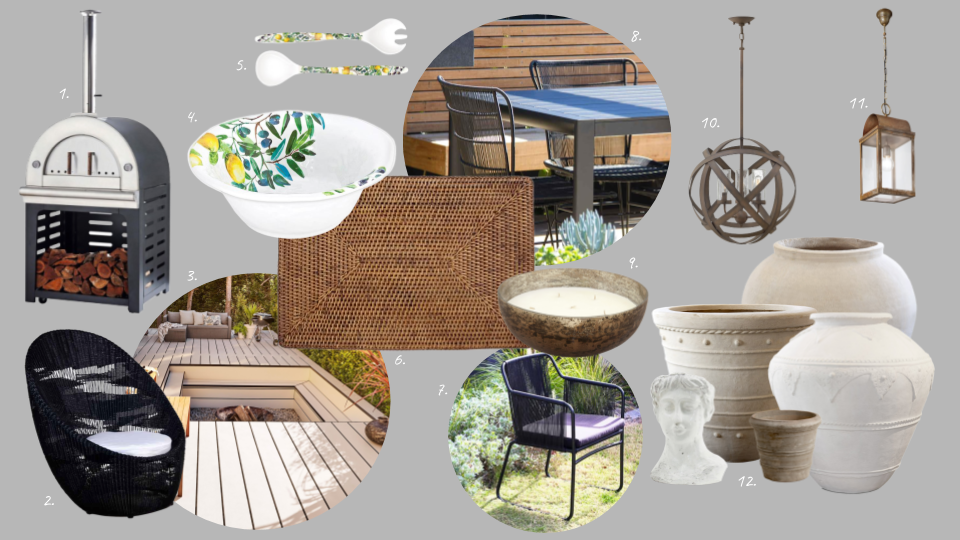 Possibly my favourite item in the Tuscan alfresco is the woodfire pizza oven (1) and everyone can happily enjoy eating the pizza on this black dining table (8) and matching black handwoven cord dining chairs (7). To soften the black on the table and chairs, these dark brown rattan placemats (6) are a lovely textural addition.
I've added two lighting options because I loved them both. So if you want more of a statement, go for the vintage iron round chandelier (10) with 3 light globes. Or if you want something a little more understated this antique brass lantern (11) is also a stunning option.
For additional styling bits, I found some black occasional chairs (2) that have a high comfortable back and look comfortable. This bronze candle (9) brings a bit of sparkle to the dining table and the Tuscan grove bowl (4) and matching servers (5) really emphasise the Tuscan styling.
Modern alfresco styling
Keeping the interior design style flowing through your home is really important for continuity, so if you have a modern home you'll want to replicate this outside as well. But modern these days is actually really fun because it can mean bringing a lot of older styles back in with a modern twist. This is the style that you can have the most fun with when it comes to materials and colour.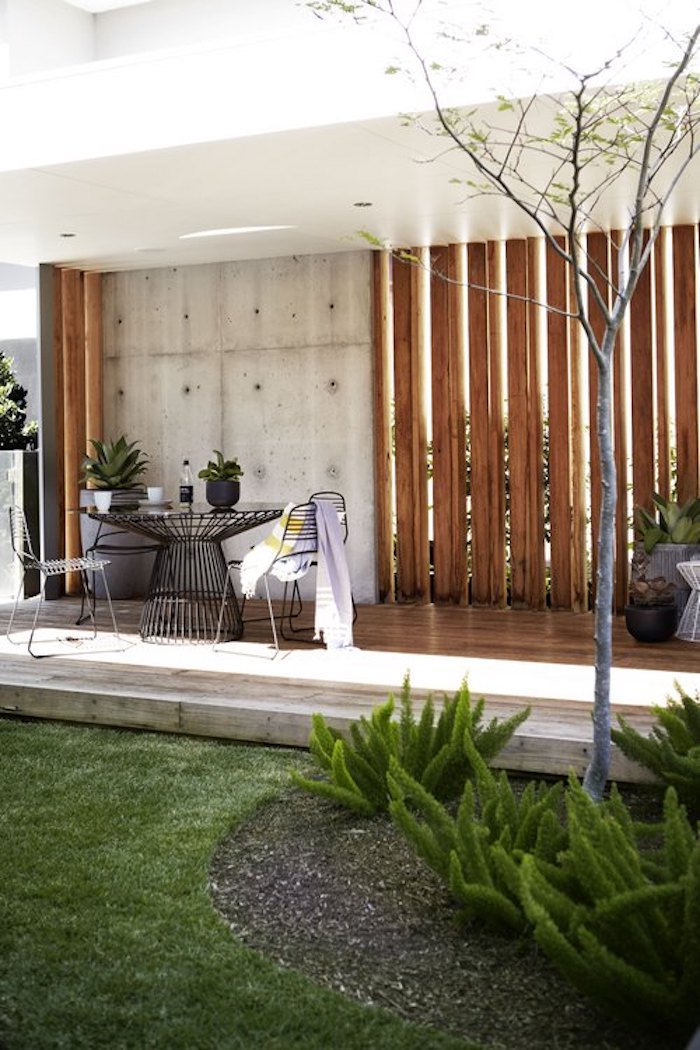 Modern design these days usually means there's a fair bit of concrete and monochrome, so it can't be too surprising that I included a black and white folding arm awning (11) and a concrete dining table (7). But I still wanted to make sure that there were some eye-catching modern elements, so check out these beautiful armchairs (1), which come in a variety of colour combinations.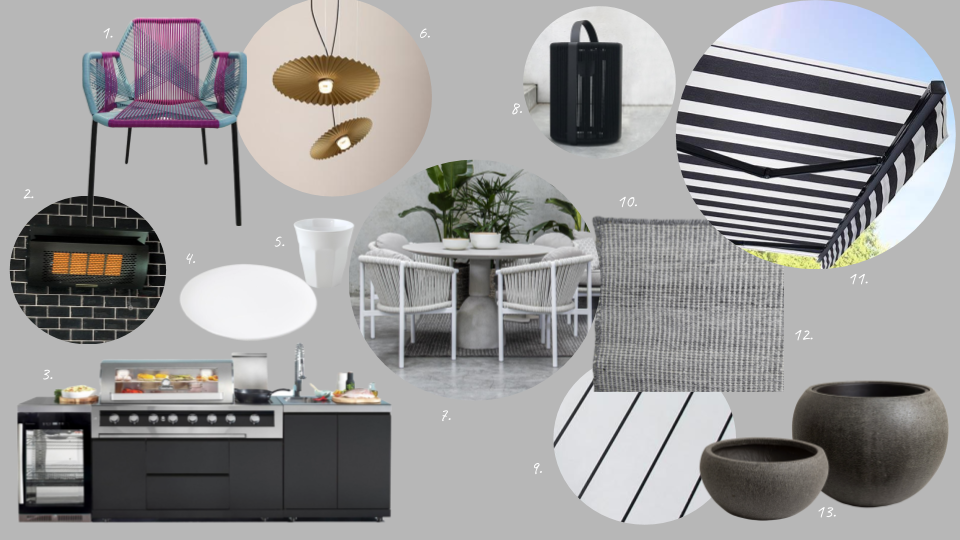 But what about using your backyard at night? Well, a heater such as this natural gas wall mounted heater (2) will keep you warm and these gorgeous gold pendant lights (6) will give people plenty to talk about.
For flooring, the HardieDeck (9) is a great option again because it will always retain its modern look and this reversible outdoor rug (12) in grey and white will add a lovely textural element to the area.
If you have a larger area and you want some floor styling options this floor lantern (8) will look stunning at night (or even during the day) and you can add some greenery to these grey pots (13).
Last but not least we need to talk about the most important elements – eating and drinking. For a modern alfresco space get an outdoor kitchen (3) in black, which is perfect for entertaining. And in keeping with the monochrome theme, these outdoor-proof white plates (4) and cups (5) complete the look.
And there you have it, my top buys to transform your backyard into a beautiful alfresco area that you can enjoy year-round.