---
NOTE:
This article was accurate before May 2018 and may now be outdated! Please check out this article for all the latest news on Airtasker x Coles.
---
We're hugely proud to announce a new partnership with Coles designed to offer you a brand new, revolutionary way to get your groceries delivered where and when you need them!
If you are in NSW Metro, you can now have your Coles groceries shopped & delivered on the same day by Airtaskers.
To get your shopping delivered visit https://www.airtasker.com/coles/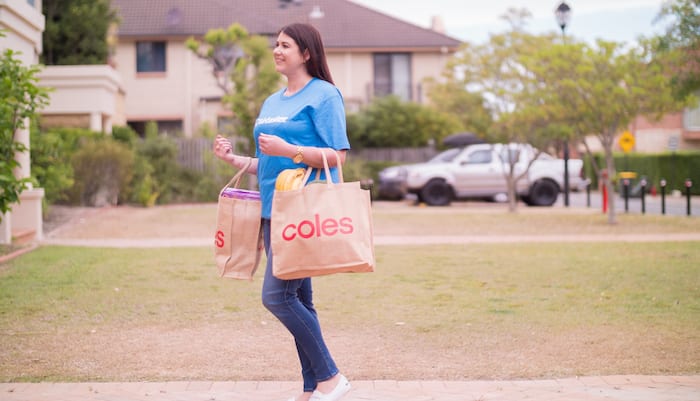 How do I post a Coles Shop and Deliver task?
Visit airtasker.com/coles, enter your suburb and click "Get it delivered".
Post your task. Specify what Coles grocery items you need and your preferred delivery location and time.
Review offers and select an Airtasker.
Once you've accepted an offer, you can pay securely via Airtasker Pay. You can talk with the Airtasker and make on-the-fly changes you need at any time directly through the app.
We've also ensured that all Coles Badged Airtaskers have a 4.5+ star review rating, 80% Completion Rate and an excellent track record.
Why should I use Airtasker for my grocery shopping?
Airtasker goes hand-in-hand with the existing Coles Online delivery service by helping customers have their shopping delivered on the same day or even in a few hours. We also give customers the ability to change any items on their list while the Airtasker is at the store.
How do I pay for the groceries and for delivery?
When posting your task you'll need to give a budget for the delivery. Airtaskers can then make you an offer to pick and deliver the items on your shopping list. If an item on the list isn't at the store, they'll get in touch with you so you can figure out what you'd like to replace it with. Once the shopping is complete you will receive a notification to approve the shopping cost.
Coles Badges
To get the Coles Badge, you must:
Have completed 2 or more tasks through Airtasker
Have a minimum Star Rating of 4.5 stars
Have a minimum Completion Rate of 80%
If you've got all these and would like a Coles Badge, you'll need to go through an online launch programme info session (takes about 20 minutes).