Have you ever seen that perfect laundry on Pinterest and thought, hmmm I'd love my laundry to look that amazing… Well, you're not alone! I'm in renovation mode myself and I've seen so many laundry images that I drool over but I become a bit stumped when it comes to actually find the bits and pieces I need to achieve the look.
Do I go to a one-stop-shop supplier who has everything but perhaps not exactly what I was hoping for, or am I happy to take a bit longer and shop around to find exactly what I'm after?
It really comes down to timelines (for both you and your builders) which means planning and research are crucial but at times can be very time-consuming… So I've actually taken care of that for you and found my pick of the bunch for four different laundry fit-outs. The styles I've concentrated on are:
Bohemian – for the people who love the more relaxed vibe
Scandinavian – for keeping everything minimal and crisp
Industrial – for the inner-city modern look
Small laundry – because not all of us have a large laundry room
From washing machines and dryers to soaps and everything in-between… I've thought of it all. And this way you have an excellent supplier network to get you started on your laundry renovation journey.  All you need to then do is find the trades and builder you trust to help make these dreams become a reality.
Bohemian laundry
It's the modern coastal look which takes inspiration from colourful Moroccan textures and the strong resurgence of rattan furniture.
What are the style rules for boho decorating? Well, that's just it, there are no rules. You can have all the colours you want and fill your home with interesting pieces that you've collected from mid-century vintage shops around the world.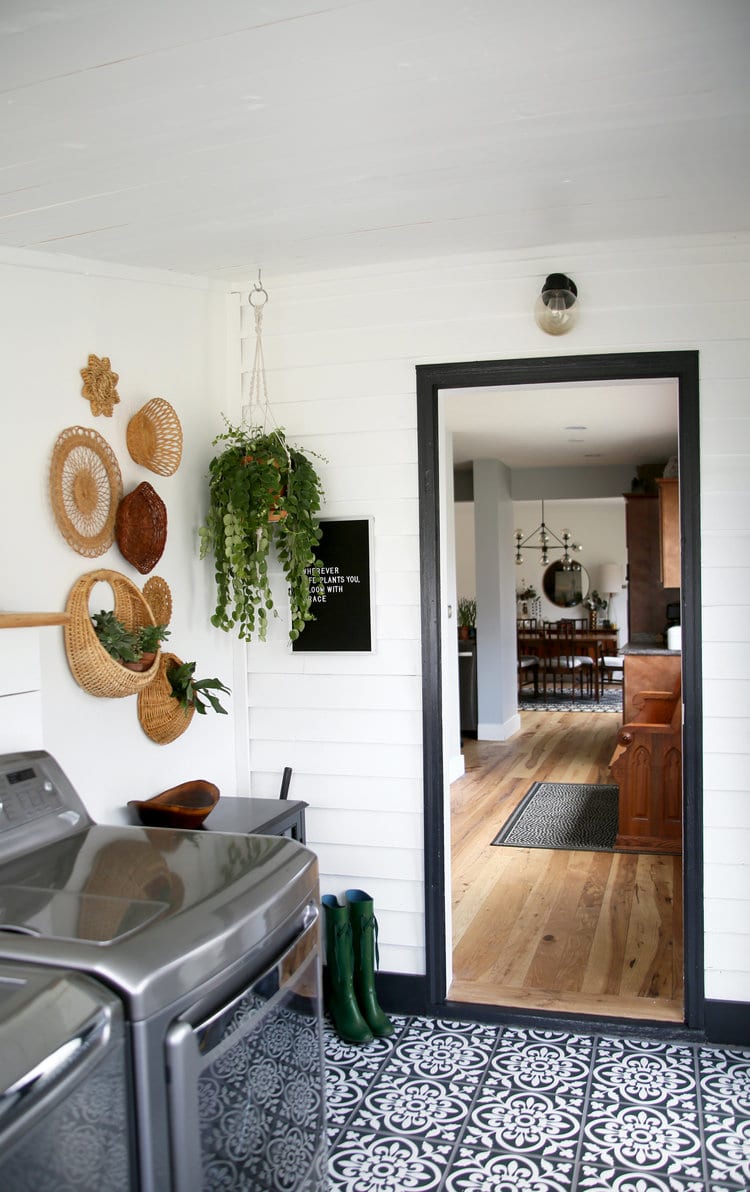 My personal take on the boho when it comes to a laundry space is to start with a lighter base and introduce pops of colour through tiles or styling. That way it becomes a flexible space, which is especially helpful if resale value is something that is important to you.
To bring in some warmth, I would opt for wooden floors throughout the home including the laundry. My pick here would be Stoney Grey (14) in French Oak from the team at WOODCUT, who are family run business specialising in high quality engineered European oak flooring.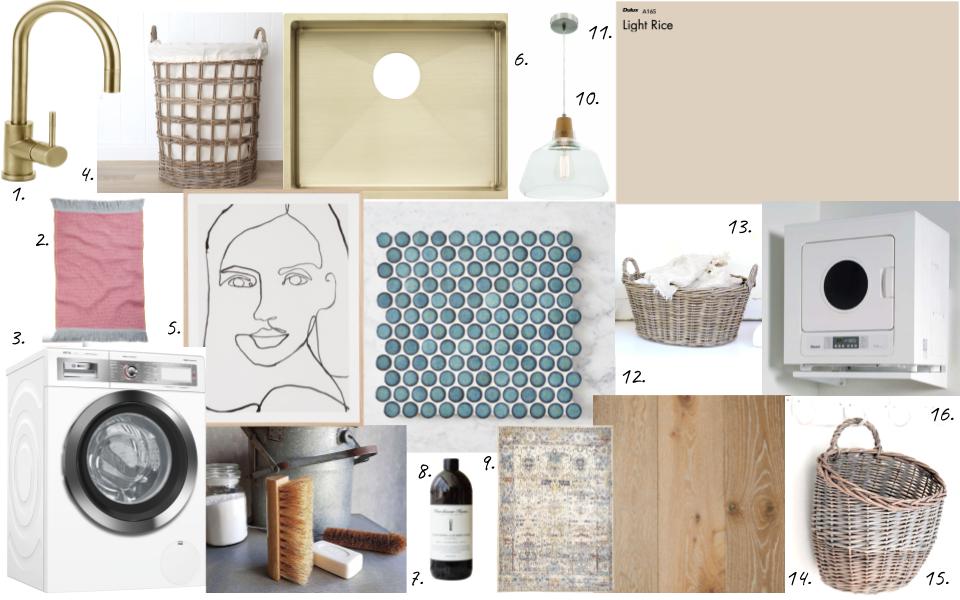 Penny round tiles are the darlings of tile design at the moment and being one of the most versatile in terms of colours and finishes (matt, metallic, gloss etc), you can find them in any room of the house from kitchen to laundry. In order to inject that colour into a boho look, I went with a green mix (12) in a gloss finish as it has a lovely multi-tone look.
So when it comes to wall paint colours, you might think white is right but how about this colour in Dulux's Light Rice. (11)
Washing machines and dryers are important for a laundry. I started with the dryer for this room as I wanted a natural gas dryer rather than electric to not only reduce drying time but also energy savings. The Rinnai (16) is on the spendy side and longer-term you'll save. To match the dryer, which is white is the Bosch 8kg front load washing machine (3).
Tapware might not be on the top of your list, but it should be when they can look as good as this brass sink (6) and brass mixer tap (1).
Now for the accessories! From Life Interiors is the glass and timber pendant light (10), the portrait artwork by Middle of Nowhere (5) and rug by Rug Culture (9).
Every laundry needs a laundry hamper (4) and baskets (15) for storage and also a washing basket (13), which you can get from same place French Knot. Also, let's not forget a scrubbing brush (7), also from French Knot, and laundry soap (8) from lady start-up, Murchison-Hume.
And last but not least a beautiful hand towel (2) from Sage x Clare – these guys are the best when it comes to injecting colour into your home!
Industrial laundry
The warehouse look of industrial interior design has morphed from rustic to sleek and sophisticated. It's been done by using the neutral colours of black, grey and whites, teamed up with marble and other textures such as timber, brick or concrete for that inner-city luxe look.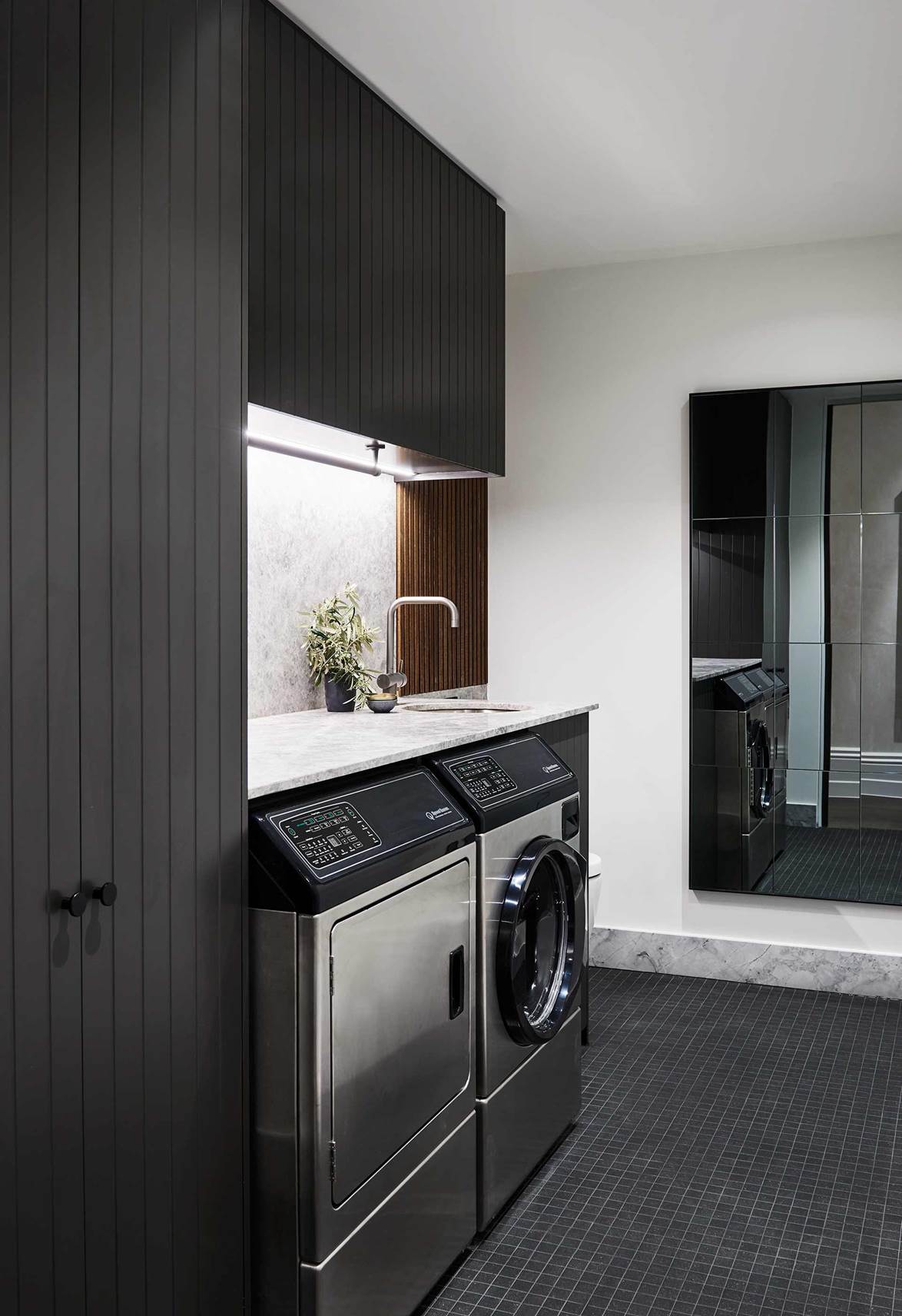 So that it doesn't look too grey and dull, add a pattern with the tiles (3) you choose or if you want to tone it down – stick with a concrete looking tile (9). When using a darker floor tile, it's wise to offset it with a lighter shade of paint on the walls, so here I'm opting for White on White (1).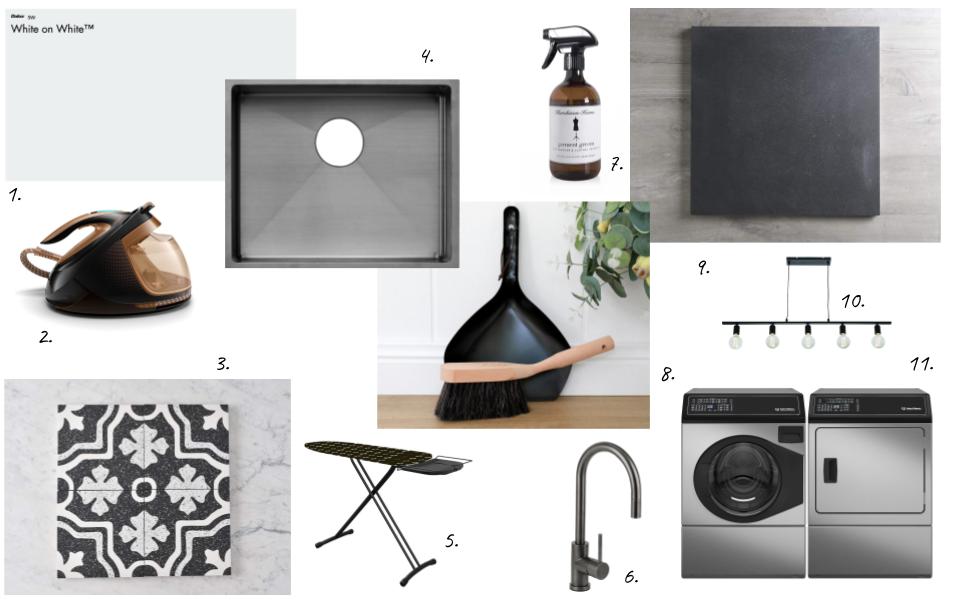 When it comes to lights, the hero is the light globe which is usually a filament globe. So sometimes you'll see glass light shades, or more likely, none at all. The latter is the case here with this pendant light (10) from Life Interiors, which uses simplistic matte black with five globes, giving you more than adequate lighting in your laundry.
You might assume that I was going to put black tapware in this laundry but I'm going to surprise you with this gunmetal finish for both the mixer tap(6) and basin (4). This tapware works perfectly with the stainless steel Speed Queen Washer and Natural Gas Dryer (11).
There are some very stylish accessories that you can add to this laundry to complete the look. This black dustpan (8) has style written all over it, it's so good you might just not want to use it! A black ironing board (5) together with this Philips iron (2) sure make the perfect pair. But this ain't no ordinary iron, it seriously raises the bar with steam overload to smooth out even the toughest of creases in next to no time. And don't forget to take care of those pesky marks with this stain remover (7) from Murchison-Hume.
Scandi design laundry
The time for Scandi is definitely not over and won't be any time soon. There is a reason why it's one of the all-time favourite interior styles, mostly because it's a crowd-pleaser when selling a property. Not so long ago it may have been as simple as some white subway times, large white tiles on the floor and a timber benchtop. But those days have come and gone. Nowadays it's all about the texture.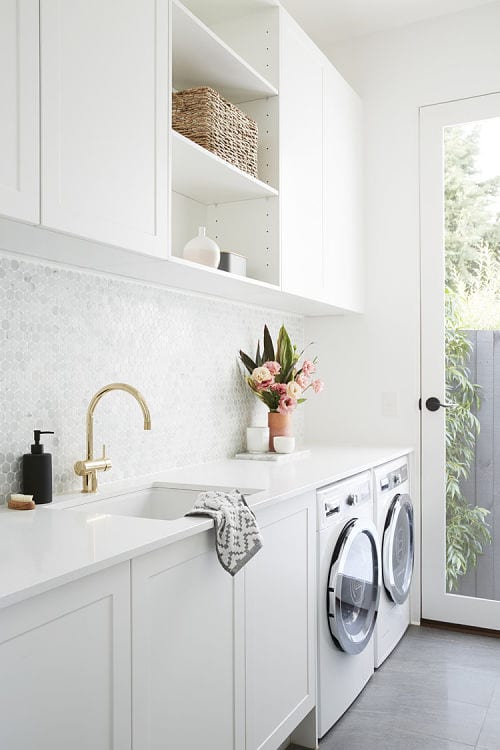 So how do you introduce textures into a white room? Well, an easy way to do it is with wall tiles such as these mosaic tiles (11) which have several different patterns and add a lovely 3D effect to play with the light. And with the flooring, instead of a plain white or grey – opt for a terrazzo style tile. Instead of white, I've gone with the beige terrazzo look matt tile (8) to just give a little bit of extra warmth into what can sometimes be a very cold space.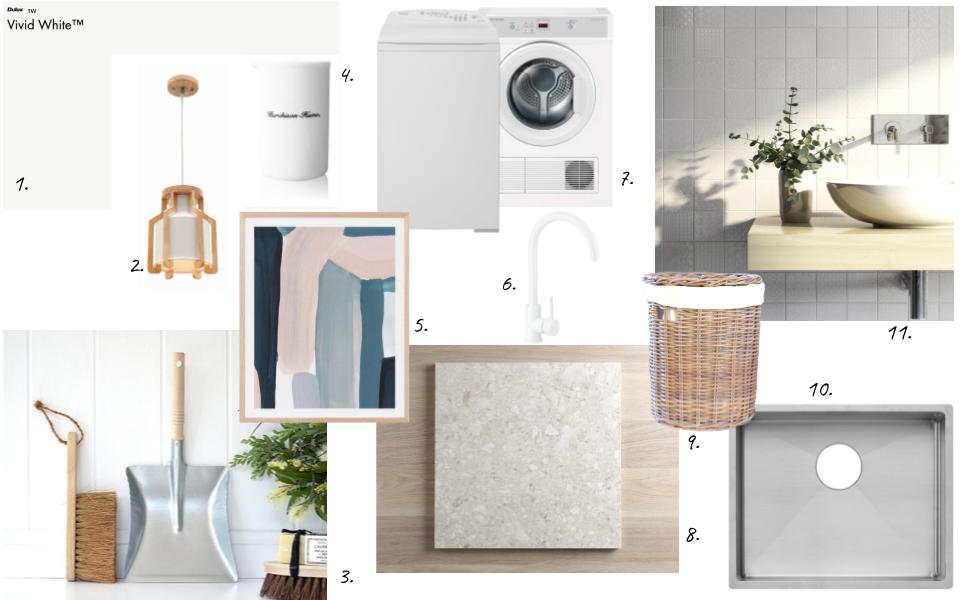 To bring the two different types of tiles together, you need to connect it with a neutral paint colour. In this case, Vivid White (1) is a lovely shade that will work well. To continue the white trend, this white mixer tap (6) from ABI Interiors is beautiful works well to tie together with the white and timber pendant light (2) from Life Interiors.
It goes without saying that a white washing machine and dryer work well here and a classic pair is this top loader and dryer combination (7) from Fisher & Paykel.
Styling-wise, here's a very Scandi dustpan (3) from French knot to go with their laundry hamper basket (9). And I really love this porcelain measuring cup (4) to give it an extra special touch.
And finally I know that Scandi is all about the white, but I also think it's ok to break these rules and add a bit of colour to add some depth to a room. A print in pastel colours and beautifully framed in an oak timber, such as this Anaheim Moss II Print (5), will add just that little bit extra to the room.
Small laundry design
Whilst not a style, some of us simply aren't able to have a large laundry space… But you can still add style no matter how much room you have and that's why I thought small laundry design was a very important 'style' to include.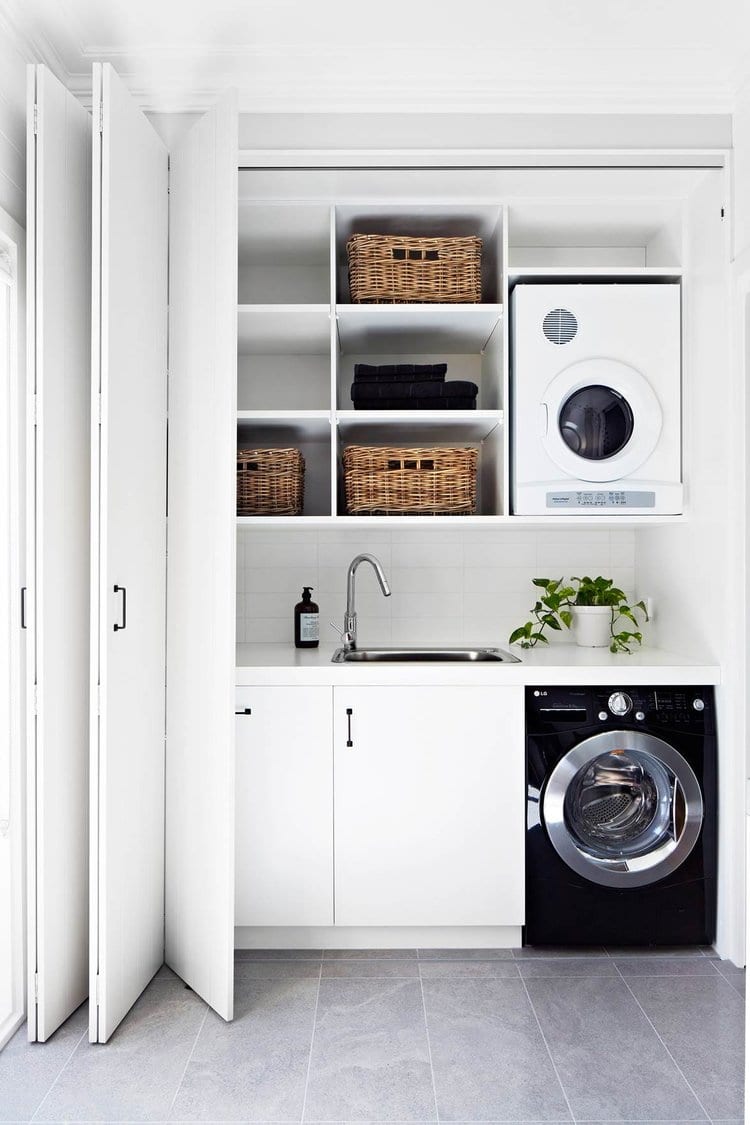 You'll probably have a laundry nook behind some custom bi-fold doors in a kitchen, bathroom or hallway which has been installed by a carpenter. Cabinetry is key when it comes to a laundry nook and you should look at a custom solution that fits everything you need and maximise the storage space you have.
You really need to plan for your appliances as well and in such a tight space a Fisher & Paykel washing machine and dryer combination (7) is a great option to consider. The appliances and fixtures that you pick are really important in a small space, so that's why finding a compact sink (5) can make all the difference.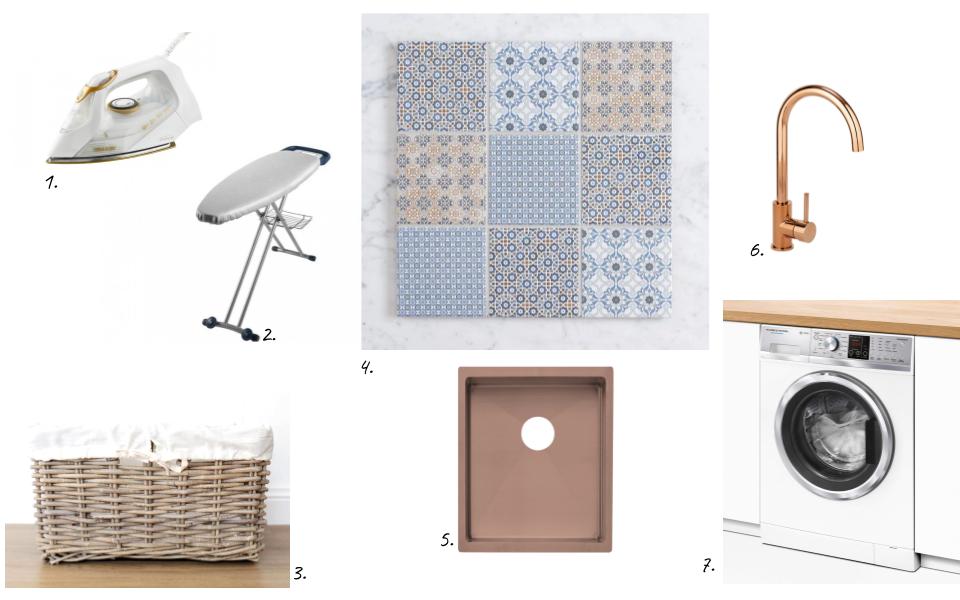 Now when you have a smaller kitchen, you might think that it has to remain relatively simple – but that's not the case. A tile that has something a little bit different such as this blue mosaic tile (4) with various patterns is perfect for this small laundry. Then put in a rose gold mixer tap (6) to add some extra wow to the space.
For your ironing needs, get a collapsable ironing board (2) that can squeeze in as well as an iron (1) that you can quickly store away. Speaking of storage,  baskets (3) become super handy to put all your little items away in and keep it all tidy if you don't have doors and your laundry is always on show.
If you're still looking for some more styles, I've also looked at another 45 laundry ideas to help with your research.
Header image credit: The Stables
Please note, this post is not sponsored at all – I just love these items.