You're counting down the months and maybe even the days until you get to meet your little bundle of joy. You're constantly updating (more like adding to) your checklist of all the things you need to buy or borrow before your due day. You're probably also trying to wrap up work and organise a baby shower… So you're pretty busy, to say the least!
I've been there myself and it can be overwhelming. The last thing that I could think about was styling in a cohesive interior design which suited the rest of my home. I looked on Pinterest at the perfectly style-coordinated rooms and beyond furniture, I didn't really know where to start.
This is why I put this together for you because I want to make it easy to create a beautiful gender-neutral, floral or woodland nursery room.  Firstly I gathered images for each of the themes and then I went to my favourite brands to show you how you can use them in your nursery. The styles I've concentrated on are a:
White gender-neutral nursery
Boho gender-neutral nursery
Girl's flower nursery
Boy's woodland nursery
From cots and change tables to potted plants and wall decals, I've hopefully done all the heavy lifting for you, so that you can sit back and relax during your last moments before adding another member to your family.
Before we get into the individual rooms – let's talk paint! My choice for a child's room is Ecolour which is a Zero VOC paint and they can match any colour you want for your room.
Volatile Organic Compounds (VOCs) are toxic chemicals that are released into the air for years after application, impacting your air quality and health.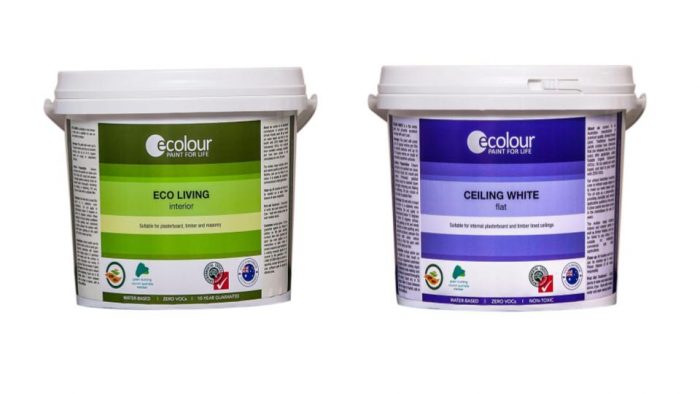 All you need to do is pick your types of paint, such as ceiling white paint and interior paint, how many litres and what type of finish you want.
White gender-neutral nursery
If your style is all about timeless white or if you're saving the gender as a surprise for the birth, a paired back look if for you. And just because you're sticking to basics, it doesn't mean that you can't add life and warmth with lots of textures and neutral colours.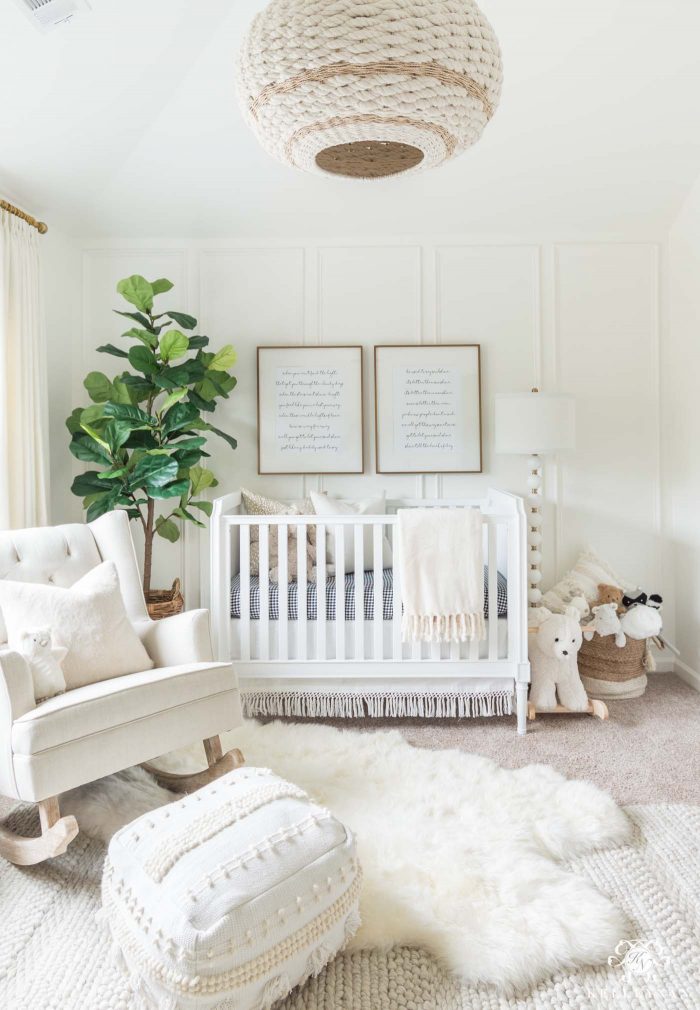 If you want to include some more earthy tones, maybe this Scandi style is more suited to you and your home.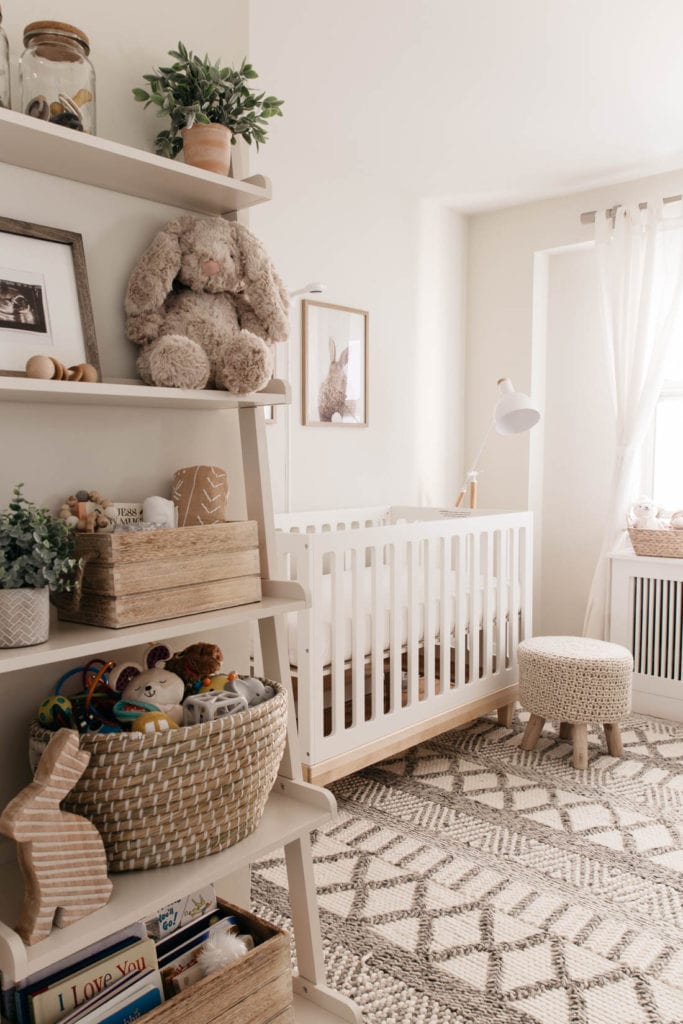 When it comes to flooring, carpet is a great choice because it offers a soft floor for your baby to enjoy tummy time on and in winter it keeps their room just that little bit warmer. From Choices Flooring, this light but luxurious carpet Totera in a Syrup (10) colour is the perfect match for a white nursery. Then to match the white painted walls and carpet, this Pendant Lights from Beacon Lighting (6) gives a lovely textured statement piece even though it's still white.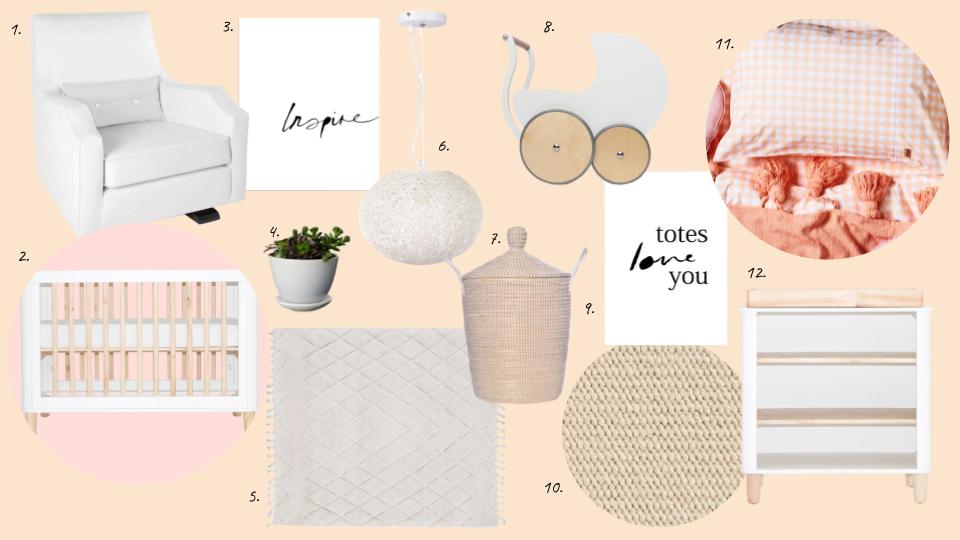 Now that we've got that covered, what about furnishings in a white nursery room? Instead of just white, I opted for white paint and a natural timber finish. The Teeny Cot from Incy Interiors (2) and the matching Teeny Change Table (12) really softens the room with the timber accents.
Another item that goes really well here is this storage basket, from Olli Ella and it is called the Neutra lidded baskets (7). It comes in three sizes and can be used for anything, dirty clothes, extra blankets or toys. Also from Olli Ella, is a beautiful snuggly rug made from 100% New Zealand wool called the Etched Berber Rug (5). Like the light, it is all the one white colour but with a diamond pattern, it offers a lovely textured difference. It's almost like a blind embossing effect – I think it's stunning!
It's a well-known fact that you'll have long nights of getting up and down to an upset or hungry bubba, so you need to be comfortable in a nursing chair. The Mo-Ma Glider chair from Olli Ella (1) in the snow colour has a high back and armrests, which a perfect for those late-night feeds.
To break up the white, you can opt for some colourful sheets which are easily interchangeable once you know the gender, but to get ready beforehand Kip & Co are my absolute favourite for young and old. They are so much fun! This Gingham Cotton Fitted Sheet (11) in a lovely apricot/ peachy colour works regardless of whether you have a little girl or boy.
For final touches, add some inspirational prints from Yorkelee such as this inspire (3) or totes love you (9) hand-scripted prints. And another nice addition is a Kinderfeets Pram (8) which you can get at Little Earth Nest for your baby who will want to push it as soon as they can pull themselves up.
Lastly, a bit of greenery (but no flowers) in a little handmade pot such as this Ivy Muse planter (4) brings another dimension to the room.
Boho gender-neutral nursery
Boho style can either be modern coastal or lean more towards mid-century modern design. There are so many options nowadays with most retailers now creating natural and walnut timber options to compliment this trend. It can really go in any direction.
You can really do almost anything you like in a boho styled room, but you'll ideally want to use a lot of natural products and splashes of a few different colours. And because of this, it makes it a perfect gender-neutral option.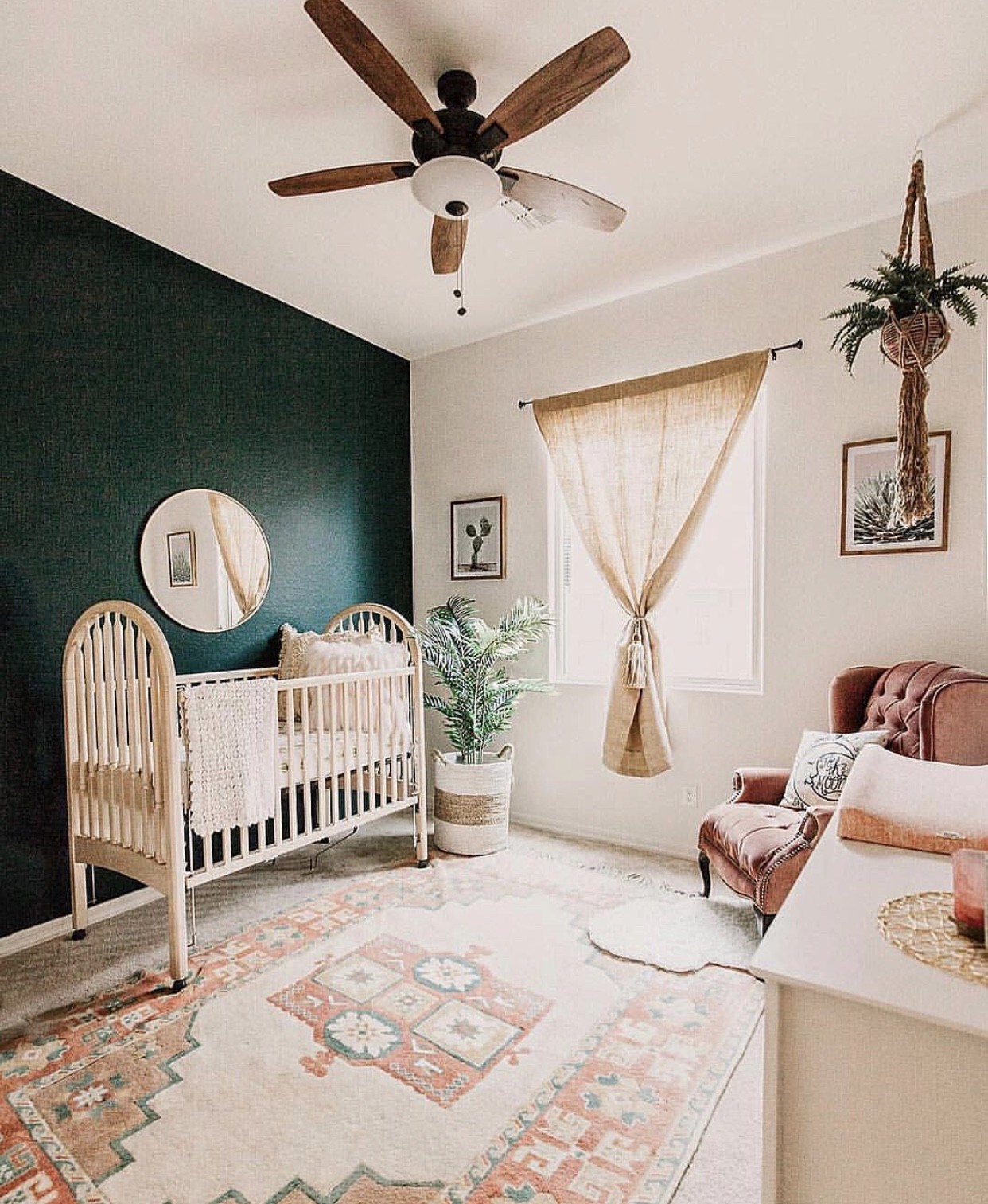 For a coastal look…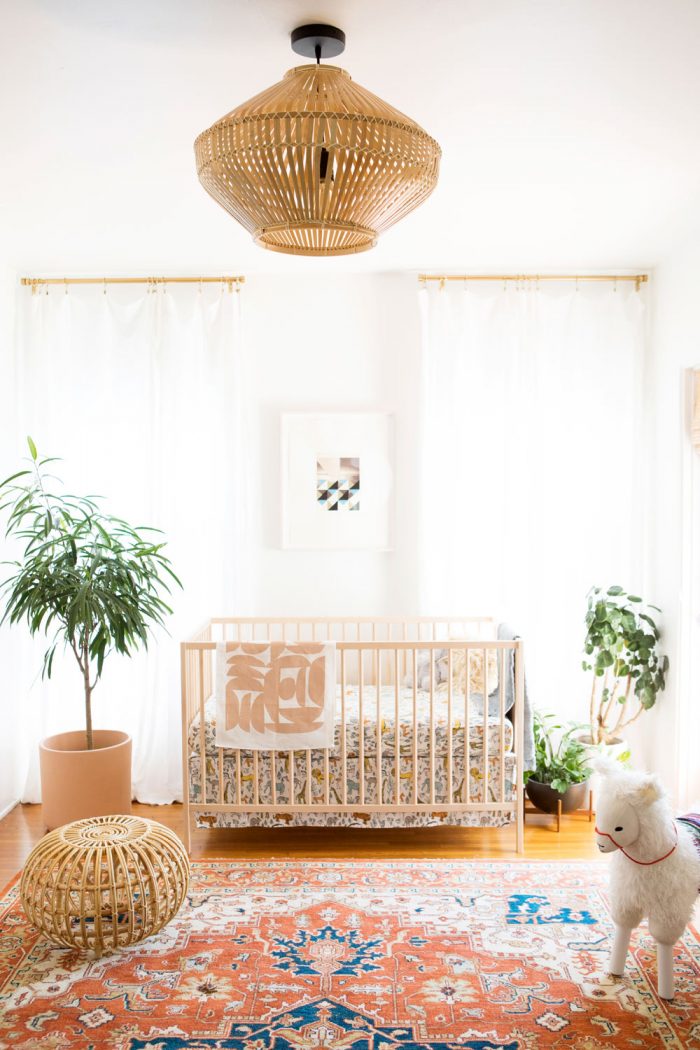 Let's start with the main feature this time around. The Maxwell collection from Incy Interiors in a walnut finish has mid-century written all over it. And better yet, they also do a matching maxwell bassinet (7) in this range to compliment the maxwell cot (2) and change table (11). Don't forget that you can remove the topper on the change table and use anywhere in your home too down the track.
For the sheet inside the cot and bassinet, I went with the Native Plantation Cotton Fitted Sheet (13), which has a little bit of everything. With the background also being a darker colour, it will look lovely with the walnut furniture but add a lot of colour to the room. You can also get a matching quilted baby playmat (6) to put on the floor for all of the tummy time activities. Both are from Kip & Co!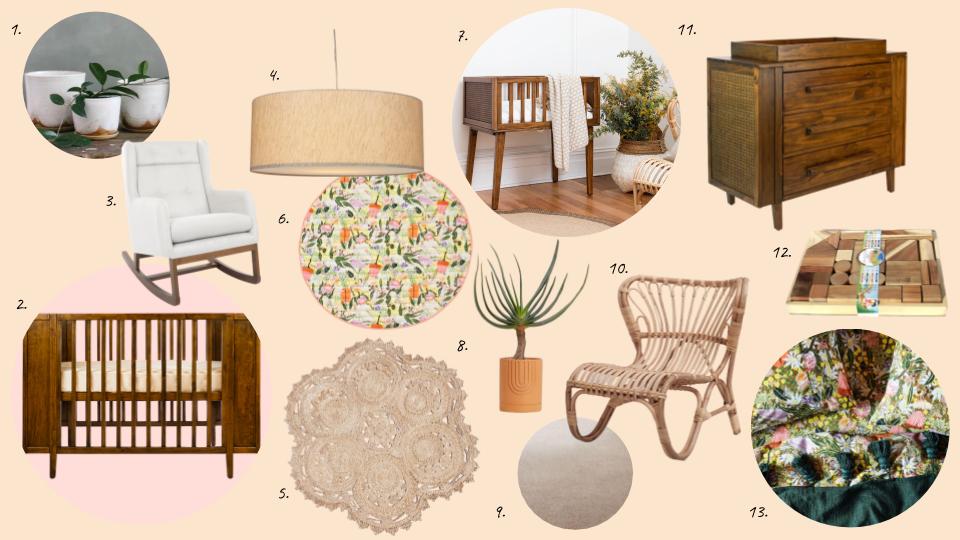 Speaking of the floor, to contrast the darker furniture a light carpet from Choices Flooring such as this Temuka in Macro (9) is an affordable option. If you also want a rug, this south of France Antibes Jute Rug (5) is a hand-woven beautiful centrepiece from Olli Ella.
For a classic nursing chair that will go with any style, this Olli Ella Co-Ko rocker (3) in the snow colour fabric with walnut timber legs ties in perfectly with the cot and other furniture in your boho nursery.
A lovely linen light is a classic and understated addition that looks natural and doesn't overpower the room. From Beacon Lighting the Mara II Drum Pendant (4) works brilliantly.
Another way to add some vintage ambience is with a few different coloured and designed planters. Ivy Muse has a lot of different colours, sizes and designs of pots that you can use (8) in the desert colour has an eye-catching moulded symmetrical design. The  Lead and Thread Planter and Saucer (1) also go well together.
For toys, you really can't go past the Qtoys natural build block set (12) made from sustainable plantation timbers with non-toxic finishes, which you can get at Little Earth Nest. I also love this Arju Rattan Armchair (10) which is made in a kids size for when they are a little bit older. You might just have  to get ones in an adults size to match too!
Girl's nursery
If you're expecting a little girl there are a lot of pink, unicorns and fairies options when it comes to styling.  But I really wanted to show some different options that are around. For example, I drew my inspiration from these two images below which don't just rely on pink but uses complementary yellow, grey and peach colours throughout the floral patterns. I liked the flowers as the main decorative piece because it's something that they won't grow out of any time soon nor is it a 'fashion' trend (e.g. unicorns) which could become outdated.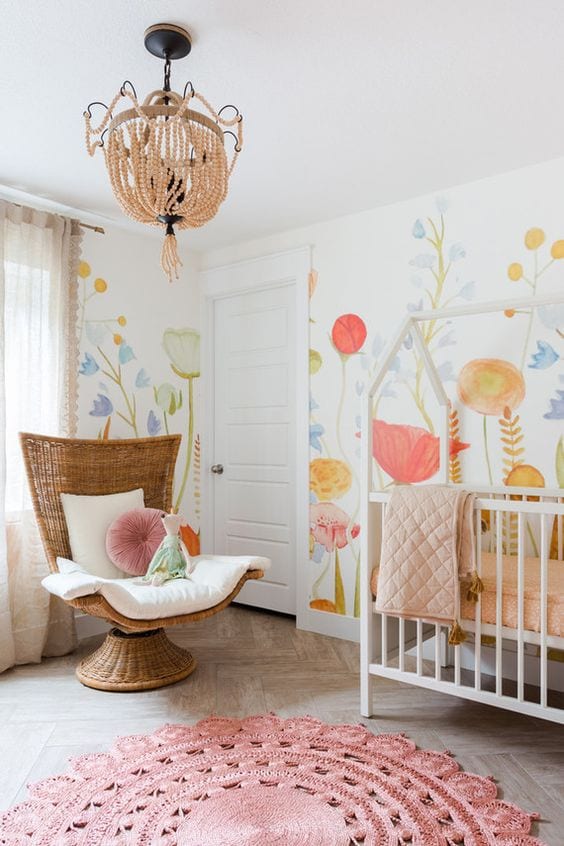 Now to be completely honest, I did use a little more pink than I realised but I didn't go overboard. For instance, I love this blush pink Sybilla Rocker (7) from Incy Interiors which has rose gold legs. It is super modern and you could easily put this in another room in the house when bub gets older.
I paired the pink back by opting for white furniture from Incy Interiors. The Georgia Cot (1) and Lucy Change Table (9) is an adorable pairing with their spindle accents. It's a definite nod to the classics.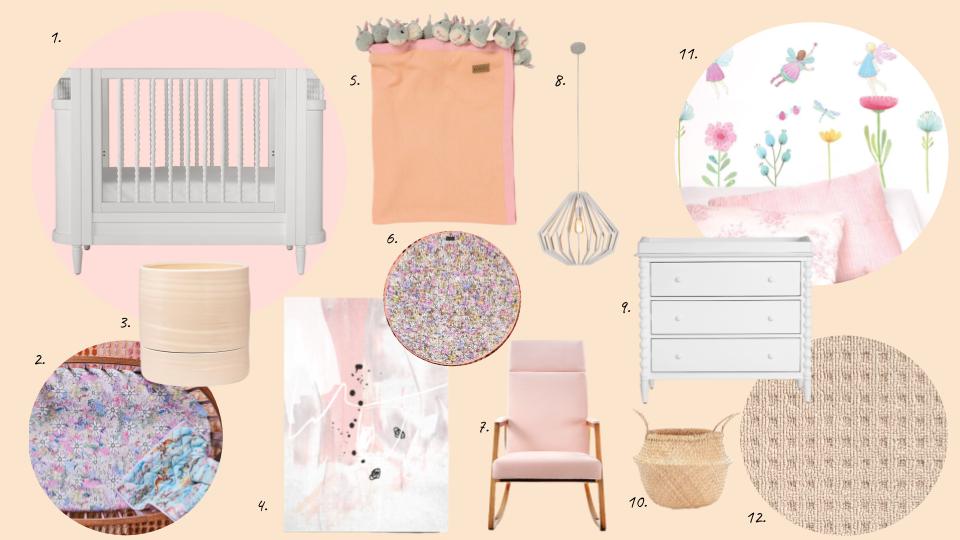 If you want to introduce some fairies along with flowers, this beautiful Fairy Garden Decal (11) from Love Mae will bring a big point of difference to a white painted wall. Love Mae makes fabric wall decals which means they are re-useable, removable (for renters) and non-toxic. You can also choose to only with the flowers without the fairies as they are all individually stuck up on the wall.
For bedding, this design collaboration with May Gibbs x Kip & Co for the Flora and Fauna Fitted Sheet (2) and Playmat (6) also add a lovely girly pattern to the room. And you can inject a little bit of fun with this Baby Blankets (5) from Olli Ella which complements the colours in the sheets. And little gem from Olli Ella to balance out the colours and textures is the neutra storage basket (10), which again you can put almost anything in.
When it comes to lighting and flooring, the Walderik Large Squat Pendant (8) in White from Beacon Lighting is a modern yet simplistic choice and really works in this nursery. For carpet from Choices Flooring Harburn (12) from the Eternity range, is a textured carpet with a contemporary design.
If you want to add some art to the wall, this Mia Abstract pink and white print (4) from Yorkelee adds a bit of colour and can also be used anywhere throughout the home. And lastly to put some greenery in this Angus & Celeste self-watering pot in burnt coral (3) from Ivy Muse also makes a lovely addition to the room.
Boy's nursery
And last but not least we have an inspiring baby boy's nursery. Rather than the pale blues, I wanted to hop on a trend (yes, opposite to what I did above) and so I picked a woodland theme.
This way I could use a collection of cute animals with a bit of colour to make an impact.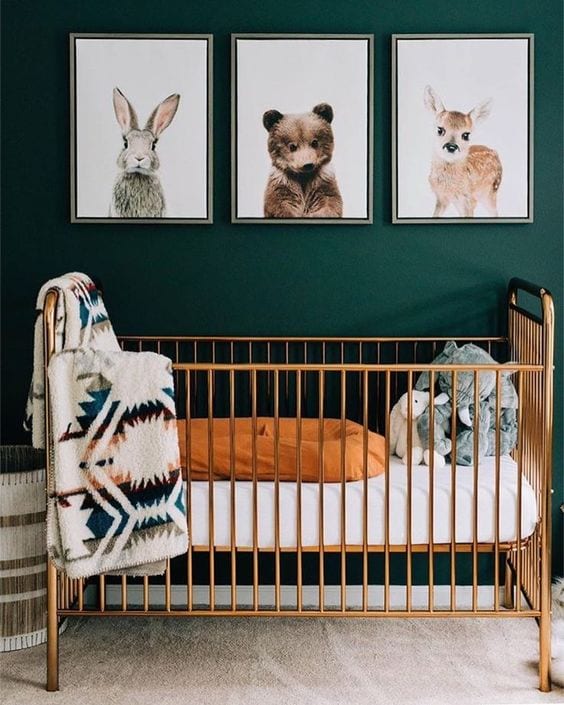 I love the different block-coloured wall options that I found – do you prefer blue or green?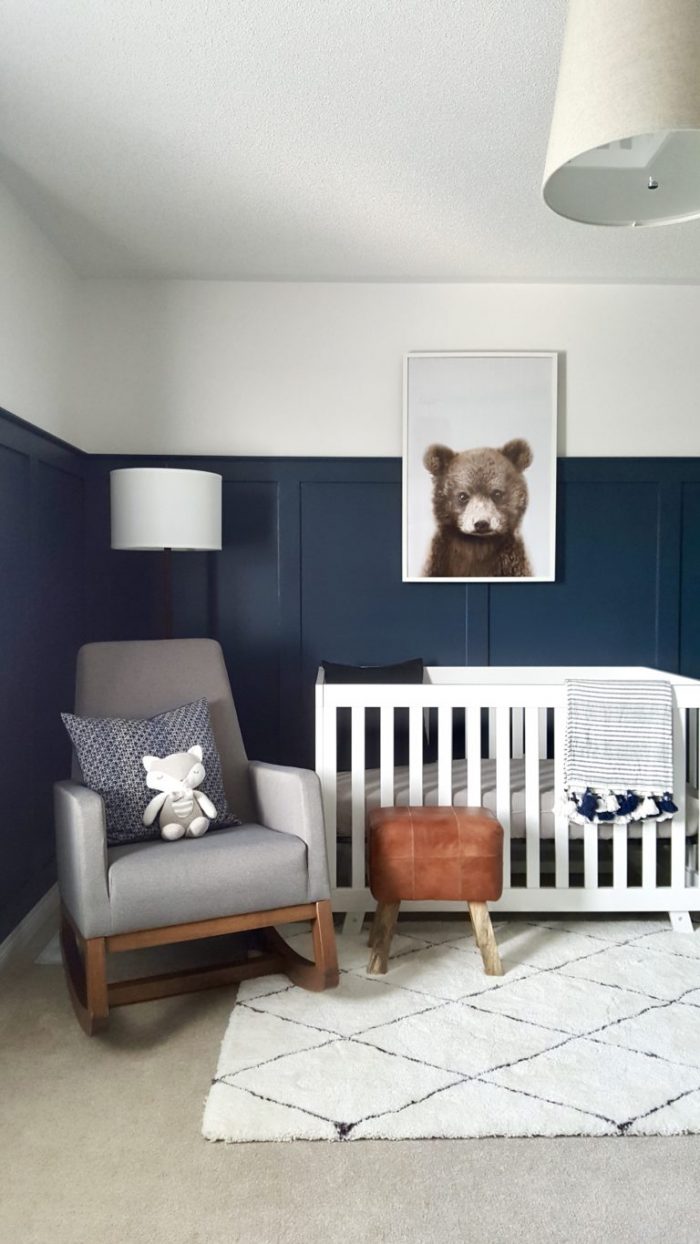 I decided to keep to basics with the lighting and flooring. The light is a standard pendant that would work in any space, the Mara II Drum Pendant (4) in white from Beacon Lighting. And for carpet, I went with a wool loop from Choices Flooring, the Temuka Totera in Hickory (6).
As mentioned in the beginning the team at Ecolour can match any colour you'd like when it comes to wall paint. So if you want the deep blue or green you just need to send the information to them and they will take care of it. However, if you want to stick to a white, you could try a wall decal (which can be easily removed) instead and I really like this Fox and Friends decal (10) from Love Mae.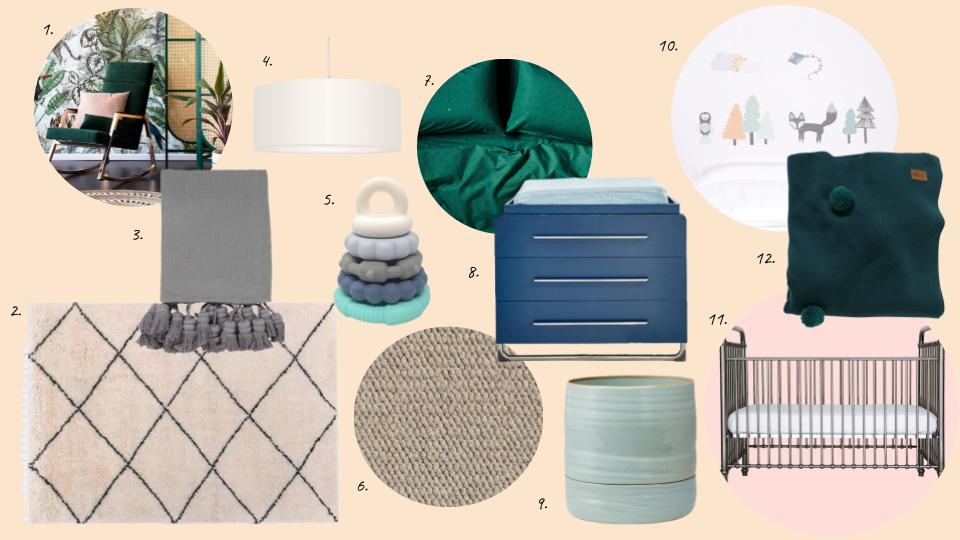 This Ivy Cot (11) from Incy Interiors with its metallic nickel colour, it's a showstopper. To match with the nickel on the cot, this Albie Change Table (8) also features nickel legs along with a dark/ navy blue cabinetry.
Taking inspiration from the inspiration images above, I found a similar rug with the diamond pattern at Olli Ella. The Classic Beni Rug (2) is a lovely simplistic wool rug, which looks super comfortable.
To bring some green into the room I found this gorgeous Dots Green Cotton Fitted Sheet (7) from Kip & Co, and they also have a lovely Dark Emerald 100% Wool Pom Pom Blanket (12) to match. But if you were looking for something a little different, I quite like it paired with the Storm Tassel Throw (3).
Just like with the girl's nursery I loved the pink nursing chair, well I've found the 'brother' with the Innika Rocker – Forest Green (1) from Incy Interiors.
Keeping on that green trend, if you want to add some living greenery. I love this Angus & Celeste Self Watering Pot in Grey Crackle (9). And lastly for a cute toy in keeping with the theme, the Jelly Stone Stacker (5) from Little Earth Nest has lovely blue tones to match the room.
And there you have it, four very different nursery designs that use the minimal amount of suppliers. I especially love that some are environmentally friendly and low -tox to turn your empty spare room into a beautiful nursery for your new little one.
Please note, this post is not sponsored in any way – I just really love these items and brands that I've found along my journey. Thanks!